Ala Moana Center Shopping Guide
Ala Moana Center offers the best shopping on Oahu experience available, and is considered an Oahu attraction in itself.  With hundreds of stores and restaurants to explore, it can seem a bit overwhelming.  But the layout is well designed, and has a calming effect being in an open-air environment with foliage and beautiful winding koi ponds that stretch through sections of this mega mall.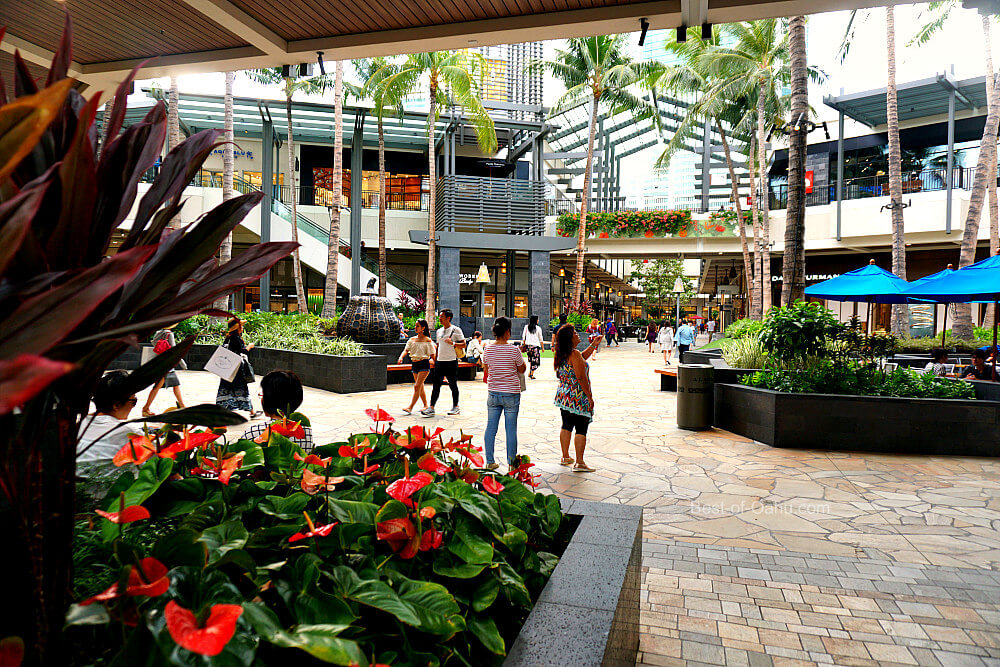 ---
Ala Moana Center
---
Opening up in August 1959, the Ala Moana Center was the largest mall constructed at the time in the United States.
Today Bloomington Minnesota hold the that record, but the Ala Moana Mall still contends in the top 10 with 2,400,000 square feet of retail space.

Over past decades and even most recently, additional levels and expansive wings have been added, exploding in square footage and making this into a mega mall, and the best shopping on Oahu.
I thought the mall was large enough being only 2-levels while growing up.  There were still some unique features like the koi ponds, hula performances on the central stage, and memorable stores and restaurants including Woolworths and famous Patti's Kitchen that operated for more than 40 years.
---
Becoming a Mega Mall


---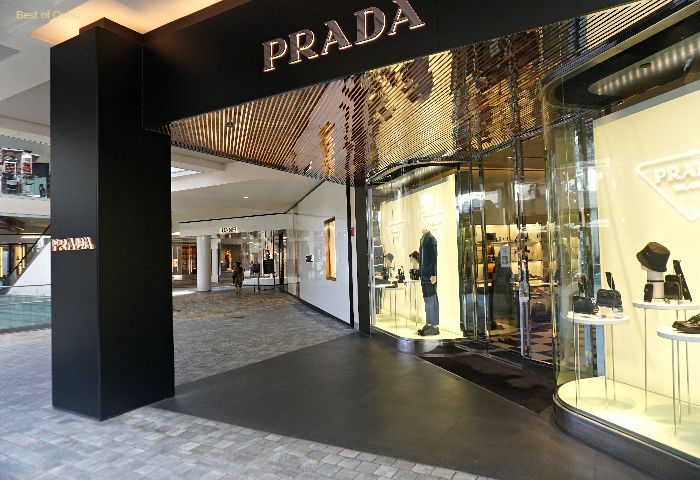 There are 360 stores, restaurants, bars, and special facilities that occupy 4 levels of this grand mall. Elite designer shops can be found on the 2nd and 3rd levels.

Take the escalator up to the 4th floor to explore a hand full of restaurants including Gen Korean BBQ House, California Pizza Kitchen, and an open-air Mai Tai Bar that gets quit lively in the evenings.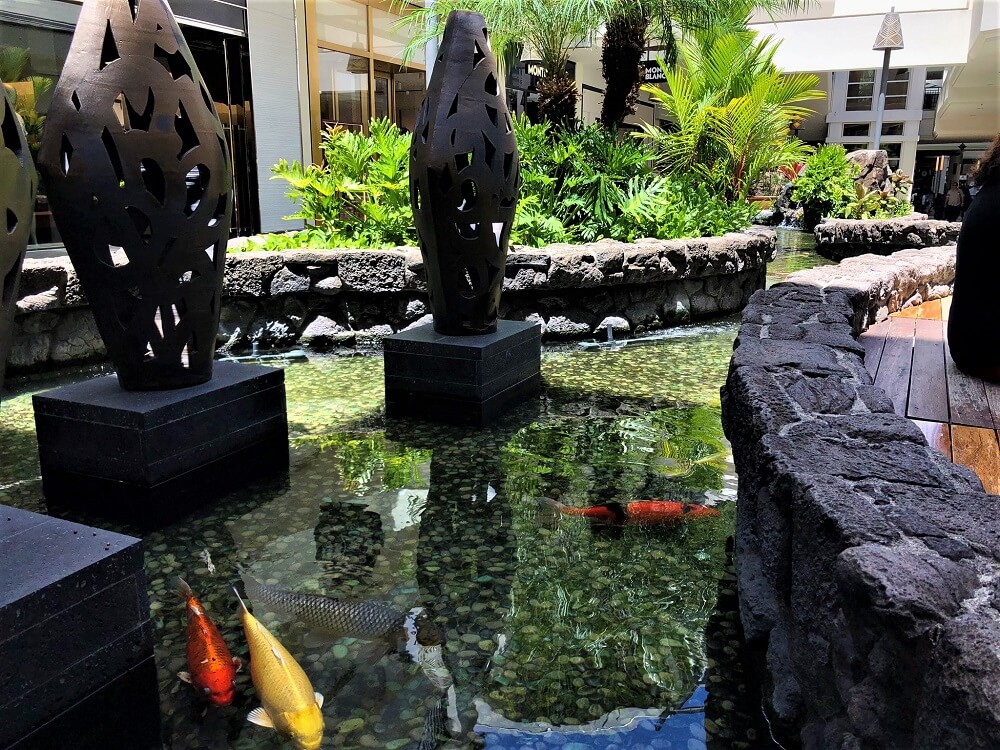 There are 2 huge food courts located on the 1st floor and third one located on the 2nd level near Macy's.  If you're wondering if a certain store exist, take a guess and it probably does.

Naming them all would be pointless, but there are some unique places that you must see when visiting the Ala Moana Center.
---
Best Oahu Shops
---
ABC Stores

They are located on every corner in Waikiki, and it's hard to walk into one without buying something.  ABC Store has every Hawaii souvenir possible, including some postcards that you can mail around the corner at the mall post office.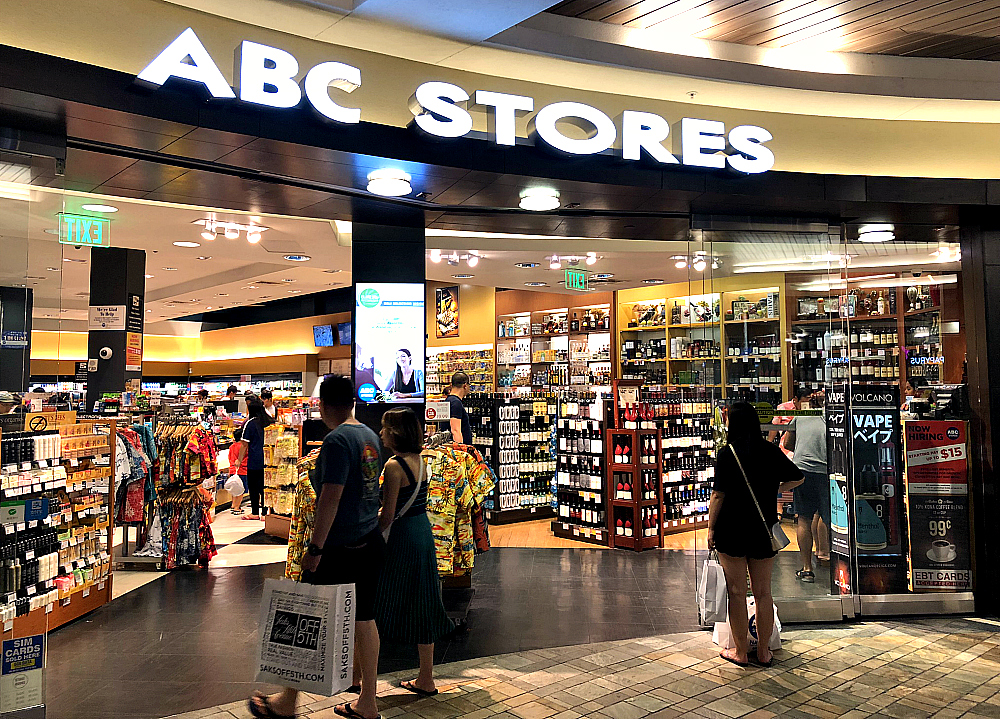 ---
Kanileʻa Ukulele Shop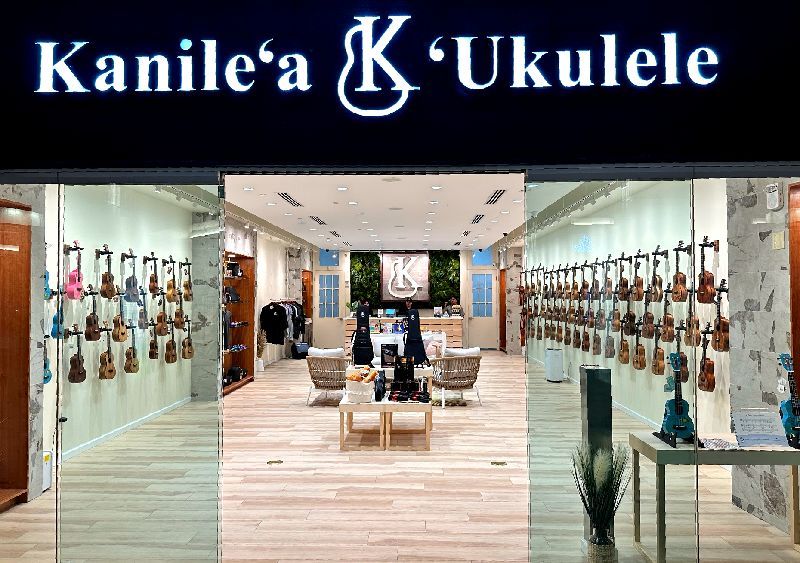 Kanilea Ukulele Shop
Step into a world of fine craftsmanship, exploring a wide range of ukuleles, each one meticulously handcrafted with the utmost precision and care.  From traditional Hawaiian koa wood ukuleles to modern innovations, this new shop showcases a diverse collection of styles, sizes, and unique characteristics.
---
Hawaiian Island Creations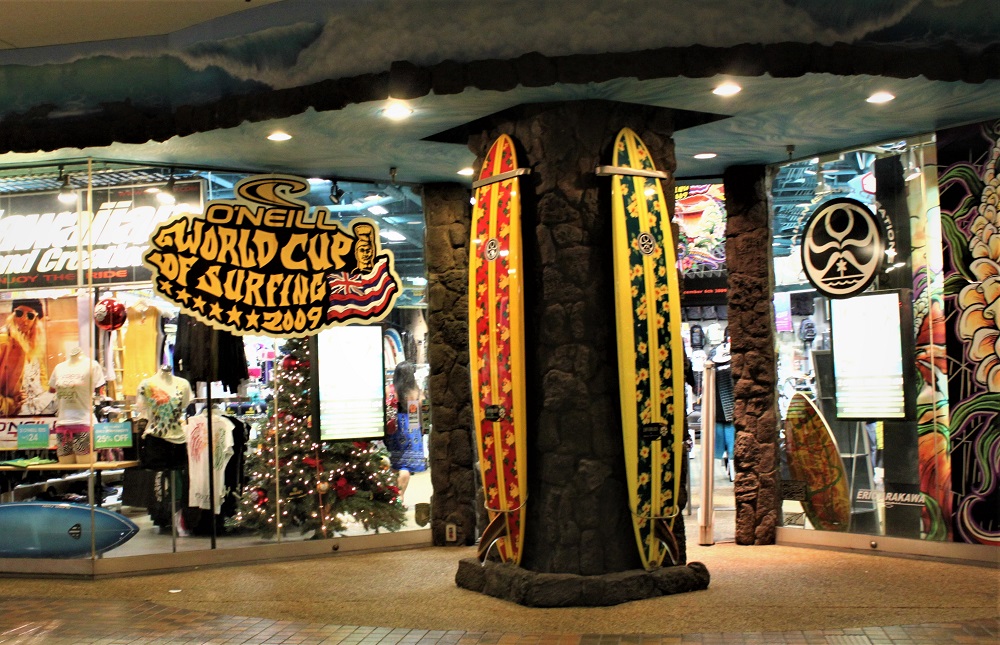 Hawaiian Island Creations
You don't have to be a surfer to appreciate this surf shop!  If the wall of shirt designs does not impress you, the hanging surf boards that rotate on an elaborate mechanical conveyor belt throughout the store will.

---
Reyn Spooner
There are are few aloha print shops at the mall, and Reyn Spooner features some of the best designs and quality shirts on the island.  Take a stroll through the store and I'll bet you can't leave without purchasing one.
---
Honolulu Cookie Company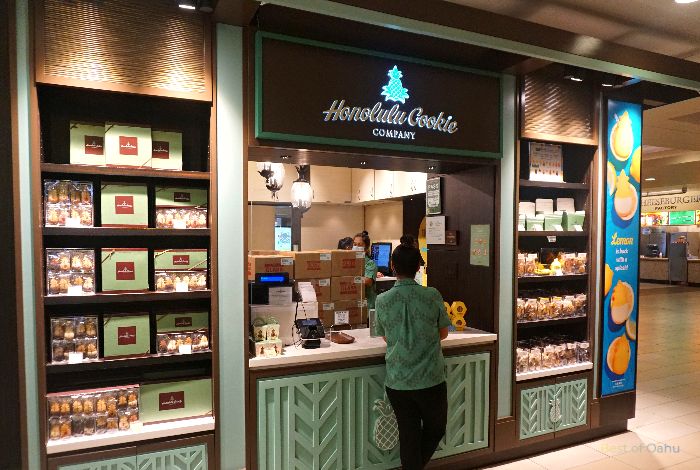 Honolulu Cookie Company
It's easy to fall in love with these pineapple shaped shortbread cookies that come in many different flavors.  They make great gifts and the best part is that you get to sample all of them when you visit their store.  This Honolulu Cookie Company is located in the the Makai Market on the ground floor of the Ala Moana Center.

---
US Post Office

How many malls do you know that has their own post office?  Take advantage of picking up some post cards and sending them off in between shopping.

---
Longs Drugs


You might walk right past it, but make a point to stop in as they have some neat local finds and treats.
Get adventuress and discover their huge selection of Asian crack seed & crackers, where you'll find a wall of special dried fruit seeds, and tasty Japanese rice crackers.

Also make sure to pick up a pair of Hawaii's favorite flip flop slippers called Locals.  They are simple and inexpensive…and you'll fall in love with them once you wear them around!

---
Auana Quilts

Another special shop that displays handcrafted Hawaii print on beautiful quilts, pillows, bags, and other apparel for purchase.

---
Foodland


This local grocery store has been one of the longest running tenets in the mall.  But not until they rebuilt in a new 47,000 sq ft location on the ocean side of the mall.  Foodland has it become a spectacle in the Ala Moana Center that is well worth visiting.
Beyond an expansive display of local foods, I love their Hawaiian Poke Station, Naples Pizza Style Station, Shave Ice Station, a Wine Tasting Bar, and so many more unique features beyond your typical grocery store.

---
Ala Moana Center Stage


The Ala Moana Center Stage has been a big source of entertainment and has played a big part in the community over the decades.
Some say it's the heart of mall, and the beautiful koi ponds are the veins that run through it.  The center stage is notoriously known for a daily hula show that takes place from 5 PM to 5:20 PM.  Folks still crowd around for the short but sweet performance.  There is also a kids hula show that takes place every Sunday at 1 PM.
Check out their event schedule for concerts, performances, demonstrations, and more.

---
Ala Moana Best Restaurants
---
Can you believe there are over 100 restaurants in the Ala Moana Shopping Center.  A majority of them reside within one of three food courts.  But don't confuse these food courts as ordinary.

They are absolutely huge and have different themes and restaurant selections in each.

---
Makai Market Food Court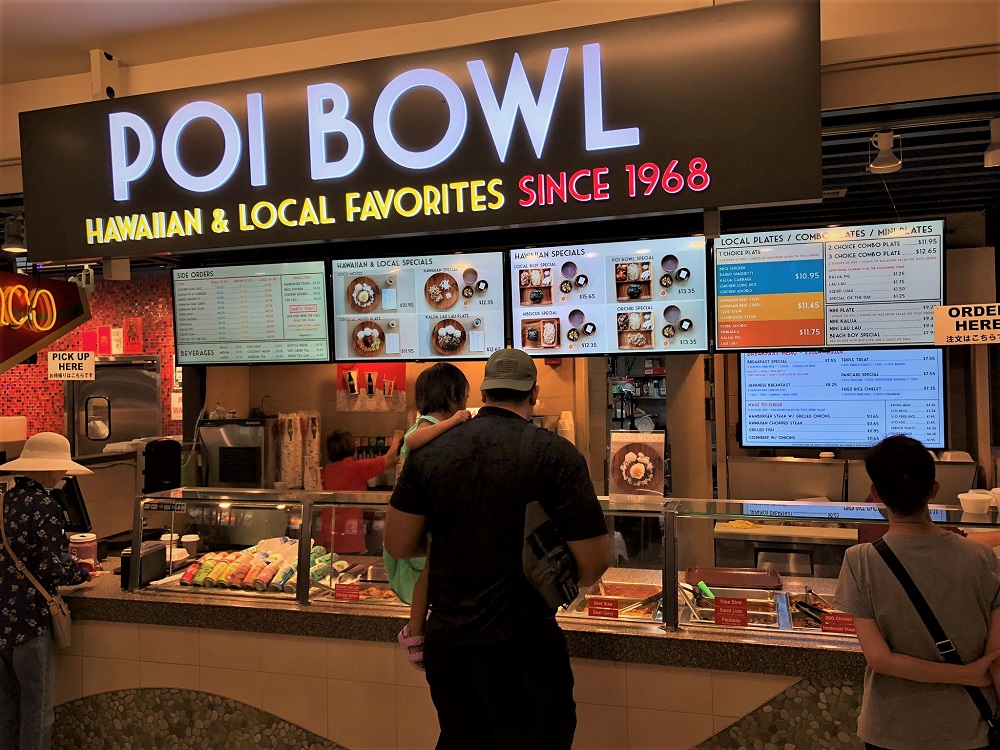 The Makai Market Food Court is the original, and well-designed restaurant row market place.  There are lots of tempting choices, including the Poi Bowl that has been part of the Makai Market from the beginning.  You can get your Hawaiian food fix here.

---
The Lanai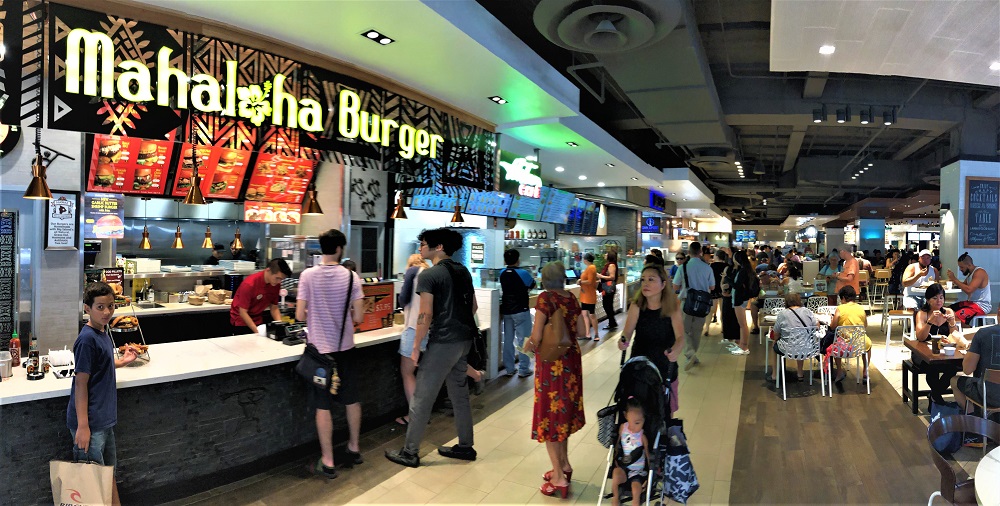 A third food court, known as The Lanai, that also stands on its own with a tropical island bar and good selection of restaurants to choose from, is located on the 2nd level next to Macy's.
Among the tempting choices, take note of Ike's Sandwiches which are super yum, HITea Café for some island flavored boba tea, and Mahaloha Burger for an ono treat!

---
Mahaloha Burger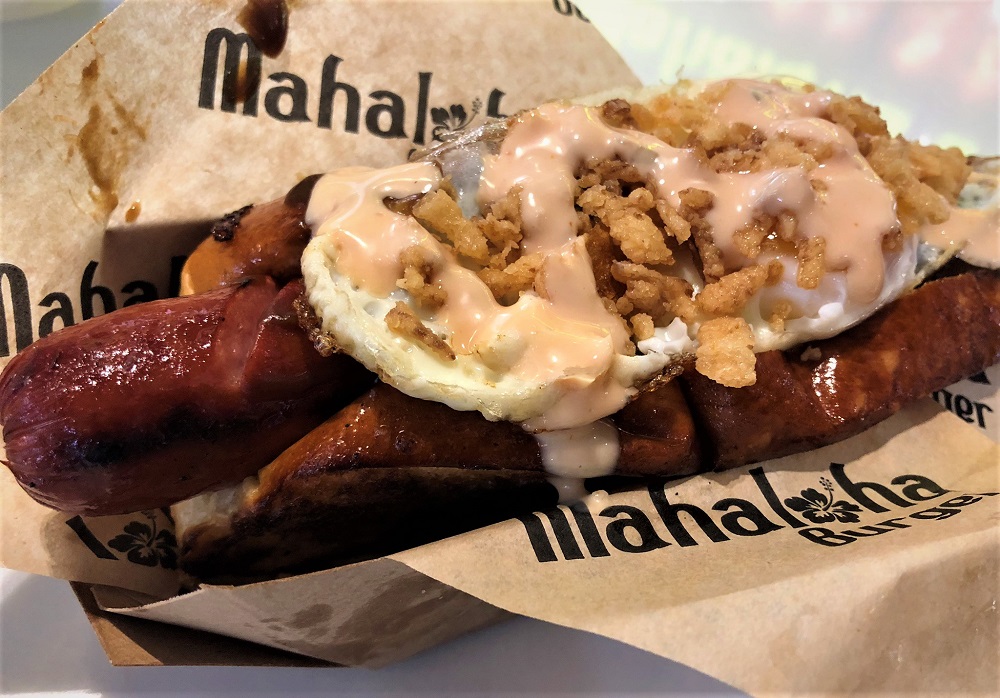 Mahaloha (Mah-aloha) Burger is not just another burger joint, but offers unique island style items like a Chicken Katsu Sandwich, Mahi Mahi Burger, and my favorite…the Loco Moco Hot Dog.

Describing it almost doesn't do it justice, but it's a tasty hot dog in a toasted brioche bread bun, served with a fried egg, crunchy dried onions, and a mild gravy on top that gels this creation together.  I'm always temped to order a second one for dessert!

---
The Top Floor

A forth restaurant area in the Ala Moana Center is located on the top level.  Here you will find a hand full of full-service restaurants and the Mai Tai Bar.  Notably, Buba Gumps has been a fun experience for visitors over the years, and GEN Korean BBQ House contends in Best Voted Honolulu Restaurants.

---
More Best Restaurants

Other noteworthy Oahu restaurants within this mega mall are Goma Tei. Leliha Bakery, Vintage Cave, and Foodland. 

---
Goma Tei


Goma Tei just might be the best ramen on the island!  I'm tempted to say pass on the food courts and satisfy your food craving right here.  The broth, the noodles, and the magic used to create one delicious bowl for the soul!  It's an inexpensive meal that is such a treat!

---
Leliha Bakery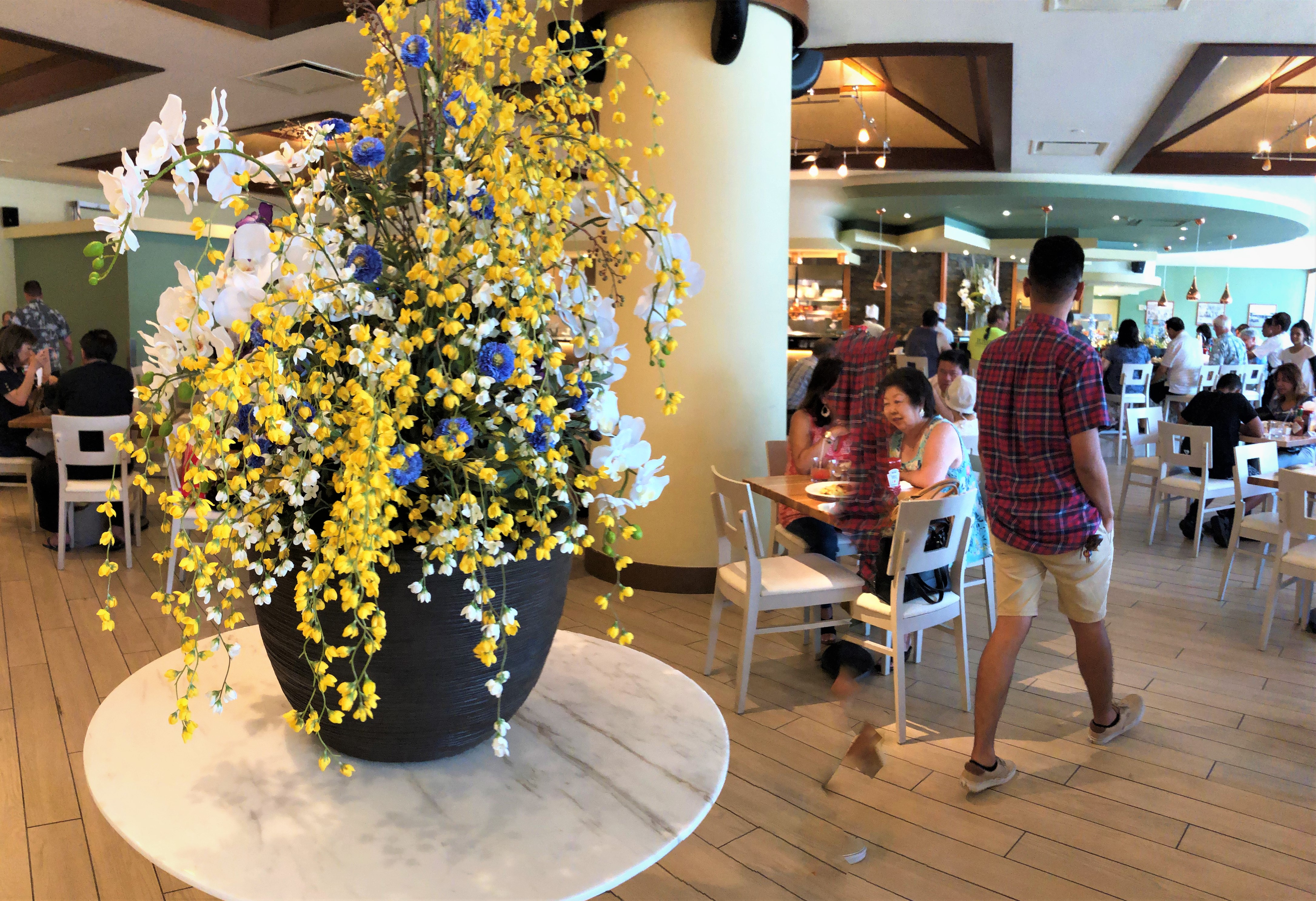 Recently moved into the former Pineapple Room on Macy's 3rd floor, Leliha Bakery instant popularity for their baked goods and fulfilling meals.
Don't pass up on their famous cream puffs…they are divine and will melt in your mouth!

---
Vintage Cave


You never would think that one of the most expensive dining experiences is right here in the Ala Moana Center.
The unique artwork, designer lighting, and cave like setting will help set the mood for a special "Japan Wagyu French" or "Sushi Kaiseki" prefix $300 menu.
Bring an appetite to the Vintage Cave, and set aside sometime for an extensive selection of courses that will entertain for sure.

---
Night Life & Entertainment
---
By no surprise, there is some good entertainment and nightlife options to enjoy here at the Ala Moana Center!
Whether you want to enjoy a drink at one of many bars & restaurants, go bowling and conquer the arcade at Lucky Strike, or go dancing into the night at Haus Super Club…you decide.

---
Family & Friend Fun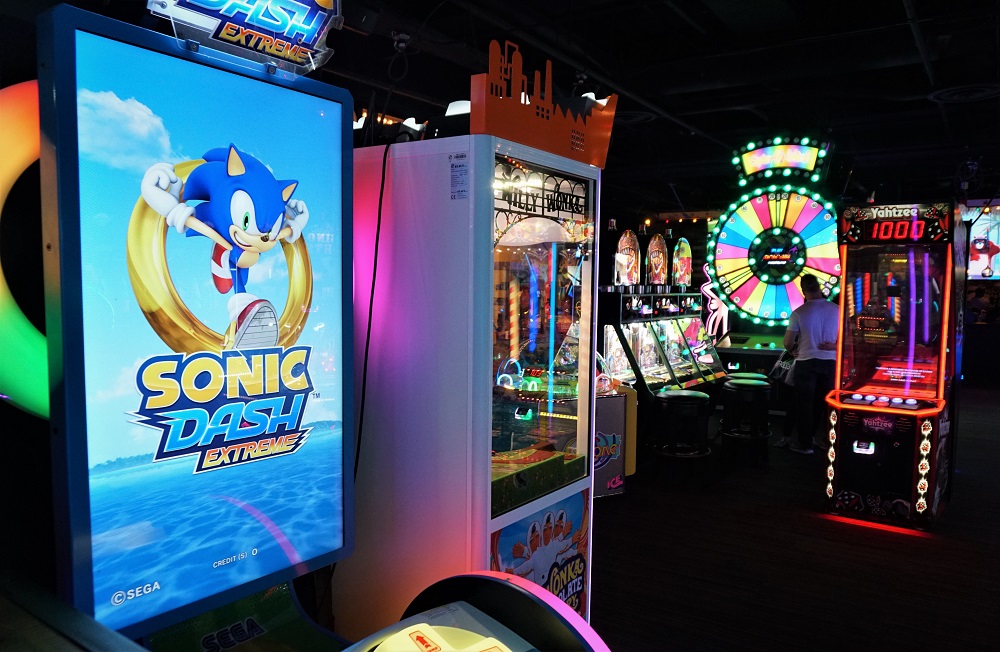 Have you ever been to a Lucky Strike?  They have taken the sports bar concept to the next level with a huge bar with mega viewing screens, bowling alleys, an expansive arcade, and even the food is better!

---
Bars & Nightclubs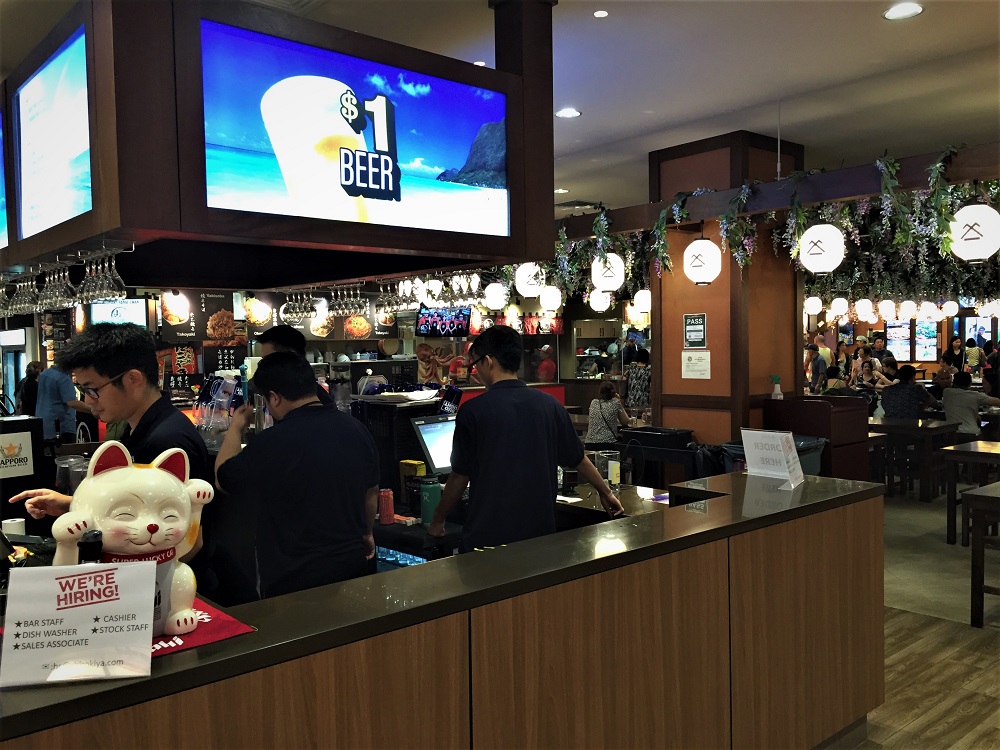 You would never think, but there are close to a dozen full scale bars and even a nightclub at the Ala Moana Center.  Even the mall grocery store, Foodland, as an enticing wine bar in the middle of the store!
Enjoying $1 beers in the Japan Village Walk is a novelty, and lounging upstairs at the Mai Tai Bar is all the prestige and more.

---
Mai Tai Bar


Take the escalators up to the 4th level to discover an oasis open air bar with lots of seating options, nice décor, an entertainment stage, and nice layout.
The Mai Tai Bar has been voted the best bar on the island in recent past years, and remains popular in Oahu's nightlife and daily shoppers.  This is the place to be for televised sporting events and live local music in the evenings.

---
Vintage Cave Café


If you prefer to enjoy a drink in a peaceful upscale restaurant with beautiful eclectic art décor and stimulating murals to admire, wonder into the Vintage Café and you'll be pleasantly surprised that this even exist in a mall!

---
How to Get There
---
Ala Moana neighbors Waikiki on the north side, close to the water along Ala Moana Blvd.
Take Ala Wai Blvd.
Make a left on Lipeepee St.
Make a right turn on Hobron Ln.
Make a right turn on Ala Moana Blvd.
The mall will be on your right hand side.
Address: 1450 Ala Moana Blvd, Honolulu, (808) 955-9517 ext 2
Hours - Open Daily 10 AM to 8 PM
Oahu Bus

Almost all buses that travel through Waikiki travel to the Ala Moana Shopping Center, including Oahu Bus routes 8 & 20.
---
Oahu Map
---
---
In The Area
---
Ala Moana Beach Park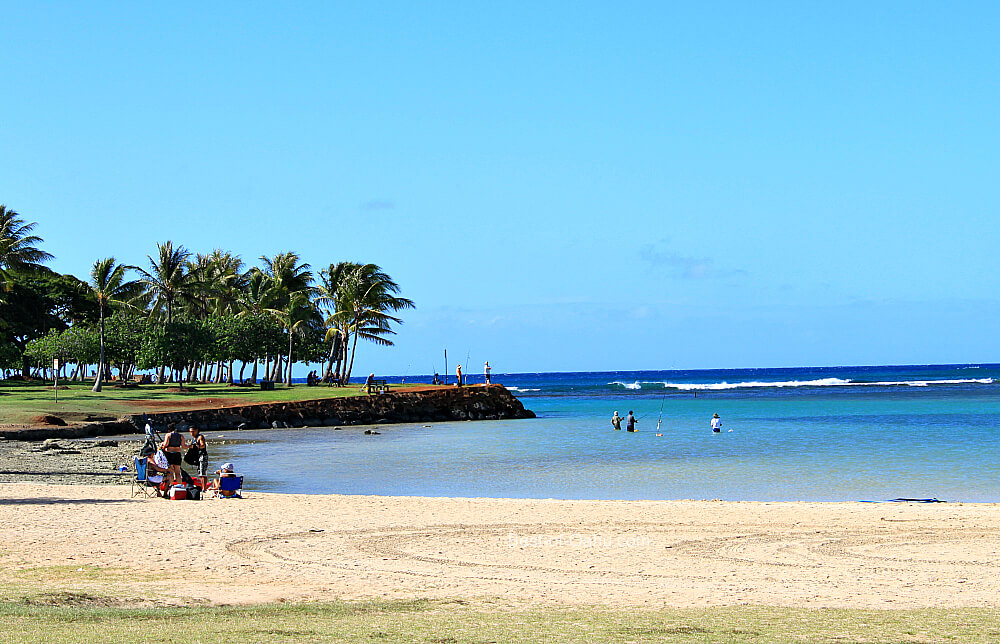 Right across the street you have a beautiful local 100 acre park that includes a mile long stretch of sand known as Ala Moana Beach Park.
Take time to walk out on the peninsula that's named Magic Island.  There's a beautiful enclosed half moon crescent beach located at the end.

---
Kaka'ako Shopping Area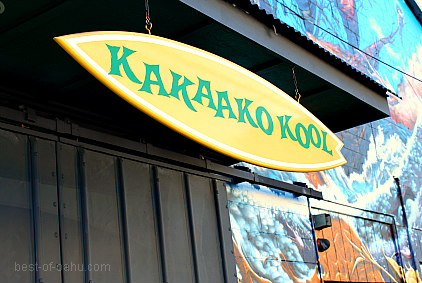 Neighboring Ala Moana is a new hip area called Kaka'ako.  In recent years, multiple condo buildings have risen, some of Oahu's best restaurants have open their doors along with boutique shops, and entertainment arenas.
Surrounding it all are mural artworks from artist all around the world.  Walking, biking or driving through the area is entertaining in itself!
---
Return to Best of Oahu Home Page
Aloha & Enjoy!

Subscribe to receive Best of Oahu updates on events, updates, and new articles.  It's the closest way to paradise while you are away...
We will never sell or spam your information, and we'll respect your email privacy.