Best Ono Hawaiian Poke on Oahu
Hawaiian Poke has become one of the defining elements that characterizes Hawaii's culture.  It is no longer an acquired taste, but now a well sought after island treat!  New Oahu based eateries such as Ono Seafood, Da Hawaiian Poke Co, and Fresh Catch push the limits and continue to amaze us with their innovating ahi tuna creations!

---
Poke in the Making
---
"Poke" literary means to cut.  Appropriate description for the art of cutting Ahi Tuna.

Take some sweet Maui onions, Hawaiian sea salt, limu, shoyu, and cubed cut triple AAA grade Ahi Tuna, and you got the makings for some Hawaiian Poke.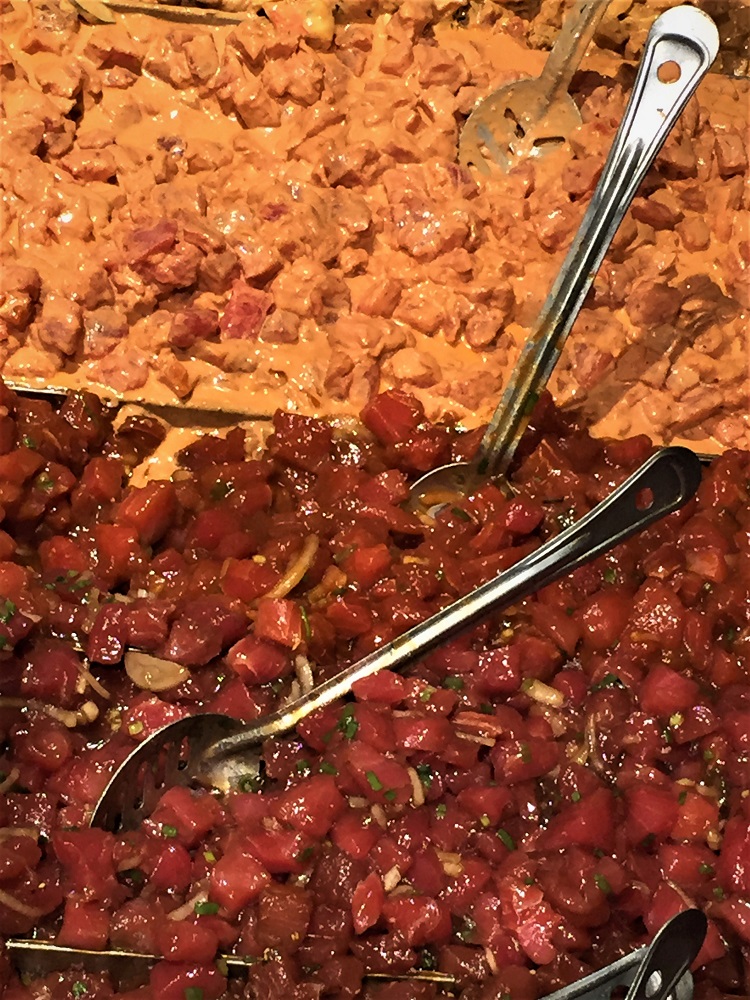 And as simple as that sounds, poke has become more complex today with secret ingredients, fish selection, and creating master pieces as if it was art work on your plate!

Sounds simple?  Not so easy!  All poke is not created equal!  Mix those same ingredients in different establishments and you will find different results!

Not too long ago, you could only find ahi poke in a few special fish markets, like the Fort Ruger Market on Diamond Head, or the Ward Farmers Market in Kaka'ako, which closed back in 2008 to new development!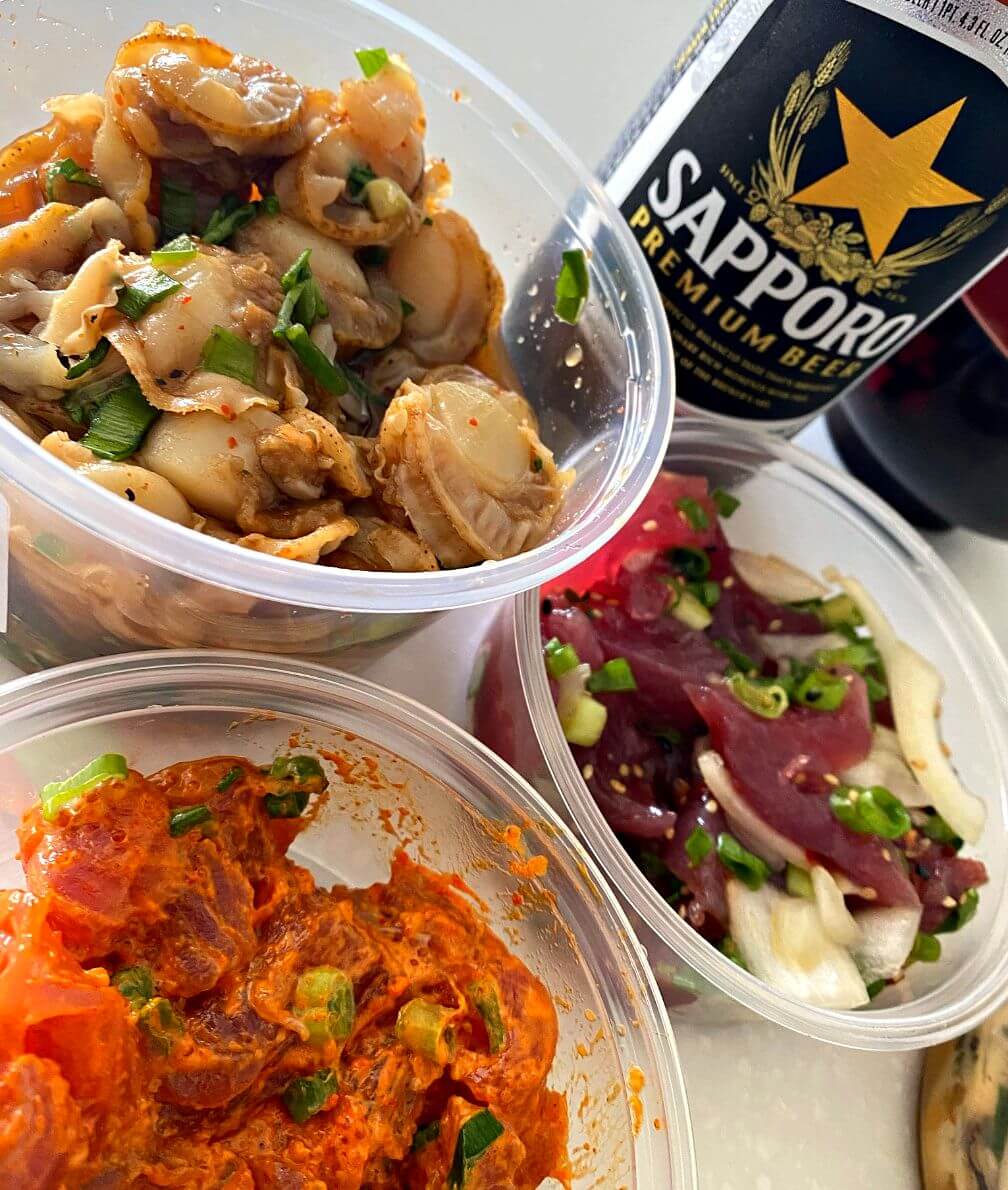 Best time to pick up your poke in most places is mid-morning to noon time.  The journey starts off much earlier at the fresh fish market, in the dark hours of the morning selecting and bidding on the best looking ahi and other types of fish that were just caught.
The fish is then transported to various stores and restaurants where chefs start their daily poke creations.

Award winning restaurants such as Peter Merriman, Roy's, and Chef Chai create their own signature version of this special appetizer.  Some restaurants go as far as to make it an entrée.  And some places solely focus on serving poke itself. 
Hawaiian Poke bowls have also become quite popular on the island, as it has in many other places.  If you're unfamiliar, these creations are substantial, typically on the healthier side, and actually taste good…make that great!
With choices like kale, kelp noodles, edamame, jalapeno, cucumber, avocado, kimchee, along with lots of other exciting choices to mix up with your different styles of sashimi grade fish.
When you think of Poke, we generally refer to Ahi (Yellowfin Tuna) Poke.  But there are many different styles and other types of raw fish to choose from.  Make sure to sample salmon, shrimp, scallop, and Tako (octopus) which is my favorite.  Poke shops will generally feature other specialties like a seaweed salad and kimchee.

---
Best Oahu Hawaiian Poke Places
---
Ono Seafood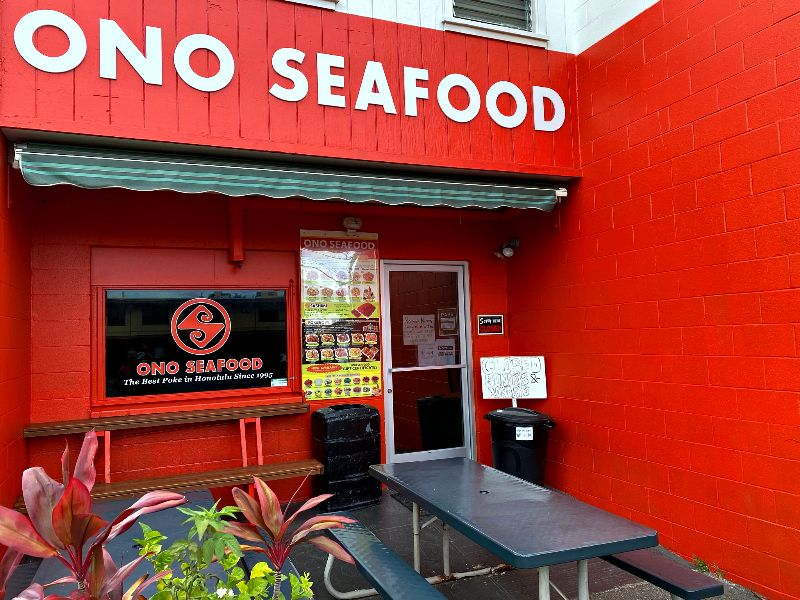 Why is it that the hole-in-the-wall places tend to be the best eateries?  No exception here, as Ono Seafood continuously ranks number 1 for their Hawaiian poke on the island.

The flavors and freshness are amazingly noticeable.  Their Shoyu Ahi, Spicy Ahi & Hawaiian Style poke classics are crowd pleasers.  There is a blusteriness of freshness to the taste of their AAA grade ahi tuna!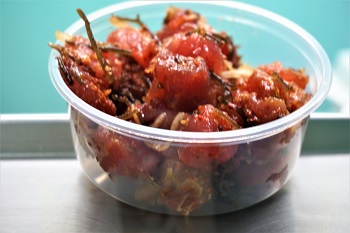 Make sure to get a taste of their Miso Ahi & Hawaiian Style Tako.  And don't be shy to try their Wasabi Ahi…even if you're not a fan of the spicy kick that you tend to get with wasabi.

Poke bowls are also available, including a combo and super poke bowl if you have a hungry appetite!  I personally love eating it ala carte, because the poke here is so ono!

Finding Ono Seafood if a little tough, even though it's off the main strip on Kapahulu Ave!  It's hard to spot, because it's a tiny shop that resides in an apartment complex.

Finding it is one problem…if you reach Leonards Bakery then you've gone too far!  Parking is even worse, as there are only a few spots available.  There's even a full time attendant to help direct traffic, so Ono's popularity doesn't interrupt the residents.
Open Daily 7 AM to 6 PM, except closed on Tuesday,

747 Kapahulu Ave, Honolulu,  Phone  (808) 732-4806
---
Honolulu Food Tour - Eat Like a Local!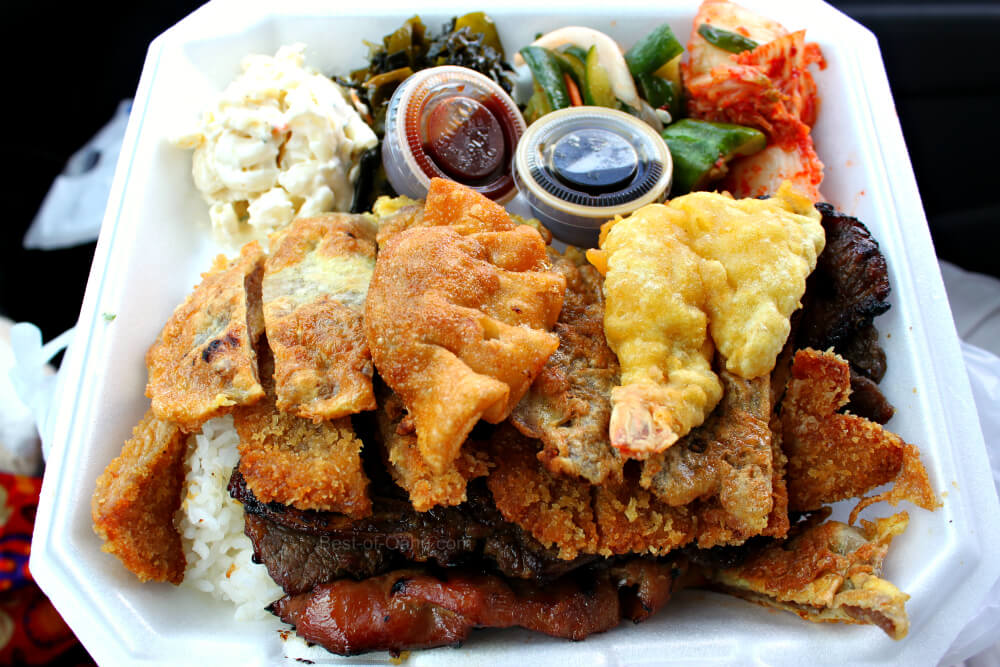 Spend 4 to 5 hours touring hole-in-the-wall eateries located just beyond Waikiki.  Visit some of Hawaii's gems, and learn a little culinary history, while exploring the different cultures that make up our island. Taste local favorites like Spam Musubi, Ube, Malasadas, Poke and island plate lunch hits! 

These are small-group tours, to help keep the experience personalized, so make sure to sign up early if interested.  Book Aloha Food Plate Tour Now!
---
Foodland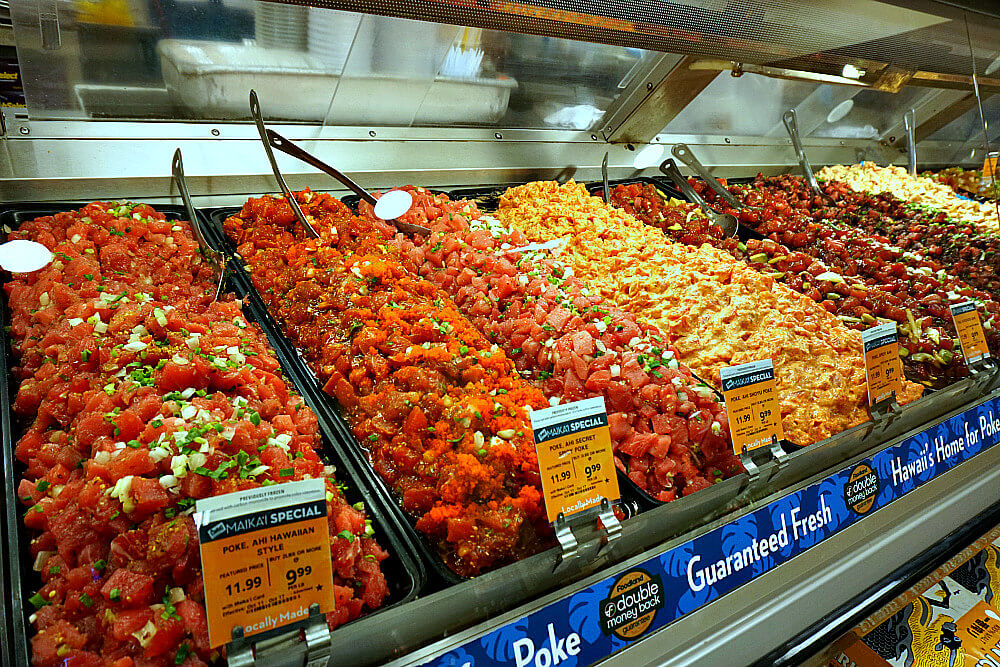 Voted #1 poke in many different polls throughout the years, and still contesting against many new outfits, Foodland was one of the first grocery stores on the island to raising the stakes and making some of the best ahi tuna poke in Hawaii.

Not too long ago before poke had its renascence with master chefs creating some of the best ahi poke and other premium raw fish creations, grocery stores were the last place you would seek fresh and delicious poke!

Foodland not only got it right, but keeps its standards high with consistency through its chain stores and over the years.  Foodland stand behind it's freshness so highly that they offer a double money back guarantee!
They offer a wide variety including classics like Shoyu, Limu, and Spicy Poke.  Hawaiian Poke is always a treat, and they are known for their White Crab Poke when available.

Personally I love their Tako selection…adding some chili water of course!

Make a point to drop into the new Foodland Farms in the Ala Moana Center, and you're in for a real treat...delicious poke and beyond!
---
Off The Hook


As soon as you think you've tried all the best poke spots and creations, a new player enters the market and redefines the pleasure of eating this Hawaiian comfort food.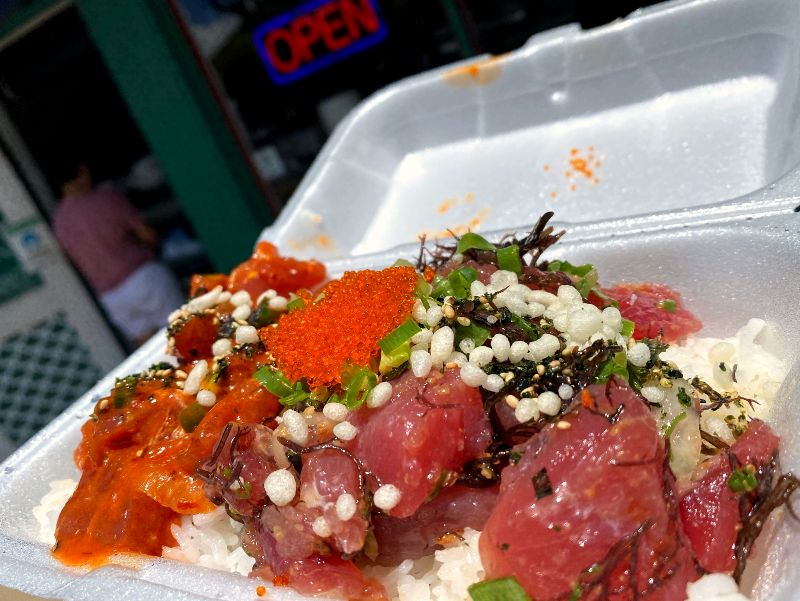 You know it's the real deal when you drive up into Manoa Valley looking for this Off The Hook Poke Market, and find this hole in the wall place with a long line going down the block.  But not worry, they have an efficient process and the line moves quickly.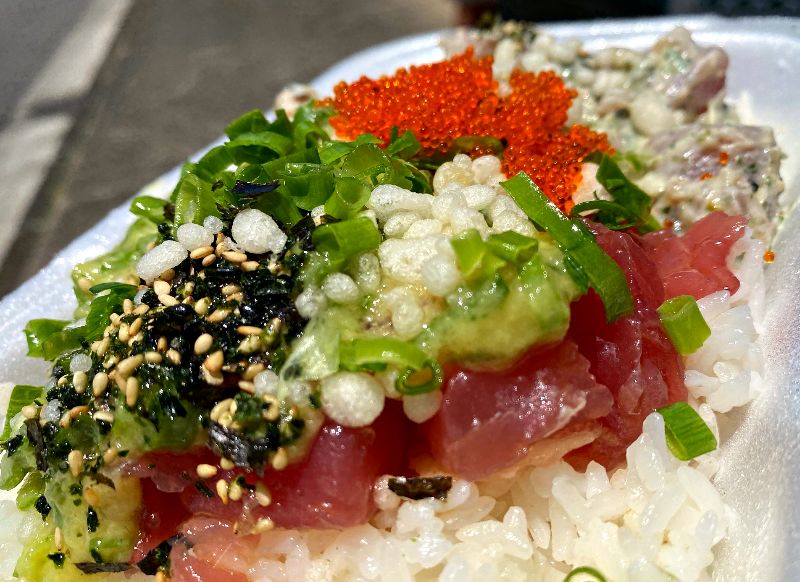 When it comes time to order, I recommend choosing their regular size verses small, since it's only a couple extra bucks and you can choose a couple selections of pokes to layer on top.  Like other poke bowl spots, you get your choice of white or brown rice as a base.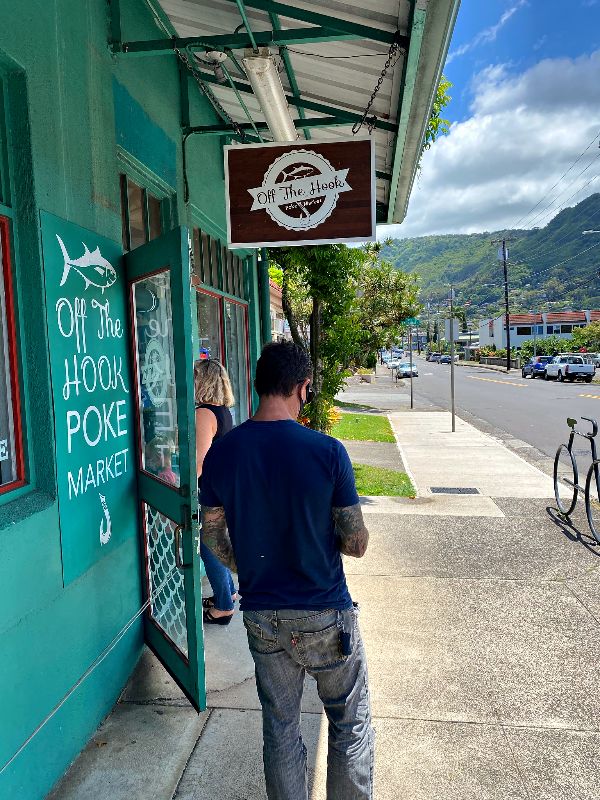 Good luck trying to choose your style of poke as they have come up with many.  Off The Hook is known for their special Cold Ginger creation…it's yummy!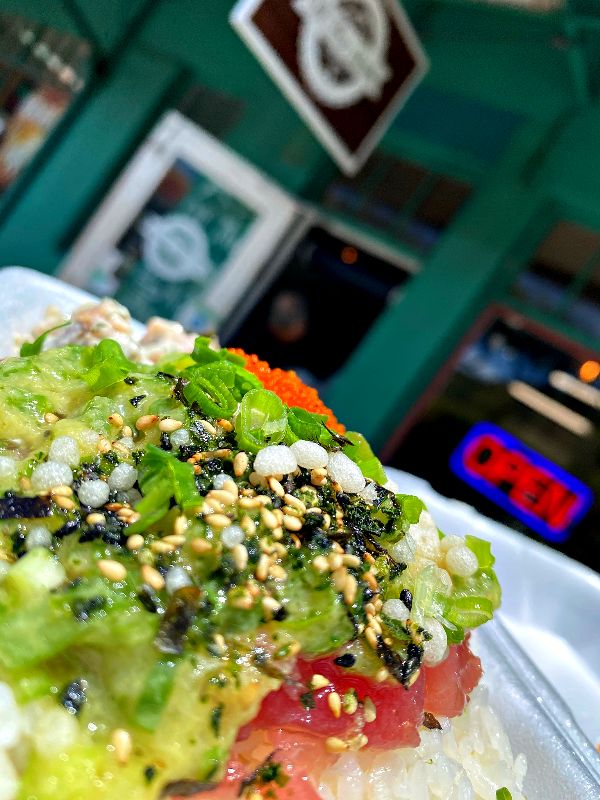 We also love their Volcano Fire, Hawaiian Style, and Wassabi Poke (that's great flavor but doesn't burn the nose).
Do not pass up on the toppings, which is considered to be the glue to bring the flavors together and separating themselves from other poke bowl shops.  I opt for all toppings which is an ono treat! 

---
Tamashiro Market


Alligator Head on Display
It's by no surprise that Tamashiro Market ranks in the top poke makers on the island, since they've been in the fish market business since the 1940's.  Even their 3-story pink building with a giant crab mascot peering off the top is an iconic fixture in the old Kalihi neighborhood.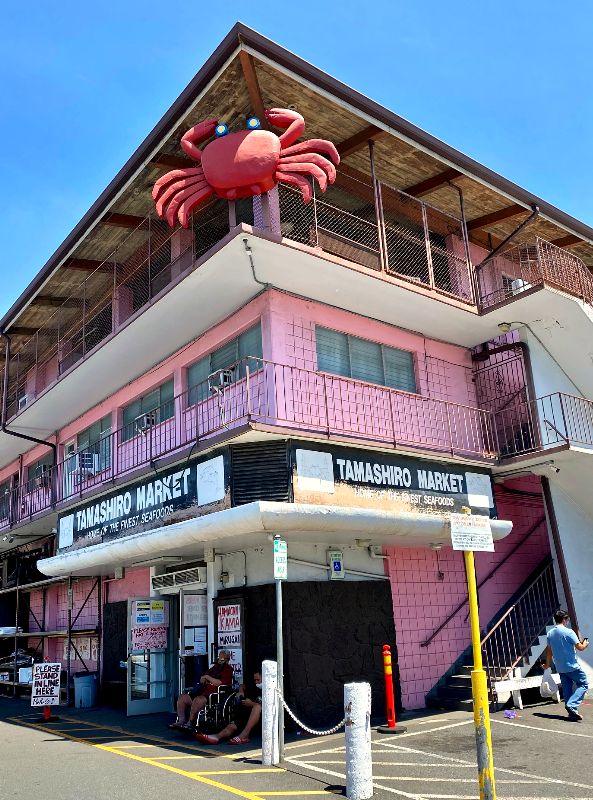 Enter the supermarket and head to the back where you will find a nice variety of fresh poke type creations.  Typical you will find a line of seniors waiting patiently to place their order is a testament to how good it is.
They have over delicious 30 recipes that they mastered over the years and display a good variety to choose from each day.

They feature many of the popular poke classics, but I encourage you to look for some of their unique creations like Polynesian Style Poke (Oka), Spicy Kajiki Scallop Poke, Blackend Ahi Poke, or Grilled Teri Calamari Poke.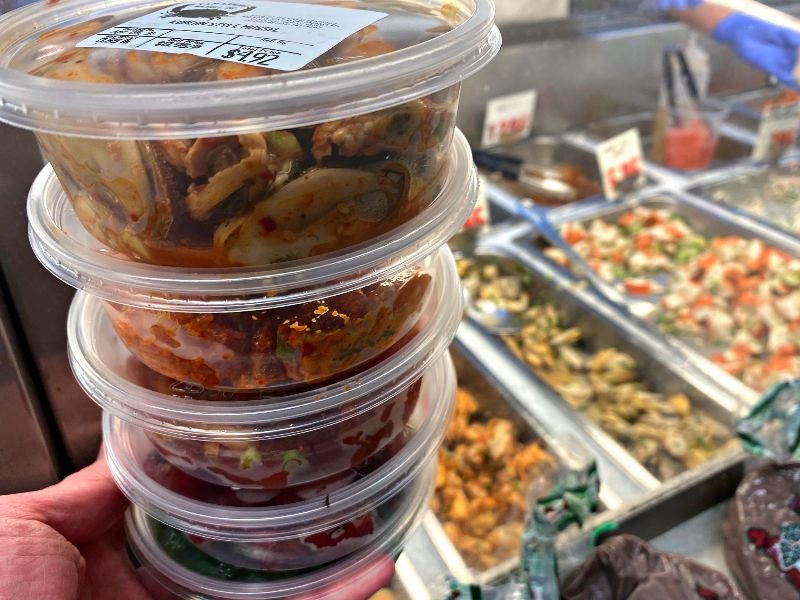 Traditionalist will enjoy the Tamashiro Ahi Limu Poke, Aku or Ahi Shoyu Poke, and their Ginger Wasabi Poke. They also make a tasty Lomi Salmon and Sea Salad.  You will want to arrive before lunch time to beat the crowds, and get the best and freshest selections.

---
Fresh Catch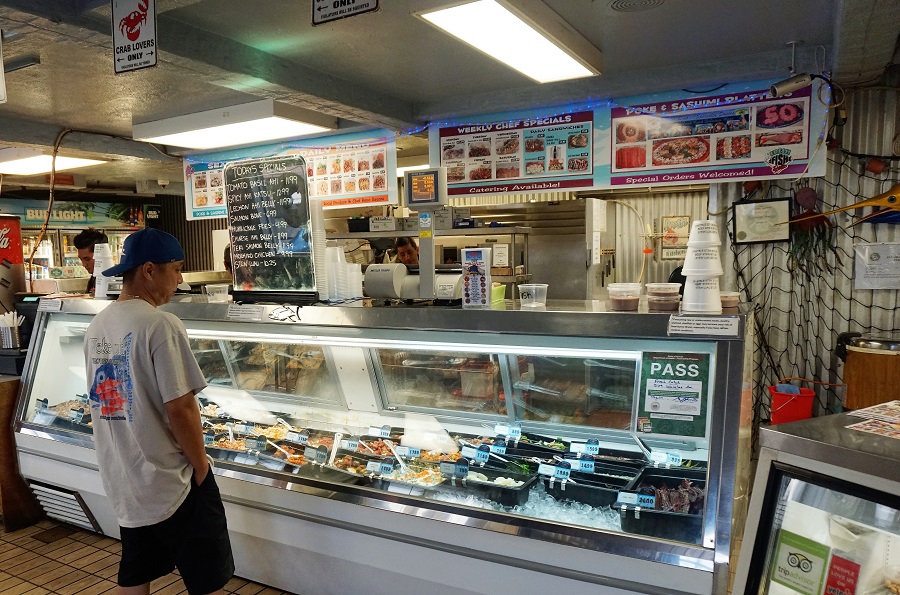 I'd have to agree with Travel Channel's foodie Guy Fieri that said "I could eat bucketfuls of this stuff". 

You can't beat the freshness and verities of poke that Fresh Catch serves up on Oahu.  They have 3 locations, including one close to Waikiki!  I'd advise vising all 3 spots if you have time…but that's just because I love the stuff! 

You will be amazed and maybe even a bit stressed trying to choose from their 30 different styles of poke!  And if that's not enough…Fresh Catch has some tempting plate lunches, creative sandwiches, weekly chef specials, slow smoked meats, and sashimi platters to choose from!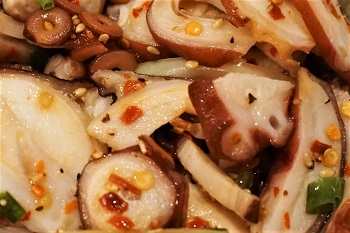 Chef Reno takes pride in selecting his fish from the market, and preparing his poke daily with some perfected local style sauces to give each creation its uniqueness.  Local favorites include Ahi & Ahu Poke, Smoked Tako, Kimchee Topshell, and Fireball Ahi Poke!

The weekly chef specials and daily sandwiches are worth the indulge!  Tempting items on the menu such as Crab Stuffed Ahi Roll, Smoked Meat Fried Rice, and Seared Ahi w/ Aoli, will make it hard to decide what to order!  I recommend showing up hungry! 

Still have room for dessert?  Red Velvet Cupcakes are baked daily by the owner's wife, Mahea. 

Open Daily 10 AM to 7:30 PM, except closes 5 PM on Sunday
3109 Waialae Ave, Phone (808) 735-7653
---
---
Honolulu Food Tour - Eat Like a Local!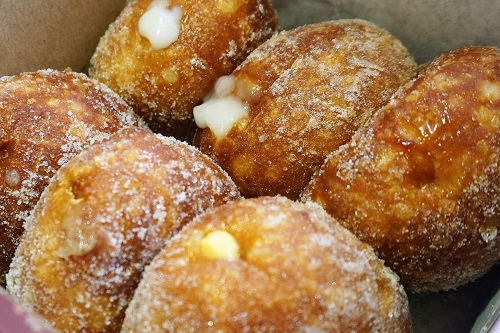 Spend 4 to 5 hours touring hole-in-the-wall eateries located just beyond  Waikiki.  Visit some of Hawaii's gems, and learn a little culinary history, while exploring the different cultures that make up our island.

Taste local favorites like Spam Musubi, Ube, Poke, Malasadas, and island plate lunch hits!  These are small-group tours, to help keep the experience personalized, so make sure to sign up early if interested.  Book an Aloha Food Plate Tour Now!
---
Wholefoods
Back in the day, you did not go to the local Honolulu supermarkets to find poke or fresh fish for that matter.  Those days are long gone since a local grocer named Foodland stepped up to the plate and started making some of tastiest poke on the island.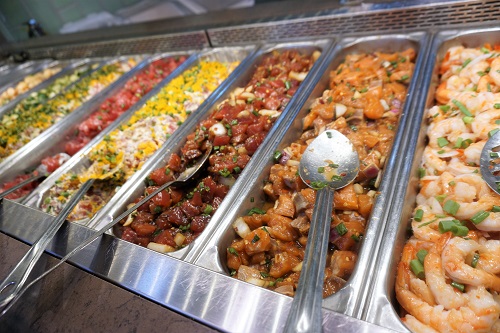 Shortly after, other grocery stores saw the demand for this island treat, and jumped onboard.  Wholefoods, a high end chain grocery store, joined the Hawaiian Island chain in 2008 and launched their Kailua location in 2012. 

They feature some unique local items, including a cool shave ice stand, and a delicious grass-fed Maui Cattle Co. hamburger that is worth the indulge!  But it's hard to pass up the long colorful display of fresh poke! 

They claim to make their poke free of carbon dioxide…wait what!  Okay, what I will tell you is that they have the freshest looking self-serve Hawaiian poke bar on the island!  And looks are usually a telling sign of what's to come…great tasting poke!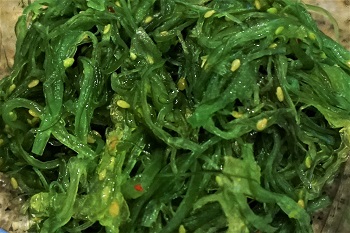 Whole Foods features many of the popular classic creations, along with a few others that will tempt your pallet.  Try their Scallop Poke, Sweet Chili Shrimp Poke, and the Natural Seaweed Salad if available!

 Open Daily 7 AM to 10 PM

629 Kailua Rd., Kailua, Phone (808) 263-6800

---
A Tasty Gift from the Pacific
---
So long as Hawaii has a sustainable source of yellowfin ahi tuna surrounding the Hawaiian chain located in our deep Pacific waters, we will see both new and older Oahu restaurants & poke establishments rising to new heights, creating both simple and amazing recipes of this divine treat!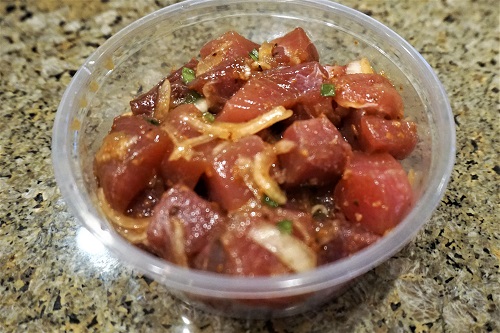 Tip - add some Chili Pepper Water to your poke if you want to add a little spice and sweet tanginess to your dish.  It's popular with the local poke fans and complements many of the different selections.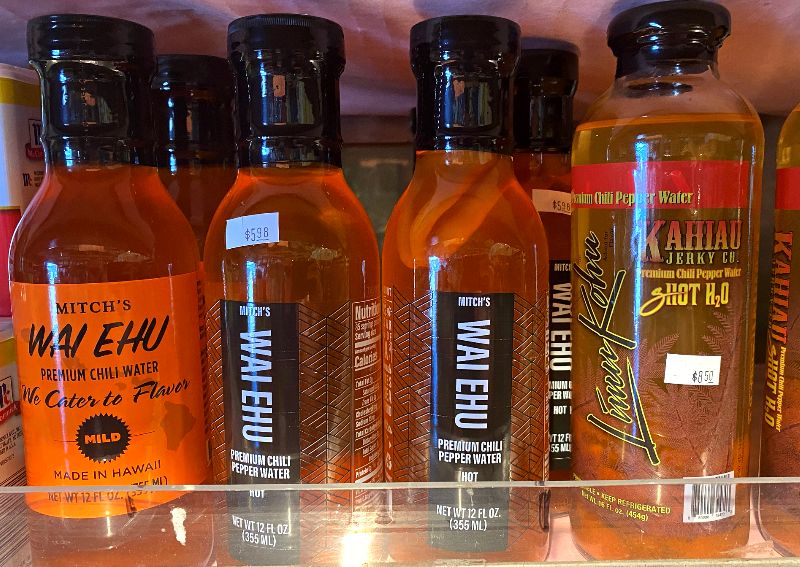 While some establishments are more popular than others, it comes down to preference of taste and the overall experience that keeps the debate going.  And so let the journey begin…have fun tasting you way to find the best Hawaiian Poke out there!

Aloha & Enjoy!

Subscribe to receive Best of Oahu updates on events, updates, and new articles.  It's the closest way to paradise while you are away...
We will never sell or spam your information, and we'll respect your email privacy.