Rainbow Drive In
Rainbow Drive In, also known as Rainbow's, makes the short list when searching for the best Hawaiian plate lunch on Oahu.  It's no doubt the best hole in the wall plate lunch in my mind.  Teri beef, shoyu chicken, Mahi Mahi, 2 scoops of rice, and mac salad is a staple on this island, and this Waikiki restaurant does it best.  Let's also not forget their chili dog plate, beef stew, and award winning fried rice that sells out well before the morning is over!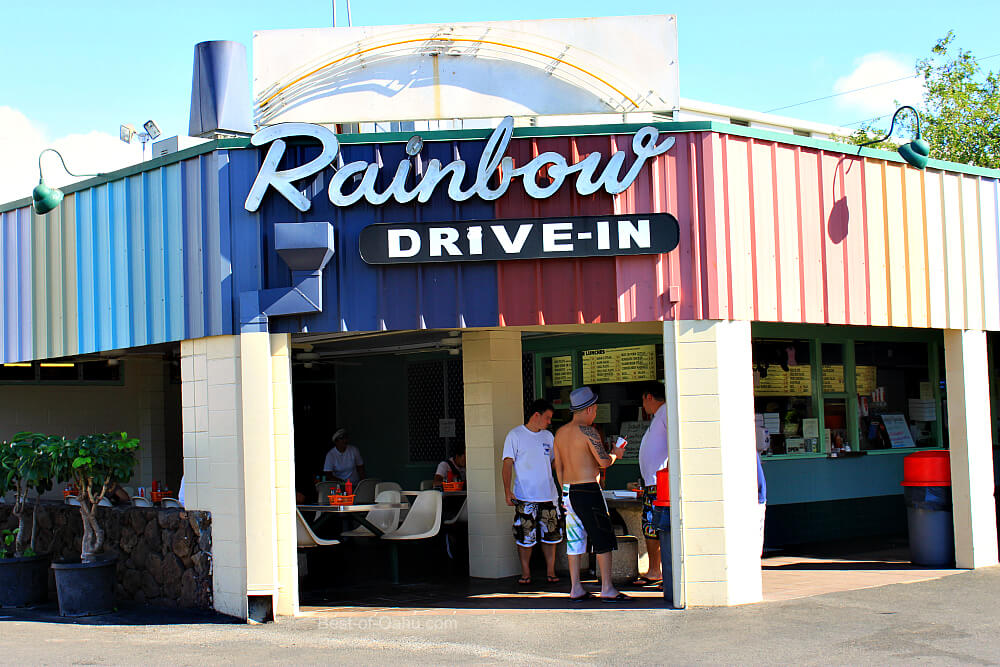 The popular Kapahulu Ave strip offers many temping food choices, and Rainbow Drive In sits right in the middle of it.  The sweet smell of barbecue will lure you in this Waikiki restaurant as you drive down the strip.
Rainbow's is a special place to many as this iconic eatery has been serving local style comfort foods for over 50 years now.  I have childhood memories of my mom stopping here to pick up some $3.20 plate lunches, before heading off to the beach.  Although the price is more than double that today, it's still one of the biggest bargains in Hawaii!
---
As Drive In restaurants continue to decline in numbers and disappear around the island, Rainbow Drive In continues to grow in popularity.  Today they serve well over 1500 plate lunches each day, and closer to 2000 on the weekends.

---
Party Bike Bar Tour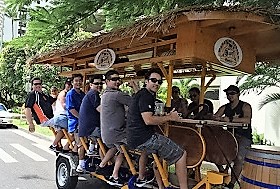 Pedal your way to the bars!  Sign up a dozen party goers in your group pedal away on a 15 seater party bike.  Your pub bike crawl takes place in the new Kaka'ako area, just outside Waikiki, visiting 3 popular local bars, including popular spots like Hibiscus Club and Honolulu Beerworks.  

The joint bike ride itself is worth the experience itself!  Sign up and get ready for a memorable experience!  Reserve your spot!

---
Rainbow's
---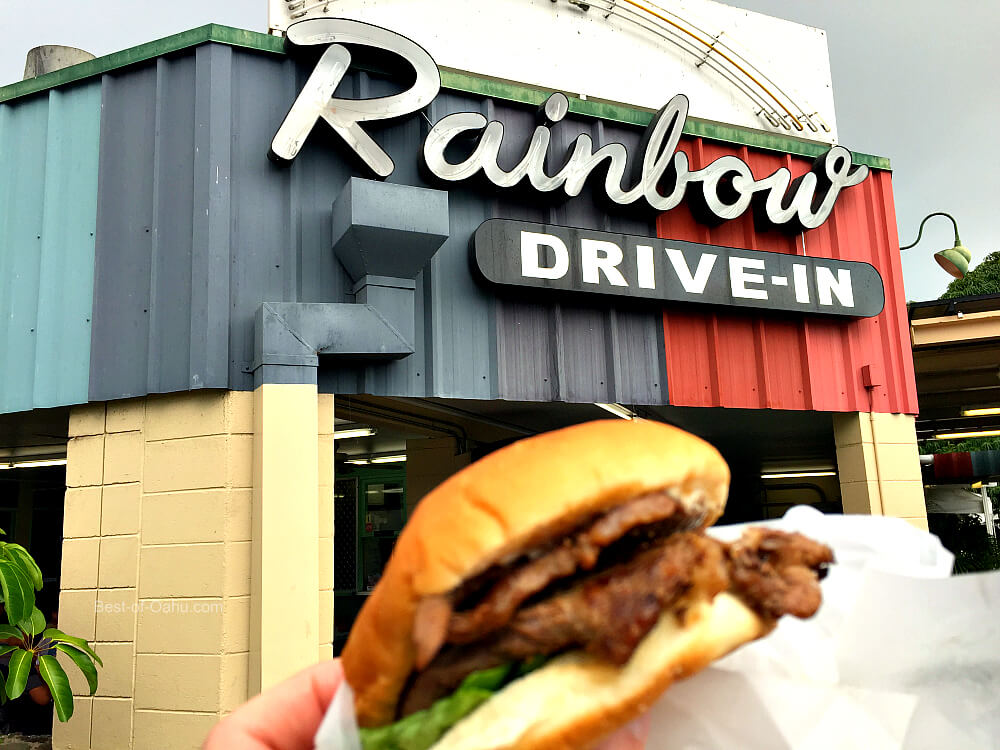 You're not exactly coming here for the ambiance.  Rainbow Drive In is a great example of a hole-in-the-wall Oahu restaurant, that has some worn down vintage tables with built in seats, a step up outdoor window to order from, and a nothing-fancy-restaurant appearance.

Don't get me wrong, this Hawaiian plate lunch spot has a good vibe and lots of character.  But without knowing what you're getting, you might be more opt to pass up this popular local eatery.

---
Da Hawaiian Plate Lunch
---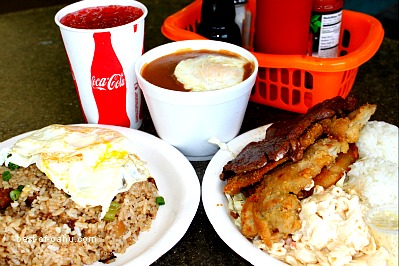 So what keeps the lines long and strong at Rainbow Drive In?  How about simple ono, delicious, comfort foods!  I've been a big Teri-beef plate lunch fan over the years, but mixed plate lunches tend to capture more appetites, as you get a nice sampling of many flavors.
The loco moco is very popular and an inexpensive meal that is quite tasty and filling.  For those that don't know, it's a plate filled with a base of steamed white rice, and layered with a hamburger patty, and topped with a fried egg sunny side up, and finally smothered with gravy.  I didn't say it was healthy for you…!
Try Rainbow's for breakfast sometime and try ordering Portuguese sausage, eggs, and rice.  Tt's a staple Hawaiian breakfast!
Make sure to arrive early to get an order of their fried rice.  Not just any fried rice, but one of the island's best.  It's so popular that they typically run out by 8 am!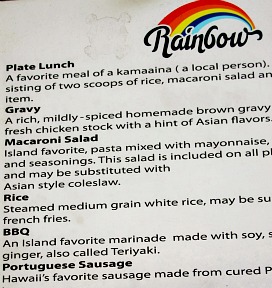 If you're looking for a special treat, try a teri-beef sandwich…you won't be disappointed!
Breakfast typically runs about $6 for a meal, and plate lunches generally runs about $10.
---
Hawaii's Favorite Kitchens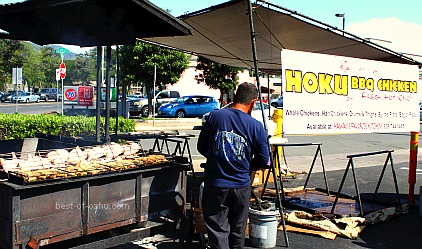 Rainbow Drive In's new restaurant venture is located right next door. Not only do they feature some of their favorite entrees, but top choices from KC Drive Inn, Hoku BBQ Chichen, and Poke Stop as well.  So if the line is too long at the drive-in, duck into here and you can still get Rainbow's favorite entrees as part of the combined menu items from other restaurants.  Many people don't realize you can do this!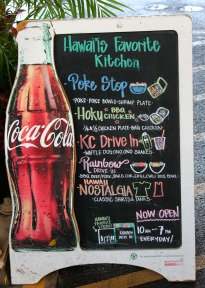 Now you can have a waffle dog, huli huli chicken, and some fresh poke with your teri beef plate!
NEW - Popular Shimazu Shave Ice just joined Hawaii's Favorite Kitchen -it doesn't get much better than this...other than an anticipated longer line to get all this ono food!

It's a great concept of being able to enjoy some island favorites all in one spot.
---
Rainbowtiki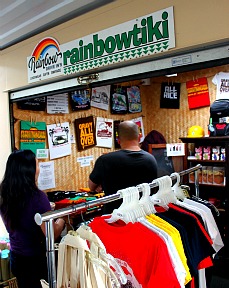 With its increased popularity, there is now a separate gift shop selling everything with Rainbow Drive-In's logo on it!
It's hard to walk away without purchasing a shirt, handbag, or a trinket with a Rainbow logo on it from this local favorite.

---
---
Tips
---
Early bird gets the fried rice!  That's right, there's a morning rush that lines up here at Rainbow Drive In to get their share of one of the islands best versions of fried rice!  I can't tell you exactly what distinguishes it from the rest, but it's ONO, and tough to put down the fork once you've dug in!
Limited seating – not that it's a big problem, but it can be little bit challenging sometimes to get a seat at this Waikiki restaurant.  I've seen people eating their plate lunches on the side of parking stalls!  I recommend getting your meals to go, and enjoying your plate lunch in one of the best seats of island.
I'm talking about the beach of course!  Consider sitting on the beach wall at Sansui Beach, or maybe the Diamond Head lookout area.  But my favorite spot to enjoy the scenery and my Hawaiian plate lunch is the south end of Diamond Head Beach in an area called Cromwells.
---
Getting to Rainbow Drive In
Kapahulu Ave is a main the main road that shuffles traffic to and from Waikiki.  Rainbow Drive In is anchored right in the heart of it.
From Waikiki head south towards Diamond Head on Kuhio Ave.
Turn left onto Kuhio Ave once you dead end at Kapiolani Park/Honolulu Zoo.
Rainbow's is located about a mile up on the right hand side

Location:  3308 Kanaina St, Honolulu, HI – Phone (808) 737-0177
Hours:  Open Daily 7 AM to 9 PM

Check out more at - www.rainbowdrivein.com
---
Oahu Map
---
---
Surrounding Kapahulu Shops & Treats
---
Leonards Bakery
Also incredibly famous on the Kapahulu strip is Leonard's Bakery, best known for their fresh hot Malasadas Portuguese donuts. 

These little warm treats area  piece of heaven -every bite!  I'm bitter sweat of the long lines you will stand in today because of their success and love for these donuts.  It's a treat not to be missed!

The plain malasadas are original and still the best, but now there are some tasty fillings such as chocolate haupia (coconut), macadamia nut, and island flavors of the month, that are worth trying as well!

5:30am to 10pm Daily

Location:  933 Kapahulu, Honolulu, HI - Phone (808) 737-5591

Check out more...
---
Waiola Shave Ice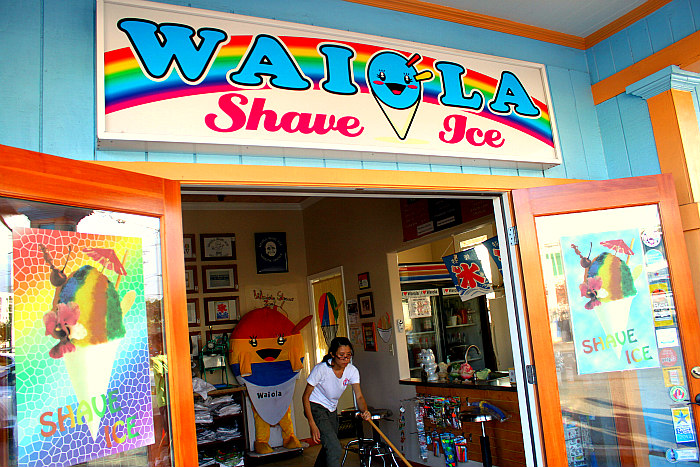 Forget the 1 hour drive to the North Shore for a Matsumoto Shave Ice, when you can enjoy the island  treat right here in town.

Hawaiian shave ice has been perfected over the years at Waiola Shave Ice, and worth a try.

Waiola shave ice has a big following on Oahu!  Make sure to try some of the exotic tropical flavors…and always request a scoop of vanilla ice cream at the bottom of your cone to make it complete! Yes, the ice cream does magic to the experience...

7:30am to 6pm, except open 10am on Sunday

Location:  3113 Mokihana St, Honolulu, HI (across from Safeway, off Kapahulu St)
Phone (808) 735-8886 Check out more Waiola Shave Ice reviews.
---
Bailey's Antiques & Aloha Shirts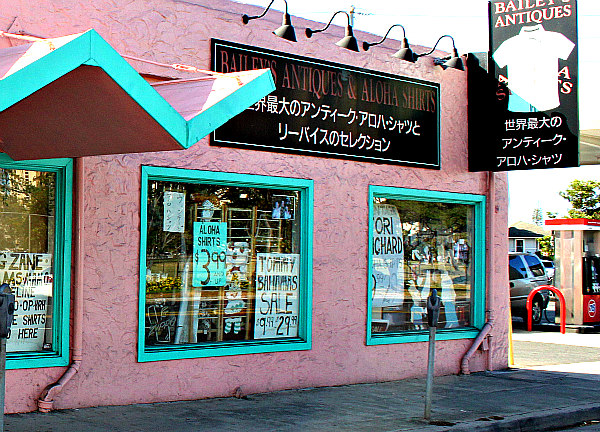 Bailey's Antiques & Aloha Shirts  There's a good chance you will find the aloha shirt you've been looking for our of the 15,000 shirts waiting for you at Bailey's Antiques & Aloha Shirts.  They have it all from Vintage to brand new. They have the worlds largest collection of Aloha wear in the world.

Open Daily 10am to 6pm
517 kapahulu Ave, Honolulu - (808) 734-7628
Learn more at www.alohashirts.com
Aloha & Enjoy!

Subscribe to receive Best of Oahu updates on events, updates, and new articles.  It's the closest way to paradise while you are away...
We will never sell or spam your information, and we'll respect your email privacy.