Matsumoto Shave Ice - The North Shore Treat
There are certain must-stop places when visiting the North Shore of Oahu, and Matsumoto Shave in Haleiwa Town is near the top of the list. I personally have been coming here since I was a kid. This iconic spot has been serving up Hawaiian Shave Ice since 1951 and has become a top destination for tourists and locals alike. With a colorful array of tropical flavors and toppings to choose from, Matsumoto's offers a delightful taste of Hawaii that will have you coming back for more!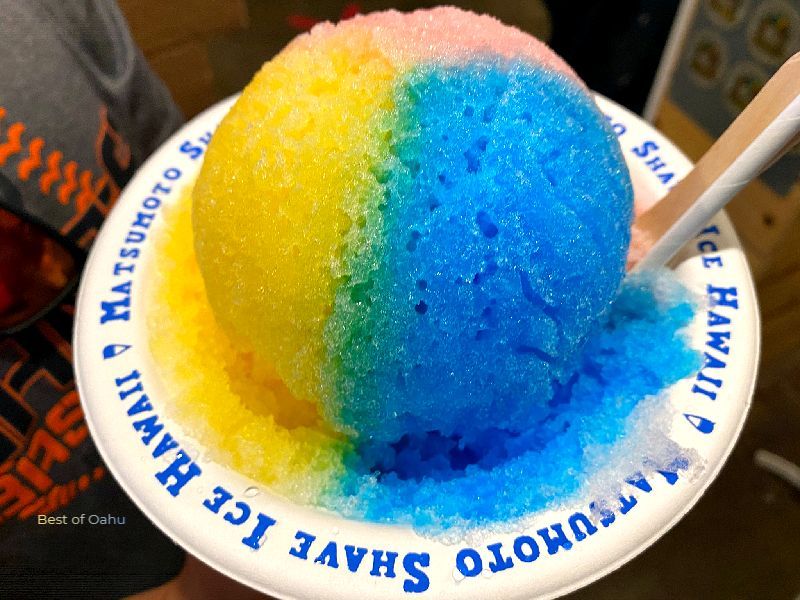 Once you get to Oahu's Northshore and you start strolling through the historic town of Haleiwa, one sight in particular will stand out --- a long line extending into the Kamehamalu Courtyard, leading into Matsumoto Shave Ice.  This beloved spot with its humble beginnings has become a must-visit destination for anyone traveling to the North Shore of Oahu.  It's usually our first stop when entering Haleiwa Town.
---
A Brief History of Matsumoto Shave Ice
---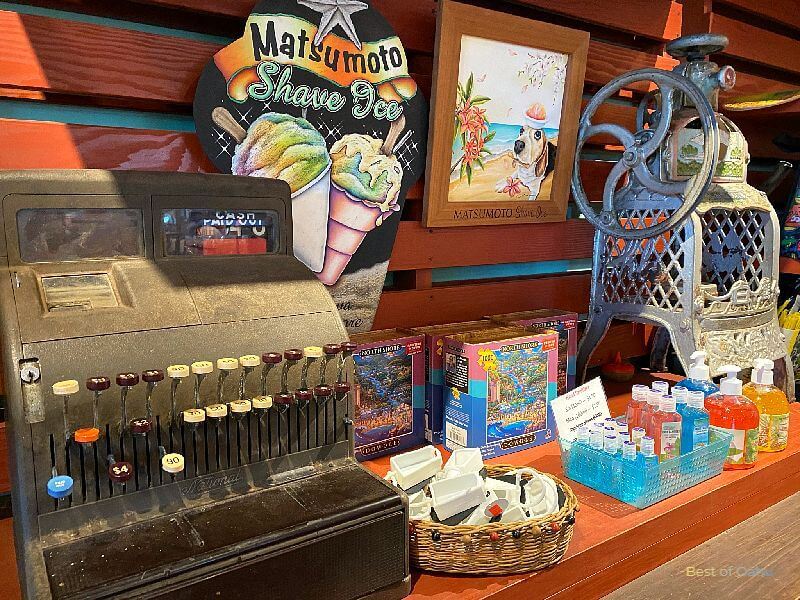 In the heart of Haleiwa, Oahu, this shave ice shop has been delighting locals and visitors alike for over 70 years.
Founded in 1951 by Mamoru and Helen Matsumoto, this family-owned business has grown from a small grocery store to an internationally renowned destination for Hawaiian Shave Ice enthusiasts.
Throughout the decades, Matsumoto Shave Ice has remained true to its roots, maintaining its original charm while evolving to accommodate the ever-growing demand for its delicious frozen treats.

---
What Makes Matsumoto Shave Ice so Special
---
As you approach the store, you will immediately notice the lively atmosphere and the long line of eager customers.
The secret to Matsumoto's success lies in the perfect combination of finely shaved ice, delectable homemade syrups, and warm Aloha spirit.
The Matsumoto family's dedication to maintaining the highest quality standards and their unwavering commitment to creating an unforgettable customer experience is truly what sets them apart.

---
Shave Ice Texture and Flavors
---
Matsumoto Shave Ice is famous for its incredibly fine and fluffy ice texture, which allows the syrups to meld seamlessly with the ice, creating an explosion of flavor in every bite.  Yummmmm.....
The process of shaving the ice is an art form in itself, with meticulous care taken to ensure the perfect consistency.  A visit to Matsumoto's is an opportunity to embark on a flavor adventure with their impressive selection of over 40 exotic tropical syrups.
From local favorites like pineapple, mango, and lychee to unique offerings such as lilikoi (passion fruit), guava, and pickled mango, there is a flavor to suit every palate. All of their syrups are made in-house, using the freshest ingredients to deliver an authentic taste of the islands.
---
Matsumoto's the Hawaiian Shave Ice Experience
---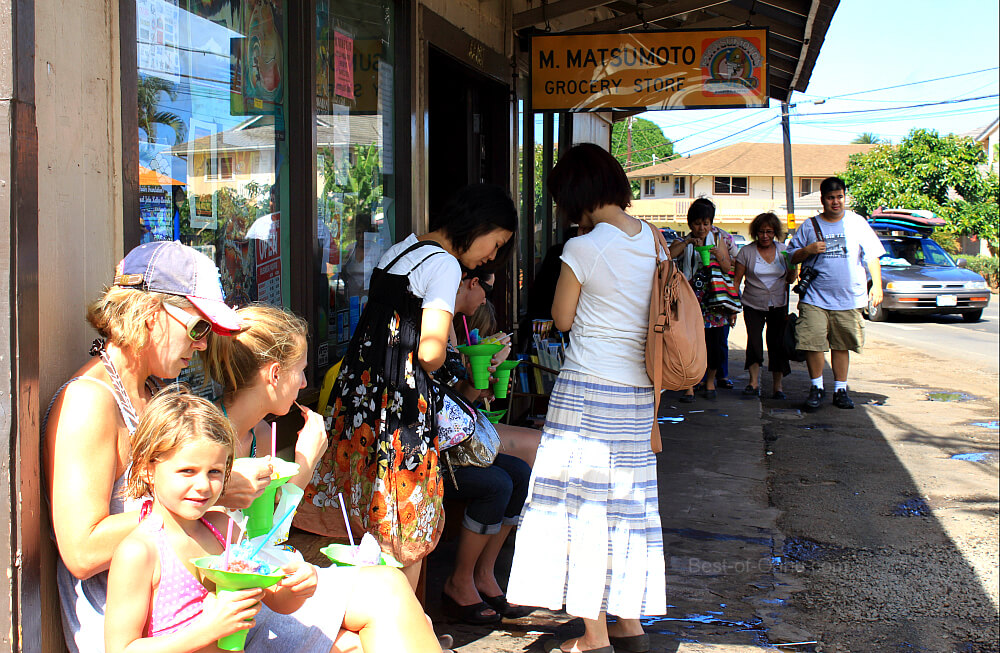 At Matsumoto Shave Ice you have the ability to customize your own icy creation. With the option to choose up to three flavors per shave ice, the flavor combinations are virtually endless.
To elevate your shave ice experience even further, you can opt to add a scoop of creamy vanilla ice cream which is my personal favorite, or sweet azuki beans (Japanese sweet red beans) at the base, and top it off with a drizzle of sweetened condensed milk.  Trust me, you won't regret it!
The Matsumoto Classic, also known as the "Rainbow," is a must-try for first-time visitors. This vibrant creation features a trio of flavors – strawberry, lemon, and blue Hawaii – which beautifully come together to form a rainbow of colors and tastes.
---
Thousands of Satisfied Customers
---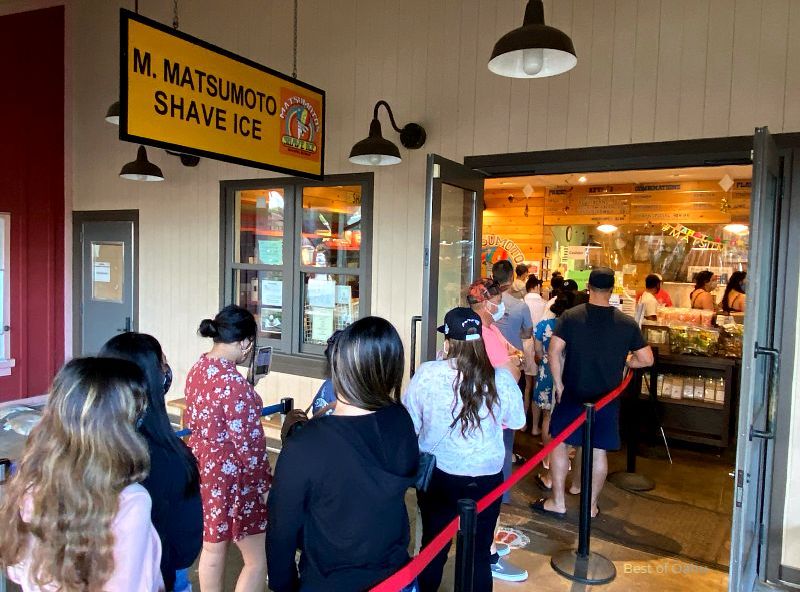 Matsumoto Shave Ice has become a staple of the North Shore community, attracting an average of 1,000 customers every day.  That's a lot of shave ice!
Tourists and locals alike flock to the store to experience the unbeatable combination of the island's best shave ice and genuine Hawaiian hospitality.
Matsumoto's has even caught the attention of celebrities such as Jack Johnson, Tom Hanks, and Bruno Mars, who have all been spotted enjoying the icy treats.

---
A Commitment to Sustainability
---
Matsumoto Shave Ice is not only dedicated to providing an exceptional product but also to preserving the beautiful environment of Oahu.
In an effort to reduce plastic waste, the store has transitioned to using eco-friendly, biodegradable bowls and spoons made from plant-based materials.
This commitment to sustainability demonstrates the Matsumoto family's deep-rooted love and respect for their island home.

---
Matsumoto's Souvenirs & Merchandise
---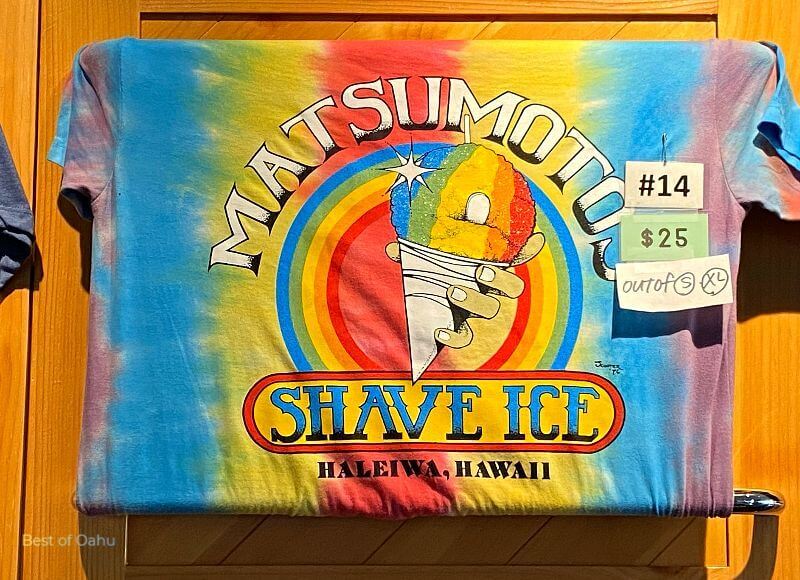 In addition to their famous Hawaiian Shave Ice, Matsumoto's also offers a variety of souvenirs and merchandise that allow customers to take a piece of the Aloha spirit back home with them.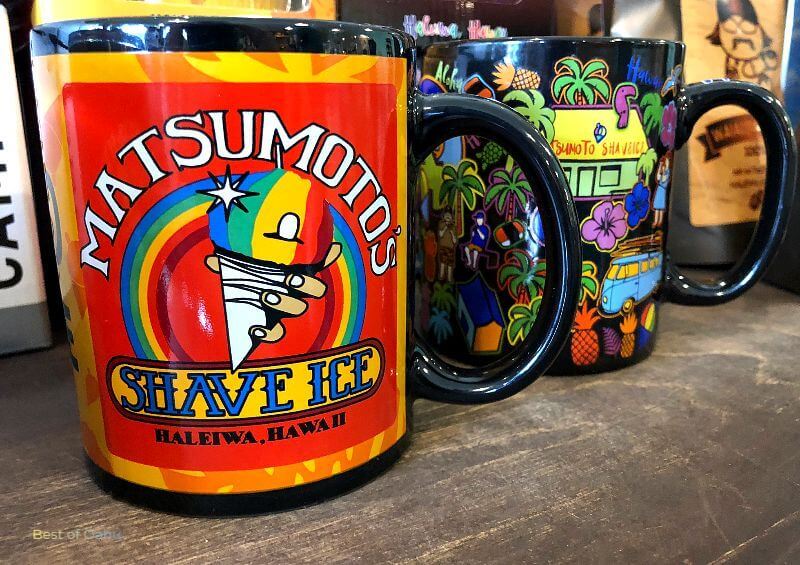 From vibrant t-shirts and hats adorned with the iconic Matsumoto logo to reusable tote bags, coffee mugs and keychains, there is lots of cool memorabilia to remind everyone of their unforgettable experience in Haleiwa Town.

---
Tips for Visiting Matsumoto Shave Ice
---
While the lines at Matsumoto's can be long, especially during peak season, the wait is well worth it. To beat the crowds, consider visiting the store early in the day or during weekdays.
Another option is to explore the charming town of Haleiwa while you wait, taking in the local art galleries, surf shops, and cafes.

---
Matsumoto's the Forever Experience
Matsumoto Shave Ice has become synonymous with the North Shore of Oahu and the Hawaiian shave ice experience.
The combination of its rich history, unique flavors, and commitment to quality has cemented its status as a must-visit destination for both locals and tourists.
Next time you find yourself on this side of the island, be sure to make a stop in Haleiwa and treat yourself to a refreshing, authentic taste of paradise at Matsumoto Shave Ice.
---
If you can't make it to the North Shore during your trip, rest assured, because there are many other excellent places in Waikiki and Honolulu to satisfy your craving of shave ice. Check them out on our Hawaiian Shave Ice page.
---
---
Getting to Haleiwa
---
Directions: From Waikiki, take the H-1 Freeway headed West
Take the H-1 HWY West to the H-2 HWY North
Follow the H-2 HWY to the Kamehameha Hwy (HWY 99)
Take HWY 99 and follow it into Haleiwa Town.  Make sure to follow the signs turning Left into Haleiwa.
Matsumoto's is located toward the end of town on the left hand side of the road in the Kamehamalu Courtyard.  There is a free parking lot in the back of the square.
From the Oahu Bus
From Waikiki, take the #20 Oahu Bus to the Ala Moana Center and transfer to the #52 bus that will take you to Old Town Haleiwa in the North Shore.  There is a bus stop across from Kamehamalu Courtyard where you'll Matsumoto's Store.
---
In The Area
---
Old Town Haleiwa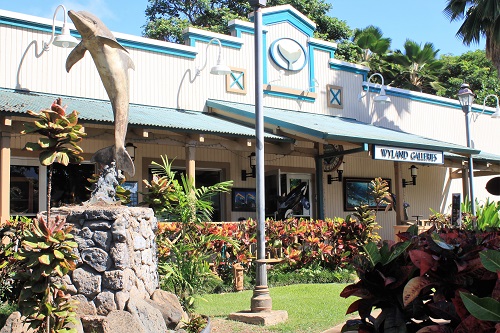 A trip to the rustic North Shore isn't complete until you pay visit to Old Town Haleiwa.  There is lots to see and do, including visiting a handful of Hawaiian art galleries, ono restaurants, shrimp trucks, surf shops, boutique shops, and of course getting a scoop of your favorite Hawaiian shave ice.
---
Aloha & Enjoy!

Subscribe to receive Best of Oahu updates on events, updates, and new articles.  It's the closest way to paradise while you are away...
We will never sell or spam your information, and we'll respect your email privacy.