Sandy Beach Park
Sandy Beach Park is notoriously known for two things…powerful shore breaks and the fine beach sand that gets into everything!  Sandy Beach is a beautiful isolated stretch of sand that lays just beyond the popular Halona Blowhole.  This Oahu beach has a magnificent scene that you arrive upon after driving along the lava rock cliffside of Koko Head Crater.

---
Going to Sandy's...a Childhood Favorite
---
Sandy Beach Park is a childhood favorite for me!  I would live summers out here, taking the first bus in the morning, and bodysurf the waves until my fingers looked like prunes and the rest of my body was waterlogged.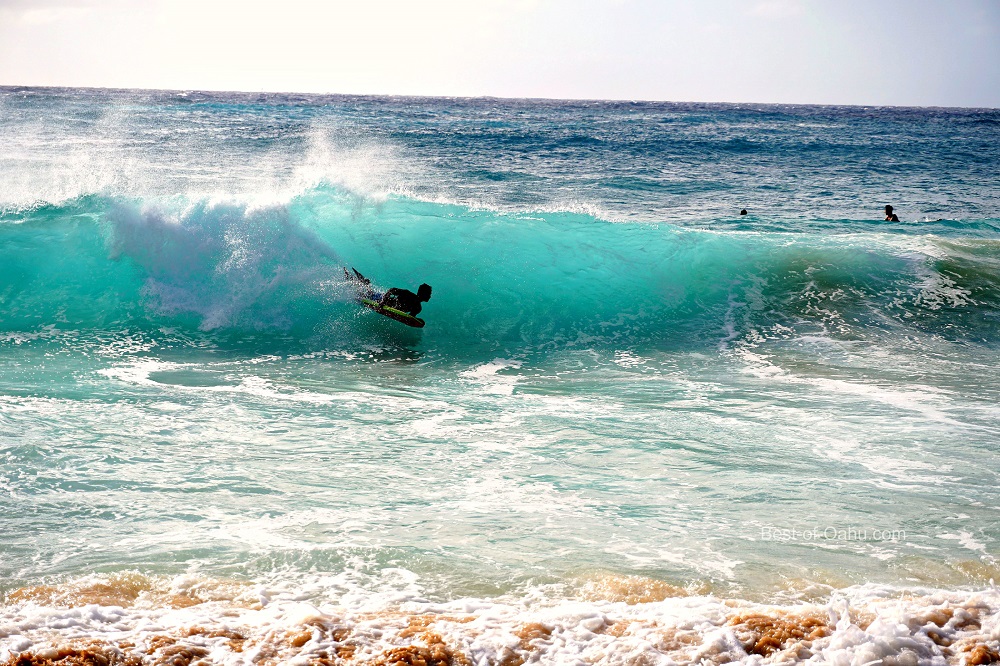 Sunburnt, tired, and starving, I would ride the Oahu bus back to town at the end of the day with a big satisfied grin on my face!

There are a few stories on how Sandy Beach got its name, including an old fisherman named Sandy who used to fish off the Halona Blowhole.
But whatever the case may be, I find the name very fitting because of the sand itself.  It tends to get into everything you bring to the beach!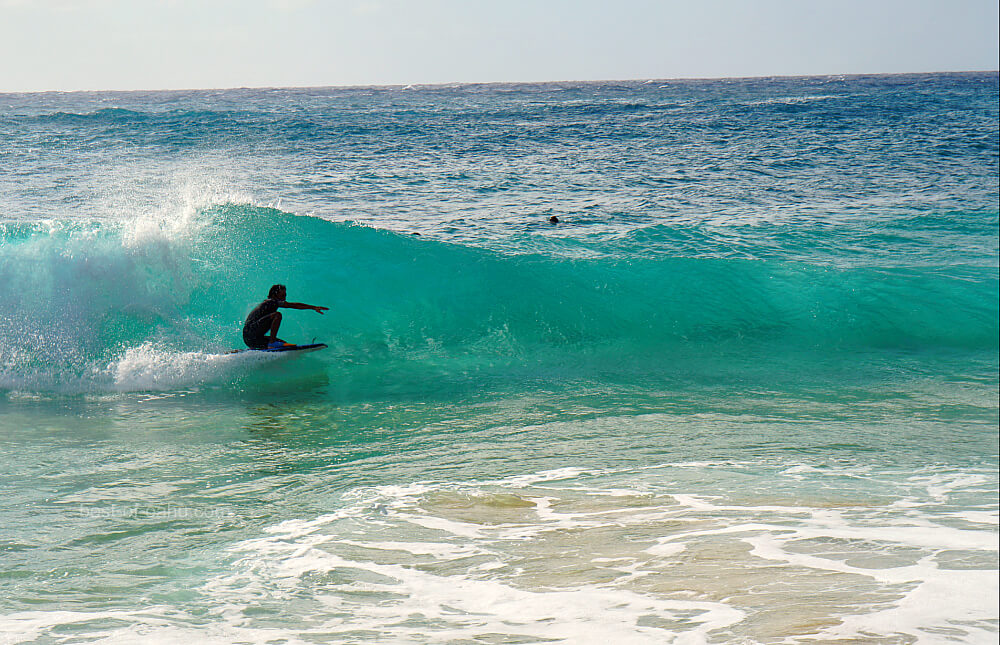 If you end up swimming in the surf, I guarantee you will leave this Oahu beach with sand falling out of your hair, ears, nose and bathing suit –and that's after you've showered off at the beach!

---
---
Take note that the impressive pounding shore breaks will shake loose any cash, sunglasses, keys, and anything else you leave in your pockets or body, when swimming in these waves.  Unfortunately I know this all too well from experience. 

Make sure you double check to leave anything you value behind before entering the water!

---
Gas Chambers


A popular surf section of waves is located towards the beginning of the beach after you drive down from the coastal cliff side.
It's called Gas Chambers or Chambers for short, because the ocean spray that explodes into the air when the larger waves crash on the shore.  The local body surfers love it for the barreling waves it produces with a beautiful shoulder to ride.
---
Pipe Littles & Full Point


On the far left side of this long stretch beach, passed the bathrooms and across from the parking lot are a couple popular surfing spots known as Pipe Littles and Full Point.
Pipe Littles got its name because of the smaller Banzai Pipeline-like waves that sometimes form in this spot.  Full Point sits behind it with longer and larger waves.
The razor sharp reef in this section helps boost up the surf further out in the ocean, which creates these longer waves to ride back to shore.  
---
WARNING:   While the shore breaks are fun to play in, they also tend to become very dangerous on days when the waves are fairly large. These waves can very easily pick you up and throw you back down, injuring you on the hard packed sand and rocks if you are unfamiliar with the breaks. It's very important to check in with the lifeguard for current conditions and best ocean entry points.
---
Beach Facilities
---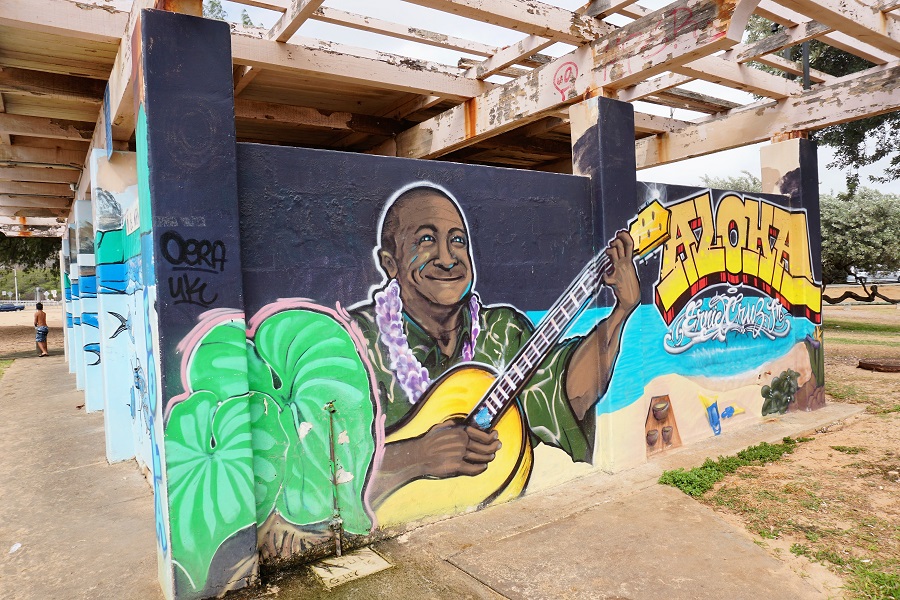 Restrooms

Beach showers

A couple of picnic tables

Grass area with a few shady trees

Life guard on duty

Free Parking Lot
---
Sandy Beach Park Visiting Tips
---
Check out some Sandy Beach Park shorebreak views, equipment and safety tips...

Bring the right equipment – If the surf is manageable and you are determined to jump in and body surf the waves, make sure then to bring the right equipment with you. 
Get yourself a good pair of swim fins with foot leashes -  They deliver half of your swimming power and help you get into and out of waves.  Unlike diving fins, you will find these particular types of fins at local surf shops.  They range from $25 to $50.
Food – Sandy Beach Park is located in a remote isolated area of Koko Head.  You would be lucky to find a food wagon sometimes on the weekend, but do not count on it!  Make sure you bring some drinks and snacks with you.  Your last chance to stop for restaurants and grocery stores are in the Koko Marina Shopping Center located in Hawaii Kai.
Sunscreen – not only is there little shade to be found at Sandy Beach Park, but the sun also tends to be a little more harsh.  Make sure you apply high SPF sunscreen and reapply frequently especially after swimming in the ocean.
---
Getting To Sandy Beach Oahu
---
Sandy Beach Park is a beautiful 30 minute drive or, 45 minute bus ride from Waikiki.

Street view and location of Sandy Beach:


By Car from Waikiki


Directions:  From Waikiki, take the H-1 Freeway headed South…

From Waikiki , take the H-1 Kalanianaoli Highway south.  

The H-1 will turn into Hwy 72, but will still remain the Kalanianaoli Hwy along the whole coast.  

Follow this coastal freeway through the residences, past Hawaii Kai, up and around Koko Crater ridge.

You will follow a lava rock cliff single lane road that winds around a few miles until come around the bend and descend back down to the beachside.  

Turn right into the beach park, where you will find parking stalls along the beach on both sides.
Map of Sandy Beach Park


Take the number 22 or 23 Oahu Bus from Kuhio Ave in Waikiki that is headed in the direction of Diamond Head.  Depending on traffic, it should only take about 45 minutes to 1 hour to get there.
These buses run hourly on the weekdays and every half hour on the weekends.
---
In the Area
---
Hanauma Bay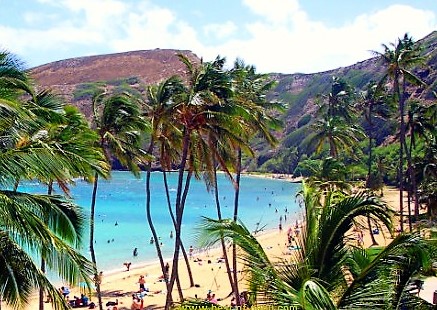 You will actually pass Hanauma Bay on your way to Sandy Beach.  If you plan your day right, you could start off the morning snorkeling Hanauma Bay, which is a state protected marine life sanctuary.  The Hanauma Bay fish are a site to see, experience, and not to be missed!

---
Eternity Beach - Halona Beach Cove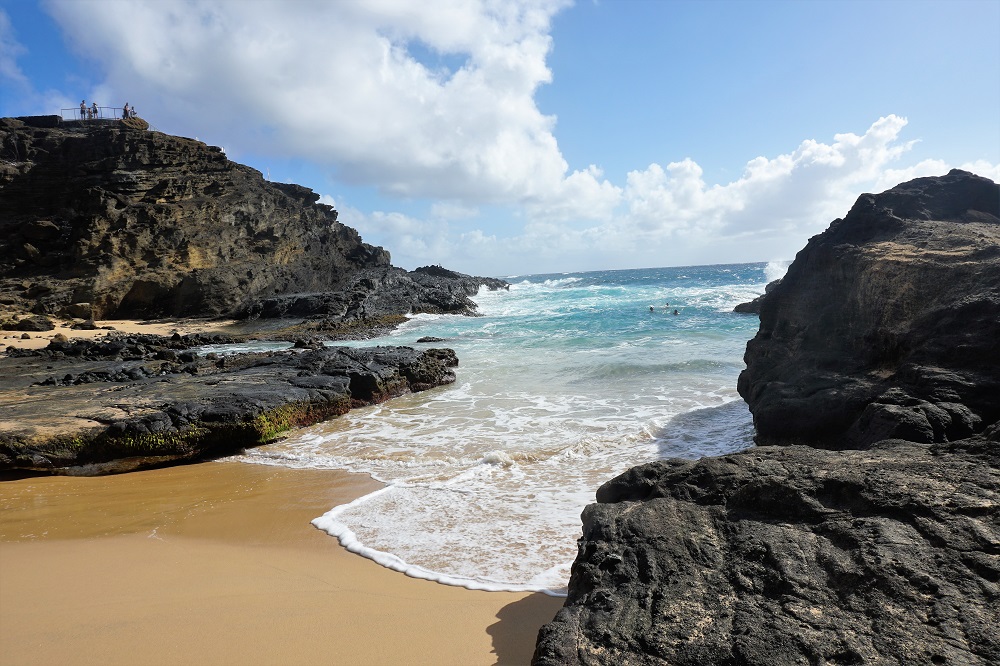 Eternity Beach – a famous romantic Oahu beach that became popular after it was featured in a 1953 film titled "From Here to Eternity".  Eternity Beach, also known as Halona Beach Cove, is easy to find as it sits below the popular Holana Blowhole on the right hand side.  Take the last turnout before reaching Sandy Beach Park. 

To get down into the Halona Beach Cove, you will need to climb over the street railing, and follow one of the rocky paths down.
I would only attempt going to this beach when the waves are tame, and the area is blanketed with a good patch of sand.  Spring and Summer time are usually the best times to check out this Oahu beach.

Halona Blowhole – one of Hawaii's natural wonders that sprays ocean water high into the air!  The Halona Blowhole can be viewed as far as Sandy Beach Park, but looks more impressive if you stop in the Halona Beach Cove parking lot and view it up front from the railing fence.

The only requirement for this show to begin are large turbulent waves that smash into the rocky coast, and sends a vast amount of water spewing into are through a small hole in lava rock.
---
Oahu Photo Tour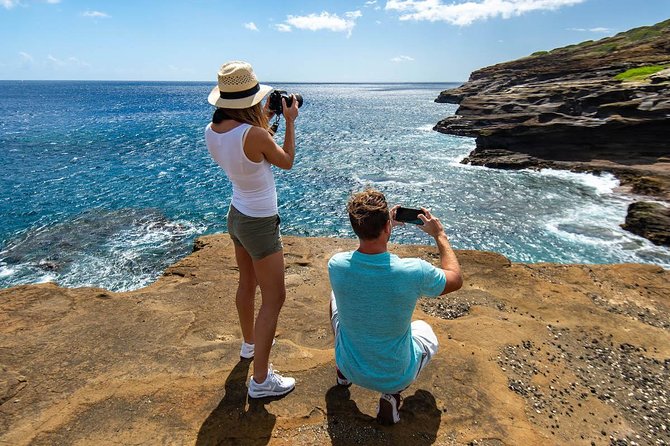 Not just a photo tour, but a chance to experience some of the most iconic locations on the island. Your journey includes visits to the Pali Lookout, the Halona Blowhole, Waimanalo Beach, Makapu'u Beach, and Hanauma Bay.  Book your tour now…

---
Sea Life Park Admission - Swimming with Sharks or Sea Lions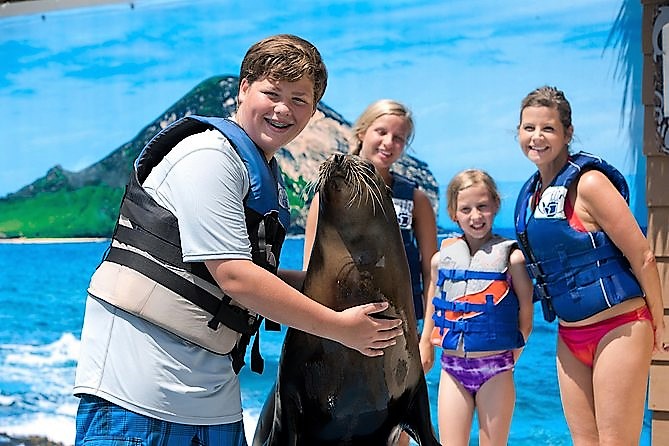 A thrill of a life time swimming with sharks or sea lions in a controlled environment at Sea Life Park! This Oahu adventure alone offers lots of exciting marine exhibits to explore, but not many theme parks offer opportunities to interact with the animals.
Spend 20 to 30 minutes in a 300,000 gallon tank with trained professionals that educate and lead you through the experience.
Price of admission includes transportation and a full-day pass to Sea Life Park.  Reserve Limited Tickets Now!

---
Makapu'u Beach Park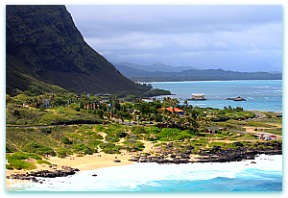 If you continue past Sandy Beach Park, and travel up towards the Makapu'u Pt., you will discover one of Oahu's treasured beaches in a large ocean cove.

Not only will you get to see a special piece of Hawaii, but you will also get a chance to view the magical Windward coastline from the scenic Makapu'u viewing point. 

Makapuu'u Beach Park is close by and located just across the street from Sea Life Park.

---
Makapu'u Lighthouse Trail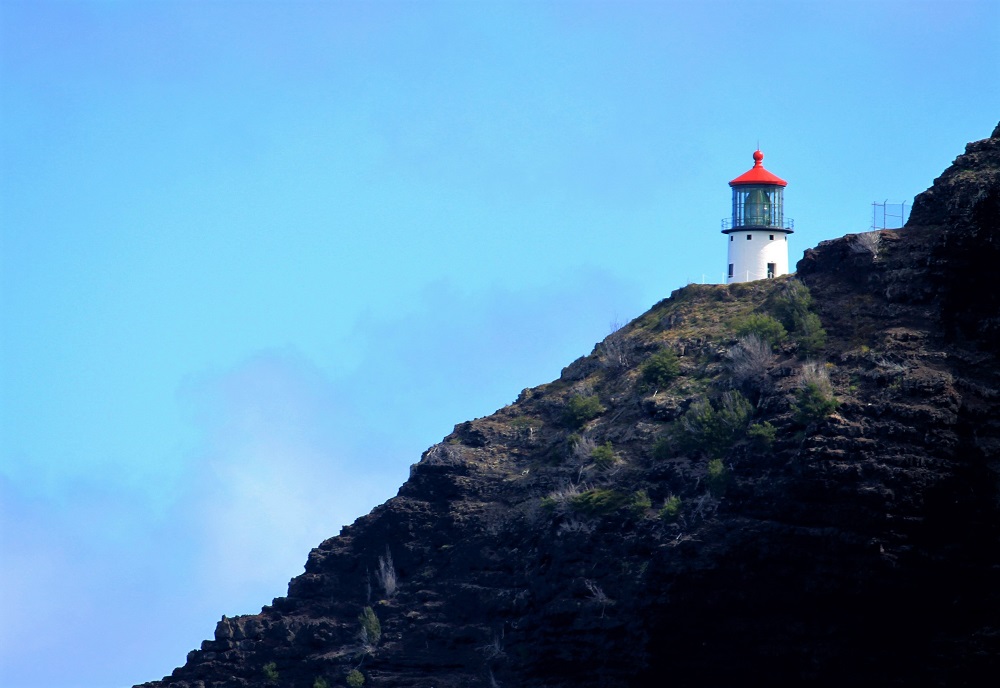 Think Makapuu Beach looks beautiful...consider hiking up to the Makapuu Lighthouse for some spectacular views of not only the beach below, but Koko Head and part of the Windward side as well.

The mile hike will take you about a half hour or so to reach the top...with lots of scenic views along the way! 

Aloha & Enjoy!

Subscribe to receive Best of Oahu updates on events, updates, and new articles.  It's the closest way to paradise while you are away...
We will never sell or spam your information, and we'll respect your email privacy.