Koko Crater Trail - Conquering the Steps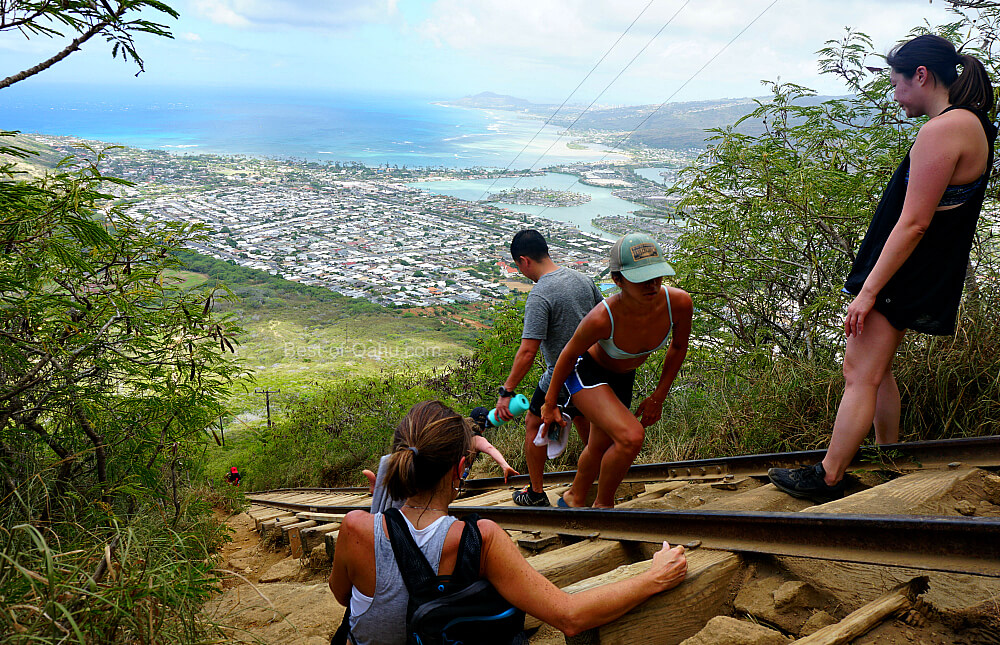 Koko Crater Trail, better known as "Koko Head Stairs", is your StairMaster workout for the day, with a rewarding panoramic view up top.  This Oahu hike will test your endurance and strength to continuously take each additional step up the mountain as you stride over 1,000 steps to reach the top!  As challenging as it sounds, hiking the Koko Head trail is a fun and very popular hike on Oahu.

Disclaimer – all Oahu hikes have different challenges and hazards that can be dangerous and may cause injury. Know your fitness and skill level before embarking on any hike.  Stay on trails and obey posted signs. The information on this site is for your reading pleasure only.  Hike at your own risk.

---
Elevation     880 Feet
Length         1.5 Miles Round Trip
Duration       60 to 90 Minutes
Terrain           Steep, Steps, Loose Dirt, Hot
Difficulty        Medium to Hard
---
Hiking Koko Crater Trail
---
Stairs stairs stairs and yes, more stairs!  I'm referring to old railroad ties that are mounted to the hillside from the bottom to the top.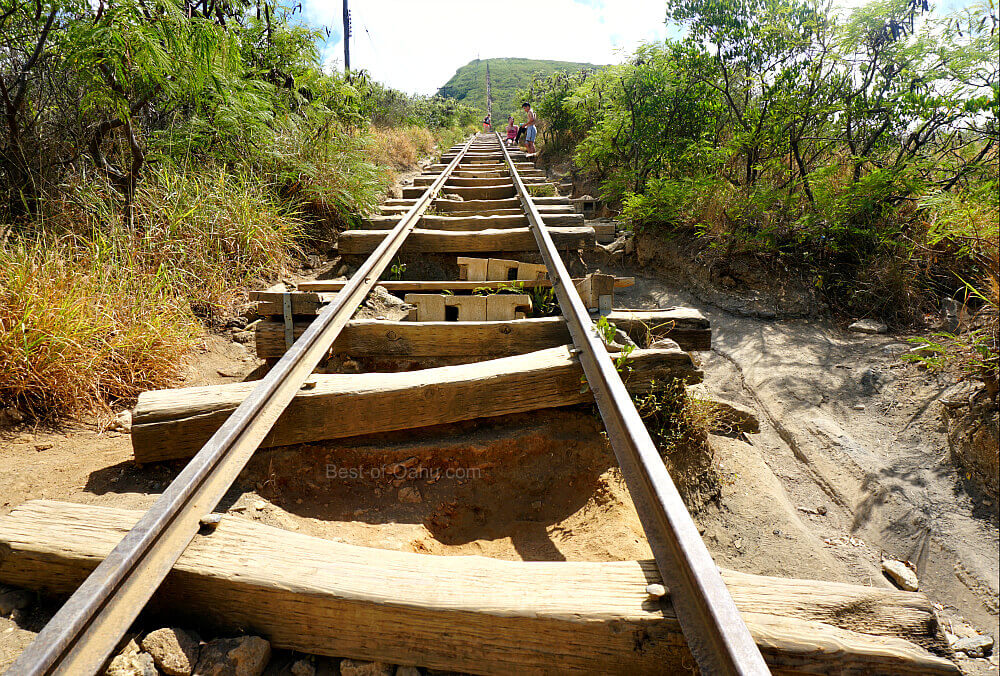 The military created lookout pillbox bunkers during World War II.  A railway was created on the extincted volcano and named the Koko Crater tramway, and used to haul cargo and supplies up to the top.  Today the abandoned railway is used as hiking stairs to reach the old military bunkers and ridgeline, and now known as the Koko Crater Steps.  As many as 1000 hikers trek these stairs each day during the summer months.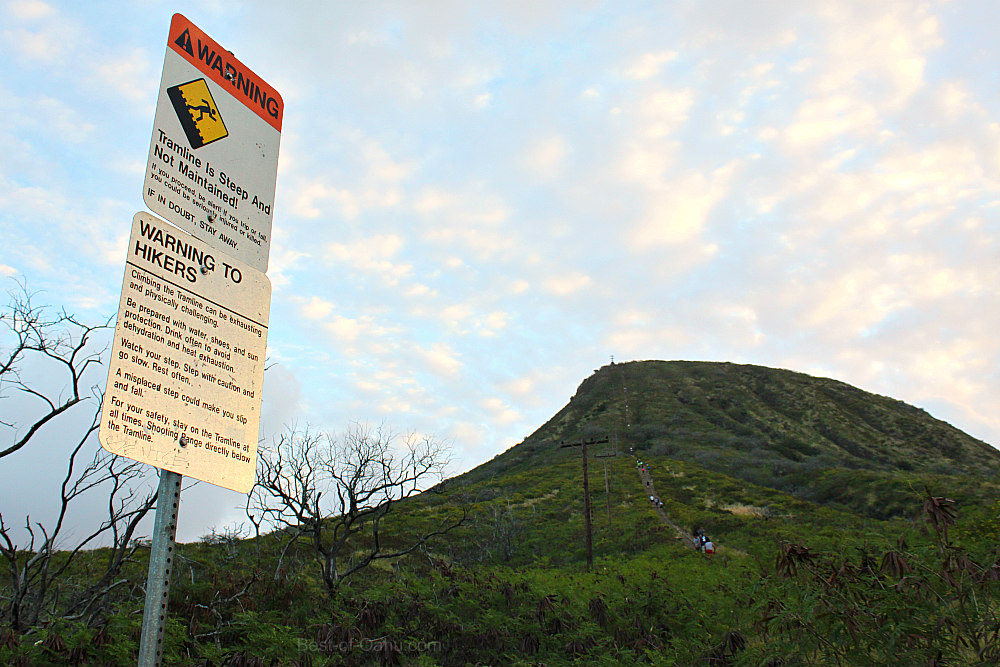 This Oahu hike is easy to find, easy to park, easy to navigate, but not so easy to climb!  After parking in the Koko Head District Park parking lot, you will find an easily identifiable trail that leads to the start of the climb up the mountain.

---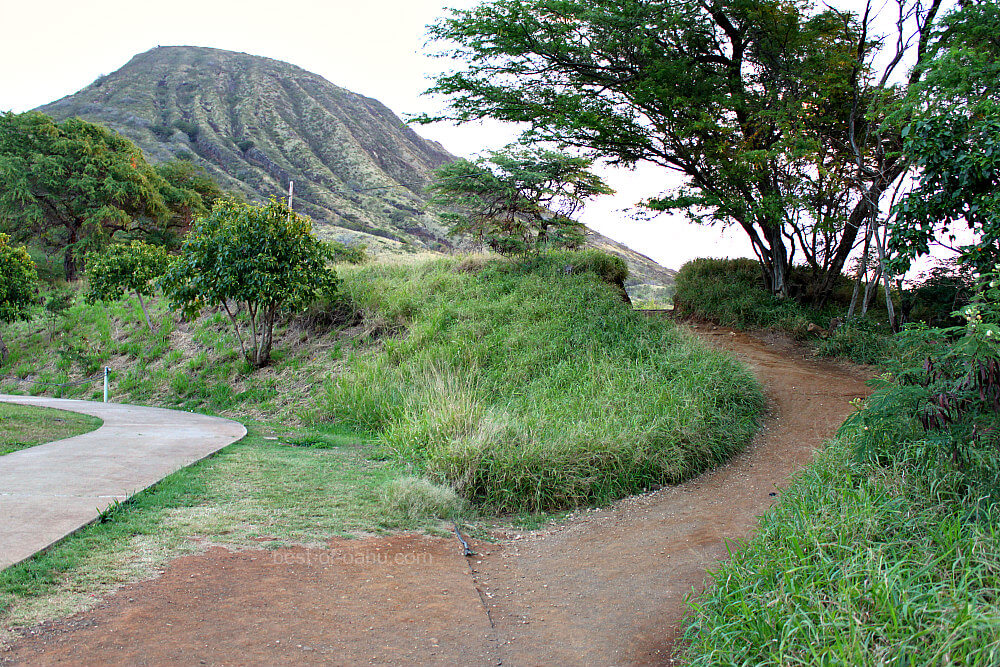 Simply start walking towards the end of the parking lot and follow the path leading past the baseball field.  The dirt trail is a short 100 yards from the park path, before reaching the first step of "the stairs".

The Koko Crater Trail starts off relatively easy for the first 100 steps and progressively gets tougher from there.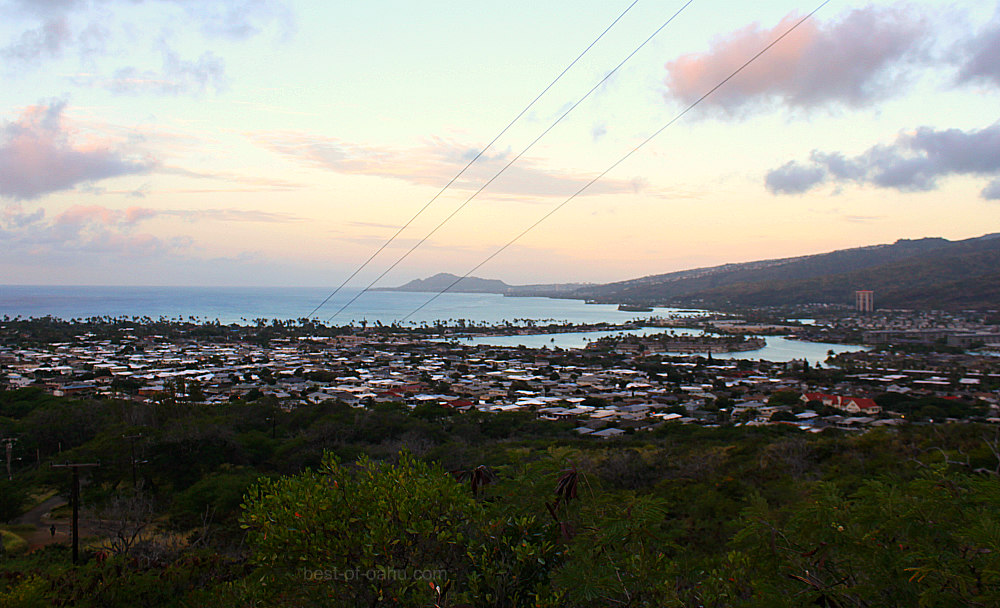 It doesn't take long before you are treated to gorgeous views.  I generally take a breather after each 100 steps and enjoy the view.  As you climb higher up the Koko Head Stairs, not only does the horizon view continue to extend, but new landmarks come into sight, such as Hanauma Bay.

Being able to view both Hanauma Bay and the Port Lock Peninsula is pretty spectacular!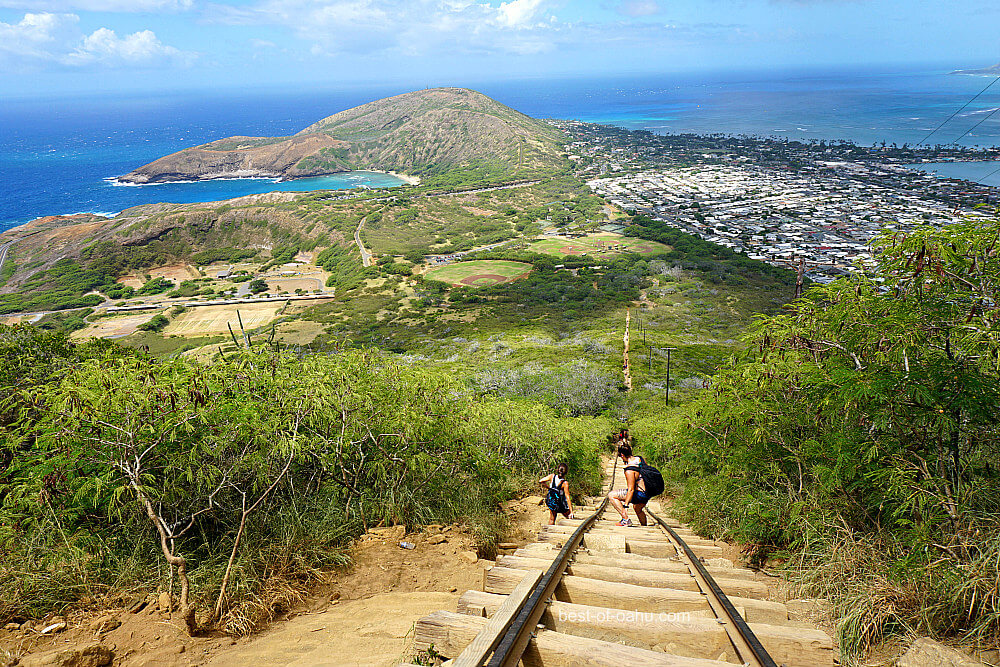 There are a total of 1,050 steps from the bottom to the top of the ridge.  And in all fairness it feels more like 2,100 steps!  A majority of the stairs on the Koko Crater Trail are long and taller than a standard 7 inch stairway riser.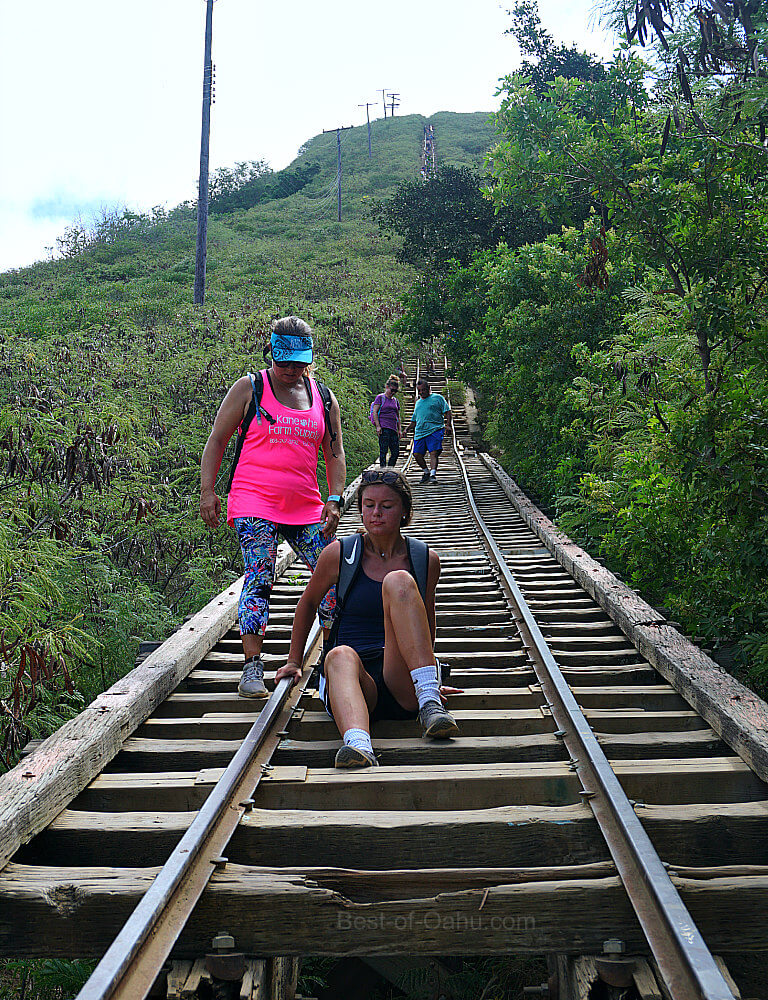 You will reach a small section that is flat, but yet still comes with a challenge, as it acts as a bridge with a 40 ft drop below.  It's not hard to cross, but won't feel comfortable if you have a fear of heights.  Watch your footing and take your time crossing this section.

Sign up for a guided tour up the mountain...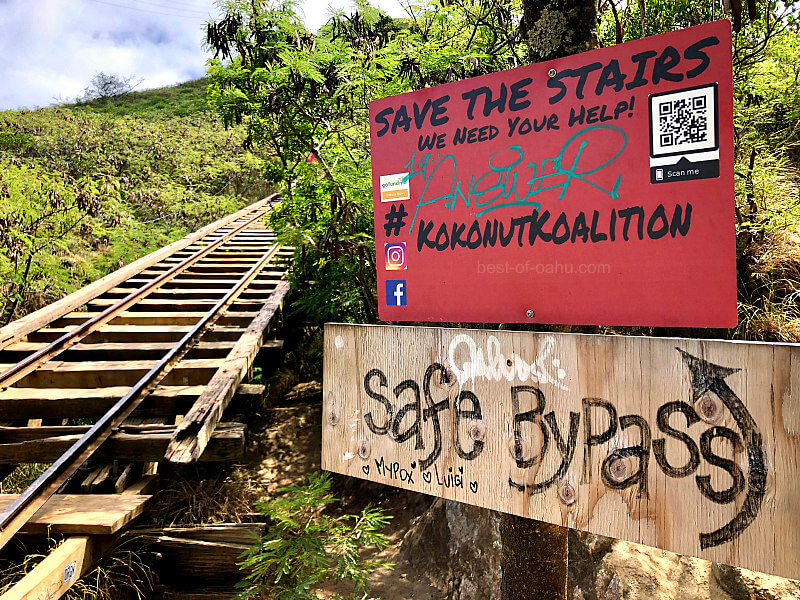 There is a safe bypass around to the right side, if you wish to avoid crossing the bridge...

You will need a little bit of endurance after the halfway mark, as you'll find yourself taking more breaks along the way.  Make sure to step aside and allow other hikers to safely pass by you.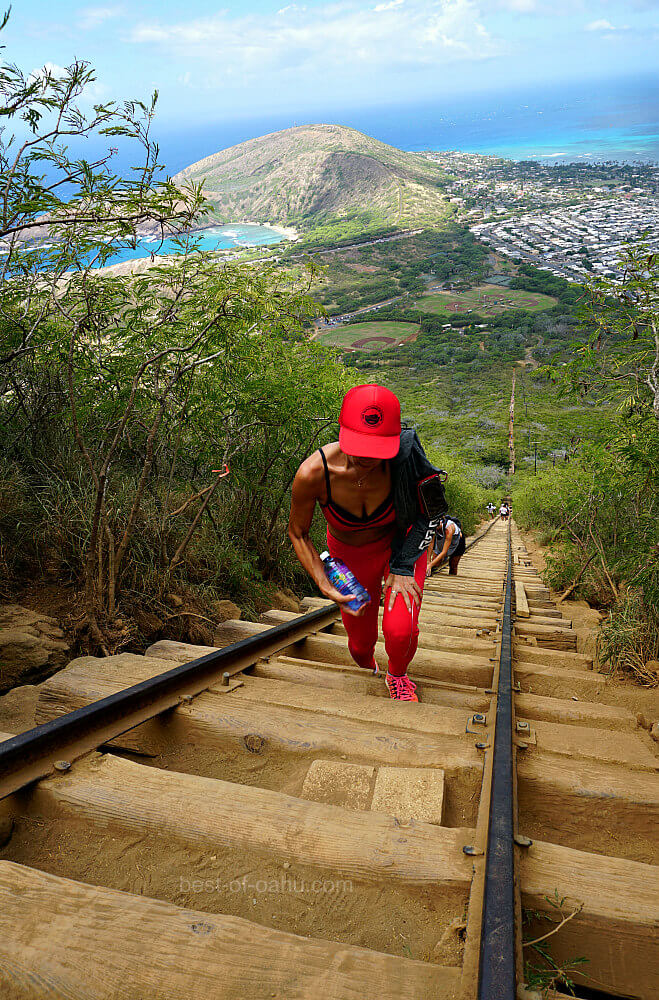 Reach stair number 900 and you're in the final stretch.  And although there is light at the end of the tunnel, you will feel every step you take forward!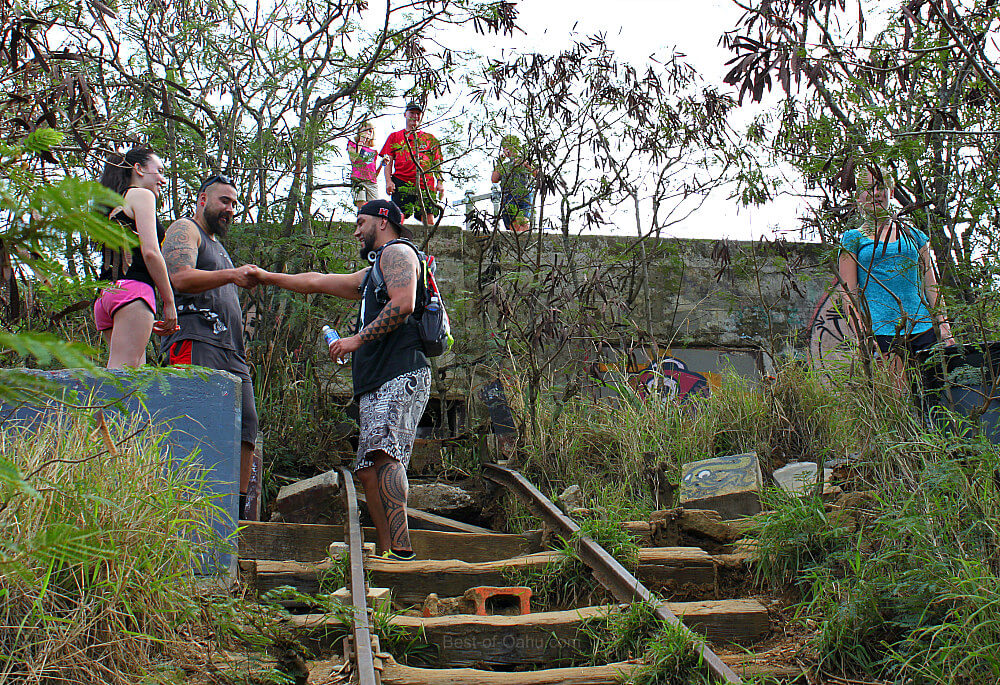 I easily take half a dozen breaks from here to the top.  I also remember staring at the last 20 steps, as I rest on the side trying to catch my breath and let the blood return to my legs!

Surprisingly enough, I saw all types of hikers on this Koko Crater Trail, including folks who were both in and out of shape, children hiking up, and even a few who were walking up in flip flops!
I highly recommend wearing the proper hiking shoes if you decide to choose this Oahu hiking trail.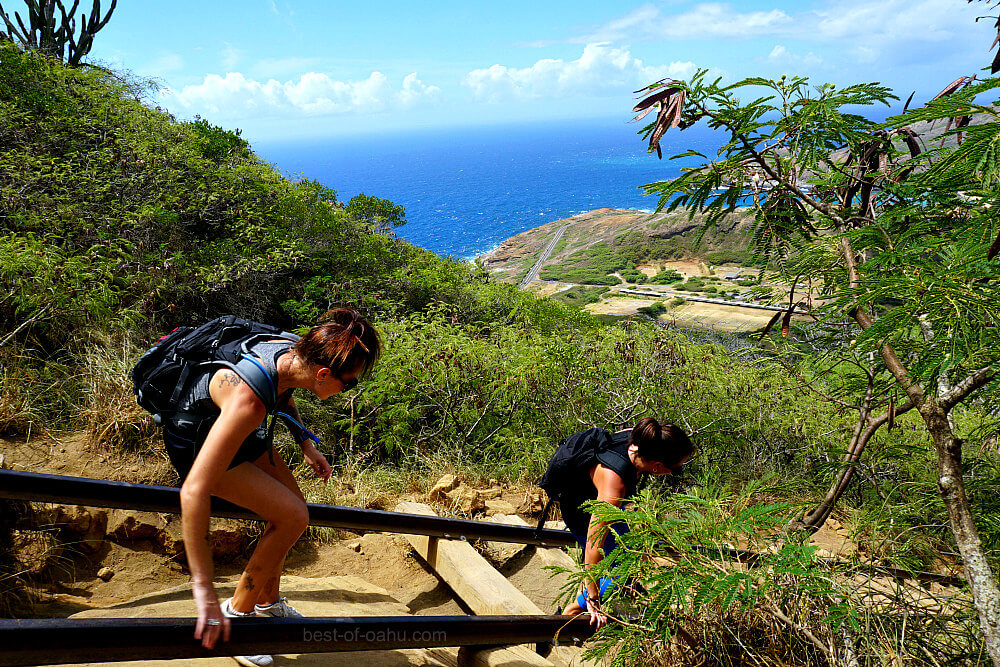 The Koko Crater Trail will take you 30 minutes to 1 hr to reach the top.  Give yourself another hour to relax up top before starting your descent.  You've earned it, so you might as well enjoy it!

---
Hike with a Guide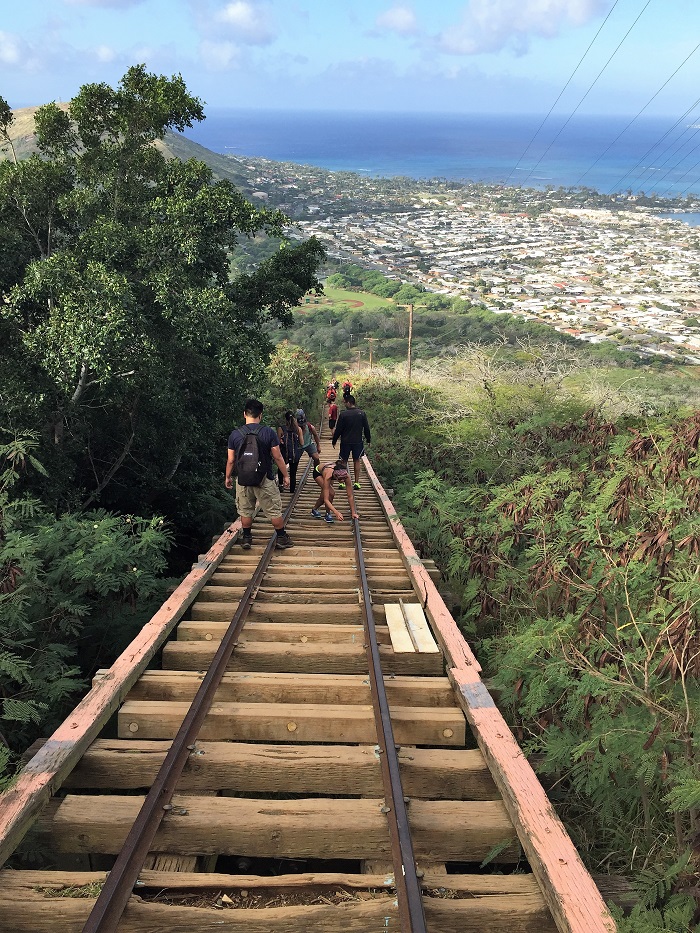 If you are unfamiliar with this hiking trail and area, consider going up with a guide, who will not only pick you up from your hotel, but show you points of interests along the way, provide useful tips, and talk about the history as well.

---
Help repair the steps that are in disrepair... 
The Koko Head Steps are extremely popular with hundreds of hikers climbing it daily.  Add the rainy season and years in existence, there are some sections that needs attention...many steps have already been repaired.  A GoFundMe campaign has been created to help clean up, repair, and reinforce sections of this Oahu hiking trail.  A group by the name of Kokonut Koalition is in partnership with the City of Honolulu to full rebuild these stairs!  Close to $100,000 of $125,000 has already been raised.  If you like this hike and want to see it preserved for the future, we encourage you to make a donation to help fulfill what is needed to start the necessary repairs.  Mahalo!!
---
The Koko Crater Trail Ridge
---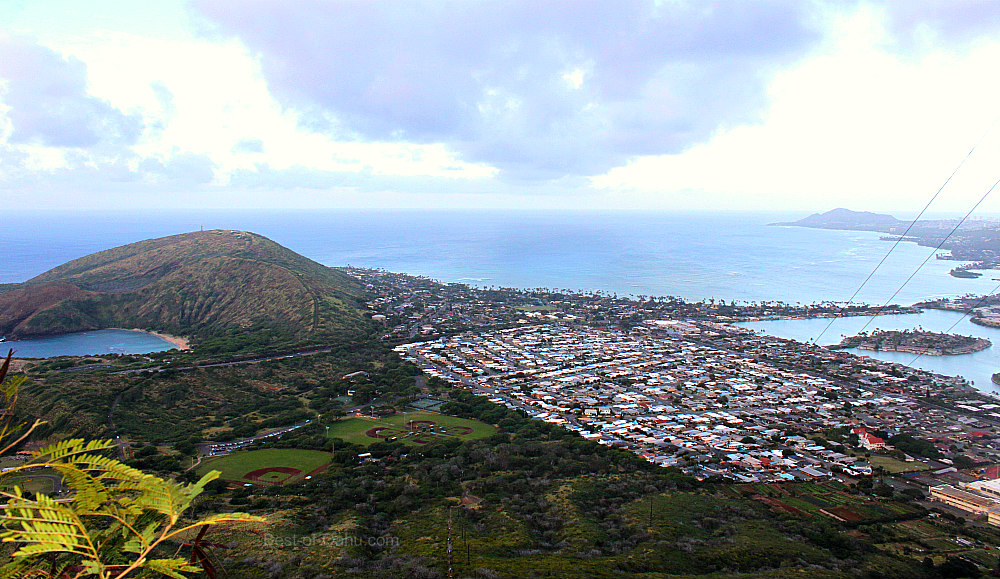 There is no better feeling than conquering those Koko Head Stairs and reaching the top!  Climb above the old military bunker, and there are some amazing panoramic views from Diamond Head to Makapu'u Pt…the payoff is worth it!

You will also discover a beautiful backside to the ridge, with views of the lava rock coastline and extensive Sandy Beach.

There is a small ridgeline trail that extends outward and back down the other side of the mountain.  This trail is narrow, steep and dangerous!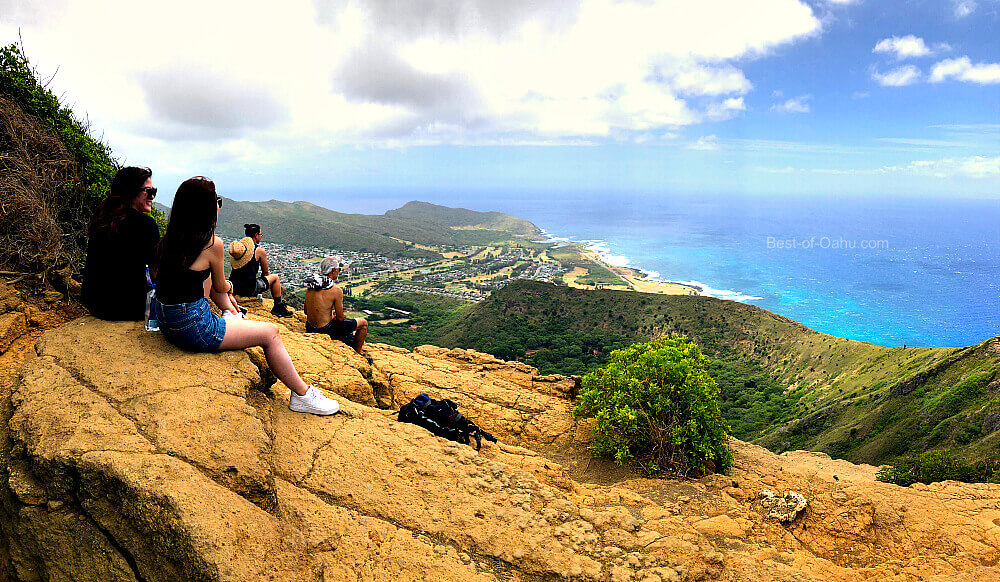 I would not recommend exploring it!  But there are some large flat rocky shelves where you can sit, rest your legs, and take in the views.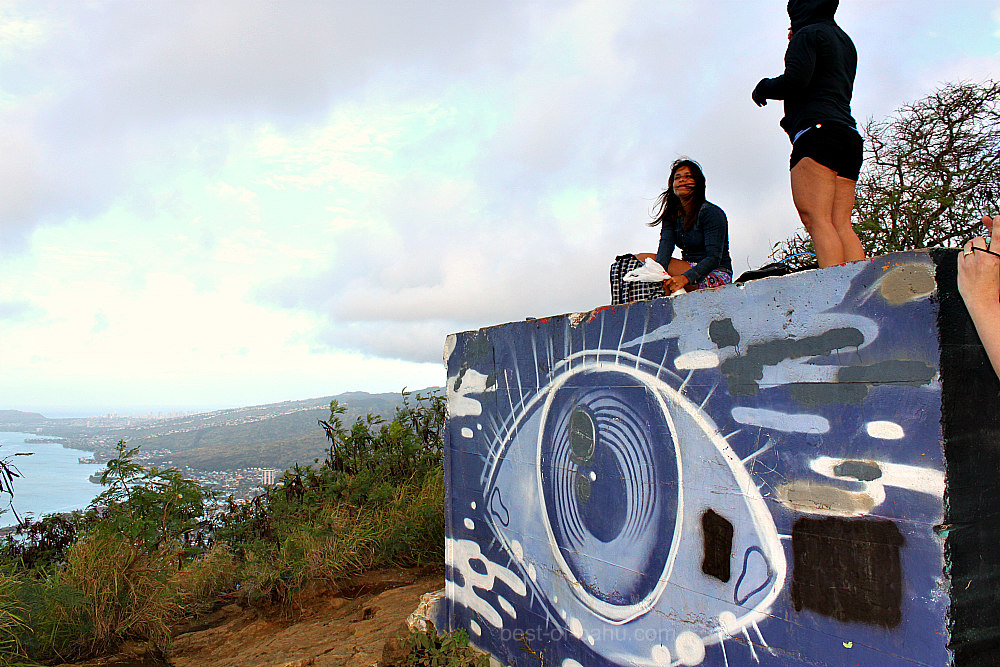 There are lots of neat areas to explore on top of the Koko Crater Trail.  You will definitely want to give yourself some extra time to rest, explore, and take it all in.  You owe it to yourself...you just climbed 1,050 steps!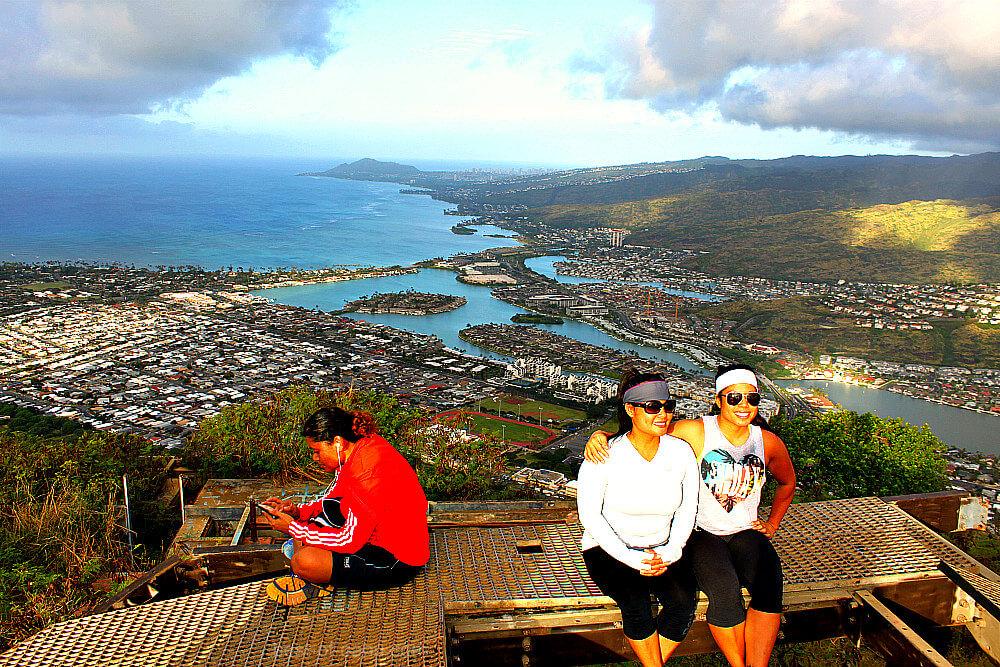 If the shelves seem a little too steep to relax on, then consider climbing on top of the metal grade lookout to soak in the view.  Just make sure to watch your footing as you move around up there.

---
Climbing back down the Koko Crater Trail
---
Yes, climbing back down the stairs is easier than the climb up.  But remember that your leg muscles will be a bit worn out, which will make the journey back down a little more dangerous.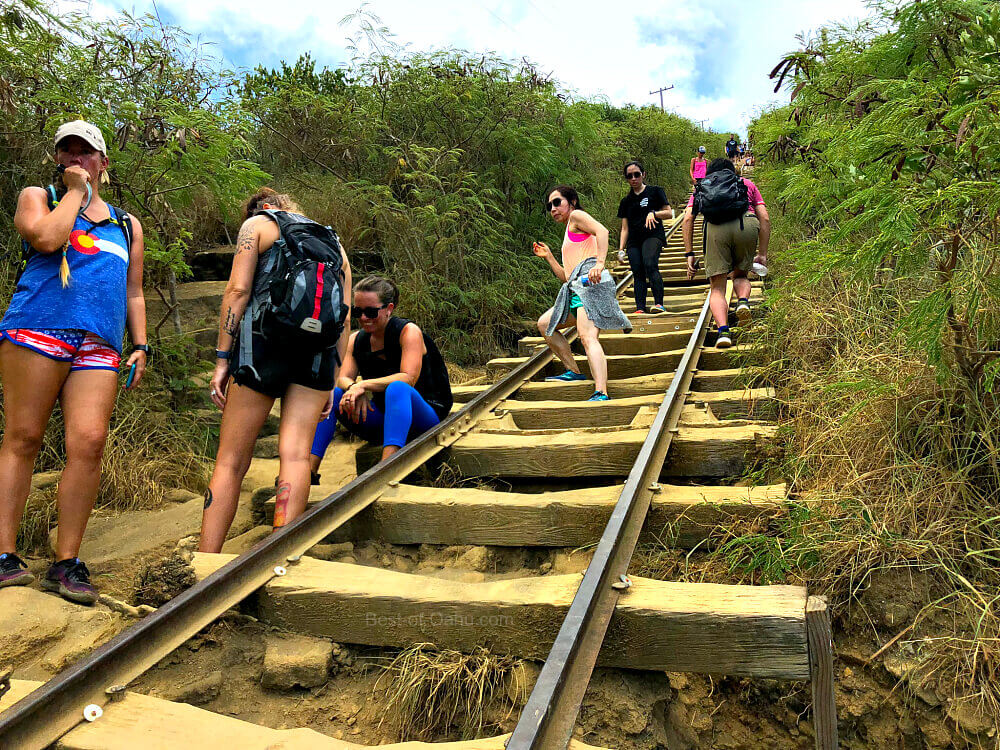 Take your time and do not accelerate your descent.  It's also just as nice to take breaks along the way, as you did on your way up…not to mention the view the whole way down!

---
Hiking Tips
---
No Shade - this hike is located on the hot, dry south side of the island with no shade.  Start as early as possible as it will only get hotter as the sun rises.  You have to get up super early to catch a sun rise, but it can be worth it.  Make sure to bring a flashlight in that case!
Come Prepared - bring water, sunscreen, good hiking shoes, hat & sunglasses.  Don't forget your camera!
Time - Give yourself 1 ½ to 3 hrs for this hike…depending how much time you wish to spend at the top.
---
3 Similar Oahu Hiking Trails
Here are 3 additional Oahu Hiking Trails that are similar to hike, which you might want to consider climbing after this one...
---
Getting there
---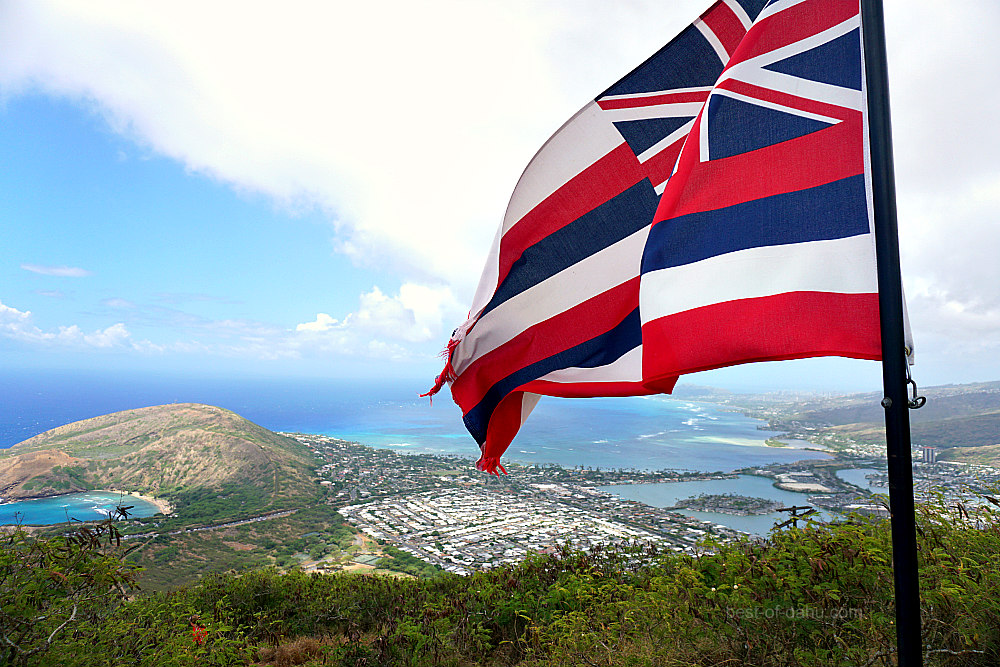 By Car
From Waikiki take the Kalanianaole Hwy (H-1) south.

Remain on this coastal Hwy as it turns into Hwy 72.

Once you reach the Hawaii Kai Shopping Center, turn left on Lunalilo Home Rd

Turn right onto Anapalau St

Turn Left into Koko Head District Park

Park and proceed up behind the baseball field, towards Koko Head
---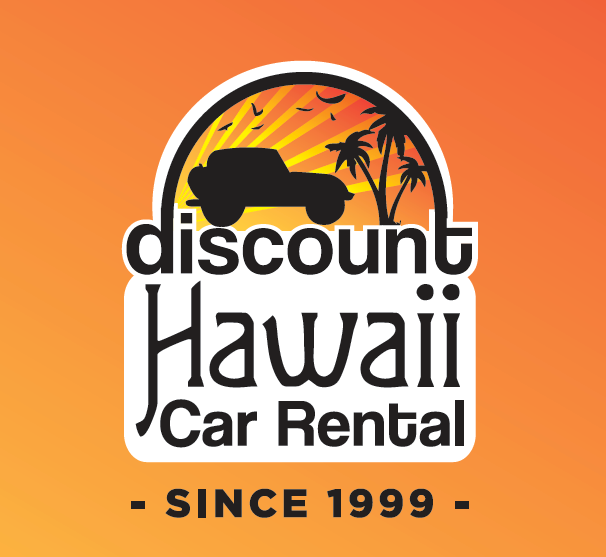 Need a good rental car option for the day?  Whether you would like to visit a beach, a popular Oahu attraction, or explore the island for just a day, consider these great, discounted rent-a-car rates with Discount Hawaii Car Rental.  They also have great packages for your entire trip...
---

Koko Crater Trail Map


---
Street Level Map


---
In the Area
---
Snorkeling Hanauma Bay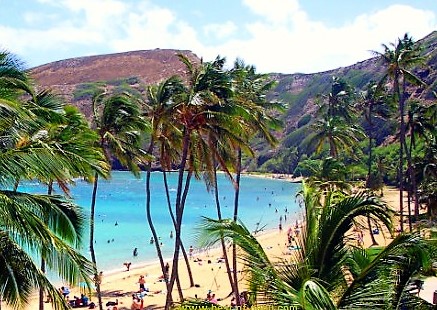 Hanauma Bay – is almost across the way from the Koko Crater Trail.  If you plan your day right, you could start off the morning with the Koko Crater hike and then spend the rest of your day snorkeling at Hanauma Bay after your hike.

The Hanauma Bay reefs teeming with tropical fish and marine life are an experience not to be missed!
---
Eternity Beach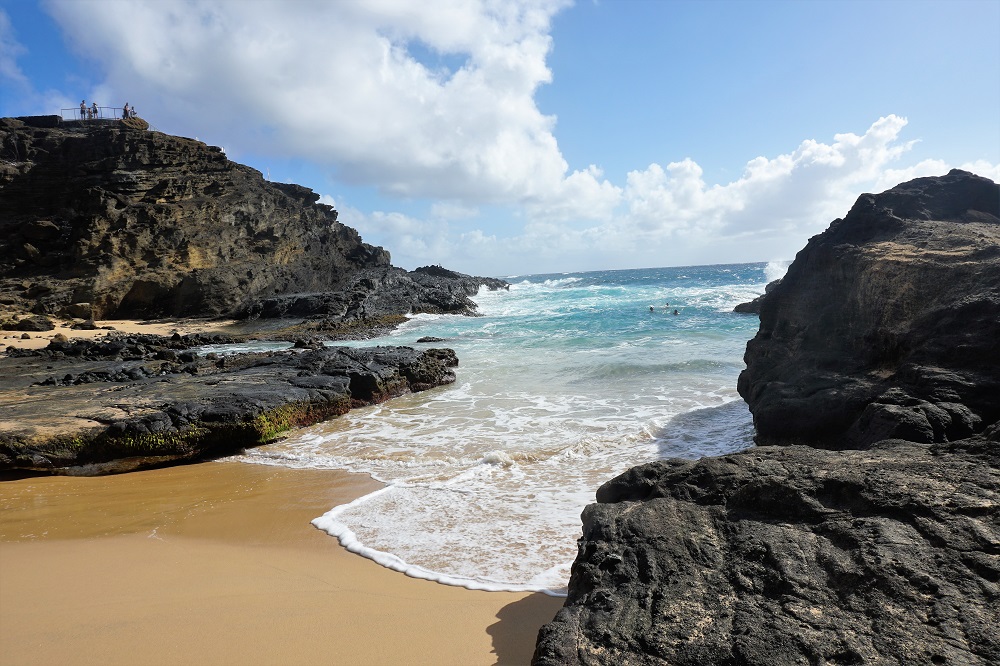 Eternity Beach – a famous romantic Oahu beach that became popular after it was featured in a 1953 film titled "From Here to Eternity".  Eternity Beach, also known as Halona Beach Cove, is easy to find as it sits below the popular Halona Blowhole on the right hand side.

Take the last turnout before reaching Sandy Beach Park.  To get down into the Halona Beach Cove, you will need to climb over the street railing, and follow one of the rocky paths down.
I would only attempt going to this beach when the waves are tame, and the area is blanketed with a good patch of sand.  Spring and Summer time are usually the best times to check out this Oahu beach.

---
Halona Blowhole
Halona Blowhole – one of Hawaii's natural wonders that sprays ocean water high into the air!  The Halona Blowhole can be viewed as far as Sandy Beach Park, but looks more impressive if you stop in the Halona Beach Cove parking lot and view it up close from the railing fence.
The only requirement for this show to begin are large turbulent waves that smash into the rocky coast that send a vast amount of water spewing upwards through a small hole in lava rock.

---
Makapu'u Beach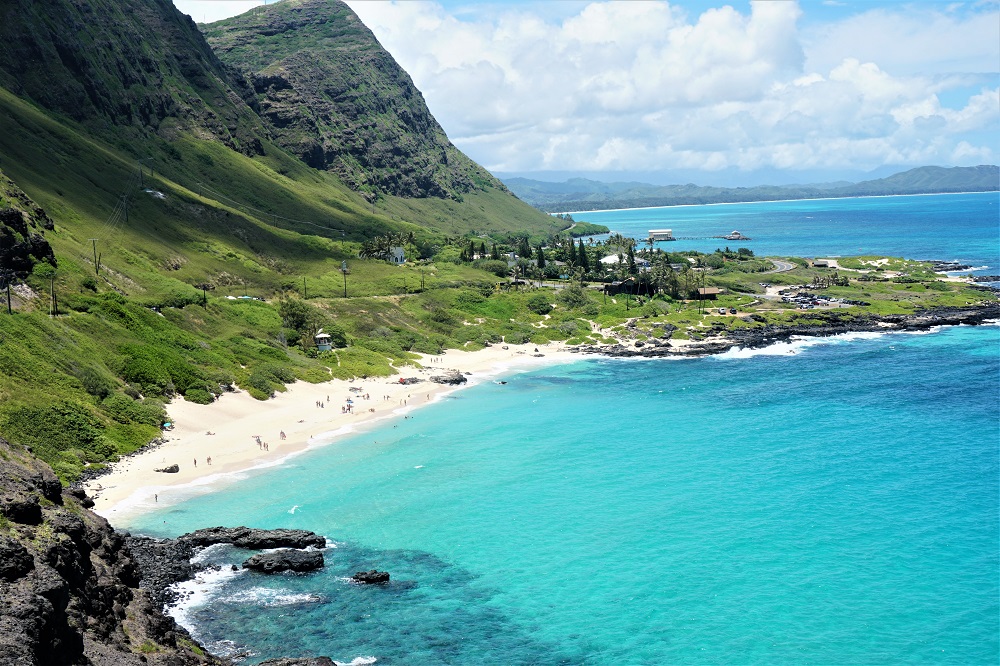 Makapuu'u Beach Park – if you continue past Sandy Beach Park, and travel up towards the Makapu'u Pt., you will discover one of Oahu's treasured beaches in a large ocean cove.  

Not only will you get to see a special piece of Hawaii, but you will also get a chance to view the magical Windward coastline from the scenic Makapu'u viewing point. 
Makapuu'u Beach is close by and located just across the street from Sea Life Park. 
---
Makapu'u Lighthouse Trail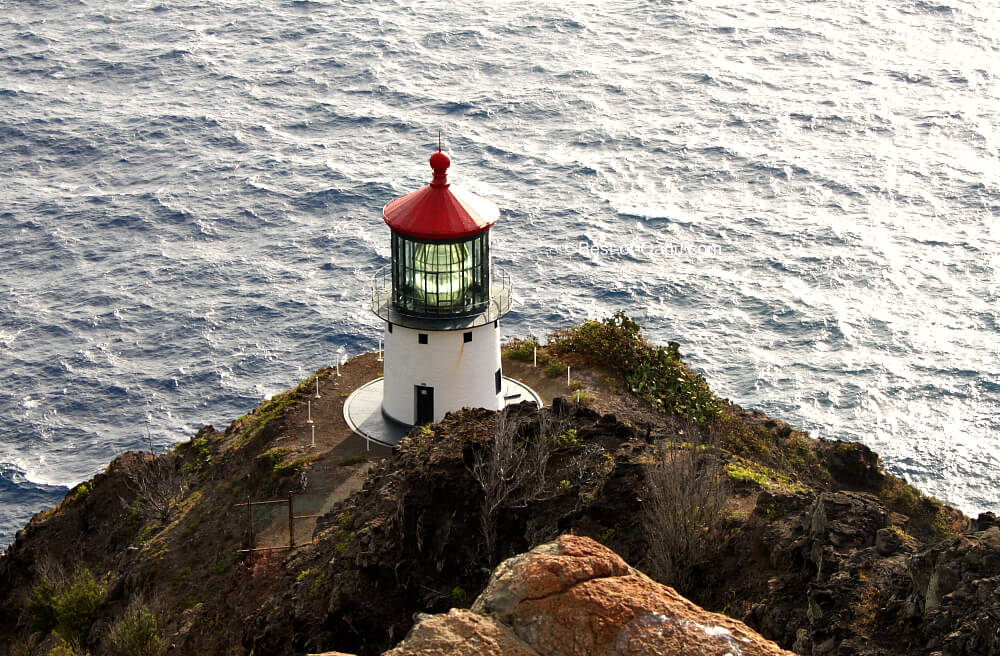 Hiking Makapu'u Lighthouse Trail - If you think Makapu'u Beach looks beautiful...consider hiking up to the Makapu'u Lighthouse for some spectacular views of not only the beach below, but Koko Head, and part of the Windward side as well.

The mile hike will take you about a half hour or so to reach the top...with lots of scenic views along the way!
---
Return to Best of Oahu Homepage
Aloha & Enjoy!

Subscribe to receive Best of Oahu updates on events, updates, and new articles.  It's the closest way to paradise while you are away...
We will never sell or spam your information, and we'll respect your email privacy.