---
Best of Oahu Archives
---
Retired archive content, pictures, and pages from Best of Oahu website.
Archive Best of Oahu Pictures: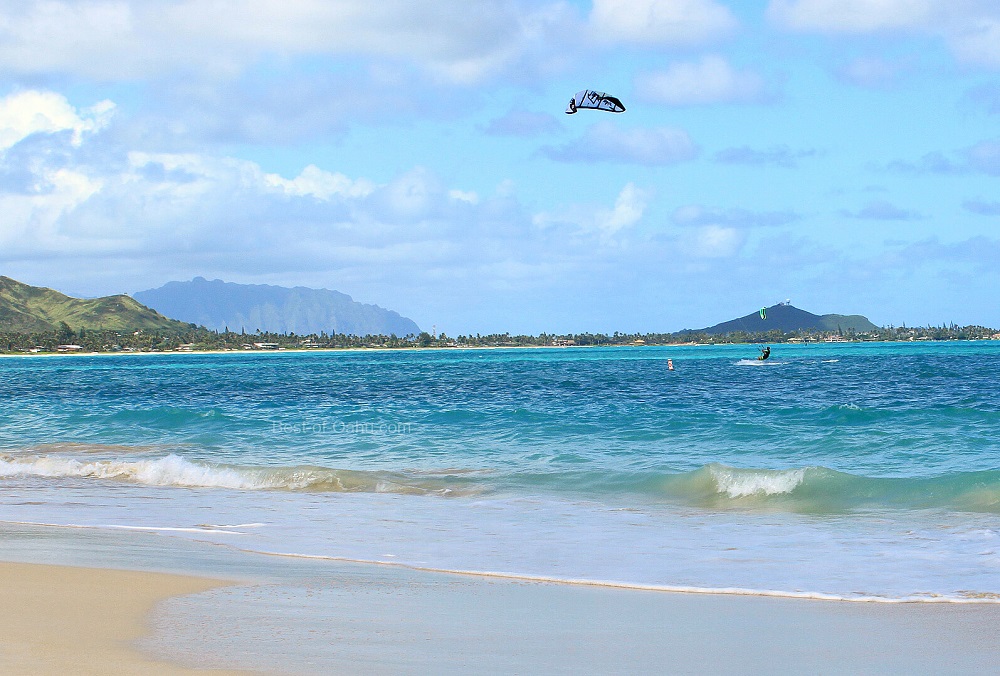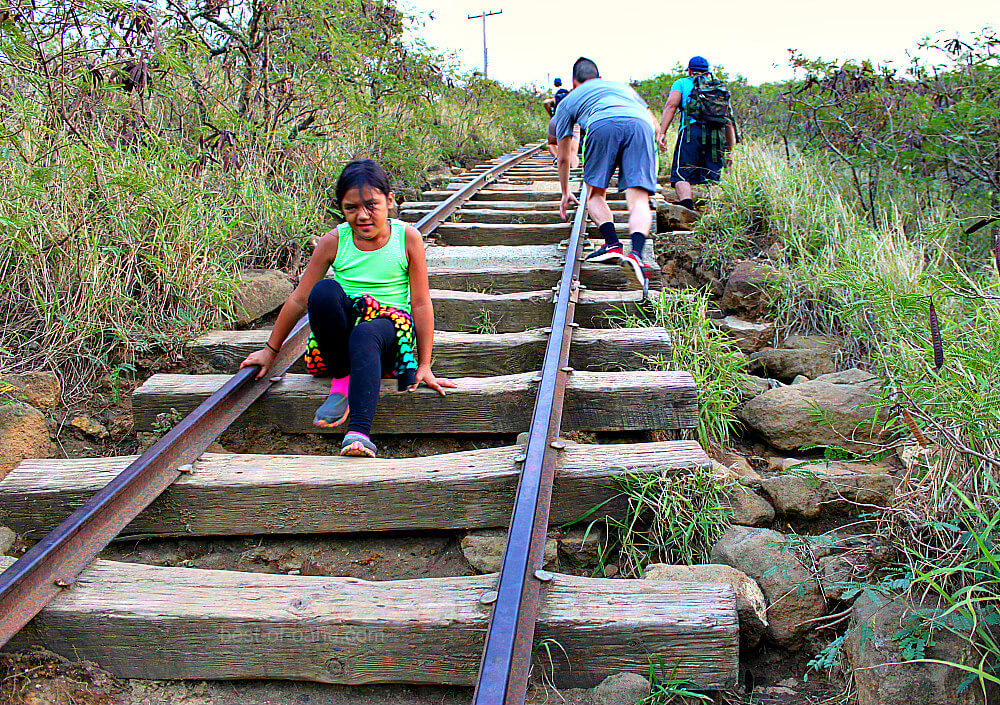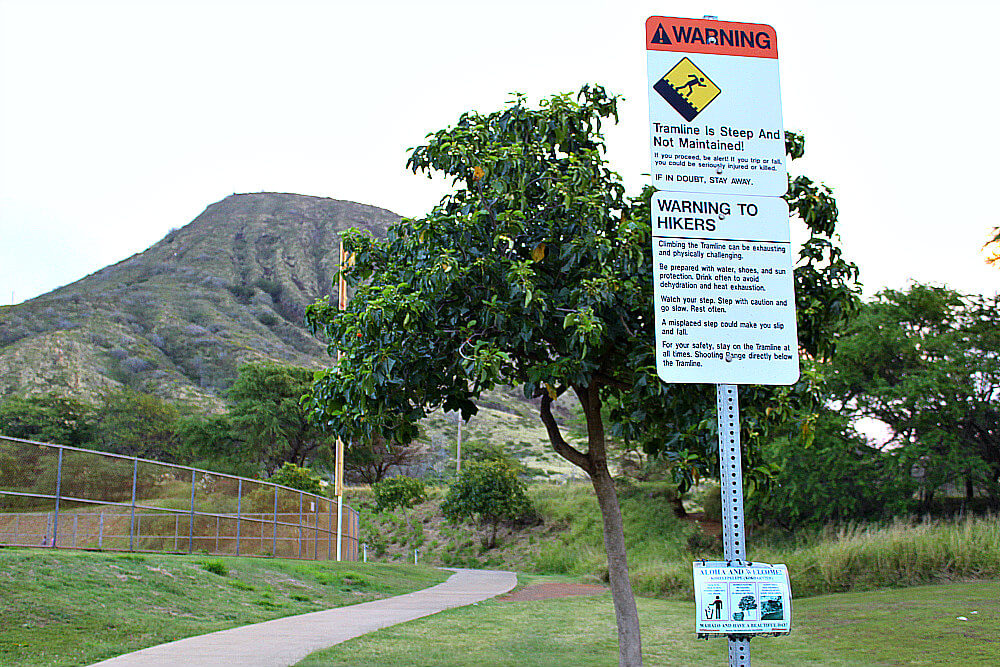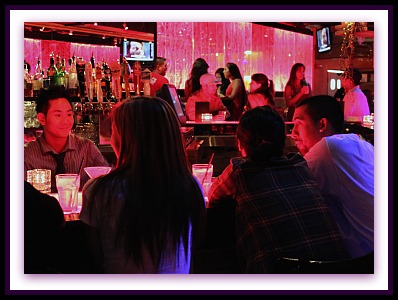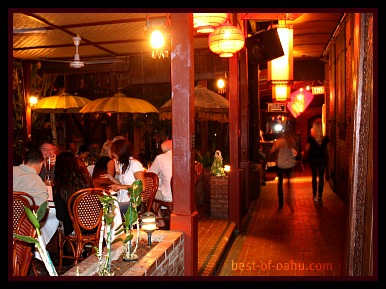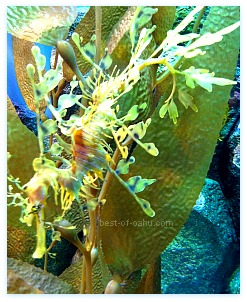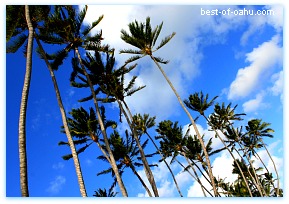 ---
 Retired Oahu Hikes
---
Mariners Ridge Hike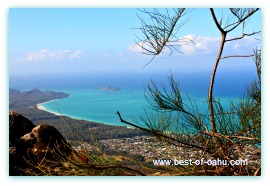 Drive 1000 feet up a hill and prepare to start an accelerating hike from there!  The Mariner's Ridge Hike offers stimulating views of Koko Head and the Hawaii Kai Marina as you test your endurance, step by step, striding up this continuous mountaintop!

Reach the peak and you will be rewarded with a spectacular view of the Windward side of Oahu. The journey will take you about 30 to 45 minutes to reach the top.
NOTE:  This trail has been deemed private and currently closed to the public.  A new gate has been constructed to keep trespassers out.  Consider good alternatives such as Makapu'u Lighthouse or Koko Head Steps.
---
#14 Kanealole Trail


The Kanealole trail (Ka ne' al ole) is considered the heart that leads to many other hillside trails, which also happens to be part of the Makiki Valley Loop.  This is a moderate 1.5 mile hike that climbs up 500 ft through switchback trails in a dense tropical rain forest.

The trail opens up occasionally with windowing Honolulu city views.

Consider starting off with this hike, and even if you plan on branching off to some of the other Makiki Valley Loop trails.

---
Closed Oahu Restaurants
Piggy Smalls

If you've been to the Pig & the Lady, then you'll be a fan of their sister restaurant Piggy Smalls that opened up in the Kaka'ako Ward Centre area.
It's a simplified menu full of comfort foods that are delicious and worth checking out!
They mainly feature banh mi type fusion sandwiches, creative noodle dishes, and their signature Chicken Pho Soup...and not to worry, they feature their too-die-for LFC Wings and garlic noodles.  I'm a fan of their Burmese Salad, The Pho-Strami Dip made with smoked brisket, and their Fried Kauai Shrimp Po' Boy sandwiches!
Hours – Mon – Fri 11 AM to 9:30 PM (take out 3 PM to 5PM), Sat 10 AM to 9:30 PM & Sun 10 AM to 3 PM
Location:  1200 Ala Moana Blvd / (808) 777-3588
Check out more:  PiggySmalls.com
---
Goma Tei Waikiki - $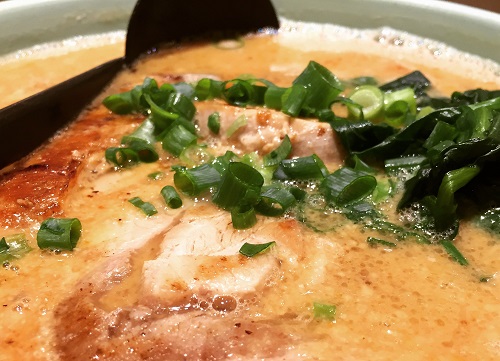 Rated as one of the best ramen noodle houses on the island…and happens to be one of my favorites, Goma Tei fits right into the utopia of elite International Market Place restaurants.  Goma Tei is a growing small chain, and now has added their first operation in Waikiki.

So what makes this noodle house so popular?  Their Tan Tan broth is rich and well balanced in flavor, they add a generous portion of nicely smoked char-su pork belly, and garnish it to perfection with vegetables and a perfectly soft-boiled egg!  And to top it off, Goma Tei is probably your best "cheap eats" option located here on the 3rd level of restaurant row.  Open Daily 11 AM to 9 PM
Location - 2330 Kalakaua Avenue, 3rd Level, Waikiki / (808) 732-9188
Check out more at Goma Tei
---
Alan Wong's - Honolulu - Closed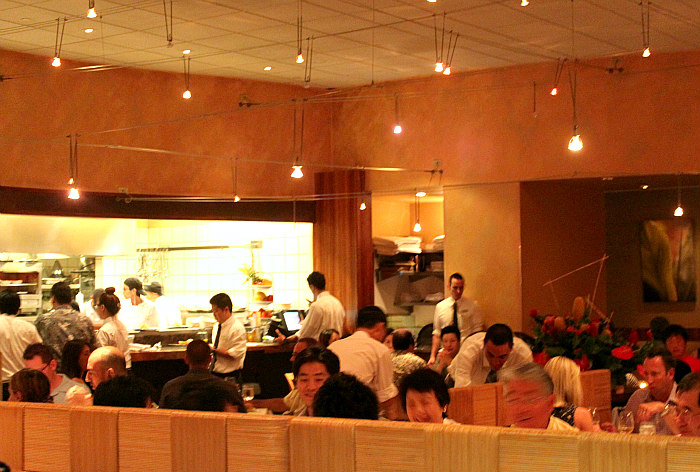 Chef Alan Wong opened his doors in 1995 and has been a number one success amongst Honolulu restaurants ever since! 
Wanting to bring the natural Hawaiian elements to the table, Chef Alan Wong tries to keep everything as local as possible to better enhance his creations.

His menu challenges traditional local Hawaiian favorite dishes to take on new unique flavors and twists.  Winning dishes include Steamed Clams w/ Kalua Pork, Ahi Poke Crispy Won Tons, Grilled Mahi Mahi w/ a Wasabi Sauce, and Macadamia Nut and Coconut Crusted Lamb Chops!

$$ Lunch & Dinner, Daily 5pm to 10pm

Location:  1857 South King St, Suite 208, Honolulu, HI Phone (808) 949-1939
Check out more at www.AlanWongs.com
---
Nobu - Closed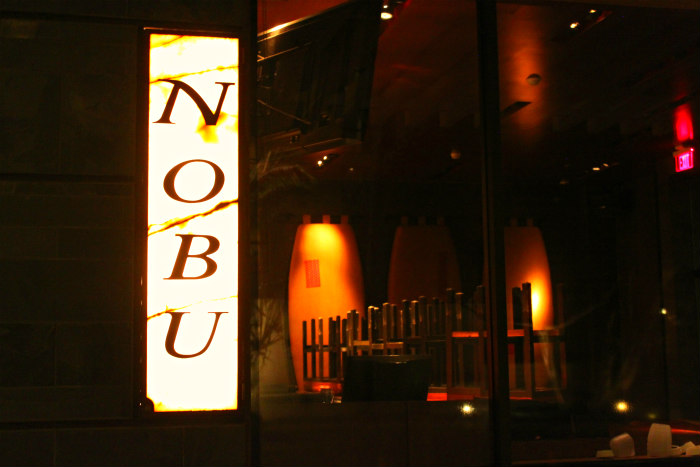 Nobu has moved into their new Kakaako location in the Waiea Residence Building.  Chef Raso and his staff look to the challenge of reinventing Japanese cuisine into a culinary adventure!
The new 11,000 sq ft Honolulu Restaurants space has a fresh modern & enlighten look, as to its previous location located in the Waikiki Parc Hotel…which was nice as well!

Nobu sets the bar high with the creations they serve and the environment it serves it in!  Don't it pass up for a celebratory dinner!
Great tough choices to be made from their menu...including Sashimi Tacos, Bigeye Ahi Poke, Lobster Ceviche, Black Cod Saikyo Miso, and King Crab Tempura.  From the grill you have Wagyu beef at $32/oz! ...and a long sushi menu, that stands on its own!
Dinner 5:30 to 10pm +
1118 Ala Moana Blvd, Waikiki HI - Phone (808) 237-6999
check out more at www.noburestaurants.com
---
Kaka'ako Kitchen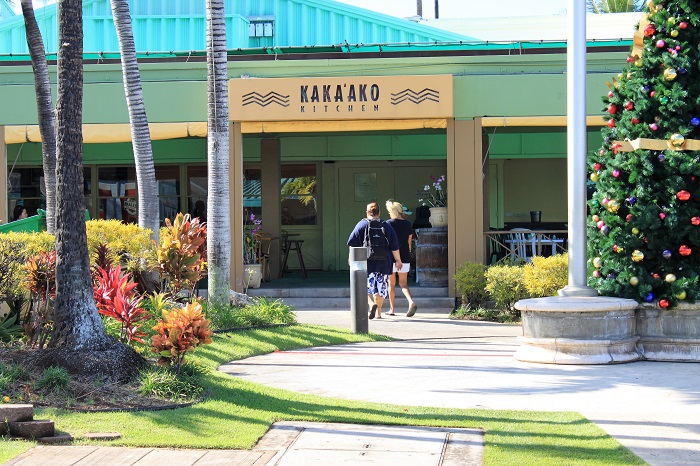 More island comfort meals served up at this corner spot of the Ward Warehouse Shopping Center.

Tempura Mahi-Mahi Sandwiches, Seared Ahi Chop Salad, Hibachi-Grilled Chicken Wraps are just a sampling of what to expect at the Kaka'ako Grill.

They are proud to advertise that they use only fresh local grown ingredients to enhance the taste of their creations.

$ Breakfast & Lunch & Dinner, Mon - Sun 10am to 9pm most days

Location:  1200 Ala Moana Blvd, Honolulu, HI - Phone (808) 596-7488
Check out more at KakaakoKitchen.com
---
Gordon Biersch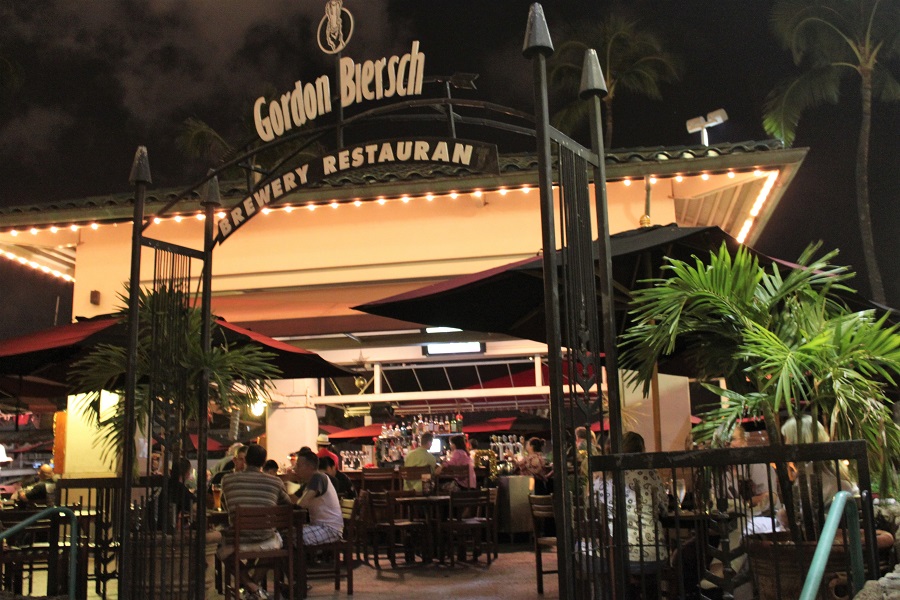 This lively spot is part of the Gordon Biersch chain of breweries,  but this one is particularly unique for its open air seating, live entertainment, and a menu that promotes the adventurous and delicious island flavors of Hawaii.

Miso Chilean Sea Bass, Pecan Crusted Chicken, Lobster and Shrimp Mac & Cheese, Gorgonzola Bone-in Rib-eye…you tell me that doesn't make you salivate!

You will find the Gordon Biersch restaurant at the end of the Aloha Tower Marketplace on the harbor.
Don't miss $3 pints all day on Tuesdays!
$$ Lunch & Dinner, Mon - Sun 11am to 1am

Location:  One Aloha Tower, Suite 1123, Honolulu, HI Phone (808) 599-4877
Check out more at GordonBiersch.com
---
Da Hawaiian Poke Co.
Is it possible to have two of the best Hawaiian Poke companies across the street from each other?  That's right, if you can't manage to park in one of two parking spots at Ono Seafood's, you might have better luck across the street in the Kapahulu Shopping Center.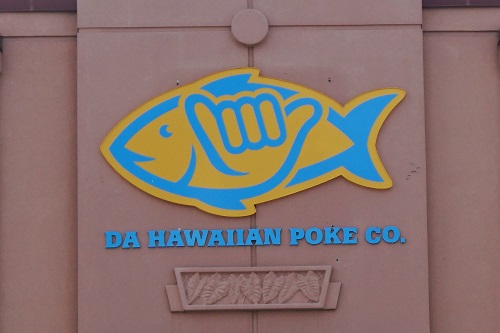 Da Hawaiian Poke Company happens to be my favorite!  It comes down to freshness and technique when creating similar styles of these popular poke dishes we love.
Poke bowl are quite popular here in Hawaii with a build-your-own option, and some special creations which they have mastered! 
Da Hawaiian Poke Company has tasty topping such as a spicy or wasabi aioli, Hawaiian sea salt, sesame oil, Korean chili, avocado, and furikake (a dry Japanese sprinkling seasoning).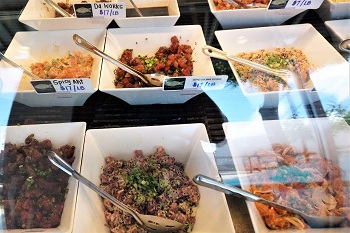 I love their simple yet special poke creations!  I can't get enough of their Spicy Ahi Poke, Hawaiian Style poke, and their Wasabi Furikake Salmon Poke.

They also have some amazing sushi-bar-like creations that are hard to pass up on, including their "Spicy Ahi Bomb, Maine Lobster California Bowl, and the Shaka Bowl…that will have you throwing a shaka after you see this master piece!  Don't forget to get a side of their special Blue Crab Potato Salad!
But wait, there's more!  The onolicious factor does not end with their poke bowls & creations, as they have a few plate lunch menu items that will make it hard to choose from!  Have you ever had an Ahi Loko Moko or a Seared Ahi Bibimbap, or Ahi Katsu!  Oh, and they have a Hawaiian Kalua Pork plate lunch if you're sick of all the yummy poke dishes!
Open Daily from 10 AM to 8 PM,  Except closes 7 PM on Sunday

870 Kapahulu Ave, Phone (808) 425-4954
---
Ono Hawaiian Foods Restaurant - $$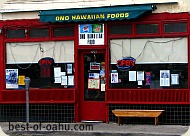 If you're not planning to attend a luau (where the food is often mediocre and created for the masses anyway), then head to Ono's!

Get your fill quickly as Ono Hawaiian Foods has announced that they will be closing their doors at the end of August 2017.  They have been loved by the community since opening 57 years ago!  They've had a fantastic run and now it's time to say aloha to them!

One of the Waikiki restaurants that offer good authentic Hawaiian food --  Kalua Pig, Pork Lau Lau, Lomi Lomi Salmon, Haupia and of course…a bowl of poi!  Ono Hawaiian Foods consistently gets rave reviews from both locals and tourists! 

It's a small location so you might want to arrive a little early, or take it to go and dine back on the beach.
Open for lunch & dinner - 11am to 8pm.
Check out more reviews for Ono Hawaiian Food's
---
Pineapple Room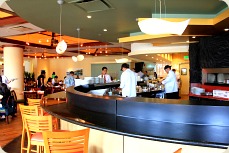 Time to say Aloha to the Pineapple Room after 18 years in business.  Alan Wong has decided it's time.  Get your fill before July 29th!

Another top choice in Honolulu restaurants!  Run and owned by one of Oahu's top chefs, Alan Wong, the Pineapple room is a great way to dine more casually but still enjoy some of the best island culinary tastes that Oahu has to offer.

Don't miss the Kalua Pig BLT served on an onion roll –my favorite!  Kiawe Wood Grilled Short Ribs, Coconut Clam Chowder, and Macadamia Nut Crusted Apple Curry Glazed Pork Chop are a sampling of many tasty choices that Alan Wong has created for his menu.

$$ Breakfast Sat only 8am to 11am, $$ Lunch & $$$ Dinner 11am to 8:30pm

Location:  Ala Moana Shopping Center - Macy's 2nd Fl, Honolulu, HI
Phone (808) 945-6573

Check out more at alanwongs.com/pineapple.com
---
Morimoto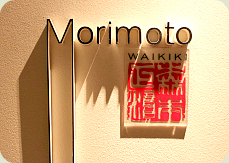 Iron Chef Masaharu Morimoto has been wowing crowds, judges and other top chefs (including Chef Nobu) since the early 90's.  Morimoto has closed its Modern hotel location, but reopening in the fall 2017 in the new Alohilani Resort...formally the Pacific Beach Hotel.

Dinning here is a memoriable experience as you try fused creations such as Hamachi Tacos, Live Octapus Carpaccio, and Crispy Rock Shrimp Tempura.  Don't miss entrees such as their Roasted Keahole Lobster, Crispy Whole Fish, and Wagyu Ribeye Steak that runs $100 itself!  And of course the extensive sushi selection is amazing!
Closed until fall 2017

New Alohilani Resort, Waikiki, HI - Phone (808) 943-5900
Check out more at www.morimotowaikiki.com
---
Brasserie Du Vin
After 9 years, this awesome eatery has decided to close it's door.  Step back into time in this French colonial brasserie that also slowly changes into a rustic Provencal setting once you step into their outdoor alley way seating area.  You wouldn't think you were in Honolulu.

Take a break for a traditional dinner meal, and order the delicious small plates to share while sampling their fantastic wine choices.  Fun table choices include artisan cheeses and cured meats neatly arranged on a wooden cutting board, oysters on a half shell, Pommes Frites (crispy French fries), escargot baked in pesto, garlic, and Parmesan sauce, and different styles of bruschetta.
Arrive for happy hour and the menu is half off –which, by Honolulu restaurants standards, is definitely a steal! Closed as of Jan 31st, 2015

Location:  1115 Bethel St., Honolulu, HI Phone (808) 545-1115
Check out more at BrasserieDuvin.com
---
Closed Clubs & Bars
---
---
Aloha Tower Marketplace



While the Aloha Tower Marketplace is currently under renovation, there are still some fun and alive Oahu nightlife to be found.  There are a a handful of Honolulu bars, restaurants, and different venues for entertainment.
Gordon Biersch Brewery - another great spot that anchors the Aloha Tower Marketplace at the end of the pier with harbor views.  I love their inviting open-air environment, and variety of entertainment from Hawaiian to Reggae to Jazz – all which are fitting for the setting!


Hooters  - Known for their spicy chicken wings and eye candy service...'nuff said!  Hooters usually has a few "challenges" and events scheduled through out the week.
---
Retired Hotels
---
Kai Aloha Hotel


Another great choice amongst the cheap Waikiki Hotels in Oahu!  The Kai Aloha Hotel is a small 3-story Oahu Hotel with only 10 rooms.  The rooms are clean, but have an outdated 1950's feel about them.
What makes the Kai Aloha Hotel so special beyond the low nightly cost, is its location next to the spacious Fort DuRussy Park and beautiful Hale Koa gardens.
Find the best deals for the Kai Aloha Hotel
---
Retired Oahu Shopping places
---
The Kim Taylor Reece Gallery


Located on the quiet side of the North Shore in an area called Scared Falls, is a two-story beach house gallery.  The Kim Taylor Reece Gallery is a special find for those who notice their sign and choose to stop as they drive around the coastal windy road.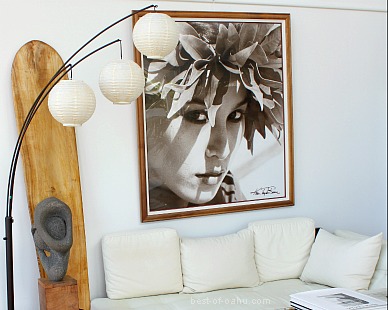 There couldn't be a better location to display Kim's captivating black and white photography, framing the beauty and essence of the Hula performance. 
His 25 plus years studying the art of Hula and perfecting his ability to capture it on film, has made his artwork specially recognized amongst the Hawaiian community and though out the world.

Many of his signature pieces are framed in Hawaiian Koa wood frames and displayed in large prints through out the gallery.  It's easy to find the magic and beauty of the Hawaiian culture here in the Kim Taylor Reece Gallery.
Open Mon-Wed Noon to 5pm

Kim Taylor Reece Gallery
53-866 Kamehameha Hwy, Hauula - (808) 293-2000
Learn more about Kim Taylor Reece and his Gallery

Ward Warehouse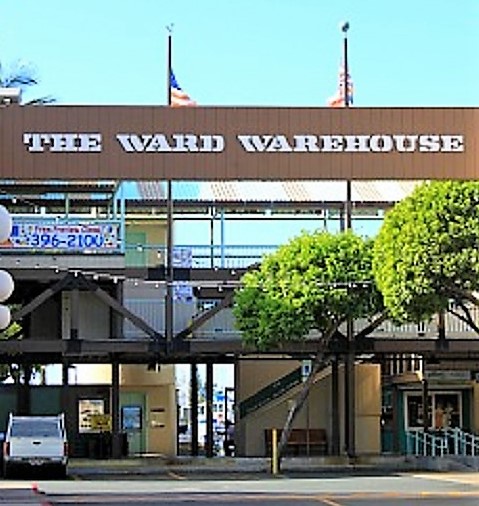 You will find a nice variety of shops at the Ward Warehouse, including galleries featuring unique Hawaiian artwork and creations.  Don't miss the Nohea Gallery, which is well worth visiting on its own.  They have one of the best displays of locally featured artists and their beautiful Hawaiian art. 

Also try to peek into the popular Nea Mea Hawaii Native Books.  They're not only famous for their extensive collection of books relating to topics about Hawaii, but they are known to host fun events, including some local Hawaiian group concerts. Hula Supply Center also  joined this local Hawaiian shop.
Upstairs you will find a few restaurants and bars that host live music some nights. 
If you're lucky, you might catch a popular local Hawaiian band playing.  I've been fortunate myself to catch some big-ticket groups, and all for the price of a beer.
    Drop by Waiola Shave Ice if you're looking for a special afternoon treat!

---
Honolulu Nut and Ukulele Company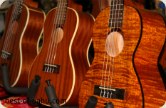 If you're passing through the Eastern Windward side while shopping on Oahu, make sure to stop at this little shopping strip located in Waimanalo.  It's hard to miss as it resides next door to a local ice-cream shop that is also known for selling Hawaiian shave ice.

Honolulu Nut and Ukulele Company is an unsuspecting gift shop that takes a strange turn once you enter.  The isles are loaded with a huge collection of bagged up nuts and dried Asian cracked seed for sale.  Follow the trail of nuts to the back of the store, and the venue takes a twist into a nice display of ukuleles for sale.  Who knew that nuts and ukulele's made such a good fusion mix!

Located at:  41-1537 Kalanianaole Hwy Waimanalo - Phone (808) 259-7880
Check out more reviews here
---
Peggy's Picks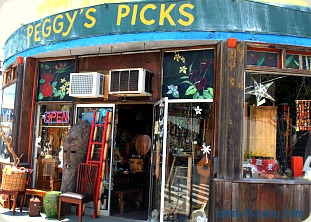 It's hard not to drive down Kapahulu Ave without turning your head for a glance at Peggy's Picks. It stands out from all other shops with a colorful eclectic mix of treasures that are displayed in Peggy's windows, and just outside her front door.

Step inside and you're in for a special treat, as you'll be  surrounded by an amazing collection of unique finds that Peggy has discovered during her ongoing travels around the world, and locally here on Oahu.  From carved Tikis to tribal Masks to intricate jewelry, there are some great gift items, and special souvenirs worthy of  consideration.
Open Daily 11am to 7pm
Located at:  732 Kapahulu Ave, Honolulu - (808) 737-3297
Discover more at Peggy's Picks
---
Aloha Tower Marketplace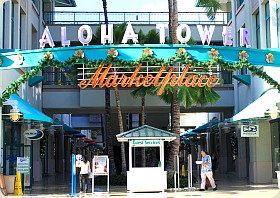 Note:  Currently being remodeled...
Remember walking down to the old abandoned Honolulu Aloha Tower with my brother when we were kids.  Buildings with broken windows and rusted metal framing were all that remained of the original 1926 docking center for arriving cruise ship visitors. 

Today, the Aloha Tower Marketplace has received an amazing makeover, but once again being remodeled.   Let's wait and see what they come up with!

This entertainment oasis is once again a welcoming center for incoming visitors, and now goes far beyond just a welcome port for incoming cruise ships.  It sports some of the best entertainment and shopping on Oahu.

The selection of unique, fun and local shops, hip restaurants, and nightly entertainment has made the Aloha Tower Marketplace a main Oahu shopping attraction, not only for visiting tourists but for locals as well.
---
Closed Attractions
---
Ko'olau Golf Course - Permanently Closed on Sept 30th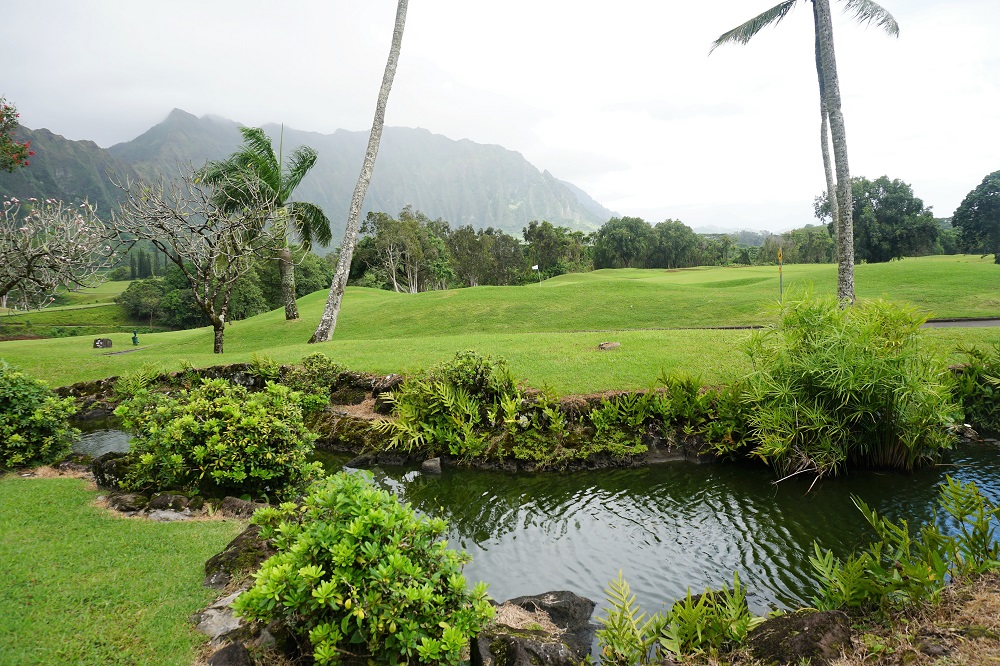 The Ko'olau Golf Course could be argued as the lushest green course with the most dramatic views!
The views are simply amazing as this course backs up to the sky scraping Ko'olau mountain range, with shinning aqua blue ocean waters below at the coast side.  The temperature generally stays cooler with clouds moving in and out of the mountains. 
The natural hilly terrain and surrounding ravines gives this windward side course a reputation for being one of the hardest to play on the island, with a 152 slope rating.  The Ko'olau Golf Course was designed by Dick Nugent back in 1992.  The par 72 18-hole course is divvied up over 7,310 yards throughout the rain forest.  You have 4 sets of tees to play off of…I'll stick to my white tee box!
This course is located about a half hour or less outside of Waikiki.  The club house is nice with full restaurant looking over the course.  There is a driving range, along with practice putting greens available if you need to warm up before teeing off.
Note - there is a waterfall called Likeke Falls, which is worth checking out and is not far from the parking lot.

Location:  45-550 Kionaole Rd, Kaneohe, HI 96744 - Phone (808) 236-4653
---
Fourever Fab Show – A Beatles Tribute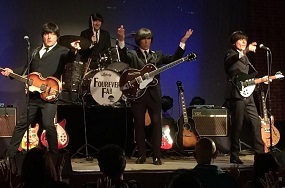 Enjoy an evening filled with Beatles rock n roll classics.  The Fourever Fab has perfected the sounds of this iconic band over the past 20 years, performing timeless classics including 'Hard Days Night', 'Can't Buy Me Love', 'Yesterday', 'Twist and Shout', and 'Hey Jude'.

The show starts off in the back of time, the Beatles 'Black & White' period, and progresses to their final performances with 'Here Comes the Sun' & 'Yellow Submarine'.
Sing and dance the night away with so many great songs to choose from - no 2 shows are alike.
Location - Sheraton Princess Kaiulani Hotel, 2nd Floor

Time – 6:30 pm

Cost - $49.99 General Seating to $109.99 VIP
---
Closed Oahu Services
---
Aloha Trikke was a cool standing electric scooter service that offered tours through Waikiki and Ala Moana Park.  They unfortunately closed up their shop when COVID started.
Aloha & Enjoy!

Subscribe to receive Best of Oahu updates on events, updates, and new articles.  It's the closest way to paradise while you are away...
We will never sell or spam your information, and we'll respect your email privacy.