Kim Taylor Reece
Hula is a large part of the Hawaiian community, and artist Kim Taylor Reece has magically captured the beauty of its presence.  Take time to discover Kim's photography and it will be hard not to fall in love yourself!  Hidden in the quiet east side of the North Shore of Oahu you'll find the Kim Taylor Reece Gallery along the beautiful coastline.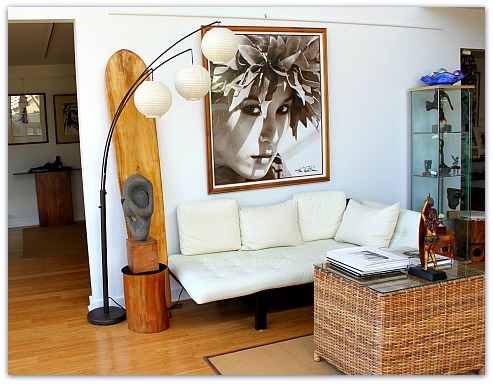 ---
Looking through the lens of Kim Taylor Reece
---
Kim has been working with hula dancers for over 40 years now.  He was part of a renaissance that started in the late 1970's in the Hawaiian culture and the practice of hula.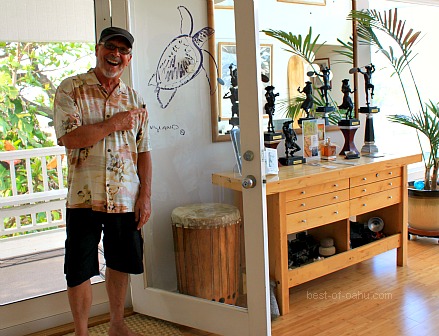 Hawaiian Halaus (hula schools) started practicing an ancient style of dance known as Hula Kahiko.  This style was used to pass down the history of the Hawaiian people from one generation to another.
Kim's photography captures this unique art form in sepia film, to reflect the essence of it as it practiced for hundreds of years.
---
The Kim Taylor Reece Gallery - Closed
---
Most visitors travel across the North Shore exploring everything it has to offer.  Rounding the easterly side past the shrimp farms and Polynesian Cultural Center, you may pass right by the Kim Taylor Reece Gallery if you're not looking for it.
So make sure to slow down when you reach the Sacred Falls area, or you will simply miss it or get into a car accident trying to quickly pull over!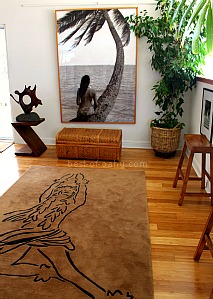 Kick off your shoes at the door and step into a captivating world.  You'll immediately be greeted by stunning mural size photographs located in the front room.
The only thing more mesmerizing than these art works are the vast ocean views through the surrounding bay windows.
The gallery is full of Kim's captivating photographs, creative pieces, and Hawaiian artifacts throughout.
Make sure to wonder upstairs and explore the second floor!  A Terracotta Warrior awaits you along with many more captivating photographs.  Also take time to gaze outside on the lanai and take in the view.  I could spend all day up there if I could!

---
What's new in Kim's world
---
Kim has created some really cool products from his artwork, including his very popular hula dancer sculptures, stylish lamps, wine stoppers and other fun creations.

Shop Kim Taylor Reece art work and gift products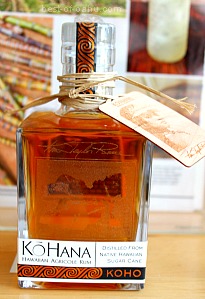 Kim has recently partnered up with Kohana Rum a Honolulu based Spirits Company that produces some of Hawaii's best rum!  Together they have created some unique product both light and dark based.
The Kohana Rum product has quickly become very popular and in short supply.  With only 12 acres of sugar cane currently planted to product the rum, you can imagine how fast it goes once available.
The limited Kim Taylor Reece etched bottles are in even shorter supply and currently sold out!  Kohana Rum Co has plans to more than double the size of its production…but we'll have to wait.

---
---
Getting to the Kim Taylor Reece Gallery
---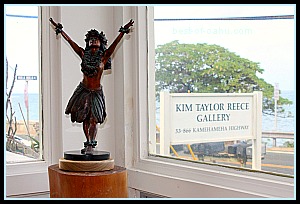 You will need to either cut across the North Shore and down towards Sacred Falls (which could take you about 90 minutes), or drive across the Likikiki Hwy to the Windward side, and up towards the North Shore (60 minutes).

Fastest Route from Waikiki
Take the H-1 Hwy West
Take Hwy 63 North (that will cross you over to the Windward side)
Merge onto Hwy 83 (Coastline Hwy), and follow it towards the North Shore
53-866 Kamehameha Highway, Hauula, HI 96717
---
Gallery Hours & Information
Tue 12pm to 5pm or by appointment
Phone (808) 293-2000
Check out more:  www.hulahulaplace.com
Map
Tips
The Kim Taylor Reece Gallery is not only in a remote part of the North Shore that takes time to get to, but is only open limited hours and days of the week.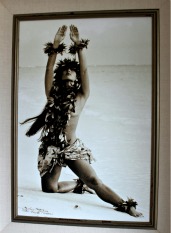 Consider starting your North Shore adventure here at the gallery, before continuing on towards Haleiwa.  Not only do you get to start off exploring in a remote part of the island, but you'll be traveling in a reverse commute, and avoiding the heavy traffic that build up quickly on the other end of the North Shore.

---
In the Area
---
Polynesian Cultural Center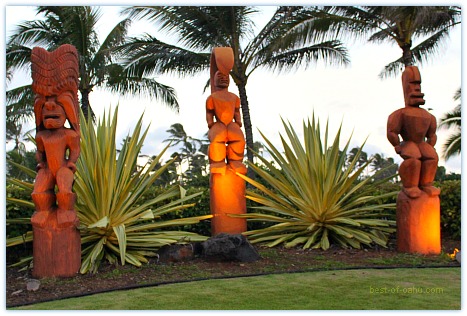 Along with the Kim Taylor Reece Gallery, this Oahu attraction is also not to be missed!  The Polynesian Cultural Center opened its doors to the public back in 1964, and has been growing ever since.

Today there are entertaining shows, luaus, and engaging experiences that promote and educated in the different Polynesian cultural regions.  They also just open up an expansive Hukilau Marketplace that features 40 new shops and restaurants.

---
Sacred Falls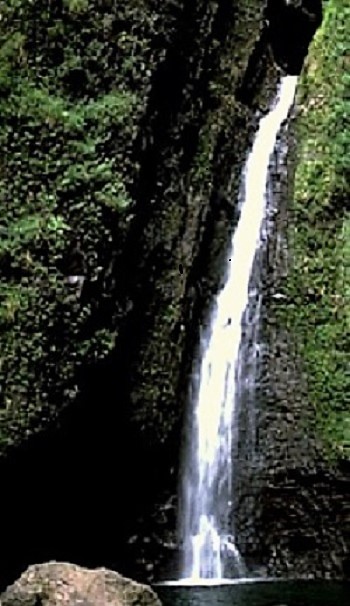 One of the tallest and most beautiful waterfalls on the island!  Unfortunately this treasure is located deep in an unstable narrow canyon, and the trail has been closed to hikers for years.
But Sacred Falls can still be viewed through arranged helicopter tours.

---
Shrimp Farms & Trucks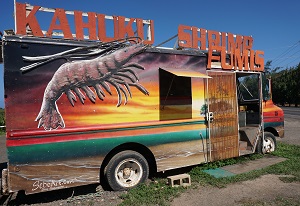 Some say that a trip to the North Shore is not complete until you've had a shave ice, while others say the garlic shrimp trucks are a must!  Save your appetite until you reach Kahuku, where the shrimp farms are located.  You'll find Fumi's Kahuku Shrimp, Romy's Kahuku Shrimp & Prawns, and Giovanni's Shrimp Truck out there waiting for you with lots of garlic shrimp.

Aloha & Enjoy!

Subscribe to receive Best of Oahu updates on events, updates, and new articles.  It's the closest way to paradise while you are away...
We will never sell or spam your information, and we'll respect your email privacy.