Waikiki Beach
Waikiki Beach is not only the most famous beach in Hawaii, but also one of the most recognized Oahu beaches and spots in the world.  Did you know there are actually 9 sections that make up this beach?  Discover the different stretches of sand including Duke Kahanamoku Beach, Royal Hawaiian Beach, Kuhio Beach and Queen's Beach.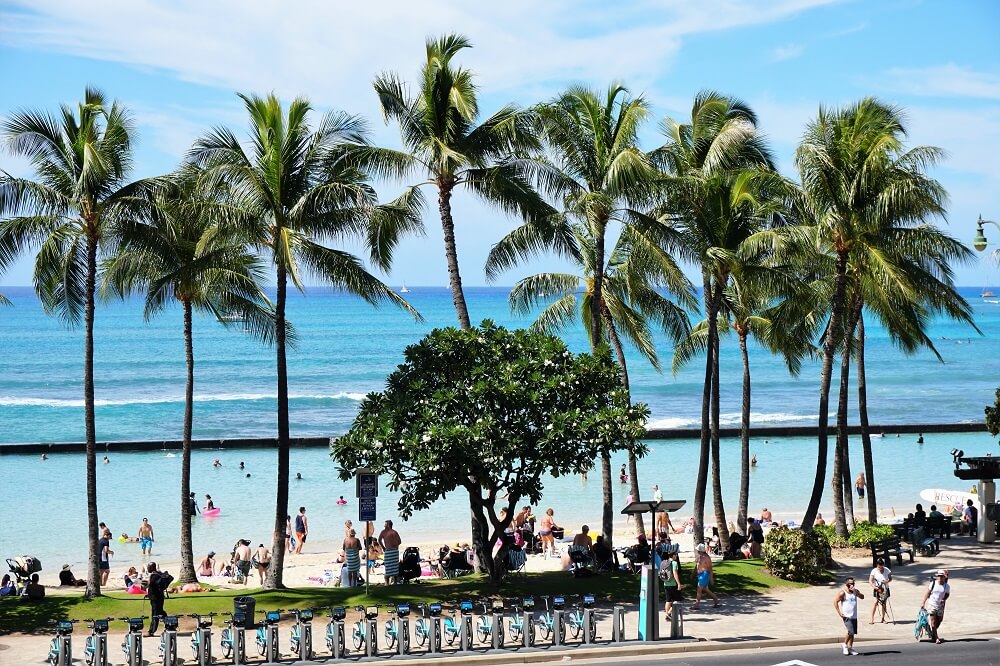 It really should be known as Waikiki Beaches, with the many different sections that make up this two-mile stretch of white sand.  Together, these beach sections make what everyone refers to as Waikiki Beach, one of the busiest and most cosmopolitan spots in Oahu where a plethora of activities geared towards tourists seem to go on all day and most of the night.

---
Waikiki Beach Drone Footage
Here is a great drone footage taken of the Waikiki War Memorial Natatorium, San Souci Beach, Kapiolani Beach, and Diamond Head in the Distance.
Whether you are looking forward to surfing, canoe paddling, snorkeling, swimming, boogie boarding, sand combing, catching a golden tan, people watching, or marveling at a few beautiful Waikiki sunsets, it's very easy to have a good time on the different areas of Waikiki Beach.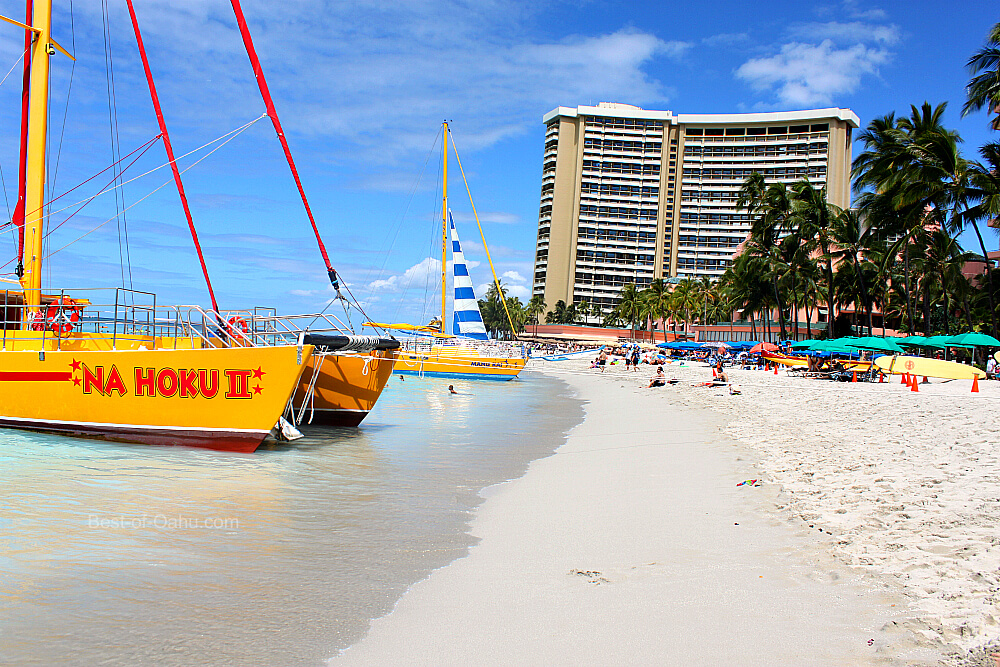 There is also a beautiful Waikiki Beach promenade, available for those who are interested in taking a leisurely stroll to absorb all the action.

The one thing I love most about Waikiki Beach is no matter where you end up, there's always lots of stimulating activity surrounding you.  Personally I like to grab my beach chair, sit back and take it all in.
But with that being said, there are some sections that tend to be a little more calm than others, offer wider stretches of sand down to the ocean, and some sections that are more dare I say, secluded.
---
Sand Replenishment Efforts
Another sand replenishment program has helped replace eroding sections in Waikiki adding 20,000 cubic yards of sand in 2021, including Royal Hawaiian Beach & Gray's Beach that stretches from the Moana to the Sheraton Hotel.  Last replenishment efforts took place in 2012. 
---
9 Sections of Waikiki Beach
---
Take note when visiting Waikiki that there are 9 main sections of beach that are distinctly different from one another.  The list below starts from the western tip across from Hilton Hawaiian Village and moves east towards Kapiolani Park and Diamond Head to end at San Souci Beach:

1)  Duke Kahanamoku Beach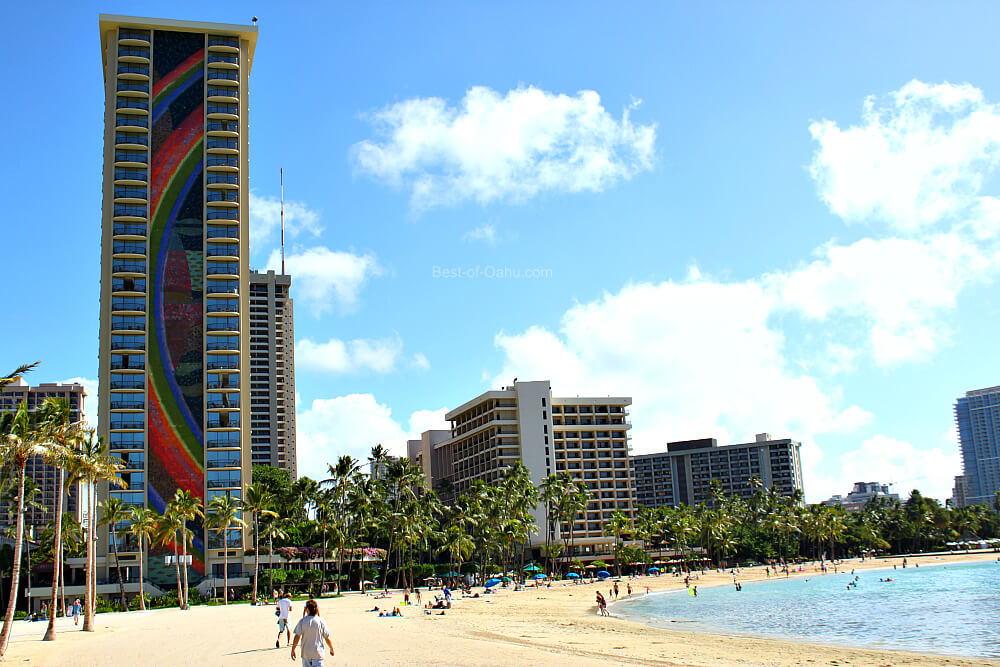 This is the Duke Kahanamoku Beach section of Waikiki Beach.  Hilton Hawaiian Village Resort is the tall, colorfully painted building on the left!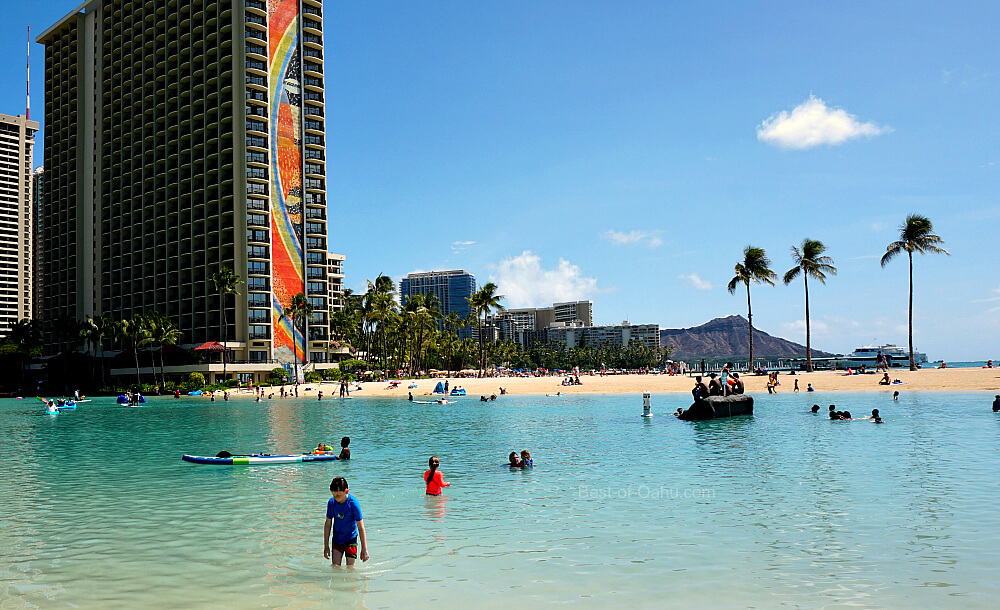 Hilton Hawaiian Village Beach and Resort to the left of Duke Kahanamoku Beach
This first section, located near the beginning part of Waikiki near the Ala Moana channel and harbor is Duke Kahanamoku Beach.

There is a man-made swimming lagoon that is sandwiched between the Ilikai Hotel and the top of Duke Kahanamoku Beach.
This beach and lagoon are also part of the Hawaiian Hilton Village Resort grounds.  The beach itself is one of the more popular and busier of Waikiki Beaches because it offers a calm swimming area with a protected seawall.
You can access this Oahu beach through the Hawaiian Hilton Resort or through the back of the Ilikai Hotel, where you can take advantage of free and metered parking.

---
2)  Fort DeRussy Beach Park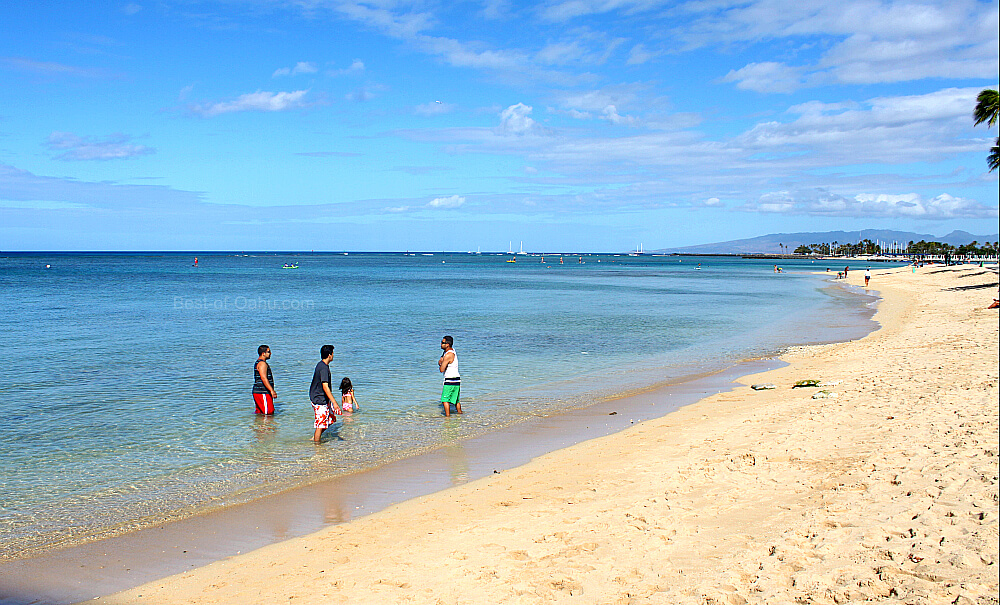 This next area of Waikiki Beach is probably the one of the nicer sections of sand that is also less crowded.

Fort DeRussy Beach Park is the only section in the surrounding upper Waikiki area that provides a beautiful grassy park setting with palm trees, shade, and picnic tables.

You will also find surf board racks, beach volley ball nets, and tennis courts in the area.
This beach area is sandwiched between Duke Kahanamoku Beach and Gray's Beach.  Fort DeRussy Beach Park and San Souci are my two favorite Waikiki Beaches, which are family friendly and tend to be more peaceful.
---
3)  Gray's Beach


They have tried to replenish the sand a few times, but the continuous erosion, has left this area more as a point, than a beach.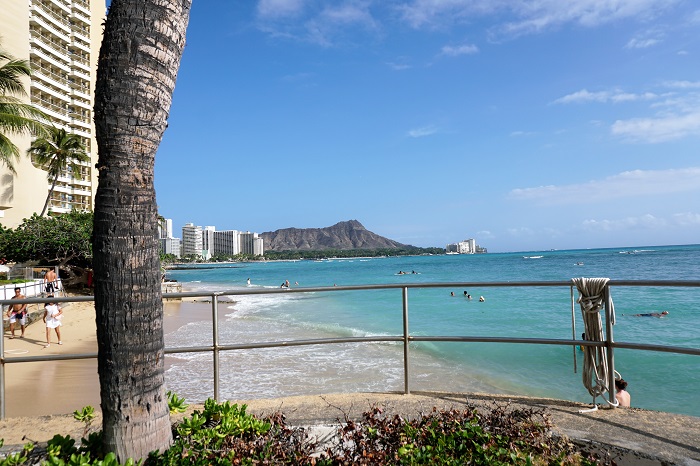 Probably one of the oldest sections of Hawaii Waikiki Beach .  This beach was named after Gray's By The Sea lodge that once stood at this point.  The irony about Gray's Beach, is that not only is the structure gone, but much of the beach is as well.

The City of Honolulu has replenished much of Waikiki's sand recently, but Gray's section still remains slim on sandy real estate.   Gray's Beach is next to the Beautiful Halekulani Hotel.

---
4)  Royal Hawaiian Beach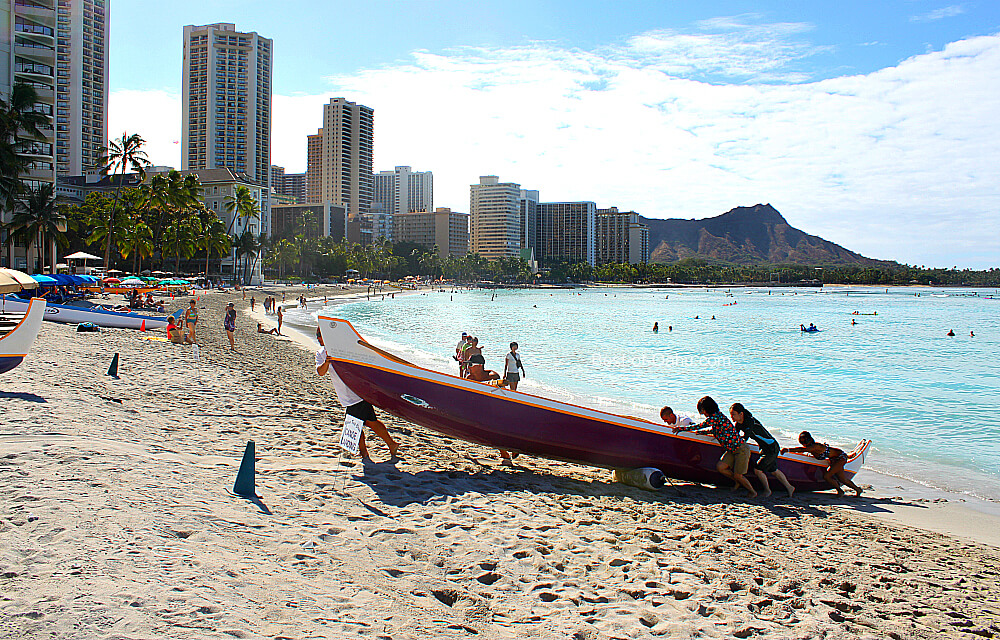 Also known as Waikiki Beach Center, is on the other side of Gray's Beach and best described as activity central!  It also happens to be in front of the Royal Hawaiian Hotel.

Royal Hawaiian Beach is a great spot to catch a Catamaran chartered ride or paddle out on a Hawaiian outrigger canoe, or even take on surfing Waikiki Beach waves.

Join the fun and sign up for a Hawaiian Outrigger Canoe ride, paddling as a team out to the surf and riding some waves back to shore.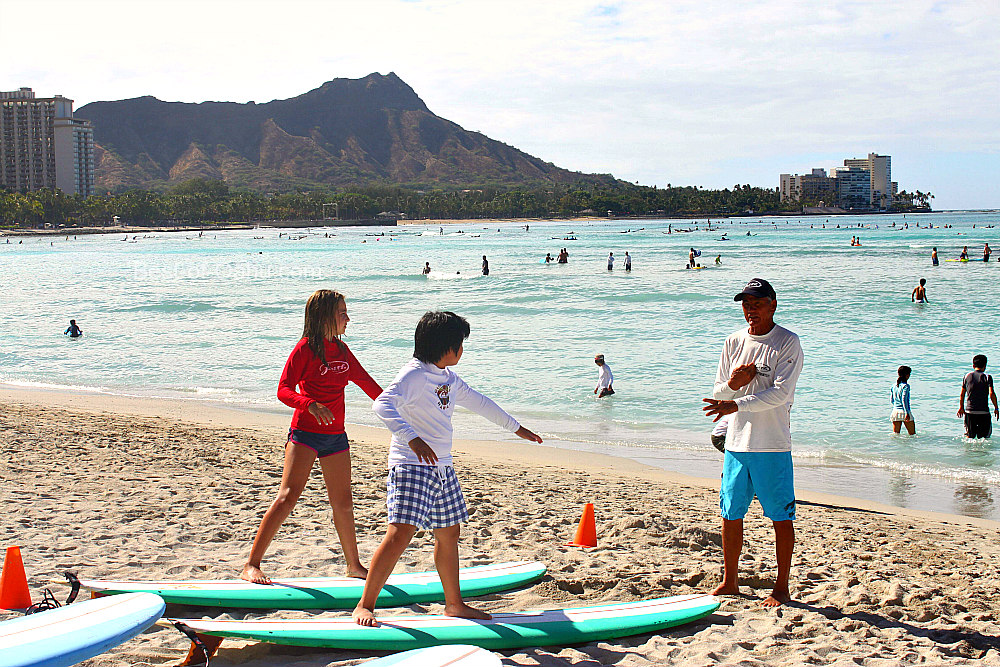 You will find a few Beach Boy surf shacks that are willing to help set you up with renting a surf board, which generally range from $10 to $20/ ride or hour, or learn from a pro that will guide you along the way and teach you how to surf.

Book your surf lesson now:  2 hour private lesson or consider a group lesson.

---
5)  Prince Kuhio Beach


If you're looking for a nice contained swimming area this is it!  Kuhio Beach has been nicked named "The Ponds", because they constructed two back-to-back concrete walls that stretch about 40 yards into the ocean.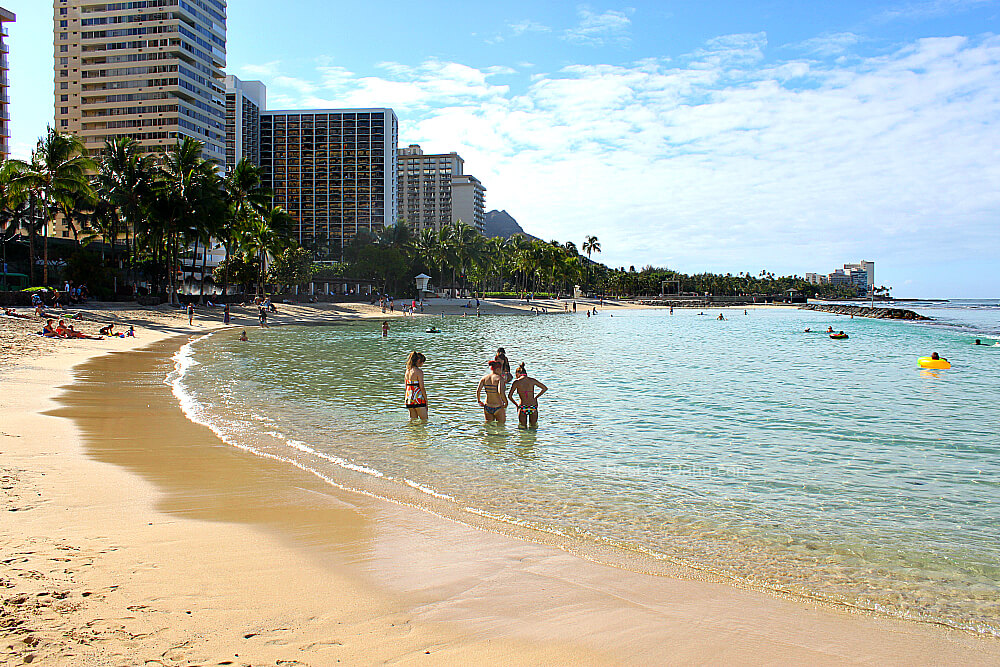 The enclosure has created a calm salt water swimming pool to play around in, with a sandy sea floor that is easy to walk on.
The only rough waters that you will find at Kuhio Beach are the waves that roll into the protected areas by the pond walls.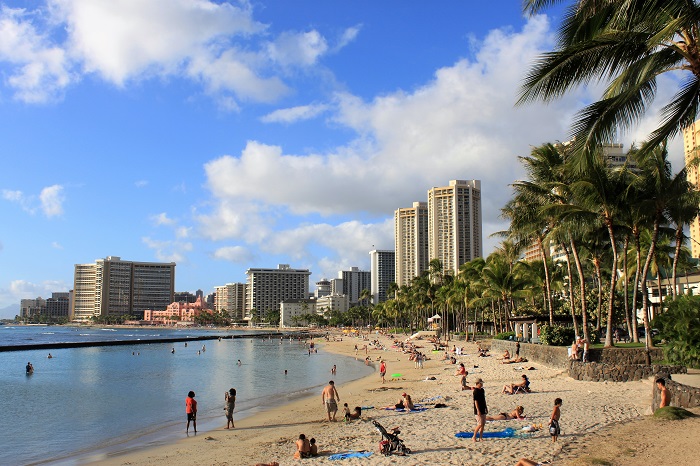 It's a magnet for kids who love to climb up these low walls and run along on top of them, as they try and dodge the exploding waves.  Fun as it sounds, the walls are covered in algae and are quite slippery and hazardous.  Consider yourselves warned!

---
Parasailing along the Waikiki Coast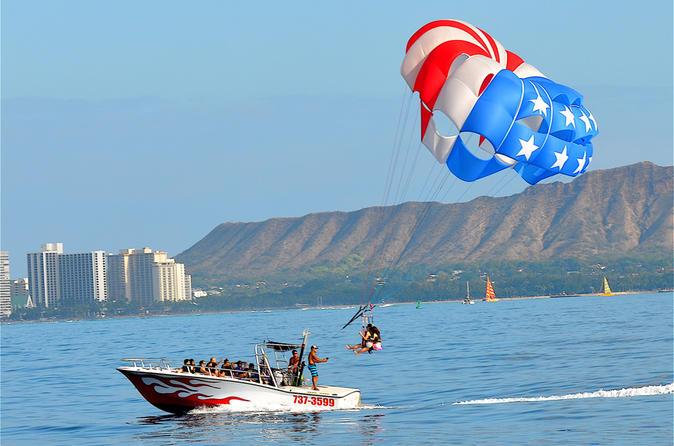 Parasail along the Waikiki shoreline and take in the beautiful views and the surrounding beach activity from a few hundred feet above the ocean. Parasailing Waikiki includes hotel transportation, boat ride, and no experience needed.
---
6)  Queen's Beach


Located just after the Kuhio Ponds and busy stretch of Waikiki Hotels is Queen's Beach.  It's a nice stretch of sand to relax and sunbath on.

It's also a great spot to rent a boogie board and play in the rolling waves along the Waikiki Wall, which acts as a walking pier for visitors to watch the water action, and also capture views of the Waikiki skyline as you look back.

This is where I first learned how to boogie board in the waves as a kid.  I would surf all day until I either got tired or felt the sunburn on my back!  We would always start off with a ceremonial jump into the ocean off the end of the Wall (which is off limits today) and paddle out to the waves.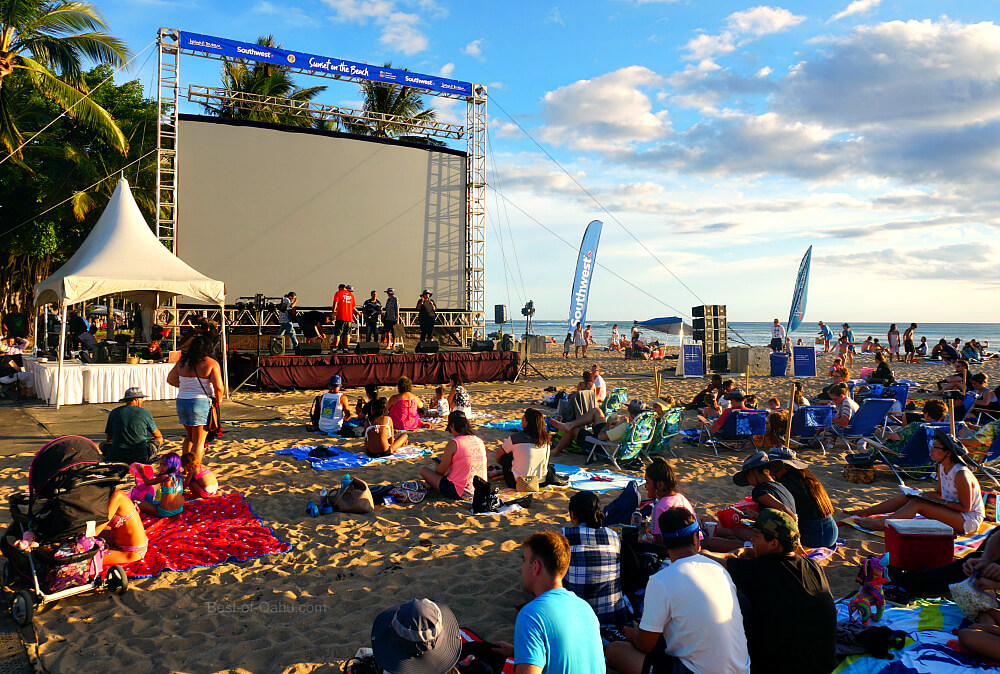 Queen's beach is now also home to the first 1000 foot outdoor movie screen that is used for special movie night screenings.  A permanent metal tower structure stands in place, and they raise the screen on movie nights known as "Sunset on the Beach".

It's a large production with music, comedy, food stalls and other types of entertainment that take place during the sunset, before the feature film begins.  If you are lucky they will have a showing during your visit.

---
---
7)  Kapiolani Beach Park


Kapiolani Beach Park
Neighboring Queen's Beach is a long strip of sand that lines the park called Kapiolani Beach Park.  You'll find it to be a much more quiet side, with just enough sand to lay down a beach towel or beach chair.  You can also elect to set up camp on the lawn area and take advantage of the shady trees.  It's also less crowded in the water, making it inviting to take a dip in the aqua-blue ocean.
Kapiolani Beach is also where adventurous visitors are taken out for surf lessons with long boards, riding gentle waves back towards shore.
---
3 More Action Beaches
Here are 3 additional Oahu Beaches that are beautiful, full of action, and worth visiting after this one...
---
8)  San Souci Beach


This is my favorite stretch of Hawaii Waikiki Beach!  Not only is it off the hotel strip, but it also has a lovely quiet park in between here and the last section of Waikiki Beach.  It is popular among the locals who love to frequent this spot.

San Souci Beach is extremely kid and family friendly!  Also one of the best spots on this side of the island to snorkel!
You will find a nice flat bar of reef that encompasses much of the area with lots of marine life, located about 50 yards into the ocean.  San Souci Beach is also a haven for swimmers, kayakers and surfers who take advantage of a natural ocean channel located on the left hand side of the reef and beach.

---
9)  Outrigger Canoe Club Beach



Basically the last stretch of Waikiki Beach …and very private at that.  There are two ways to access it.  One is to walk across the eastern end of San Souci Beach which is mostly reef and old cement wall where there are stairs to take you over onto the small Outrigger Canoe Club beach.

I would recommend crossing with caution and reef shoes during low tide!  For easier access, walk through the Lotus at Diamond Head Hotel (formerly the W Hotel) parking lot, and look for a small alley way next to the Colony Surf Hotel, that will lead you to this little known beach.
I remember the Outrigger Club Beach being "PRIVATE" as a kid, and always politely asked to go back to San Souci Beach.  Today this is not the case, all Oahu beaches are free to the public, and I get to watch my kids enjoy, play and have fun on this Oahu beach!

The Outrigger Club Beach (also known as Colony Beach ) is another nice spot to enjoy the beautiful Hawaiian sunsets.  Sometimes I'm guilty of bringing down a bottle of wine with my wife to enjoy the moment!

---
The beautiful thing about Waikiki is that no matter which of the above beach sections you choose, you are bound to have a good time!

Waikiki Beach basically spans the hotel skyline all the way to Kapiolani Park.  There are solid barriers blocking off some sections such as Gray's, San Souci , and the Outrigger Canoe Club Beach.
Otherwise beach sections run into one another.  Yet they are distinctive from each other by their characteristics and the ambiance that they provide.
Find Hotels & Resorts on Waikiki Beach 
---
Beach Facilities
---
Beach Showers – located at all beach sections

Bathroom facilities – Fort DuRussy , Kuhio, Queens & San Souci Beach
Life Guard Stations – all except for Outrigger Canoe Club Beach & Grey's
Concession food stands – Queens Beach
Other food options and restaurants in beach front hotels and side shops
Barbeque Grills & Tables – Fort DuRussy, San Souci and Kapiolani Park
Parking – street parking in front or by these sections: Queens, San Souci & Outrigger.
Parking Garage located at Fort DuRussy Beach Park
---
In the Neighborhood
---
Neighboring Oahu Beaches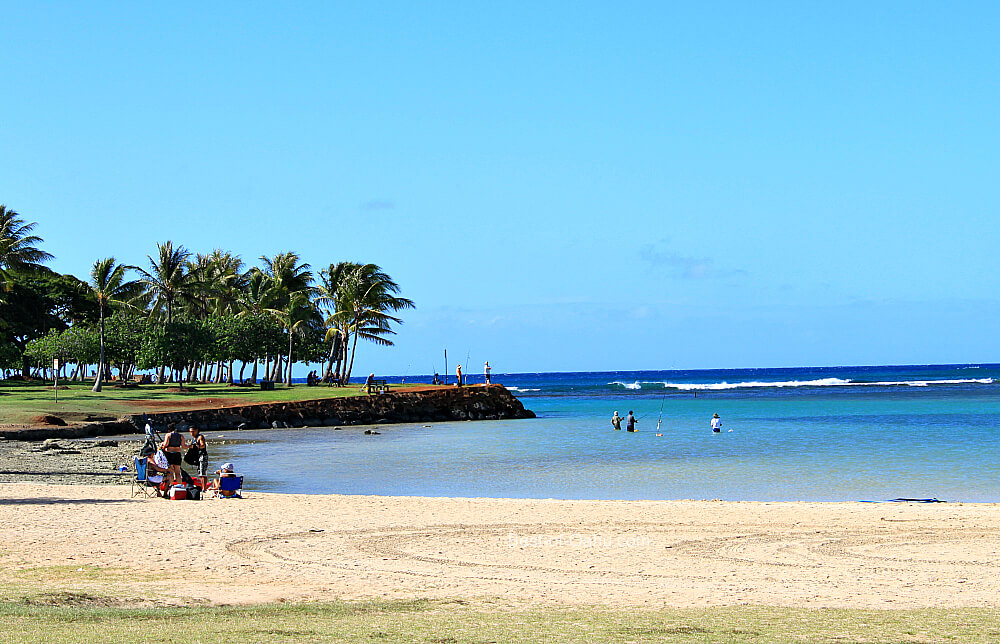 On the northern side of Waikiki, you have a beautiful local 100 acre park that includes a mile long stretch of sand known as Ala Moana Beach Park.  On the Southern side of Waikiki Beach , wrapping around Diamond Head, you will discover a secluded narrow long stretch of beach, called Diamond Head Beach.

---
Honolulu Zoo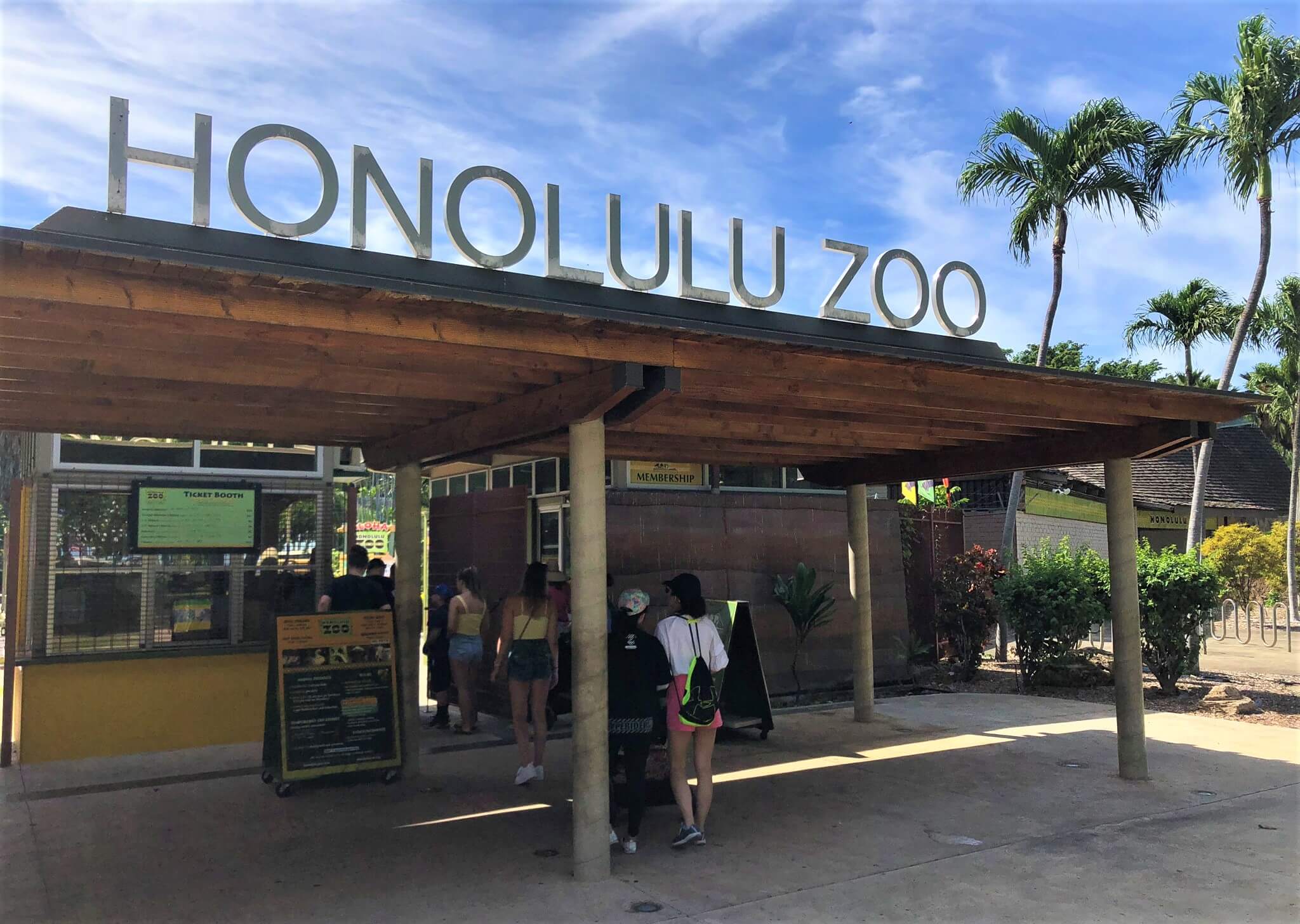 That's right…there is actually a Waikiki Zoo  located off of Kapahulu Ave, which separates Kuhio Beach and Queen's beach.  It's also the part of the same parking lot if you decided to drive and park at these two sections of beach.

The Honolulu Zoo  offers a nice brake, to pull the kids out of the water and stroll over to see a wonderful family of animals waiting your visit.

---
Waikiki Aquarium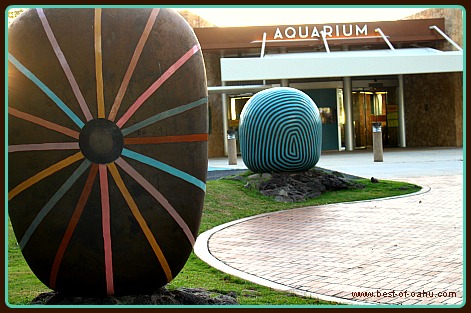 This is another wonderful spot to take a break from the beach, and bring the family to see all the wonderful tropical fish and marine life that evolves around Oahu's waters and the other Hawaiian Islands.

 The Waikiki Aquarium  is located next to San Souci Beach and the Waikiki War Memorial, along the waterfront.

---
Waikiki Walking Tour
The Self-Guided Waikiki Walking Tour is a fun stimulating stroll along a few sections of this exciting city.  It generally starts at the Duke Kahanamoku Statue, located in the Kuhio Beach section.  Follow the sidewalk trail through Kapiolani Park towards Diamond Head.

If you're up for more of a hike, then follow this 5-mile Waikiki walking trail to the Ala Wai Canal, and make your way back though Fort Derussy Park and see 20 points of interest along the way.

---
Discovering more on Waikiki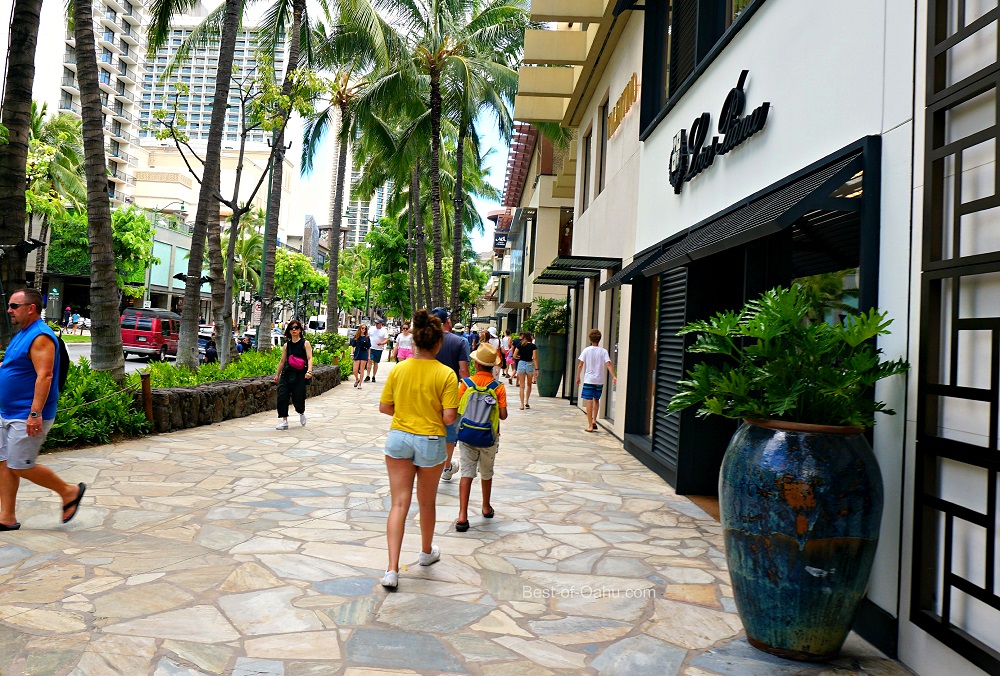 Check out what Waikiki has to offer in between 150 hotels, and well over 1000 restaurants.  There are over 70,000 tourist that visit this city daily, and explore all its fun, including beautiful beaches, famous spots, endless shopping, and explosive nightlife!

Aloha & Enjoy!

Subscribe to receive Best of Oahu updates on events, updates, and new articles.  It's the closest way to paradise while you are away...
We will never sell or spam your information, and we'll respect your email privacy.