Self-Guided Waikiki Walking Tour
A Self Waikiki Walking Tour is not only fun and great exercise, but allows you to see so many different sides to this exciting city. There are Lots of interesting and important sites along the way…in fact you will see over 15 captivating points of interest along this Oahu hike. You could actually consider this a Waikiki hiking path if you trek all 5 ½ miles around it.
Enjoy walking around Waikiki, passing through Kapiolani Park, the Waikiki Aquarium & Honolulu Zoo, strolling along the 1.5 mile stretch of the Ala Wai Canal, passing by the Army Museum, the International Market Place, and finishing by the Duke Kahanamoku Statue.
---
20 Waikiki Points of Interest
---
Whether you take on the 5 ½ mile Waikiki Walking Tour challenge or choose a smaller section of this hike around the city, we have a fun route for you to explore. There will be lots of interesting things to see around Waikiki, in fact there are at least 20 significant points of interest worthy of taking note of...we'll point them out to you through this walking route.
We will start off at the Duke Kahanamoku Statue that is located in front of Kuhio Beach.

However, if you are located towards the top of Waikiki near the Hilton Hawaiian Village or somewhere in-between, then it might make more sense for you to start off where you're staying. I would recommend walking down as far as Kapiolani Park, where it's much more peaceful and has some beautiful views of the park grounds, Diamond Head, and the Waikiki War Memorial Natatorium.
The Ala Wai Canal also stretches along this Waikiki stroll a couple extra miles, and while it offers another beautiful side to Waikiki, you could elect to walk just part of it or skip it all together.
---
Starting the Self-Guided Waikiki Walking Tour
---
Our Waikiki Walking Tour starts off at the iconic (1) Duke Kahanamoku Statue, which is a famous landmark that stands tall in front of Kuhio Beach. From here, we will walk south along the sidewalk towards Diamond Head.
You will pass other sections of Waikiki Beach including Kapiolani Beach, where you might see a handful of body boarders surfing waves along the (2) Waikiki Wall that stretches into the ocean. Take a quick stroll along the top of the wall where you can get one of the best views of Waikiki and all the surrounding action in the ocean.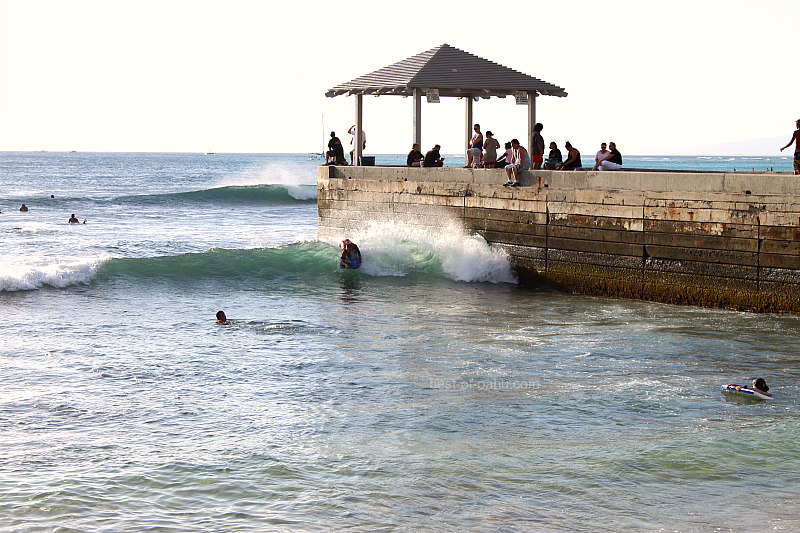 Continue walking along the oceanfront where, at some point, you will be surrounded by Kapiolani Park on both sides of the sidewalk. It happens to be one of the largest and oldest parks on Oahu and Hawaii for that matter. It's absolutely beautiful, and is home to many, huge, shady banyan trees.

Banyan trees are not only distinctive with their wide canopy tops that provide shade, but are even better known for their many long roots that grow from the top branches back down to the ground. Sometimes you'll see kids playing around them and even swinging on them like rope vines.
It won't be long before you walk past the (3) Waikiki Aquarium, which happens to be the oldest aquarium west of the Mississippi. Swing back by if you don't have time to snorkel at Hanauma Bay or other neat snorkeling spots around the island.
Next door to the aquarium is the (4) Waikiki War Memorial Natatorium that was dedicated to the many Hawaii citizens who served in World War I. It was used as an aquatic swim center until the structure became unsafe from disrepair. It's one of my favorite spots to take a sunset picture through the front decorative iron gates that are still standing tall.
As you continue traveling east, past San Souci Beach (one of farthest sections of Waikiki Beach on the east side), you will pass along the last group of hotels and apartment buildings that stand closest to Diamond Head.
Once you reach the stunning (5) Louise Dillingham Memorial Fountain (which will be hard to miss) that sits in the middle of a roadway roundabout, this will be our crossing point to the other side of the street where we will travel west, back up along Kapiolani Park on the other side.

There is a crosswalk located back near San Souci Beach, if you wish to cross safely across the street. Either way, make sure to always look for oncoming cars before crossing.
---
Treking to the Diamond Head Lookouts
---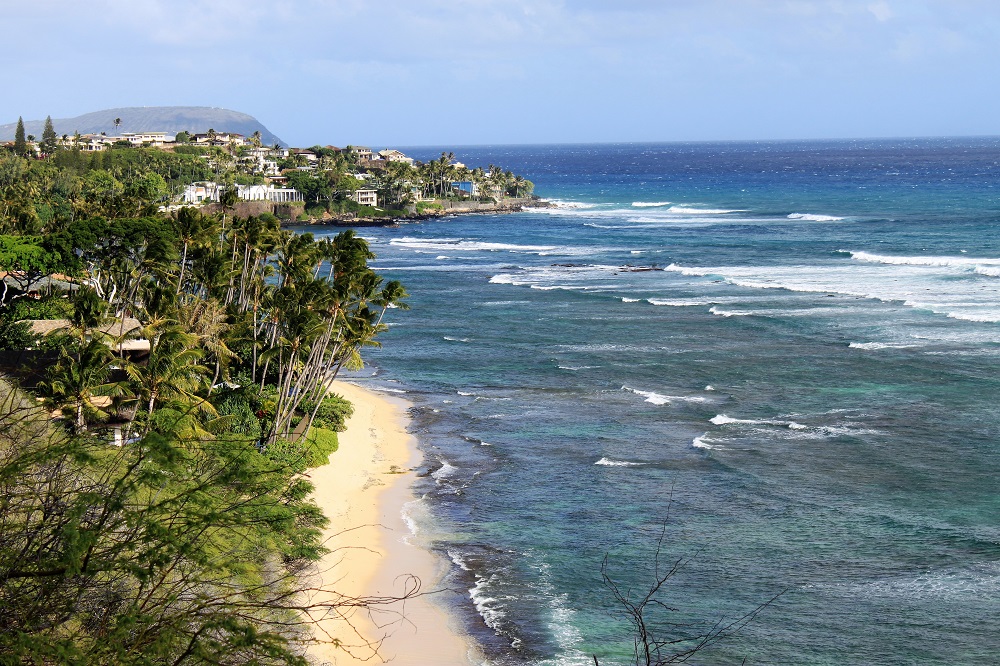 You could continue trekking further east along Diamond Head for an additional half mile up the road to reach 3 scenic lookouts.
These road turnouts provide some great views of the (6) Diamond Head Lighthouse, parts of Diamond Head Beach, and surfers riding waves in the distance. The views get better as you reach the (7) 2nd and 3rd Diamond Head lookouts. This is not part of our walking tour, but it's quite rewarding if you're up for the short trek.
---
Waikiki Walking Tour through Kapiolani Park
---
Walking back up on the other side of (8) Kapiolani Park gives a new perspective with views to all the activity taking place in park that you won't see from the beach side.
Beyond the trees, park benches, and people watching, you'll also pass by the (9) Kapiolani Band Stand where many free concerts have taken place, including the Royal Hawaiian Band that plays here regularly.  One of my favorite parts of this park is the extensive duck pond and gardens that surrounds the beautiful pavilion.  Take a moment to stroll through it and enjoy all its beauty.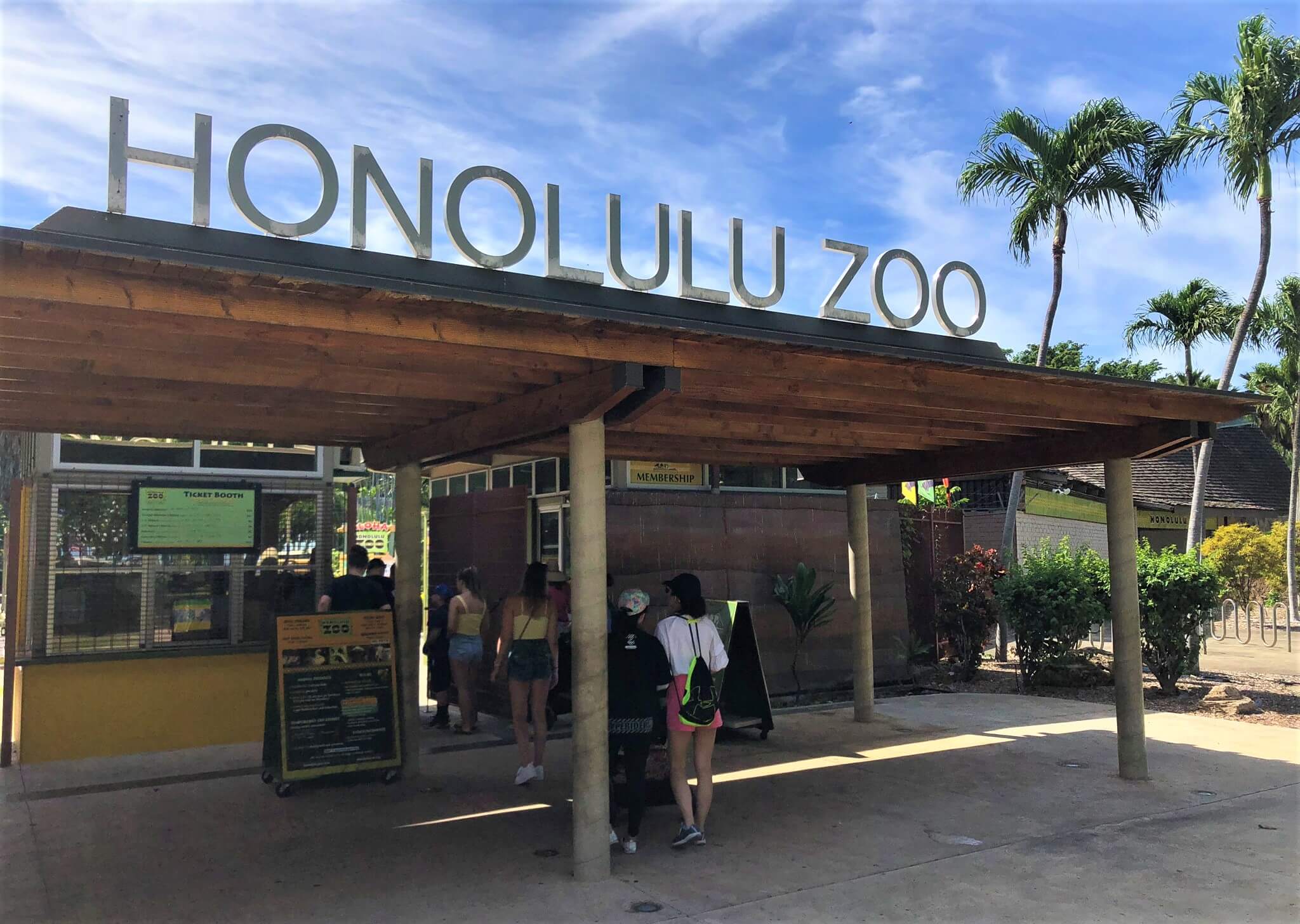 At the top of the park you'll walk past the (10) Honolulu Zoo that actually takes up 42 acres of Kapiolani Park. It's worth a visit if you have young ones, but save it for another time as we continue on our Waikiki Walking Tour.
---
Strolling along the Ala Wai Canal
---
This is an important juncture as we turn east and head up past Thomas Jefferson Elementary School where you cross the street and continue traveling north along the (11) Ala Wai Canal.
The canal was constructed over 7 years and completed in 1928. Its main purpose was to contain the runoff of mountain water that use to flood the Waikiki area, turning it into a once swampland.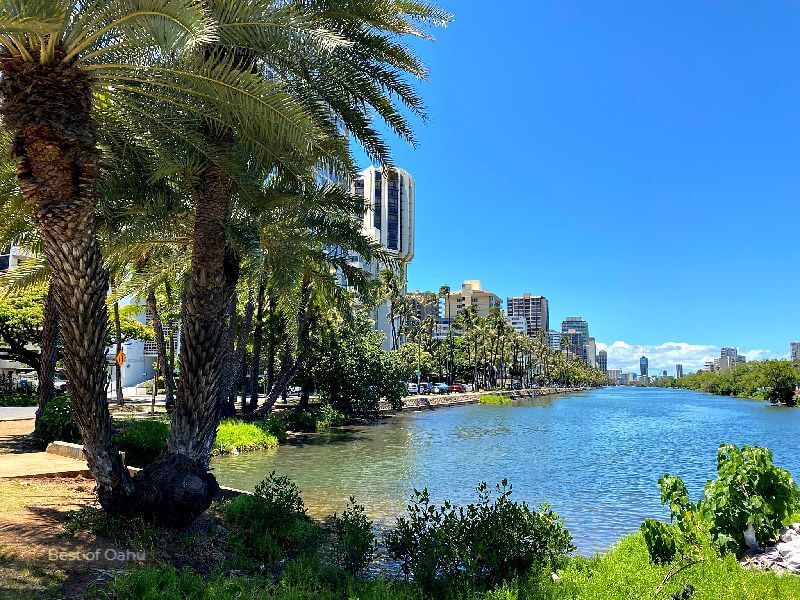 While the Ala Wai Canal is a long 1.5 mile stretch of water to stroll next to, it's a zenful part of this Waikiki stroll that I recommend exploring. And take note that there are lots of side streets that will connect you back to parts of Kuhio Ave and Kalakaua Blvd if you wish to exit this hike and get back to your starting point.

On the other side of the canal, you should see the (12) Lokahi Canoe Club and the Ala Wai Golf Course that both border this stretch of water.  If you're lucky, you might see some outrigger crews in the water practicing paddling up and down the canal.  Take note that most clubs practice in the afternoons during the weekdays…
There's also a stretch of the Ala Wai Community Park that you'll see before reaching McCully St Bridge.
---
Reaching the Hilton Hawaiian Village
---
The McCully St Bridge will be our turning point for our Waikiki Walking Tour to head west (left) back into Waikiki.
This will connect us back up with Kalakaua Blvd, but we're going to cross the street over to Ala Moana Blvd (near the Waikiki Brewing Co) for a block that will connect us to a few more points of interest on our return walk back to the Duke Kahanamoku Statue.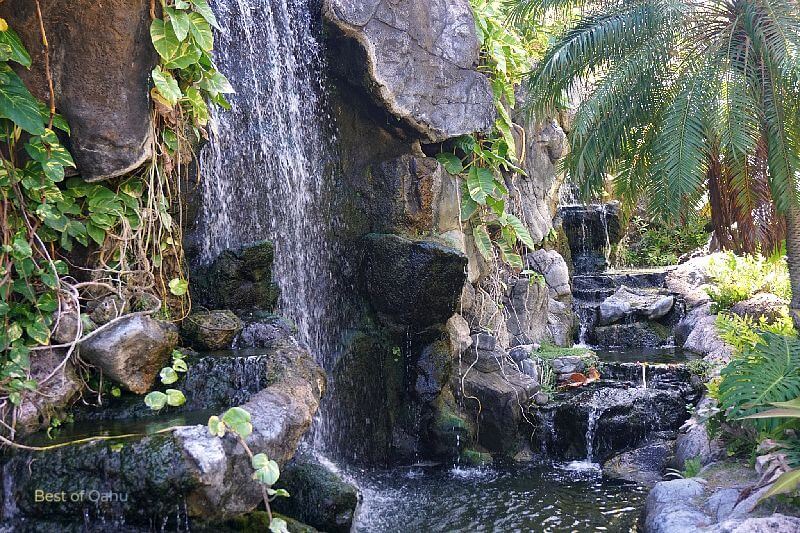 After trekking a long block along the park, turn left onto Kalia Rd to take you past the entrance to the (13) Hilton Hawaiian Village.  Take a moment to enjoy the grand waterfall garden in the front that is full of cascading waterfalls off rocks and boulders into a wide pool of water.

You might even be able to skip seeing Waimea Falls after this encounter. Just kidding!  Actually let this inspire you to visit Waimea Valley in the North Shore where you will discover one of the best waterfalls on Oahu.
---
Selfie at the Hawaii Army Museum
---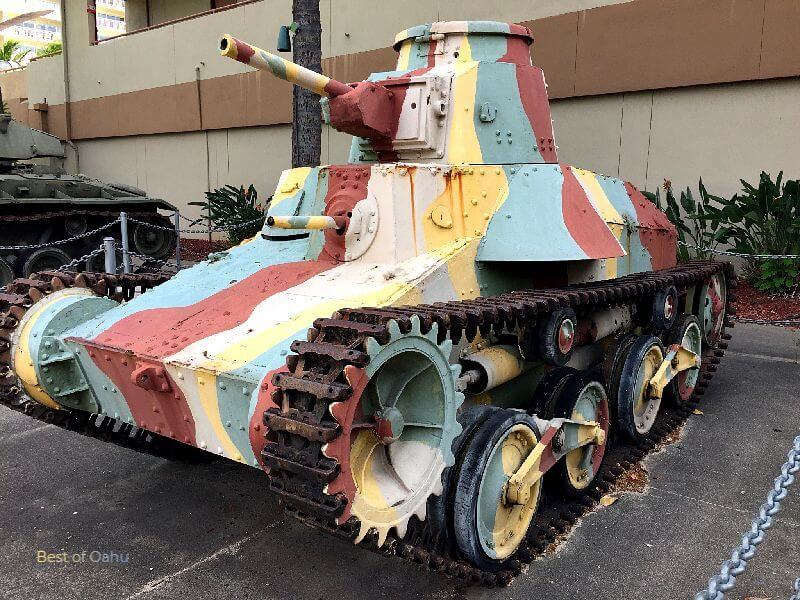 Continue walking along Kalia Road, which leads you along peaceful (14) Fort Derussy Beach Park, and the (15) Hawaii Army Museum Society.  It's currently being renovated inside the museum, but there are some impressive tanks in the front that you can take a selfie with, and a military helicopter peering from the roof.
---
Stroll Thru the Waikiki Beach Walk
---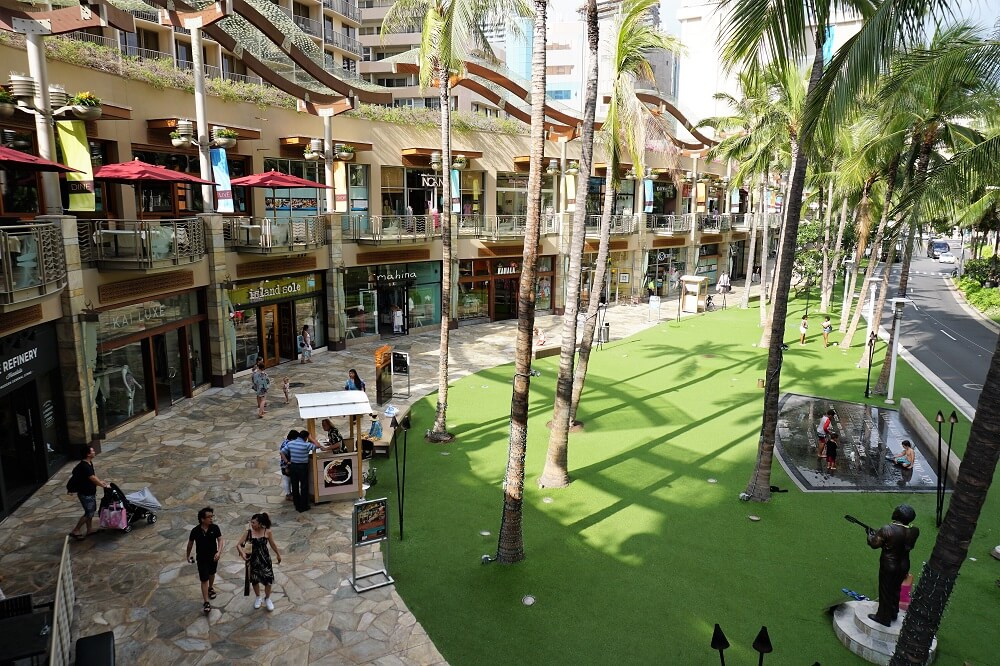 Two more blocks and we turn up Lewers St that will shortly connect us back onto the main strip, Kalakaua Blvd, but not before walking past the (16) Waikiki Beach Walk outdoor shopping area.  This happens to be one of the more popular Waikiki shopping areas, filled with some interesting shops, art galleries, restaurants, and even an ABC Store.
You could easily end your Waikiki Walking Tour here with a little shopping and grabbing a bite to eat.  But take note that you will be passing even more grand shopping & restaurant areas just a few blocks away.
---
Royal Hawaiian Shopping Center & International Market Place
---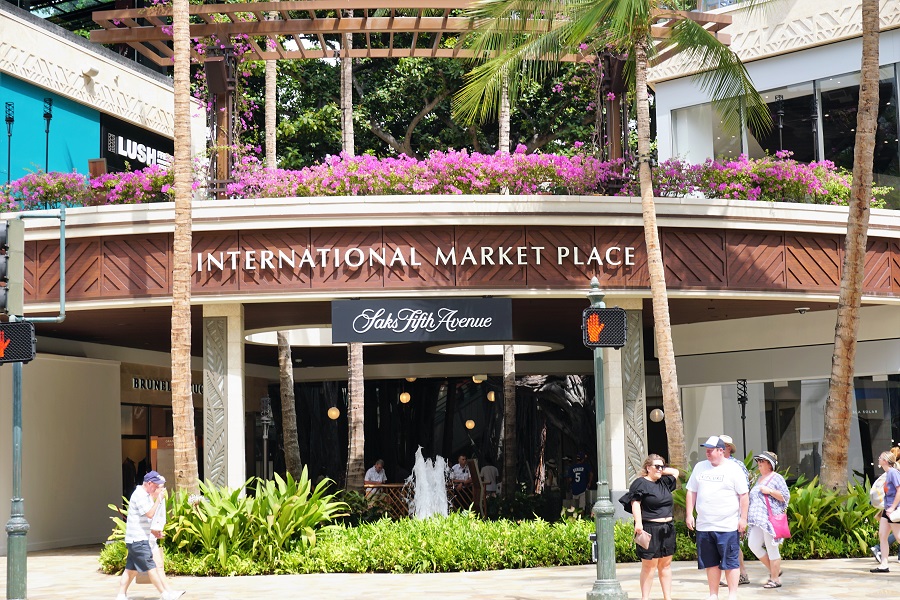 Once you turn right back onto Kalakaua Blvd, the (17) Royal Hawaiian Shopping Center pops up quickly into view and takes up a few blocks of real estate.
Take note that you can grab yourself a Hawaiian shave ice at Island Vintage Shave Ice or an Icy-Dole-Whip like creation served out of a carved out pineapple at a place called Banan.  Not a bad way to reward yourself for completing this Waikiki hike.
Not far down the road is the recently renovated (18) Waikiki International Market Place.   Even if you're not in the mood for shopping, it's worth passing through the entrance where a grand iconic banyan tree still gives this place its character.  Take the escalator up one level and walk along an elevated platform that leads through a really neat tree house.
---
Pass by the Moana Surfrider Hotel
---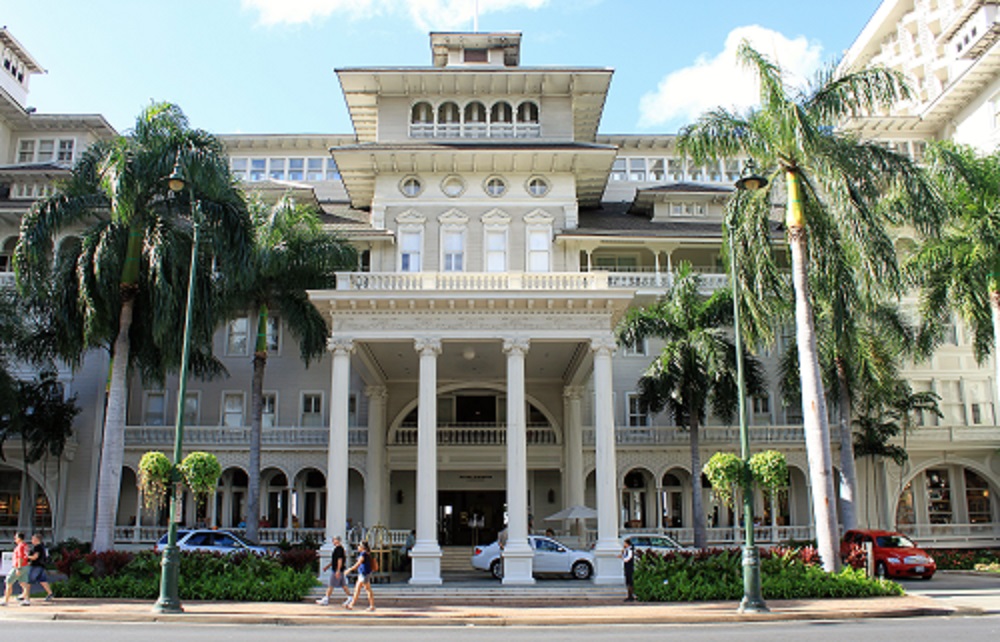 Across the street from the International Market Place is (19) Moana Surfrider Hotel, which happens to be the oldest hotel built in Waikiki, constructed back in 1901.  The grand columns that line the front stand out along with the stunning European architecture of this Waikiki hotel.  They also have a special banyan tree that graces their back patio area.
---
Stroll through the Waikiki Surf Racks
---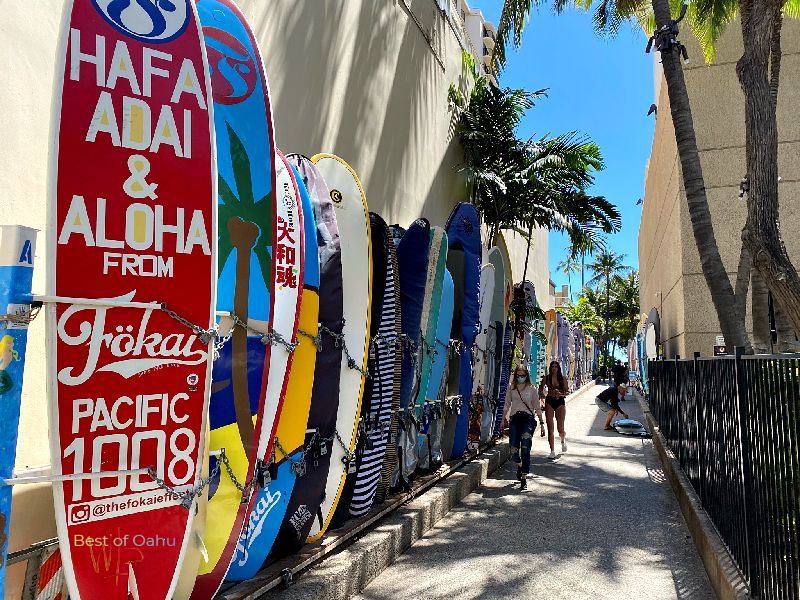 And just like that, the Duke Kahanamoku Statue should start to appear once again.  But before we wrap up, there is one more impressive (20) surfboard alley you should check out on the side of the Moana Hotel, and it leads all the way down to the beach!
A nice way to finish the Waikiki Walking Tour in my option.  The towering surfboards are actually long boards owned by individual owners, with many of them residing there over the decades and building more character over the years.
---
Waikiki Walking Tour Finish Line
---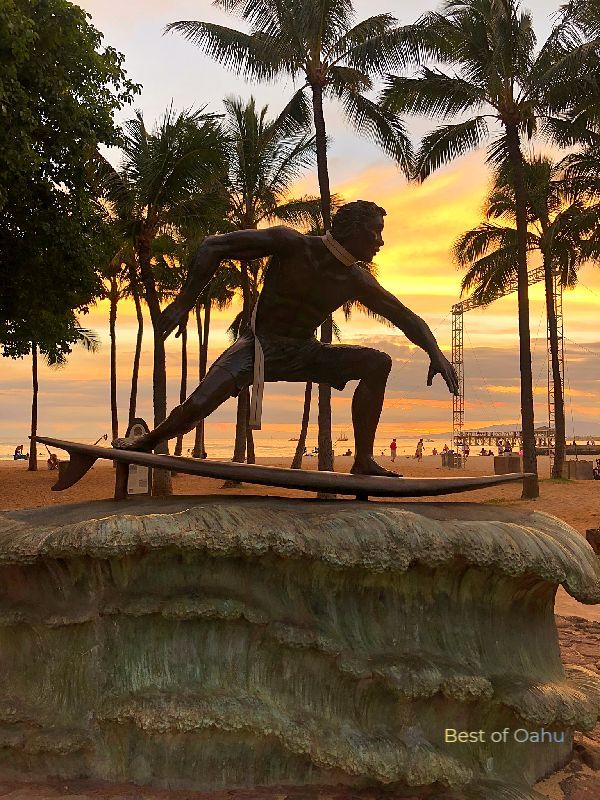 I hope you enjoy this Waikiki walking path that leads to parts of this beach side city, which you might not come across during your stay.  There are lots of Oahu hiking trails around the island worth discovering, and while you are not trekking on mountains or jungles, this Waikiki urban hike has lots to keep you stimulated.
Return back to Oahu Hiking Trails
Return to Best of Oahu Home Page
Aloha & Enjoy!

Subscribe to receive Best of Oahu updates on events, updates, and new articles.  It's the closest way to paradise while you are away...
We will never sell or spam your information, and we'll respect your email privacy.