Oahu Sunset Cruise: Experience the Magic of Hawaiian Sunset
We've been Sunset Cruising in Oahu for years and know it's one of the best things you can do. A Sunset Cruise Oahu is a unique experience where you can enjoy tasty appetizers and tropical drinks while taking in the beautiful scenery.

One thing about Oahu's beautiful shores captures my heart and soul every time: the mesmerizing Oahu sunset dinner cruise. I've had the chance to start this magical trip many times, and each time, it reminds me of how genuinely charming it is. As you eat, picture the sun going down behind the horizon, the soft breeze stroking your face, and the waves calmly singing to you. There's more than one way to enjoy this meal.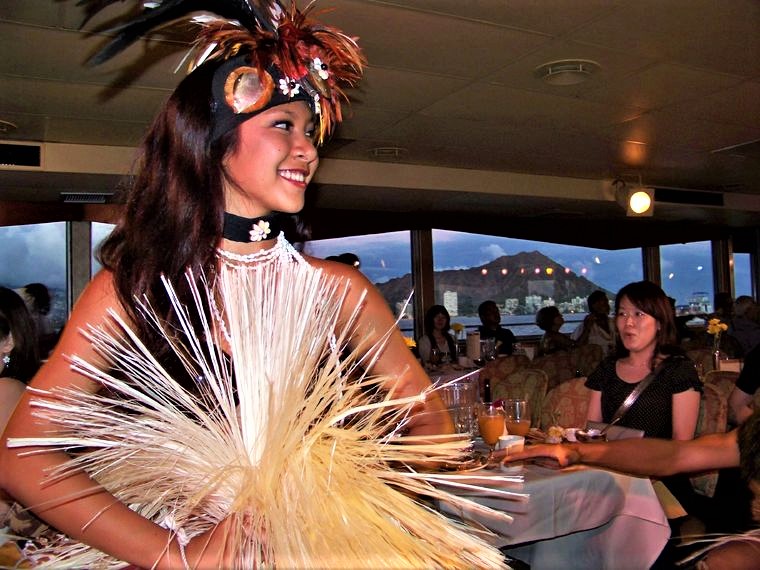 Whether this is your first trip to Oahu or you've been dancing with its waves a million times, you owe it to yourself to try this magical experience. Let me be your guide and share the secrets and insights I've gained from countless hours on the open sea enjoying the beautiful Oahu sunsets. Don't take my word for it; give yourself this chance to see the magic for yourself!
If you're fond of water adventures, consider going on a snorkeling trip, kayaking experience, and scuba diving.
---
Why Choose an Oahu Sunset Cruise?
---
Taking a Sunset Cruise in Oahu is not just any boat ride. It's diving deep into the island's captivating beauty and crafting lasting memories. Here's why an Oahu Sunset Cruise deeply touched our hearts:
Unforgettable Views: Seeing the sunset from the midst of the ocean grants a panorama free from obstructions. As the sun dips, the sky becomes a mesmerizing blend of orange, pink, and purple hues. It's a spectacle that feels like living inside a painting.
Relaxation and Serenity: Feeling the boat's gentle rock, hearing the waves whisper, and sensing the ocean's calm wraps you in a cocoon of serenity. It's our moment to breathe, to shake off the world's weight, and to be one with the vast beauty around us.
Romantic Experience: The Oahu Sunset Cruise stands out if you're on a quest for a romantic escape. With a dinner lit by candles, champagne to toast, and the backdrop of the setting sun, it's a setting straight out of a romantic novel. These are moments that resonate with love and linger in your soul.
Opportunity for Wildlife Encounters: Oahu's embrace of the ocean shelters diverse marine beings. On our journey, we were looking for playful dolphins and the regal humpback whales during the colder days. Such encounters bring a thrill that elevates the entire experience.
Delicious Cuisine: Several Oahu Sunset Cruises pamper you with dining aboard. The surrounding views heightened every flavor as we savored every bite, from ocean-fresh seafood to exquisite dishes.
Convinced of the spellbinding experience of an Oahu Sunset Cruise? let's explore some of the best options available.
Best Oahu Sunset Cruises
---
1. Star of Honolulu Dinner Cruise
The Star of Honolulu Dinner Cruise is a top choice for those seeking a memorable evening on the water. As you board the vessel, you'll be greeted by performers exuding the true spirit of aloha. Feast on a delicious buffet dinner while the vibrant sunset casts its glow on the ocean. The cruise also features local music and captivating performances from various Polynesian cultures.
Book Your Star of Honolulu Dinner Cruise Here
---
2. Waikiki Catamaran Sunset Cruise
For a carefree and enjoyable experience, hop aboard the Waikiki Catamaran Sunset Cruise. This 44-foot catamaran takes you on a leisurely sail along the Waikiki coastline as you watch the sun dip below the horizon. With an open bar offering a wide selection of drinks, including beer, wine, and refreshing cocktails, you can relax and soak in the stunning views with a drink.
Book Your Waikiki Catamaran Sunset Cruise Here
---
3. Oahu Cocktail Cruise
The Oahu Cocktail Cruise is the perfect choice if you're looking for a lively and fun-filled sunset cruise. Hop aboard the Holokai Catamaran and enjoy a wide selection of drinks, including beer, wine, and signature cocktails. With the sun setting on the Waikiki beach, you can dance to the music, mingle with fellow passengers, and create unforgettable memories.

Book Your Oahu Cocktail Cruise Here
---
4. Waikiki Booze Cruise
The Waikiki Booze Cruise is the perfect choice for a fun and lively atmosphere. This cruise offers three complimentary cocktails or beers and unlimited juices, ensuring a good time for everyone on board. With a live DJ playing music and the sun setting on the ocean, you can dance, mingle, and enjoy the vibrant energy of the cruise.
Book Your Waikiki Booze Cruise Here
---
5. Prince Kuhio Waikiki Dinner Sunset Cruise
The Prince Kuhio Waikiki Dinner Sunset Cruise is an excellent choice for a taste of local cuisine and a romantic evening. This cruise offers indoor and outdoor seating, allowing you to enjoy the stunning sunset in your preferred setting. With an onboard chef preparing a fresh 3-course meal, you can savor the flavors of Hawaii as you watch the sun paint the sky with vibrant hues.
Book Your Prince Kuhio Waikiki Dinner Sunset Cruise Here
---
6. Spirit of Aloha Sunset Cruise with Fireworks
If you want to add a touch of magic to your sunset cruise, the Spirit of Aloha Sunset Cruise with Fireworks is the perfect option. This cruise takes place every Friday, allowing you to witness a spectacular fireworks show from the water. Enjoy a buffet dinner, two complimentary alcoholic drinks, and live entertainment as you sail into the sunset and end the evening with a dazzling fireworks display.
Book Your Spirit of Aloha Sunset Cruise with Fireworks Here   
---
7. Ko Olina Snorkel & Sunset Dinner Cruise
If you're looking for a unique and adventurous sunset cruise, the Ko Olina Snorkel & Sunset Dinner Cruise is perfect. This cruise offers the opportunity to snorkel in pristine waters, swim with tropical fish, and even encounter sea turtles. After an exciting snorkeling session, enjoy a Hawaiian-style meal and cocktails as the sun sets along the Hawaiian ocean.
Book Your Ko Olina Snorkel & Sunset Dinner Cruise Here
---
Watch a Sunset
Whether you find an ideal spot in the sand along the 7-mile stretch of beach, or land a seat on a catamaran sailing along this beautiful coastline, the Hawaiian sunsets are magical here!  Most folks pack up and race back to town for dinner, but sticking around for a sunset can be quite rewarding!

Honolulu has the party boats that ride into the sunset, but a quiet no-frills catamaran ride on the north side might be more fitting! 

Explore simple Haleiwa Sunset Catamaran Rides
---
8. Star of Honolulu Vow Renewal & Sunset Dinner Cruise
For a truly romantic and memorable experience, the Star of Honolulu Vow Renewal & Sunset Dinner Cruise is the perfect choice. Renew your vows with your loved one against a stunning Hawaiian sunset. Indulge in a mouthwatering lobster and steak dinner, enjoy live music and a hula show, and create lasting memories with a vow renewal certificate and a free picture.
Book Your Star of Honolulu Vow Renewal & Sunset Dinner Cruise Here
---
9. Moana's Sunset Cocktail Sail
For a more intimate and romantic experience, the Moana's Sunset Cocktail Sail is a perfect choice. Set sail on a wooden double-hulled vessel and enjoy the beauty of Waikiki's seascape at sunset. Listen to legends and stories about native Hawaii, participate in cultural activities, and savor the breathtaking sunset views while enjoying a cocktail.
Book Your Moana's Sunset Cocktail Sail Here
---
10. Honolulu Sunset Boat Cruise
For a unique twist, try the Honolulu Sunset Boat Cruise. This cruise allows you to swim while enjoying the beauty of the sunset. Jump off the boat and take a refreshing swim as you watch the colorful sky transform into a starry night. It's a fun and memorable experience that combines the joy of swimming with the tranquility of a sunset cruise.
Book Your Honolulu Sunset Boat Cruise Here
---
---
Additional Information
From our adventure:
Attire Recommendations for an Oahu Sunset Cruise: We found it best to dress in layers. As enchanting as the sunset was, the temperature did dip a little. Carrying a light jacket or sweater was intelligent, ensuring we stayed cozy. And, don't overlook the daytime sun — we made sure to apply sunscreen and wore our hats to shield ourselves.
Our Favorite Time for the Sunset Cruise in Oahu: Trust us on this; there's no better time to start this journey than during the golden hour. It's the captivating window just before sunset. The canvas of the sky gets painted with the most intense and beautiful hues, making the cruise an ethereal experience.
How Long Does the Experience Last? We were on board for around 2-3 hours, which felt right. It gave us a generous window to witness the mesmerizing sunset, indulge in the onboard dining, and soak in the ambiance of Oahu's seascape.
---
Conclusion
There's no denying it: the Oahu Sunset Cruise was the best part of our trip to the island. From this viewing point, there is no better way to see the Hawaiian sunset. It was a time to unwind, think, and make memories we will always treasure. 
There were many things to do, whether you were looking for a romantic moment or a good time with friends. If you ever find yourself in Oahu, you should go on a sunset tour. You'll be mesmerized by nature's beautiful end to the day, just like we were.
---
Aloha & Enjoy!

Subscribe to receive Best of Oahu updates on events, updates, and new articles.  It's the closest way to paradise while you are away...
We will never sell or spam your information, and we'll respect your email privacy.