Hilton Hawaiian Village Resort - a Vacation Dream
Turning 50 and still excelling in charm and entertainment, the Hilton Hawaiian Village Resort is one of the most popular Oahu resorts.  There might be close to a hundred hotels in Waikiki, but this is only one that classifies as a true resort with 5 pools, a 5-acre saltwater lagoon, 5 hotel towers, 20 restaurants, and 100 shops on 20 beachfront acres.  I'm impressed how this remains a magical place over the decades and could be considered an Oahu attraction itself.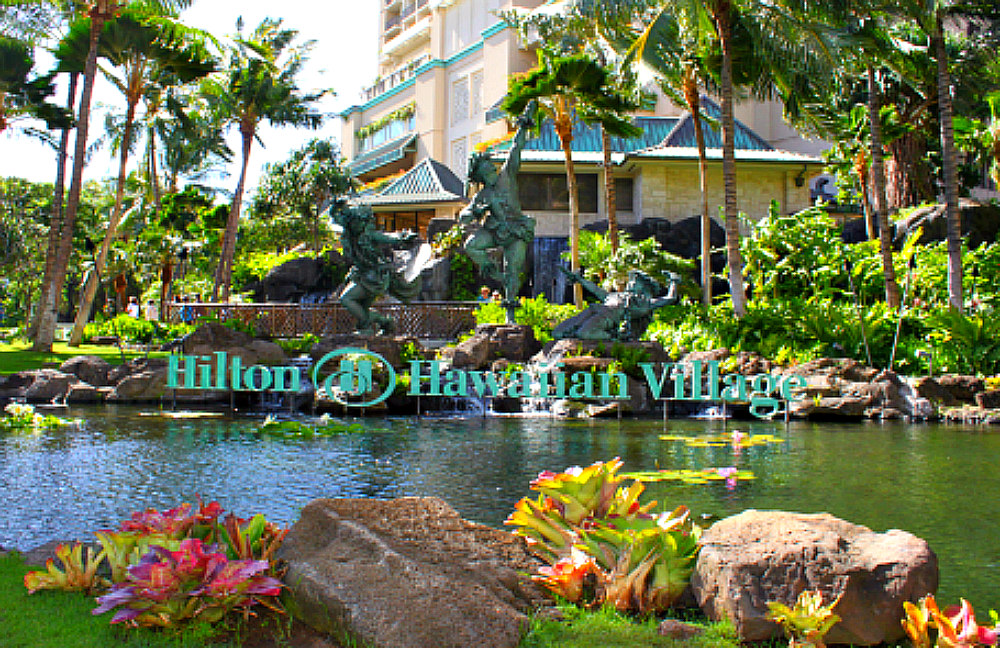 ---
Located at the entrance to Waikiki and neighboring the Ala Moana Center, this popular Oahu resort is the center of attention and big enough that it stands on its own!
Your Stay at the Hilton Hawaiian Village
---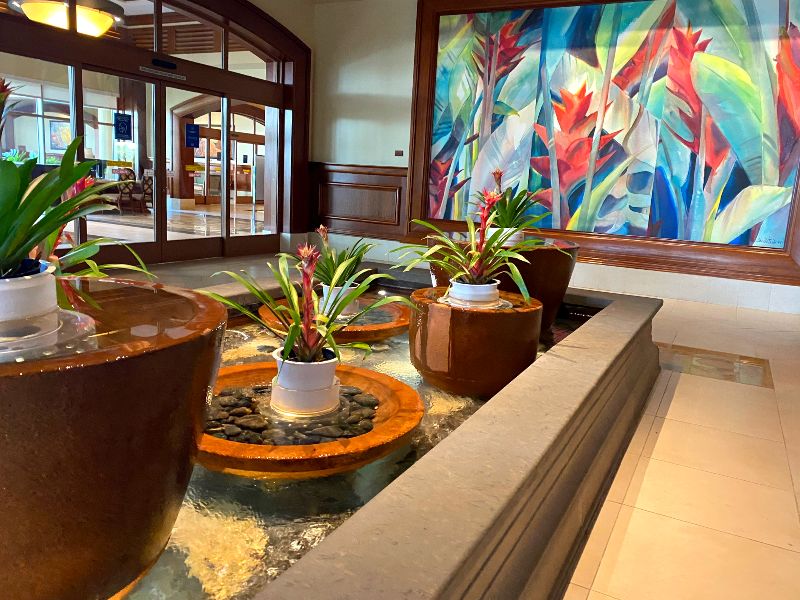 Ali'i Tower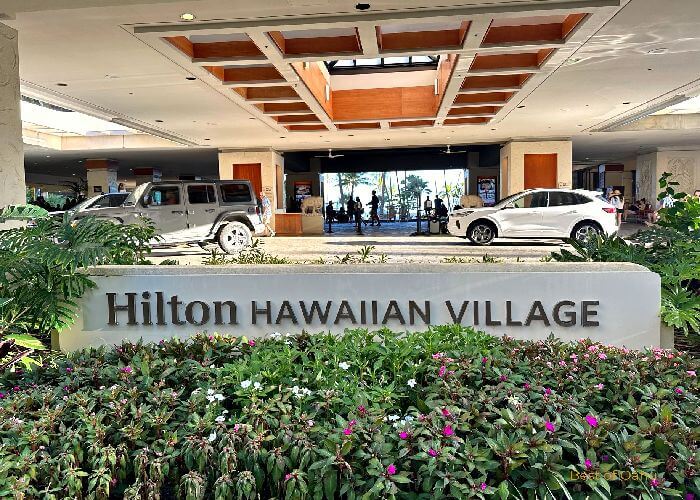 This tower is for you if the words "exclusive, luxurious, enhanced and private" are important to you.  The Ali'i Tower is considered to be the elite choice at the Hawaiian Hilton Village.  The accommodations, service and amenities are at there highest grade, including a private pool and fitness center.

---
Rainbow Tower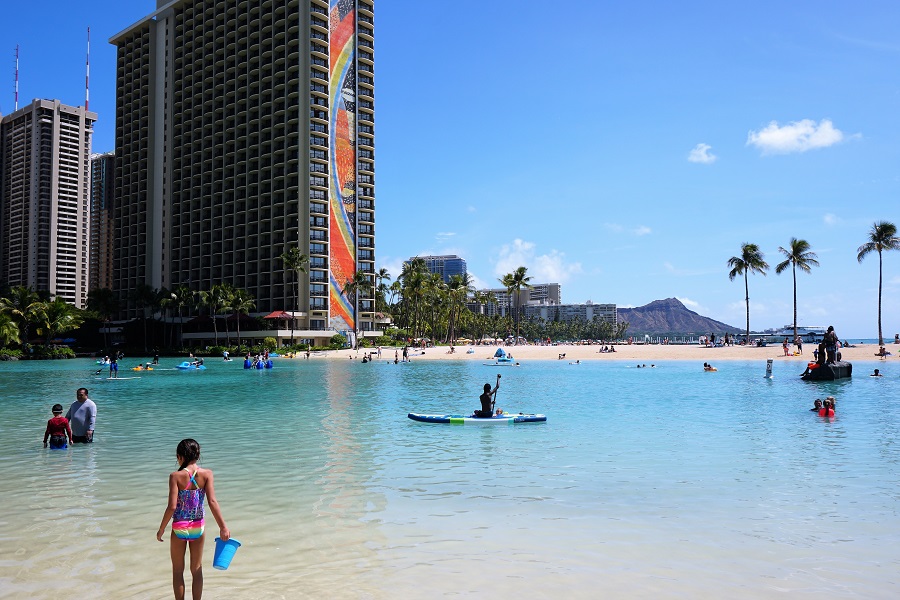 This is a pretty popular tower, as you might have seen it in photos and postcards with a rainbow painted from head to toe on the beachside of the building.

The Rainbow Tower sits next to the beach, Duke Kahanamoku Lagoon, and main pool.  It would be my first choice if I was staying here!

Find the best deals for Hilton Hawaiian Hotel

---
Tapa Tower


Happens to be the oldest hotel tower in the resort.  The Tapa Tower today is geared a little more towards business visitors.
It's closest to the Mid-Pacific Conference Center, and also has a conference center floor of its own.  Tapa Tower also resides close to many shops and restaurants.

---
The Kalia Tower


Home to a unique Hawaiian artifact collection provided by the Bishop Museum –a must see!  Along with the Tapa Tower, it happens reside close to the main conference center and towards the front of the resort. 
But the Kalia Tower also has direct access to the extensive Mandara Spa, which can be a nice relaxing spot in the 22 acre resort to hangout.

---
 Diamond Head Tower


This is more of a general tower, located close to the middle of the Hilton Hawaiian Resort.  The Diamond Head Tower is surrounded by shops, restaurants, and tropical gardens.

---
 Lagoon Tower


Located next to the beach lagoon, is the "Lagoon Tower" that is reserved for timeshare guest.  The rooms are designed to be vacation condos with a cooking kitchen inside.
CHECK FOR BEST RATES & AVAILABILITY
---
Hilton Resort Facilities
---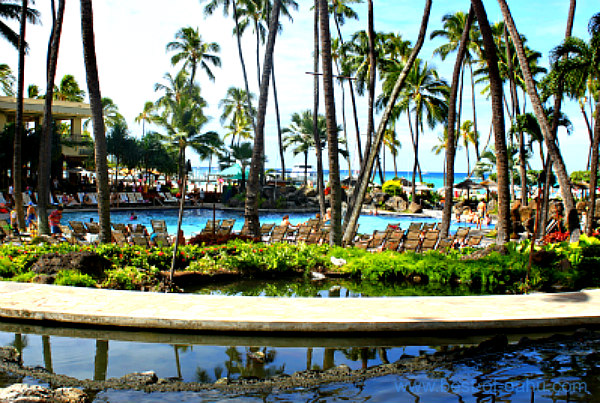 The Hilton Hawaiian Village has created an adventures tropical setting that offers many surprises and neat finds through out the resort.
The Rainbow Bazar, multiple resort pools, swimming lagoon, extensive sandy beach, and Mandara Spa, Rainbow Revue & Fireworks show, and the Hawaiian Luau are all worth exploring.

---
Rainbow Bazaar


The main entrance drive leads into the famous Rainbow Bazar that is surrounded by 40 retail shops set in a Pacific-Rim thyme that includes a 50 ft Japanese pagoda & farm house, a Thai Temple, and two huge granite lion statues that lead the path into the "Hong Kong Alley".

Note worthy shops and eateries – Most of the resort shops and restaurants are unique, but make sure to check out Aloha Ukulele, Honolulu Cookie Company, ABC Store (if you have never seen one), Noa Noa (island creations), and Lappert's Hawaii Ice Cream.

---
 Hilton Hawaiian Poolside


This Oahu resort features 5 swimming pools, including a new 2-tiered 5000 sq ft pool with 3 tropical waterfalls, running streams and bridges to cross, 2 heated soaking spas, and 4 fun watersides to slide down on, including a 75 ft long lava tube ride.
Here's some footage of the main pool located just beyond the lobby as you head towards Duke Kahanamoku Beach.  This pool is spacious with lots of curves and fun features.
---
Duke Kahanamoku Lagoon


On the right hand side of the beach is a 5 acre man-made water recreation lagoon.  I remember playing around in it as a kid, but it did not look like the beautiful picture below!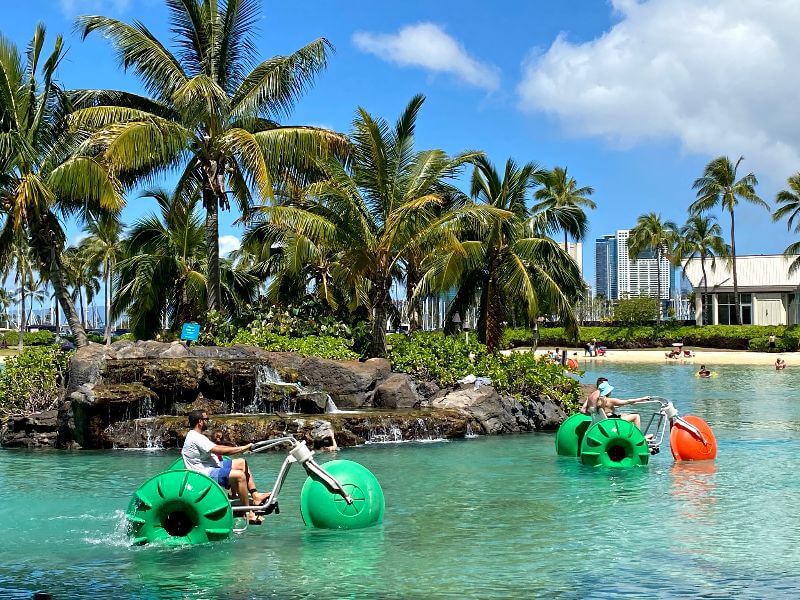 The Duke Kahanamoku recently got a 15 million dollar renovation, and looks more beautiful than ever!  Today the swimming lagoon remains clean with 15,000 gallons of fresh ocean water pumping in every minute.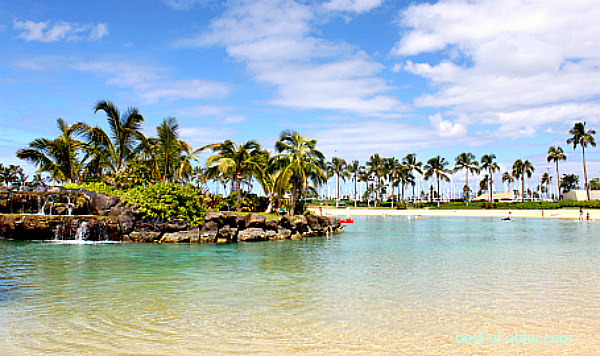 Additional coconut palm trees, tropical plants and a two-tiered waterfall on a center island has turned this spot into a destination verses just an attraction.

---
 Duke Kahanamoku Beach
---
Duke's Beach Sunset Hour
If you are excited to step onto Waikiki Beach, you will discover the largest section of sand here at Duke Kahanamoku Beach, that resides right in front of the Hilton Hawaiian Village Resort.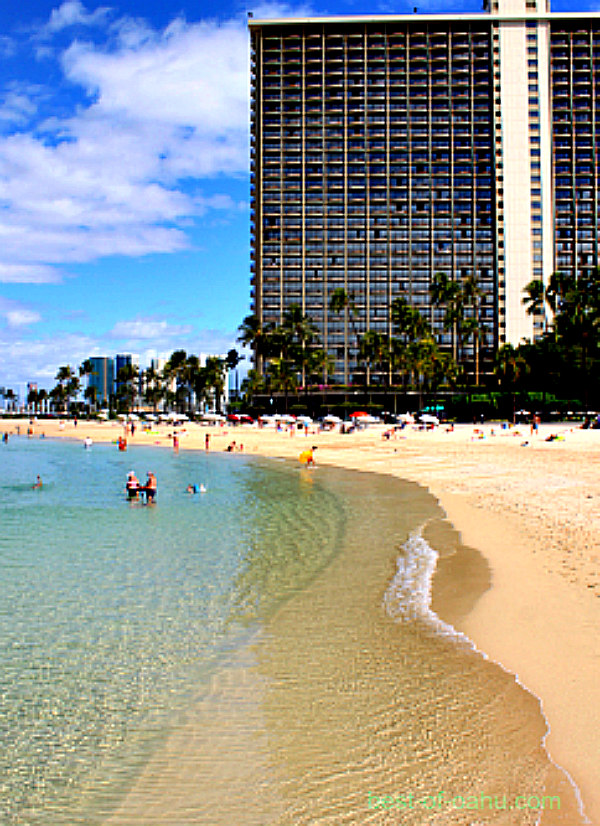 There is a protective sea wall that provides some calm ideal swimming conditions.  You will also find an array of water activities, from kayaking to stand up paddle boarding, available thru the beach activity center.

---
Surfing Waikiki


Learning how to surf in Waikiki is like learning how to ride a bike.  With a little guidance and persistence you will be standing up surfing in no time.  Lessons start from shore, reviewing some of the mechanics and safety.

Now the fun begins as you paddle out on a longboard with you guide beside you in search of waves and riding them back to shore... it's an amazing feeling hard to put into words!  Book a 2 hour private lesson or a group lesson.
---
 Mandara Spa


I'm not a big spa person, but if I had to visit one…this is the place to go!  Taking up 2 floors in the Kalia Tower, you will find the Mandara Spa.
They provide 25 different treatments ranging from a Hawaiian Pikake Flower Facial to a Lomi Lomi Massage.  The Mandara Spa also has a full service salon on its premises.

---
 Rainbow Revue & Fireworks show


Make sure you're around the Super Poolside before 7pm on Friday.  The Oahu Hilton Hawaiian Village puts on an amazing 45 minute performance that includes a lighting of the torches ceremony, live Hawaiian music, and Polynesian dance performances.
There are also activities for the Kekei's (kids), a tribute to the legendary Duke Kahanamoku, and a grand finale of fireworks.  Purchase a poolside seat for $15 next to the Ali'i Tower.
Also consider watching the firework display from the water on a catamaran sunset cruise.  It's a great way to see the fireworks exploding above you and the Waikiki skyline lite up on shore.  Check out more details...
---
 Waikiki Starlight Luau


The Hilton Hawaii Village puts on a special luau every Thursday thru Sunday on top of their conference center roof garden.  Guests are entertained with a huge production of live music, Hula performances, and Hawaiian cultural activities.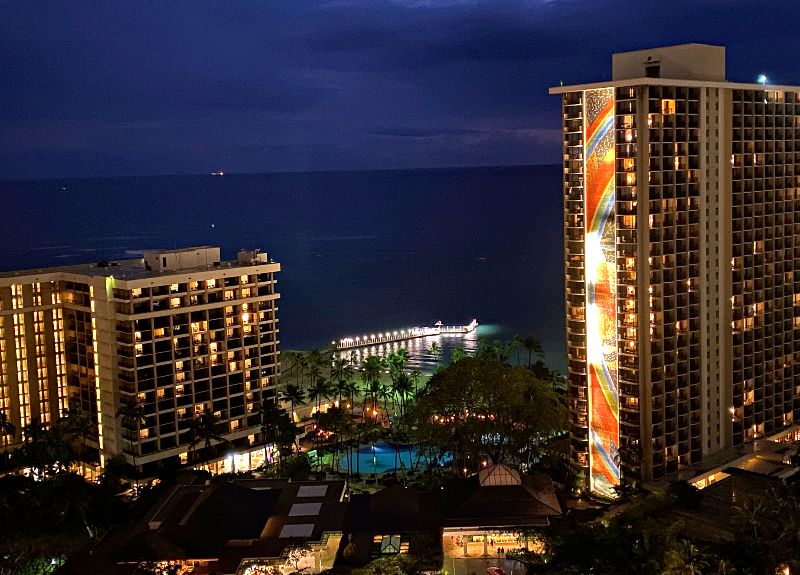 The feast goes far beyond serving just Kalua Pork with Poi (although I find nothing wrong with that).  You'll also find entrees such as a guava rotisserie sirloin steak and lemongrass Huli Huli Chicken.

The fun begins at 5:30pm, and costs starts off at $102 for children ages 4-11, and $185 for adults.
Click here for "Map of Hilton Hawaiian Village Resort"

---
Getting to the Hilton Hawaiian Village
---
View Larger Map
From the Honolulu Airport, it should take you less than half an hour to reach the Hilton Hawaiian Village, depending on traffic conditions.

Directions from Honolulu Airport


Take Paiea St to the Nimitz Freeway

Enter the Nimitz Hwy and head south towards Waikiki

The Nimitz Hwy turns into Ala Moana Blvd

Continue south on Ala Moana Blvd until you reach Waikiki

Turn right onto the Kalia Rd,

And finally make a right turn onto Paoa Pl - the resort's entry road
View Larger Map
Find the best deals for Hilton Hawaiian Village

---
In the Area
---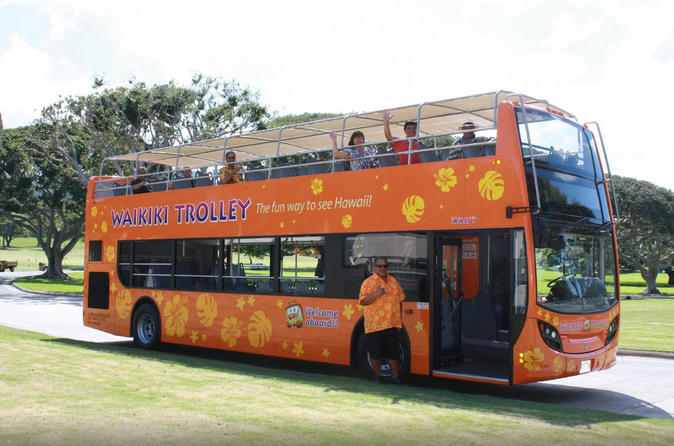 The Waikiki Trolley visits many Honolulu Attractions including ones surrounding Diamond Head, Waikiki, Ala Moana, Aloha Stadium and more. There are 4 different routes to explore: Scenic Tour, Historic Tour, Shopping Tour, and the Island Tour.
Tickets start around $30 for a child day pass, and go up to $55 - $75 for an Adult 7 day pass. 

---
Ala Moana Shopping Center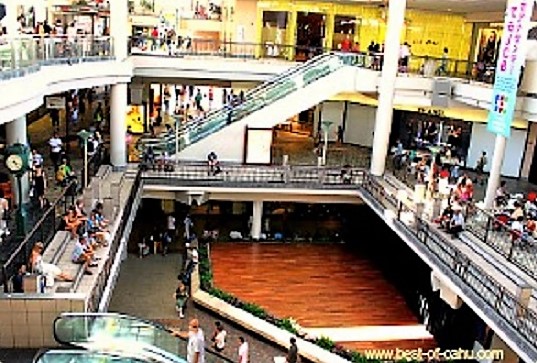 Walking distance to the Oahu Hilton Hawaiian Village, just across the Ala Wai Canal is the famous Ala Moana Shopping Center, a fascinating open-air 4-story mall, with close to 300 shops and restaurants.

Even if you are not a shopper, the mall itself is pretty impressive and entertaining to see.  Catch a free Hawaiian performance on their center stage or grab a drink at the Mai Tai bar located at the top.

---
Ala Moana Beach Park


If you would like to stay close to the resort, but see a different area than Waikiki Beach, then take a 15 minute walk or short bus ride to Ala Moana Beach Park.  I consider it Oahu's local version of Duke Kahanamoku Beach that sits in front of the Hawaiian Hilton Village.

---
Diamond Head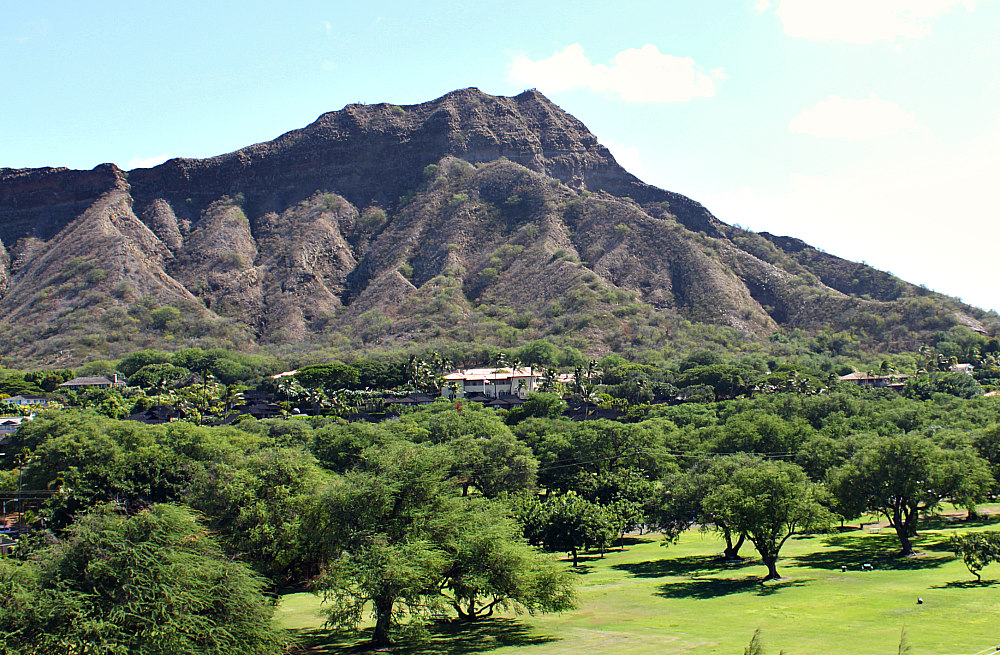 Make sure to check out the other side of Waikiki, towards the Diamond Head Area.  You will find both the Honolulu Zoo and Waikiki Aquarium located in the Kapiolani Park area, which is a fun time for families and kids.

---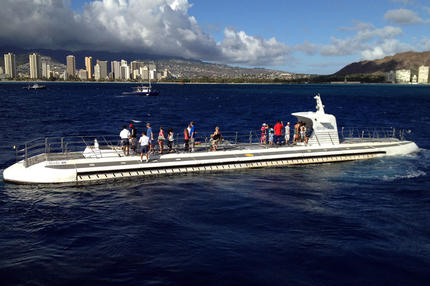 One of the most exciting and adventurous attractions on Oahu is submerging below Hawaii's tropical waters in a large 64 passenger submarine.  You'll travel 100 feet deep and beyond Waikiki's outer reef.

There are old plane & boat wrecks that are amazing to see, along with small and large different types of marine life that lives below.  If you're lucky, you'll see schools of fish, sea turtles, dolphins, and maybe even some cruising sharks.  It's a Pacific Ocean adventure and memory you won't forget!  See availability and book now…
---
Nearby Waikiki Restaurants


Make sure to check out "Best Waikiki Restaurants"!  As for the surrounding area, I would recommend dinning at Roy's Restaurant, Goma Tai (in the Ala Moana Mall), The Chart House (Next door in the Ilakai Hotel), and The Waikiki Brewing Co. for good cheap eats.

---
Return to Best of Oahu Homepage
Aloha & Enjoy!

Subscribe to receive Best of Oahu updates on events, updates, and new articles.  It's the closest way to paradise while you are away...
We will never sell or spam your information, and we'll respect your email privacy.