Diamond Head Beach Park - a natural beauty
Diamond Head Beach Park, also formally known as Kuilei Cliffs Beach Park, is the spot you venture to, when you want to get away from busy Oahu beaches and the Waikiki scene.  Check out the expansive south side views, and endless surf swells that always tend to break at this Oahu beach.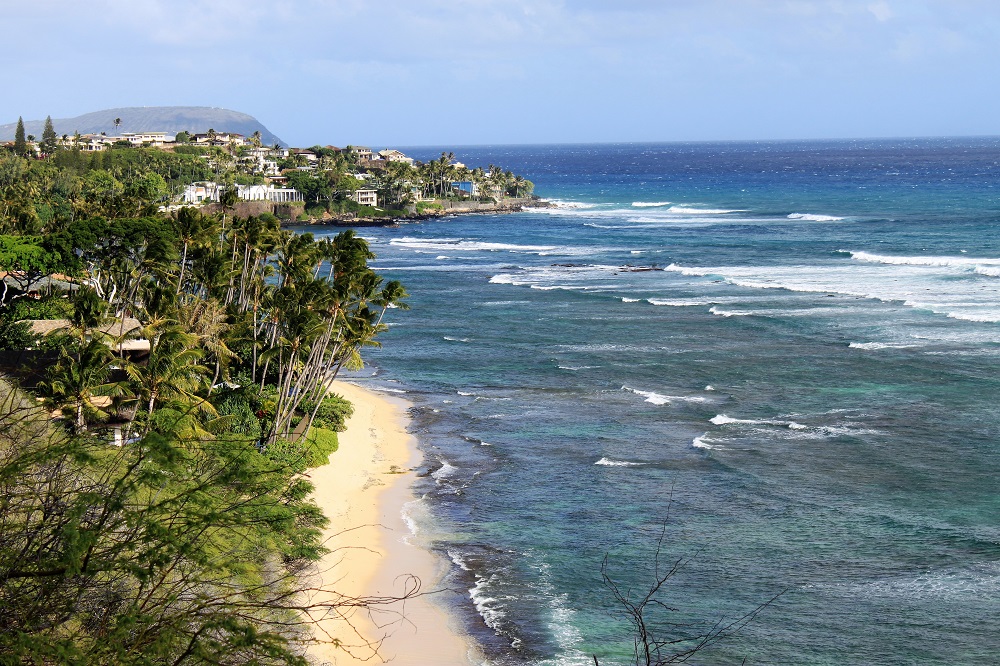 The views are stunning both up top near the Diamond Head turnouts, and down below along the rich and famous beach homes.  You want to feel some Hawaii realness that's close by…be sure to stop by this hidden gem!
---
Exploring Diamond Head Beach Park
---
It's really that close!  From the east end of Waikiki, the prominent Diamond Head Crater and its beach are located walking distance or a very short drive from Kapiolani Park.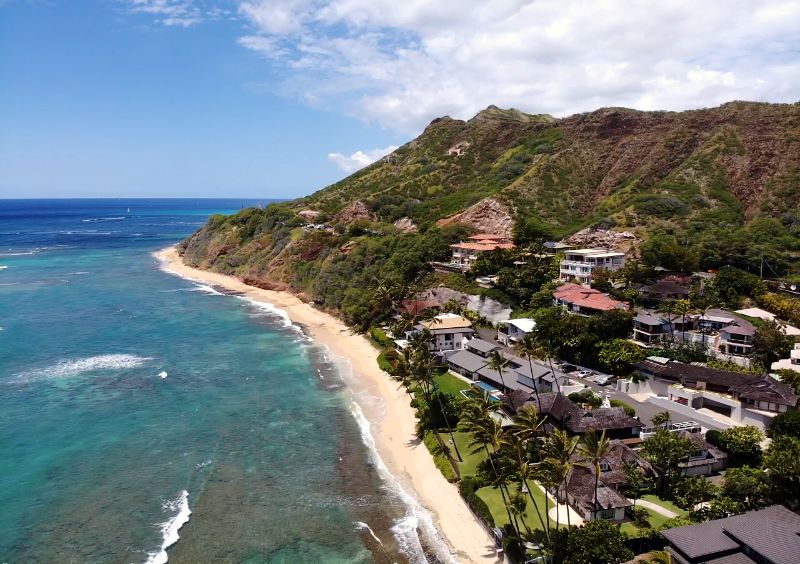 At the very least, you must come for a stroll along this semi private beach.  There's something memorable about this Oahu beach, like the Diamond Head Trail hike to the summit, that deems it worthy as a  best of Oahu pick!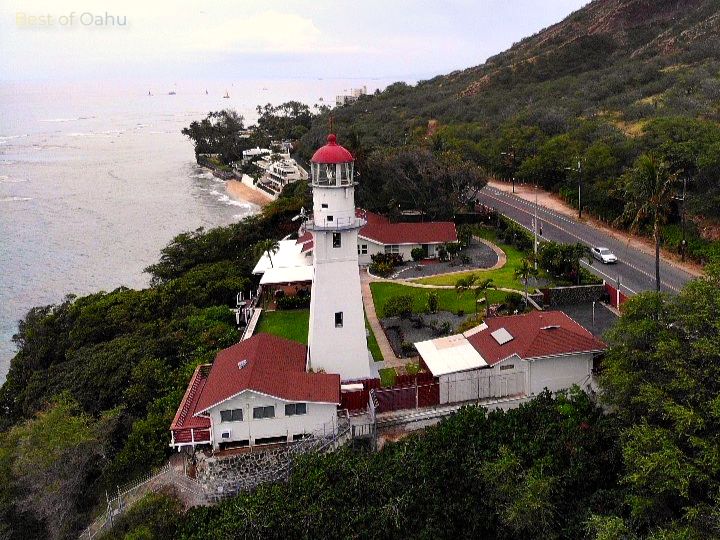 Discovering the Diamond Head Lighthouse, the tide pools, the surfing and wind surfing community, the amazing beach front homes, the tree swing sometimes in place, and the simple peaceful beach combing, is what it's all about!

Yes the views are incredible above Diamond Head Beach Park, but it's also about the adventure.  Simply kick off your flips flops when you reach the sand and go on a stroll.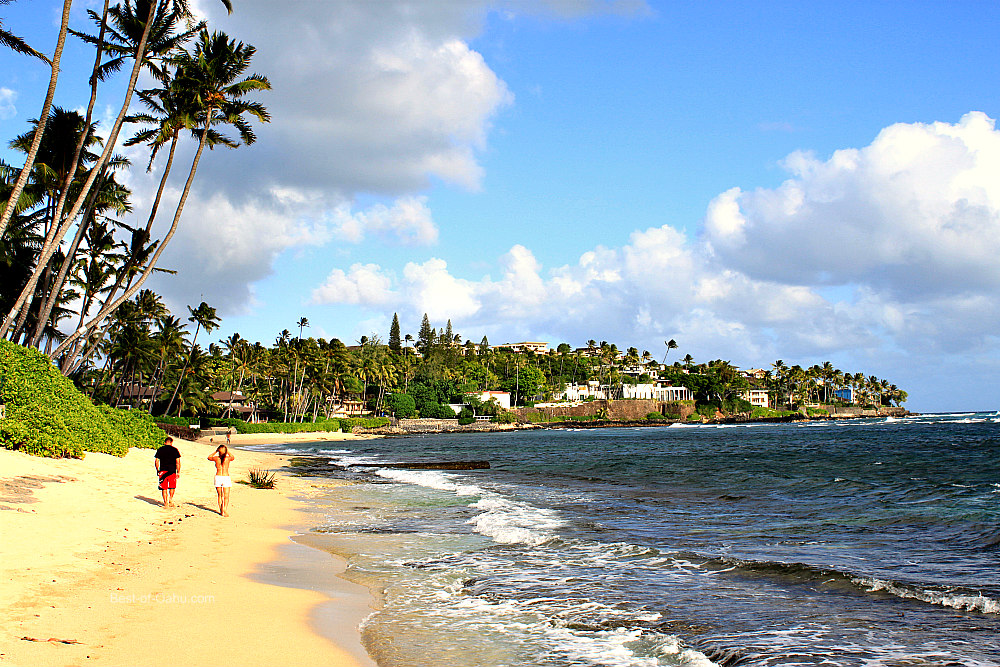 ---
Getting Down to the Beach
---
From the top, park where the scenic point turnouts are clearly marked.  It might seem like quite a  journey to get down to the beach, at first.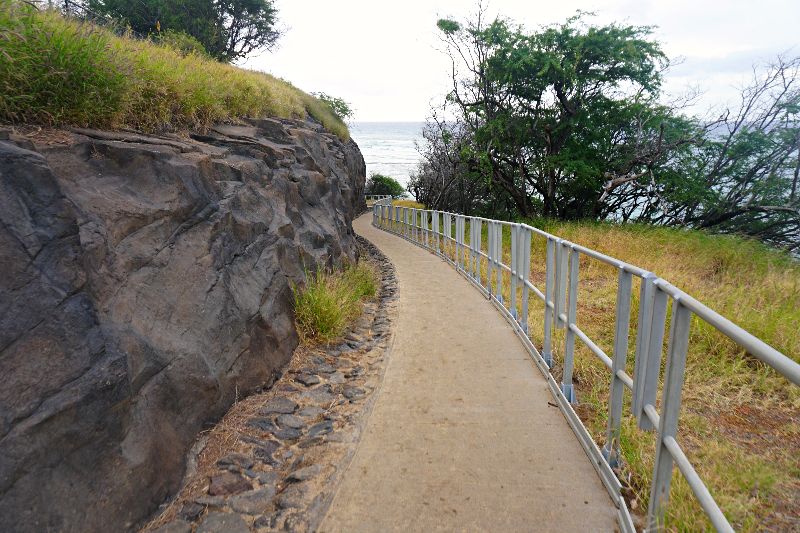 But there are a couple of paved pathways that wind down to the beach.  Pack light as you will be lugging your beach gear a good hundred yards back up to the top!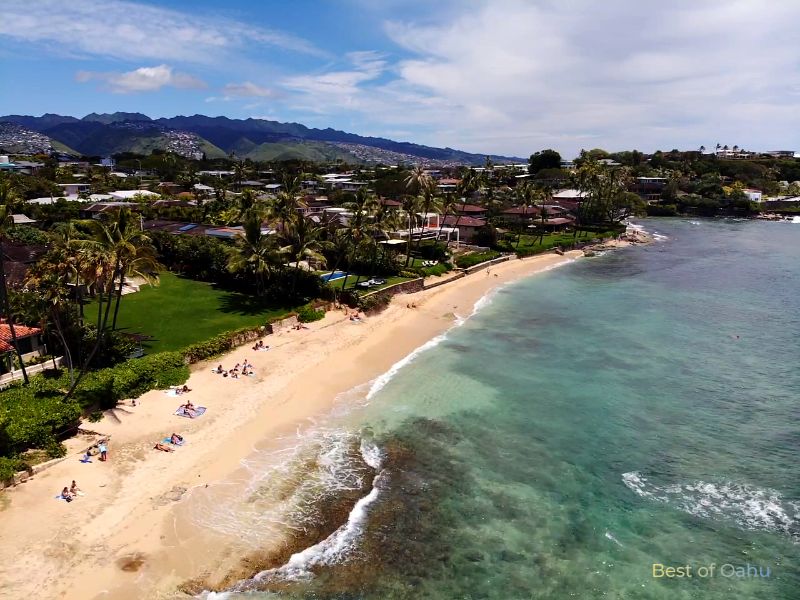 It's common to find a lineup of flip flops at the bottom of the trail from surfer and beach strollers.  I like to carry mine, or hide them in the brush as they sometimes tend to disappear.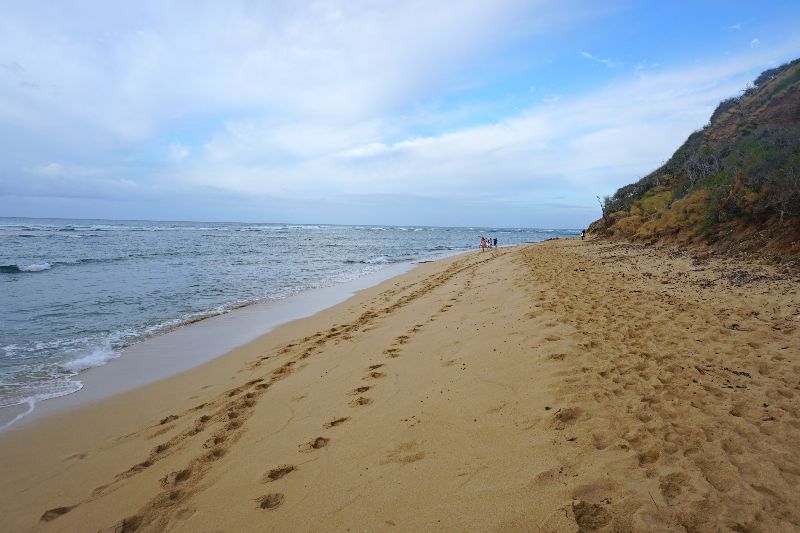 ---
Swimming and Surfing
---
Diamond Head Beach Park is another childhood favorite.  My friends and I would come here in the summer and surf all day long!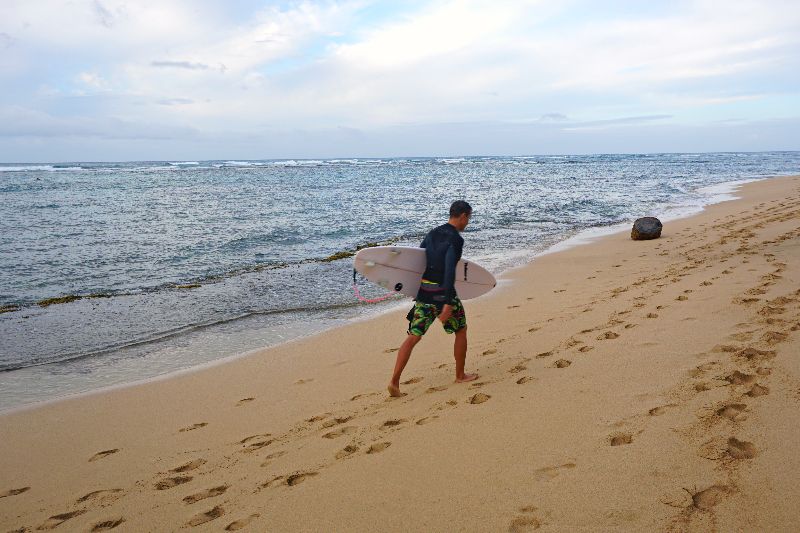 The waves and surfing crowd are pretty friendly.  The surf breaks outside the reef in multiple spots, which is located a good quarter mile out to sea.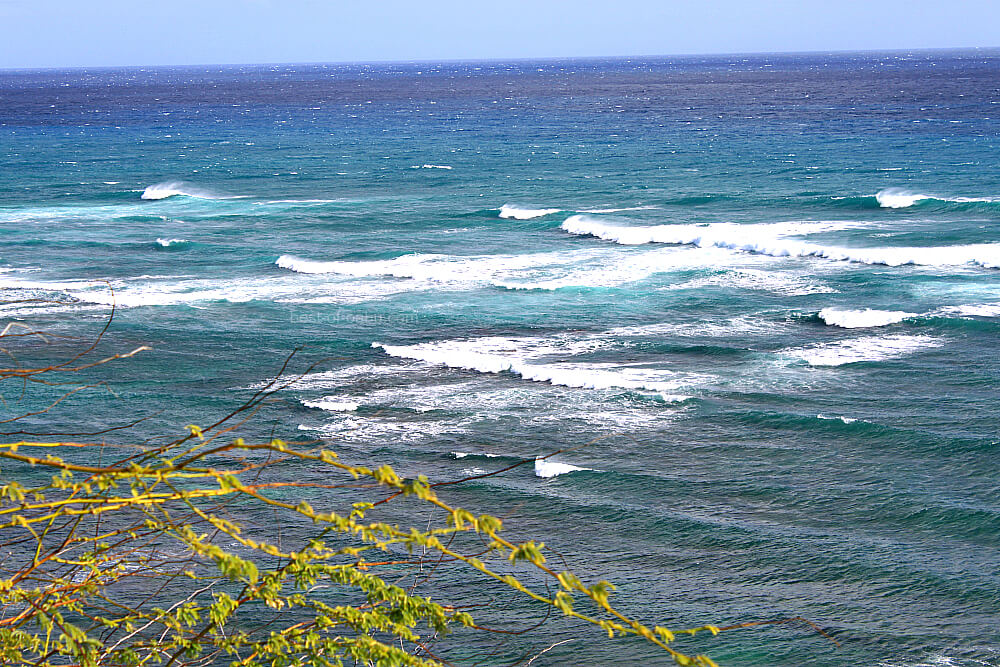 If the waves were flat around the island, you could still count on some surf breaks in this area!  And there are about 4 to 5 different breaks along the stretch.

Surf Spots - Cliffs and Lighthouses are your central main spots with few breaks in-between sometimes.  Cromwells is also a break near Black Point on the south side.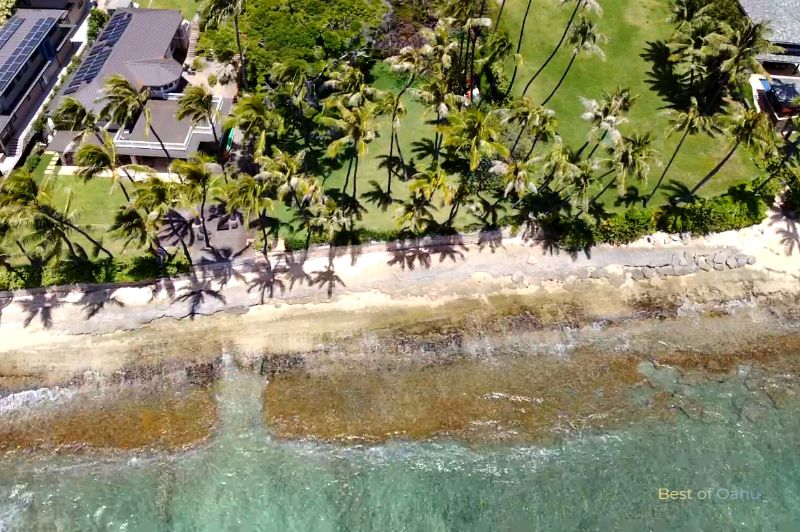 The one activity that Diamond Head Beach Park is not known for is good swimming.  The reef is shallow and extends right up to the beach for the most part.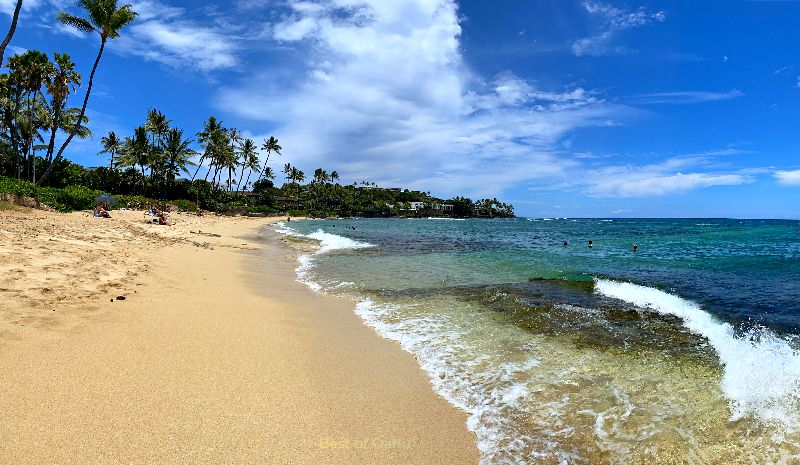 But there are a few sandy spots in the ocean that are the size of a swimming pool and close to shore.  You can tell by the change in color in the water from dark coral bottom to light sand.

There are a couple deeper sections of water where you can take a dip, including Cromwell's Cove, located on the far south end of the beach.

---
Cromwell's Beach & Cove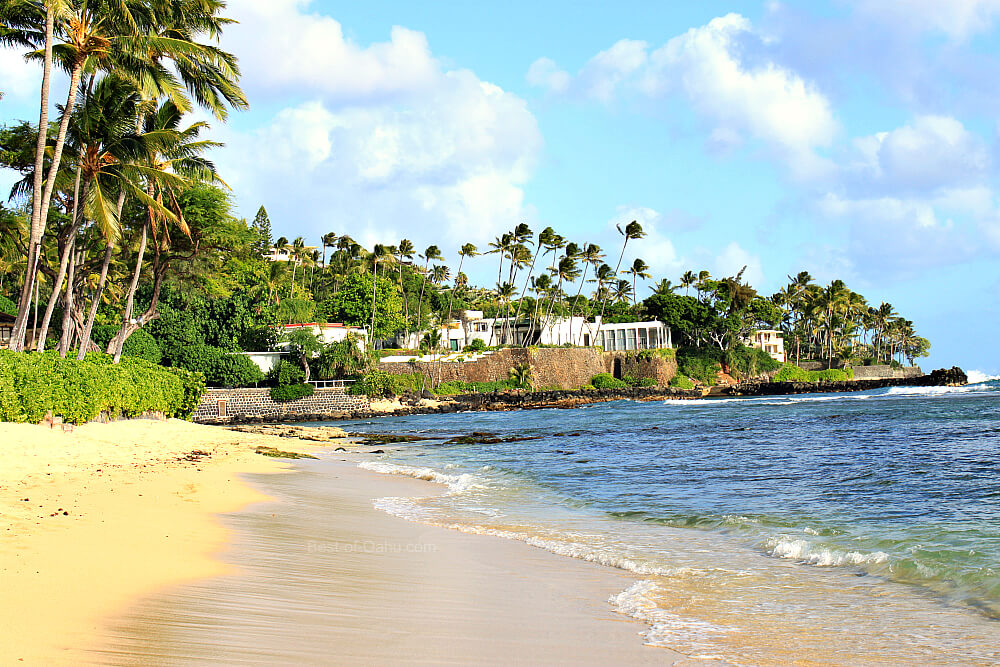 Cromwell's Cove is a local favorite weekend spot that is less traveled, has a larger stretch of sand, shady palms to lay your beach towels next to, and fun to explore.
It's also an area of Diamond Head Beach that is easy to access, as it's located off the residential flats verses hiking down from the cliff side.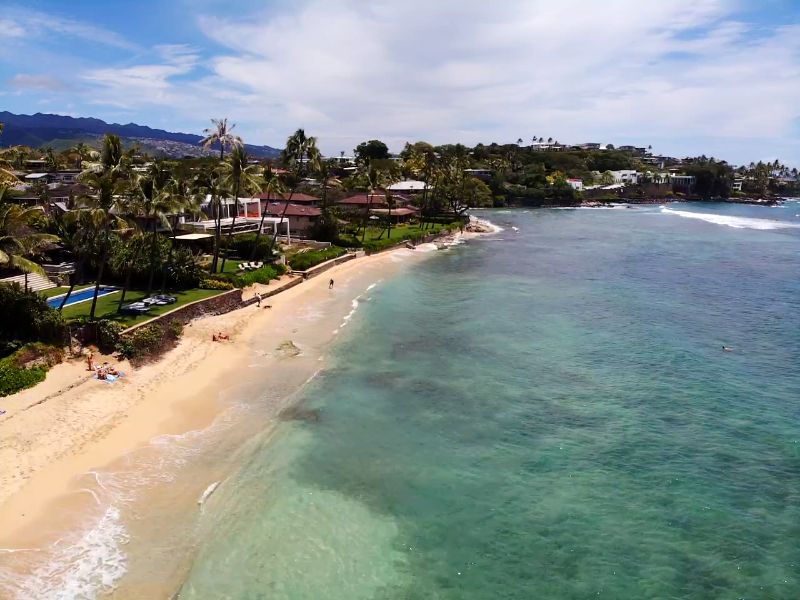 You'll find families driving right up to the beach access, where they can conveniently unload their coolers and beach gear.

---
---
Getting to Diamond Head Beach Park
---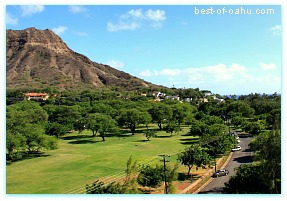 From Waikiki you will literally head towards the iconic extinct Diamond Head volcano.

Follow the ocean front road, Kalakaua Ave, south
Make a right turn at Diamond Head Rd, and follow it up hill.
Parking is located up top near and around the 3 scenic lookouts.
A 2 million dollar renovation of the beach side trails will be ongoing for a few months.  Pedestrian access will remain open on one of the 2 access points during construction.
---
Waikiki Trolley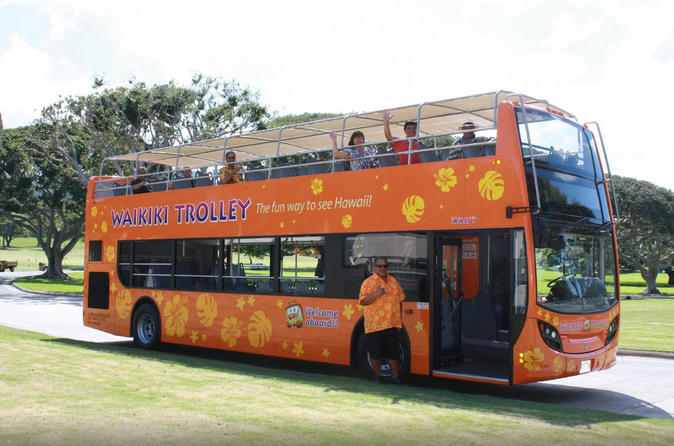 The Waikiki Trolley visits many Honolulu Attractions including the Diamond Lookout with the beach below. There are 4 different routes to explore including: Scenic Tour, Historic Tour, Shopping Tour, and the Island Tour. Tickets start around $9 for a child day pass, and go up to $25 - $49 for an Adult 7 day pass.
Note:  It's a light hike as you exit Waikiki across Kapiolani Park and up the hillside.

---
Directions to Cromwell's Beach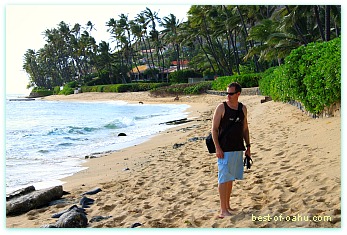 Continue on Diamond Head Rd south
Make a right turn on Kulamanu St
Turn right onto Kulamanu Pl
Beach entrance at the end of the road.

Note:  You can unload beach gear on Kulamanu Pl, and can park on neighboring roads.  Make sure to pay attention to parking signs and be respectful of neighbors.

---
Oahu Map of Diamond Head Beach
---
---
Diamond Head Beach Facilities
---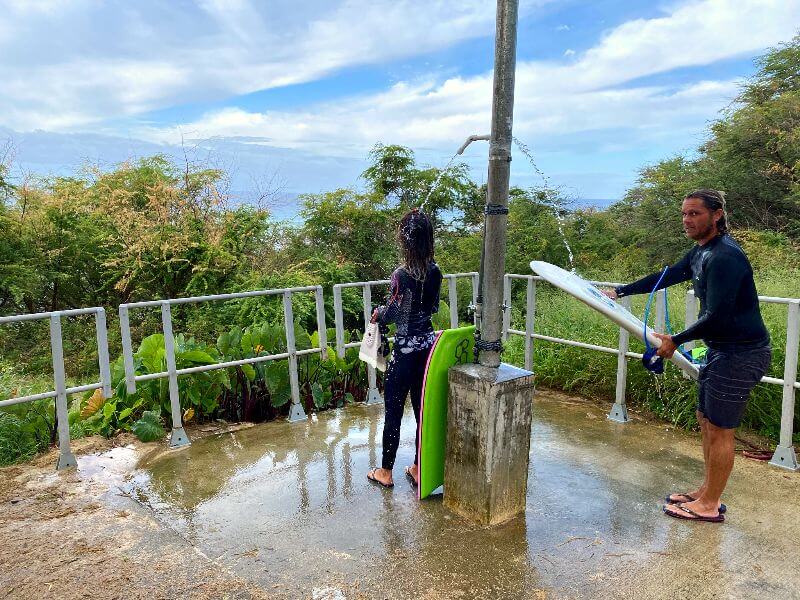 Diamond Head Beach Park is very basic.  While there are no bathrooms, no restaurants, and no picnic tables available, remember that you are close by to everything in Waikiki.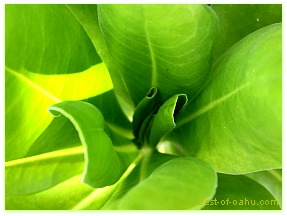 Parking up top & at Cromwell's

Showers located at the top and bottom of the cliff side trail.
Note:  no lifeguard on duty
---
Visiting tips
---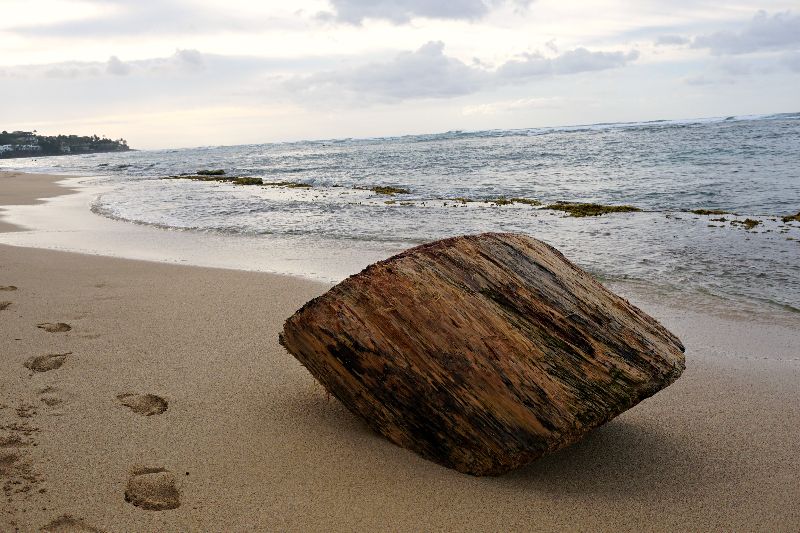 As much as I love Diamond Head Beach, car break-ins have been a problem in this area.  Do not leave anything visible or valuable in your car when parking.

Pack light if you park up top near the turnouts.  Walking back up the trail from the beach can be challenging when carrying heavy bulky items.

Make sure to pack sunscreen, water, snacks, and a beach towel to sit on.

---
In The Area
---
Explore The Farmers Market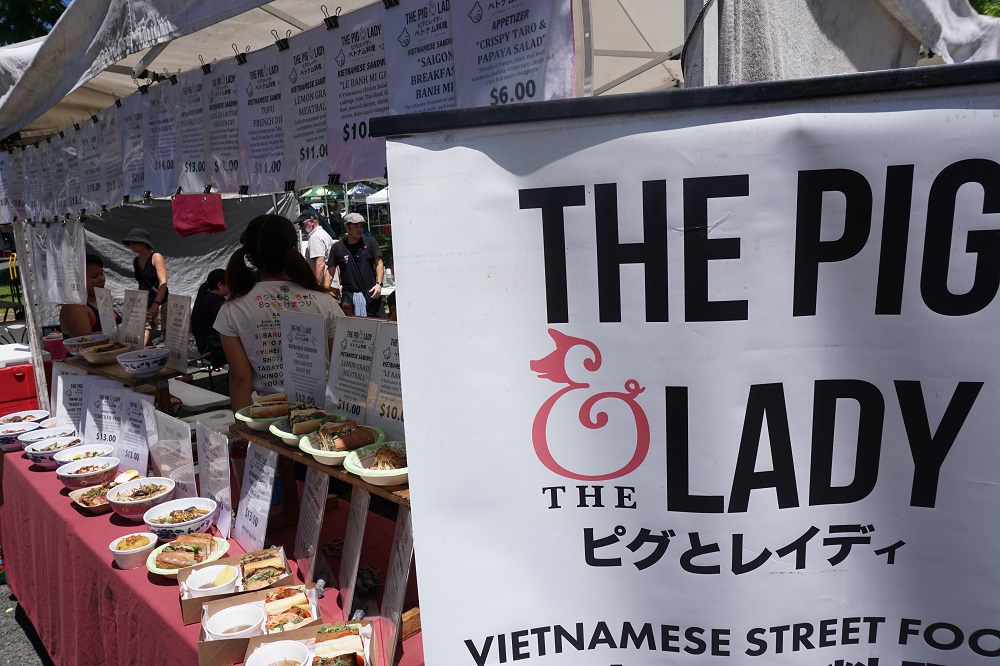 If you happen to go to the beach on Tuesday or Saturday, consider swinging by the KCC Farmers Market, as its located just a couple minutes away.  Sometimes referred to as the Diamond Head Farmers Market for its location, is one of the best on the island.
You find lots of tempting eats, along with lots of local fruits, flowers, dried fruits and nuts, and creations for sale.

If you're lucky, Pig and the Lady (rated as one of the best Oahu restaurants) will be on site.  Don't pass up on an Ono Pop, which are unique local fruit Popsicles…they are delicious!
Location - Kapi'olani Community College, 4303 Diamond Head Rd, Honolulu

Times - Tue 4 PM to 7 PM, Sat 7:30 AM to 11 AM
---
Diamond Head Hiking Trail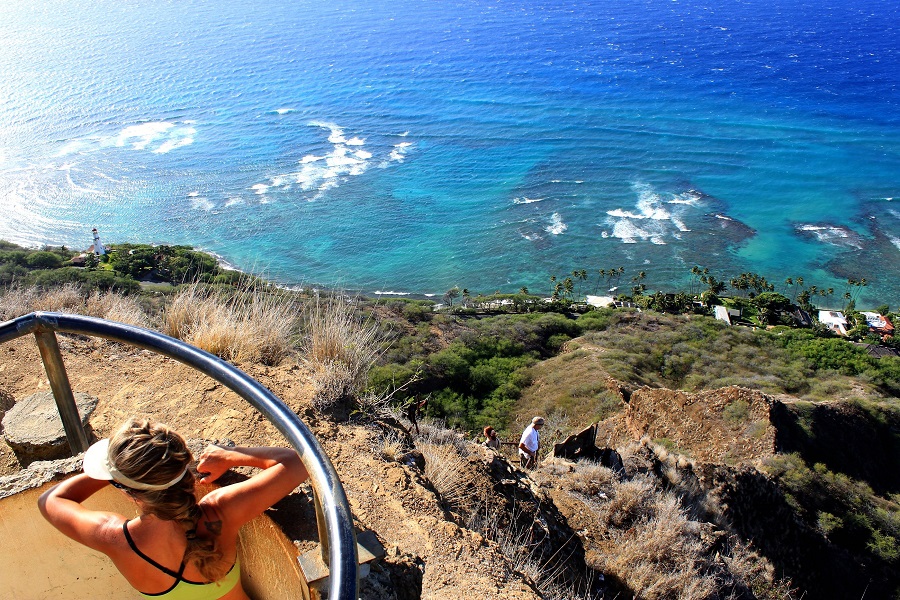 Equally exciting and as adventurous as the beach, consider making the journey to the top of the Diamond Head Trail.  760 feet to the top, and you will have a spectacular view of Waikiki and far beyond!
This Oahu hiking trail is rated #1 of all hikes on the island.
---
Hau Tree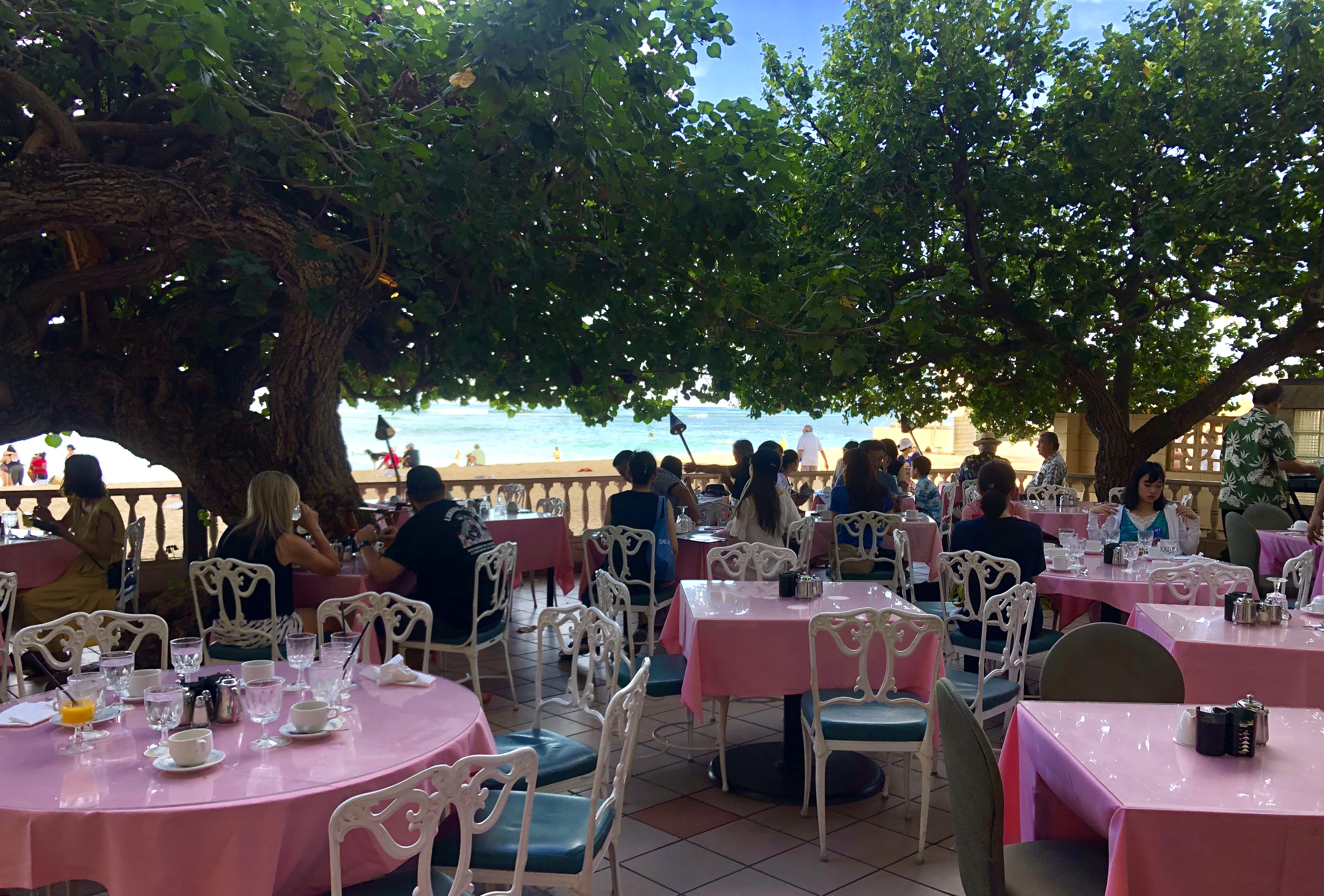 The Hau Tree can be a nice way to start or finish your Diamond Head Beach visit.  This Waikiki Restaurant is part of the New Otani Hotel, and located on San Souci Beach, close to the base of Diamond Head.

Enjoy a mimosa and some ono island-style eats, while relaxing in the open air beach setting, under the Hau tree.

---
Diamond Head Market and Grill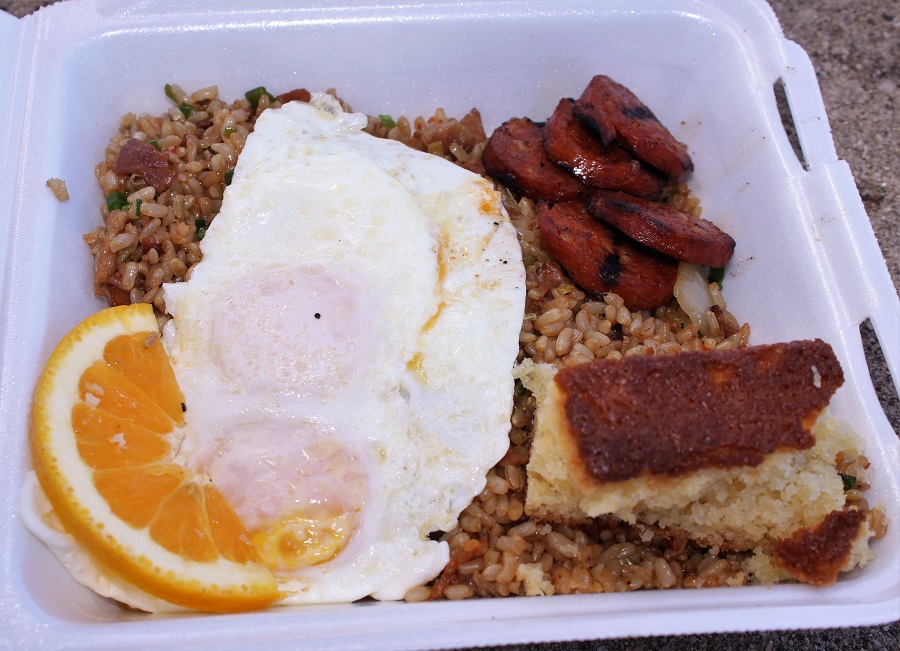 Wrap around the other side of the hillside on Diamond Head Rd which turns into Monsarrat Ave, and you'll see the Diamond Head Market & Grill.
This is a nice spot to grab some food items to take to the beach.
They are known for their wholesome breakfast and plate-lunch meals.  Order the homemade cornbread!!

---
Aloha & Enjoy!

Subscribe to receive Best of Oahu updates on events, updates, and new articles.  It's the closest way to paradise while you are away...
We will never sell or spam your information, and we'll respect your email privacy.