Kaniakapupu Ruins - a royal summer home
The Kaniakapupu Ruins, better known as King Kamehameha III's Summer Home, is quite a treasure and piece of Hawaiian history that is tucked away on this Nu'uanu Oahu hike!  Unlike other challenging Oahu hiking trails, there really is no hike involved but a light trek to reach the ruins and Luakaha Waterfall.

But be warned that this site is deemed on private land, and is currently being reviewed for barriers for protection from vandals and destruction.

Disclaimer – all Oahu hikes have different challenges and hazards that can be dangerous and may cause injury. Know your fitness and skill level before embarking on any hike.  Stay on trails and obey posted signs. The information on this site is for your reading pleasure only.  Hike at your own risk.

---
King Kamehameha III Summer Home
---
This King Kamehameha III Summer Home dates back to 1847.  It was only used for a few decades before being abandoned for unknown reasons, and considered an "old ruin".

Located in Nu'uanu Valley, up towards the Pali Lookout, this site was used to escape the summer heat.  It was a place where the King could retreat from western influence and discuss governing matters with his people and chiefs.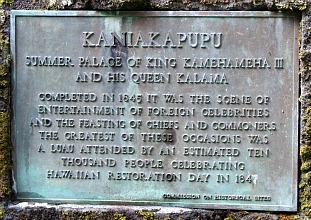 One recorded event stated that over 10,000 Hawaiians gathered here for an entertaining luau.  Walk the area and it's hard to imagine how so many people could fit in this dense area.  Other records show King Kamehameha I resting with his warriors in this area, during his conquest of Oahu.

---
Oahu hike to Kaniakapupu Ruins
---
Unfortunately, due to recent vandalism, and out of respect for this unsupervised historical site, we have decided to remove some of the directions to help slow down the activity surrounding these ruins.
If you know the way, and are able to find it, we ask that you enter with respect.  Do not remove or alter any of the rocks in this area, do not climb or deface what remains of this structure.  It seems like common sense, but some folks need a reminder –Mahalo!

With no real hike involved getting to the Kaniakapupu Ruins, it still can be adventurous getting there!  There is no dedicated parking area, no marked Oahu hiking trails, nor are there many hikers in the area.

Your journey starts once you enter a small tunnel opening into the dense bamboo forest.  The opening is small but distinct…but if you don't know where it is, it can seem impossible to find!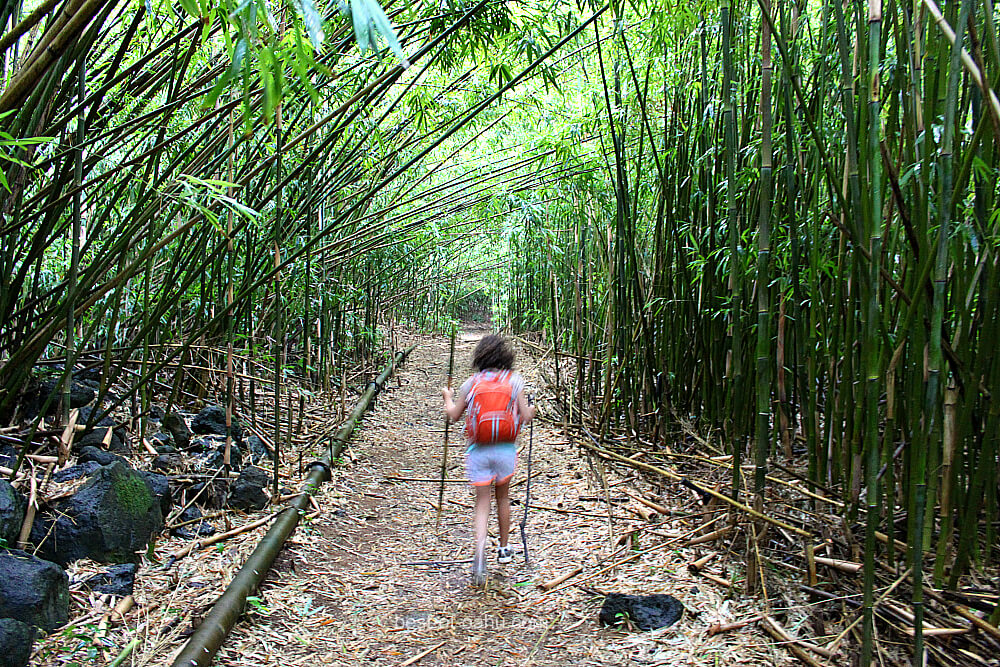 The bamboo tunnel trail starts off dense and covered.  Stay straight on the trail, and climb over a large fallen log that blocks the pathway.  Turn left  shortly after onto a small trail opening that travels upward.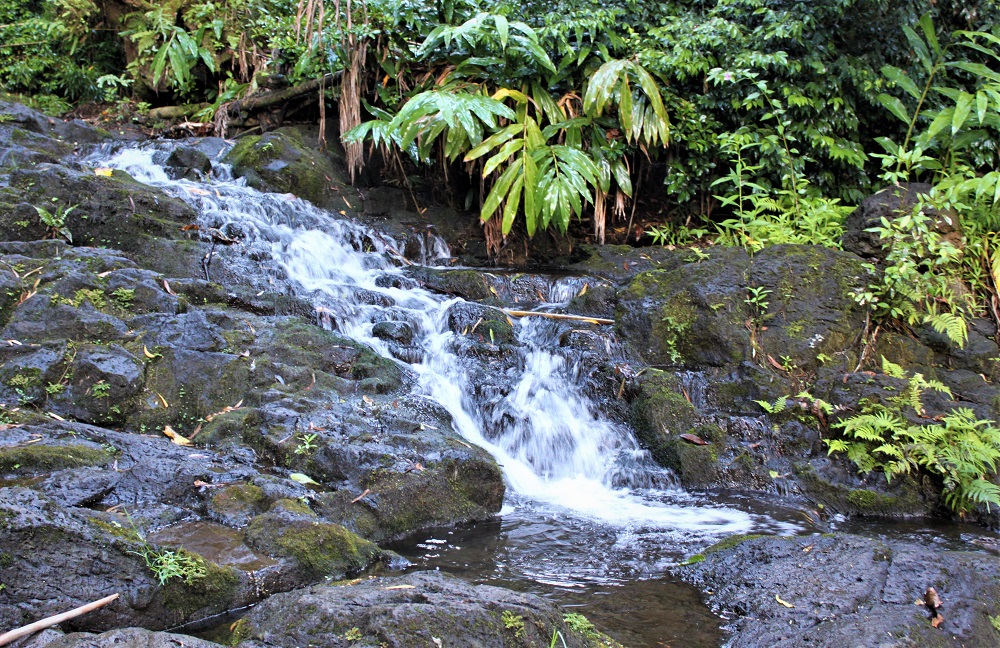 If you remain straight on the hiking trail, you will encounter a neat small stream bed at the end.  It's located not too far from the fallen log, if you decide to check it out.

Continue traveling on the trail, once you turn up from the main trail, for about another 100 yards.  You know you're close when you come across an old rock wall, which marks the beginning boundary for the Kaniakapupu site.
Just a little farther up and you will see the remains of King Kemehameha III's summer home in a clearing.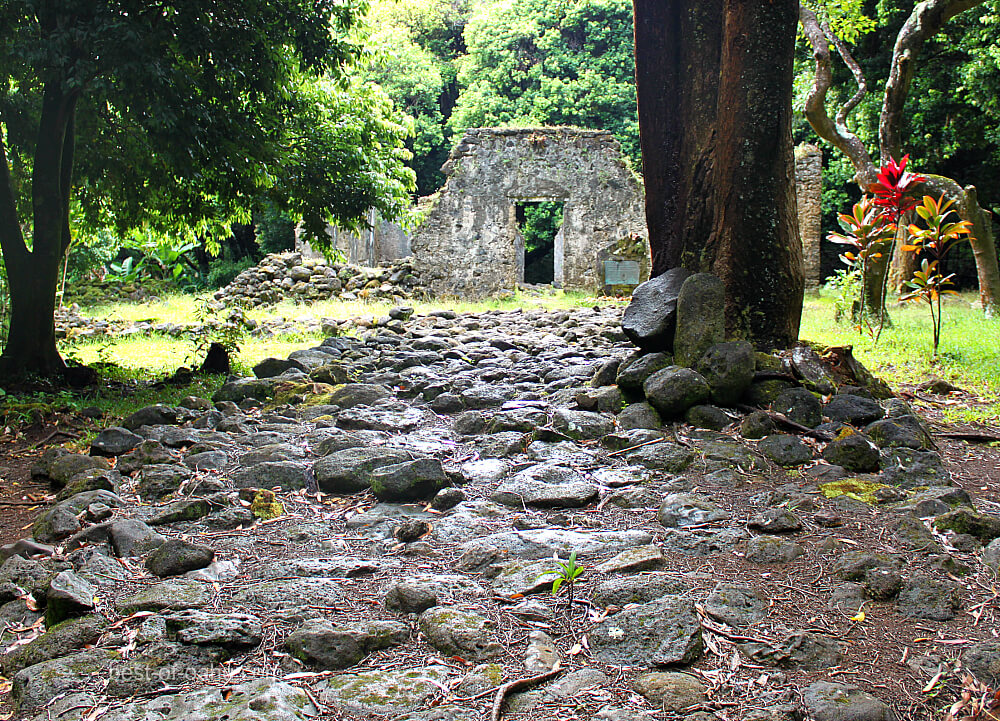 Please respect the Kaniakapupu Ruins and the surrounding area while visiting!  It is a privilege to visit this historical site without supervision or barricades.  Do not pick up or remove rocks from the area, climb or stand on any parts of the structure, or deface anything on the grounds -consider it taboo and bad luck to do so!

---
Kaniakapupu Ruins
---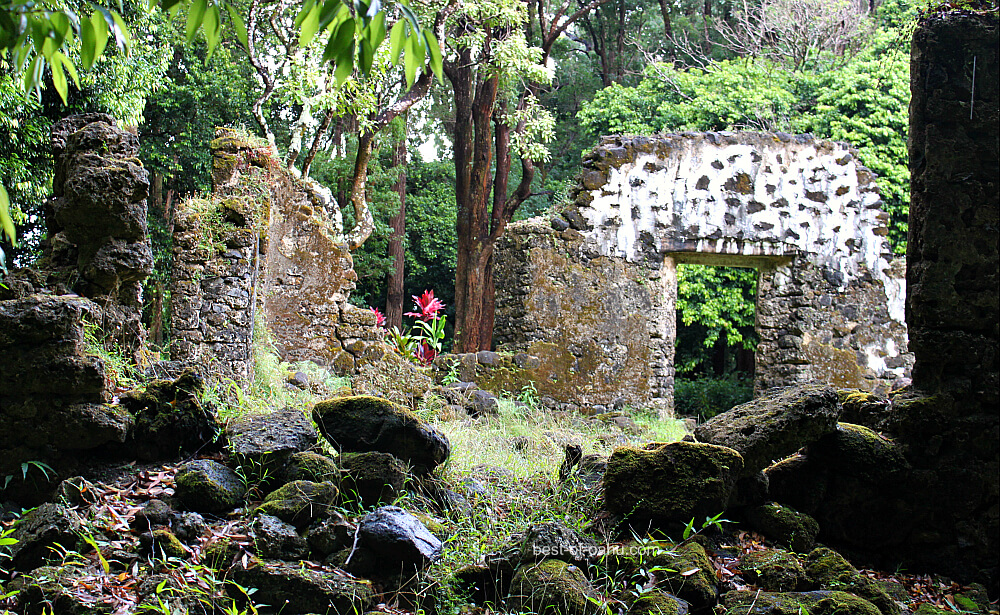 Walking towards the structure you will find an ancient rock pathway that was constructed along with it.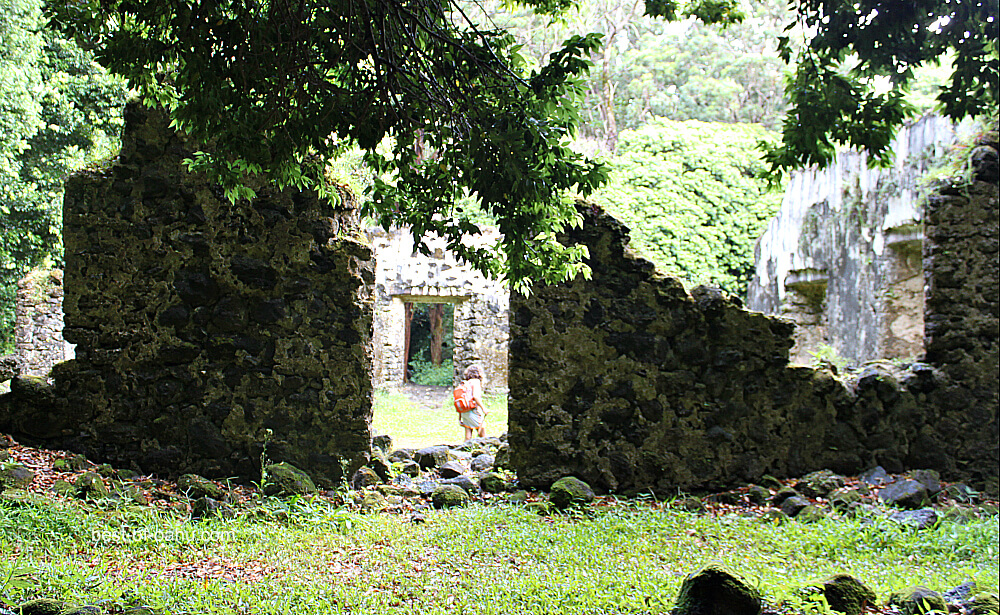 The structure is a small single story, 3-tiered stone structure that was constructed with western influence, and the guidance of the Hawaiians, such as slightly off centered windows that were put in place to ward off the Night Marchers.
The grass roof is long gone, but a few walls remain in place along with the main doorway entrance, and a window with a beautiful view.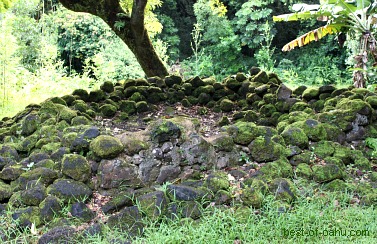 Alongside the impressive Kaniakapupu Ruins is the "kitchen area", which also comprises what looks to be a large elevated fire pit made out of large rocks.  Coral reef was melted down is this area, to create a mortar for the rock walls.

This historical site, sacred or not, is one of the most impressive forgotten old structures on Oahu!  It's a simple ruin in an undisturbed area, yet with a strong presence that you can't help but feel as if standing in the footsteps of ancient Hawaiian warriors, chiefs, and kings!

---
Getting There
---
As you can see from the picture, it's located somewhere off the old Pali Road...after that you're on your own.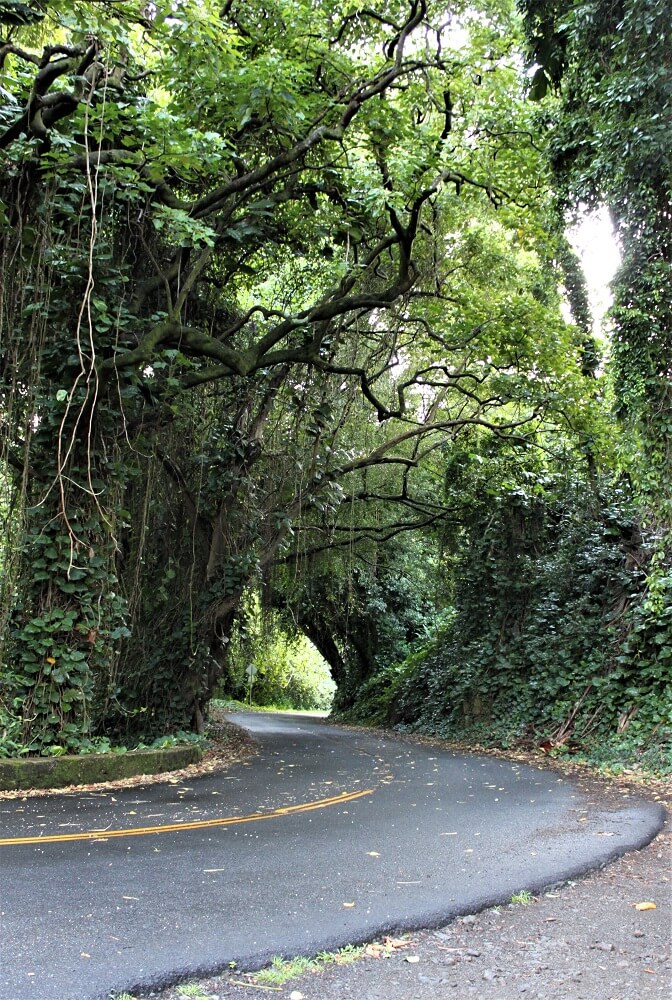 Due to large activity and vandalism surrounding the ruins, we have decided to remove the directions in this section.  If you know the way, or are able to find it, please enter with respect!

If you do not know how to get there, it is not recommended to try on your own and wander aimlessly through the dense brush. You could easily get lost or hurt.
---
Oahu Hiking Recommendations & Tips
---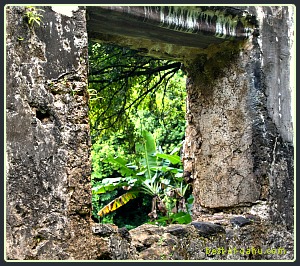 Good hiking shoes and socks
Fully-Charged Cell Phone
A light, hooded rain jacket
Mosquito repellent
Camera
Water & snacks
Hiking Buddy
Parking:  Unfortunately, there are a lot of car break-ins in this area (mainly at the Pali Lookout).  Thieves are looking for easy targets, and visible valuables.  Do not leave ANYTHING unattended in your vehicle!  

---
In the Area
---
Lulumahu Falls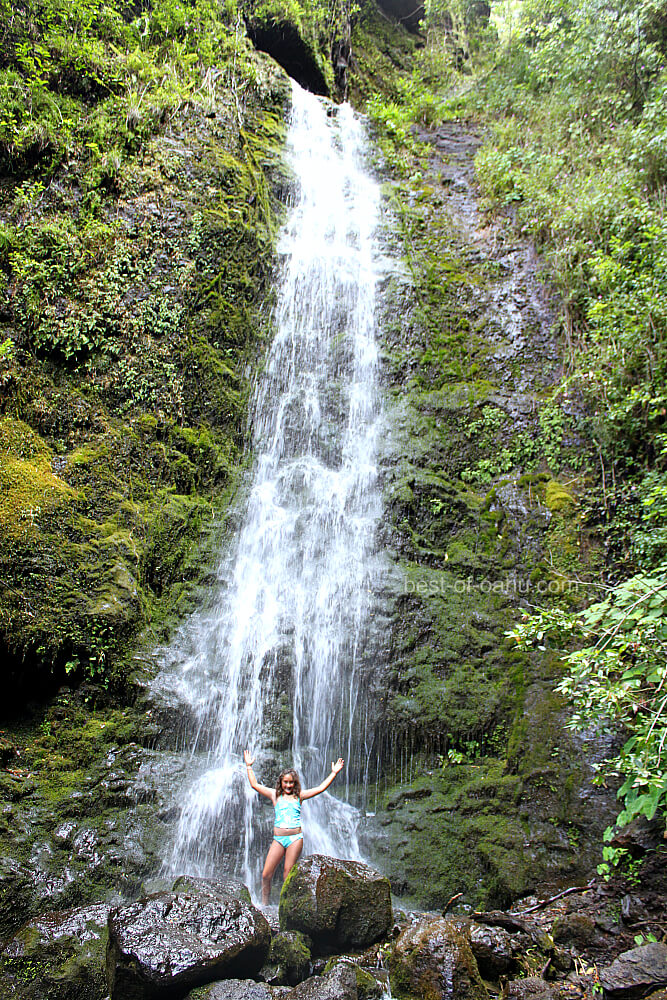 Lulumahu Falls is an impressive 50 ft plus waterfall located close to King Kamehameha III's summer home.

It's quite an adventure getting there, as you'll need to travel across some old hunting grounds, through a bamboo forest, along the Nu'uanu Reservoir, and up a narrow stream to get there.
---
Pali Lookout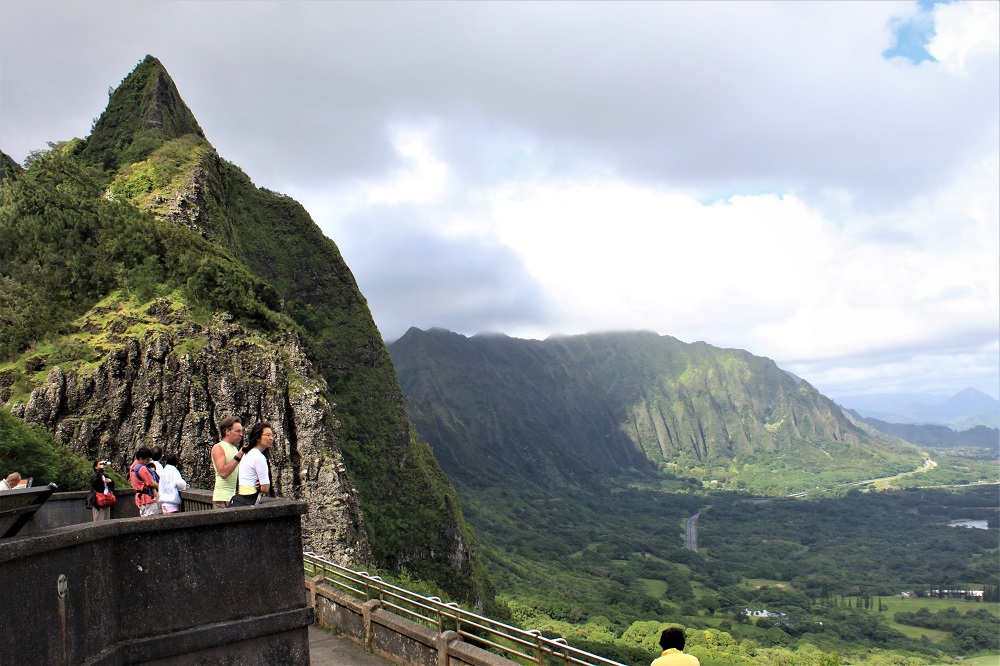 Just up the road is the famous Pali Lookout, where King Kamehameha battled the last of his enemies over tall cliffs.  Today you can drive up to the lookout and admire one of the most amazing views of the Windward Coast, as you brace yourself against the whipping winds blowing up the mountainside.

---
Kailua & Lanikai Beach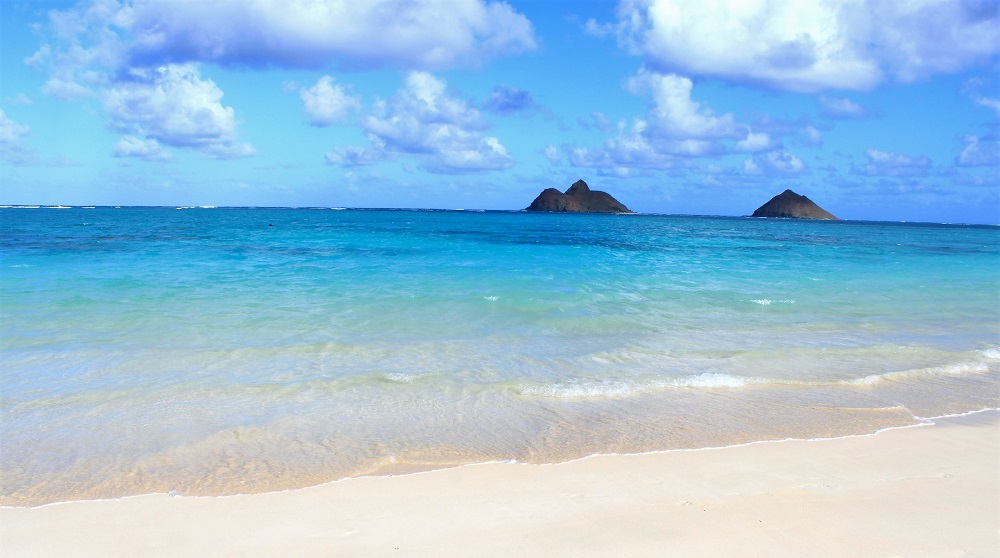 Continue your journey down the Pali Hwy and explore the beautiful Windward Coast, as you admired above.  Lanikai Beach and Kailua Beach are two of the most beautiful Oahu beaches on the island!  It should only take you 15 minutes to reach these gem beaches from the ruins.

---
Return to Best of Oahu Homepage
Aloha & Enjoy!

Subscribe to receive Best of Oahu updates on events, updates, and new articles.  It's the closest way to paradise while you are away...
We will never sell or spam your information, and we'll respect your email privacy.