Home  /  Scuba Diving in Hawaii - Oahu
Scuba Diving in Hawaii - Oahu Dive Guide
Scuba diving in Hawaii is a grand underwater adventure!  Whether you are venturing to take your first scuba dive experience on Oahu, looking to get your Hawaii Scuba Certification, or take advantage of some of the advanced scuba diving Hawaii has to offer, Oahu's Northern, Southern, and Western ocean waters, are a colorful adventurous playgrounds, waiting to be explored.

You'll be treated to Oahu's share of cascading reefs, well over 1000 Hawaiian tropical fish species, winding lava tube caves, and sunken shipwreck dives.
---
Consider a 3.5 hour snorkeling adventure on a 61 ft catamaran boat, cruising the quiet rustic westside coast, searching for dolphins, whales, green sea turtles, flying fish, and other native ocean sea life. 

The adventure includes transportation, drinks and a nice spread of food for this fun adventure.  Not many visitors get to see this side of Oahu, let alone get a chance to explore much what it has to offer.  Discover this underworld of paradise!  
See more details and book now...
---
Best Spots for Scuba Diving in  Hawaii – Oahu
These top 6 amazing diving locations are not to be missed if you are planning to scuba dive in Oahu!

Kahuna Canyon:  Rising walls from the ocean depths will be your stage as you start your decent into what is known as the underwater Hawaiian Grand Canyon…
Mahi:  Ranks number 1 for the best ship wreck dive on Oahu Hawaii…
Sea Cove:  Venturing to see some Hawaiian reef sharks?  Dive Oahu on the south shore, just before 

Hanauma Bay Hawaii

…
---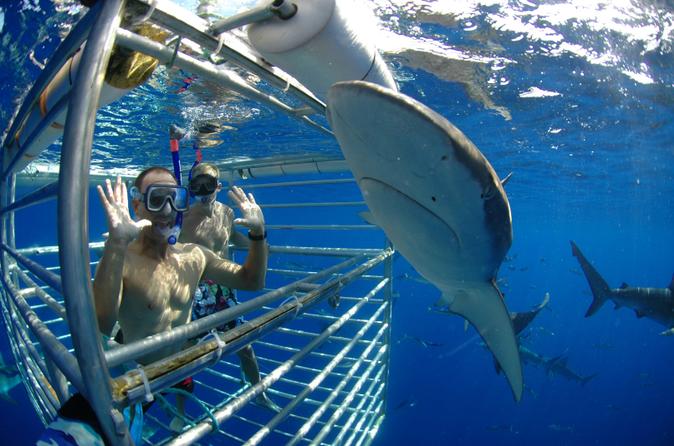 Experience a thrill of a life time with a shark cage dive!  That's right…view sharks in their natural habitat, as they circle around your protective cage with curiosity. If your lucky, you will encounter as many as 30 sharks in one dive!
This is a thrilling experience that requires no scuba license, but maybe not for the faint of heart. You can also just take it all in from the boat…you decide.  Sign up for a shark dive!

---
Corsair Plane:  Encounter an old World War 2 plane that dove into the Pacific Ocean in the Koko Head area close by the Sea Cove site and

Hanauma Bay

…
Three Tables – Next door to the famous Sharks Cove, is probably one of the most popular North Shore scuba dive locations known as Three Tables.  Yes, there are 3 huge flat rocks that run out into the water, but it's the drop off wall that you are seeking…
Sharks Cove – this North Shore scuba dive location is a lava rock playground loaded with hundreds of beautiful fish…
---
---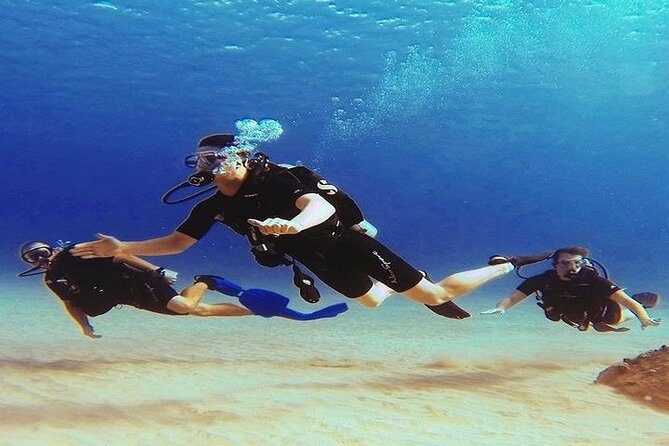 Taking an adventure below the tropical waters surrounding Oahu is a unique lifetime experience that you will remember forever!

So do you need to be certified in order to be able to join a diving tour?  No, there are good diving shops around the island that offer guided scuba tours.  They take the time to teach you the basics from equipment set up to taking your first breath underneath the ocean.  They choose diving spots that are scenic but not far from shore and within 30 ft deep.

Scuba diving in Hawaii is hard to put in words but could be summed up as a magically experience in a new world under the ocean.  Check out more on a "No Certification" Scuba Diving Tour in Waikiki
I remember taking the plunge for the first time at age 14 in Hanauma Bay.  I was both excited and nervous at the same time, as I took my first breath in my breathing ventilator under the water.
Today there are scuba classes happening right hear in Waikiki...
After a couple of breaths, you realize that you have just entered a new world and the magic begins.
If you are not a PADI licensed diver, but wish to experience a first class Oahu dive, then learn more about what is waiting for you through a non-certified scuba adventure...
---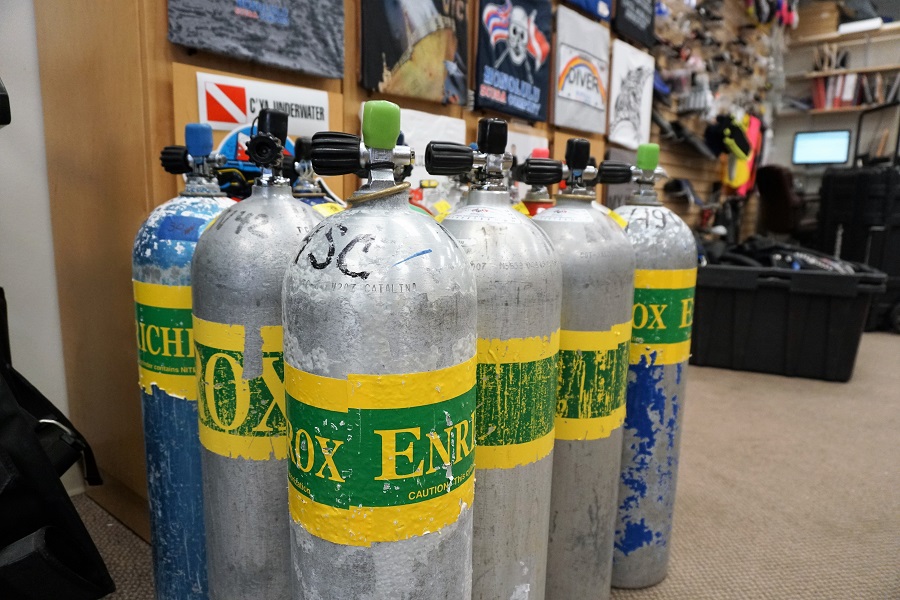 If you are more serious about the sport, and wish to take a look into taking Open Water Diving lessons, there are programs available to becoming licensed in Hawaii with a scuba certification.  It's an amazing learning experience, and well worth your time if you are interested.
After taking my first-time recreational dive (also known as the test dive, for Open Water Diving) I was hooked and eager to go through the Oahu Hawaii scuba certification training.
Looking back, I'm glad I took the training and got my Open Water Diving license, which I still use today.  Read more to learn what you will need to go through the program, and tips you might want to consider...

---
If you are licensed or would like learn more and experience a 2-tank boat dive off the south shore of Oahu, this could be the right scuba adventure for you.  You will fitted for scuba gear and trained how to use it. 

Your boat operator and guides will take you to ideal locations to view lots of tropical fish and marine life swimming in the area.  Learn more about this 5 Hour 2-Tank Boat Dive.
---
More Marine Life Experiences
---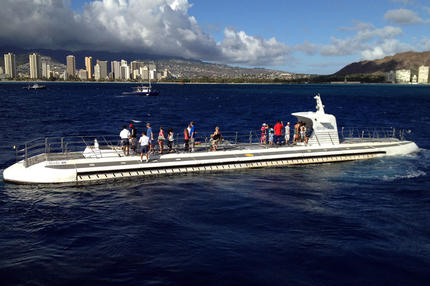 One of the most exciting and adventurous attractions on Oahu is submerging below Hawaii's tropical waters in a large 64 passenger submarine.  You'll travel 100 feet deep and beyond Waikiki's outer reef.

There are old plane & boat wrecks that are amazing to see, along with small and large different types of marine life that lives below.  If you're lucky, you'll see schools of fish, sea turtles, dolphins, and maybe even some cruising sharks.  It's a Pacific Ocean adventure and memory you won't forget!  See availability and book now…
---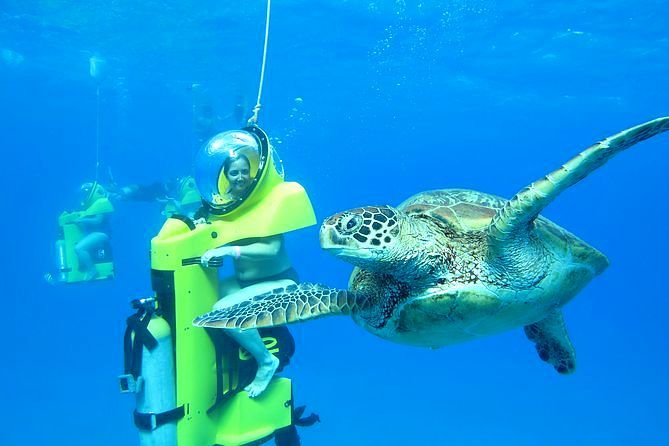 It doesn't get much cooler than this…and I'll bet your friends haven't done this yet!  Experience scuba diving with new technology and ride into the ocean in style.  The new electric submarine scooter adventure is an easy and fun way to explore Oahu reefs, with no experience needed.
Enjoy a 2 hour tour, as your guide leads you on an exciting adventure into Hawaii's world of colorful fish.  Sign up for this unique scuba submarine scooter tour.
---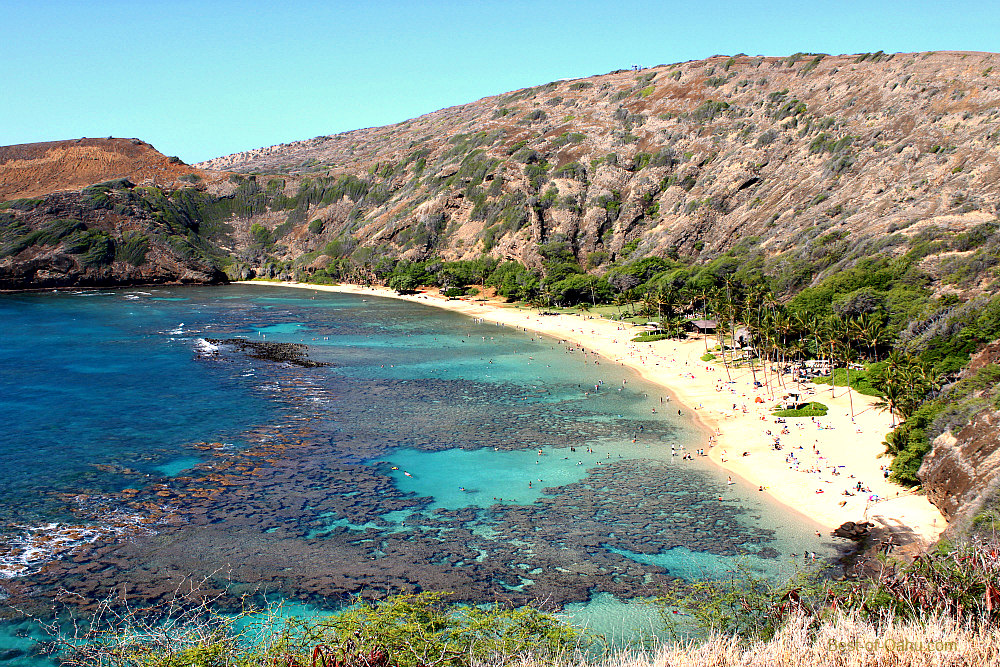 Also explore good Oahu snorkeling sites around the island, including Hanauma Bay, Sharks Cove, and others.

---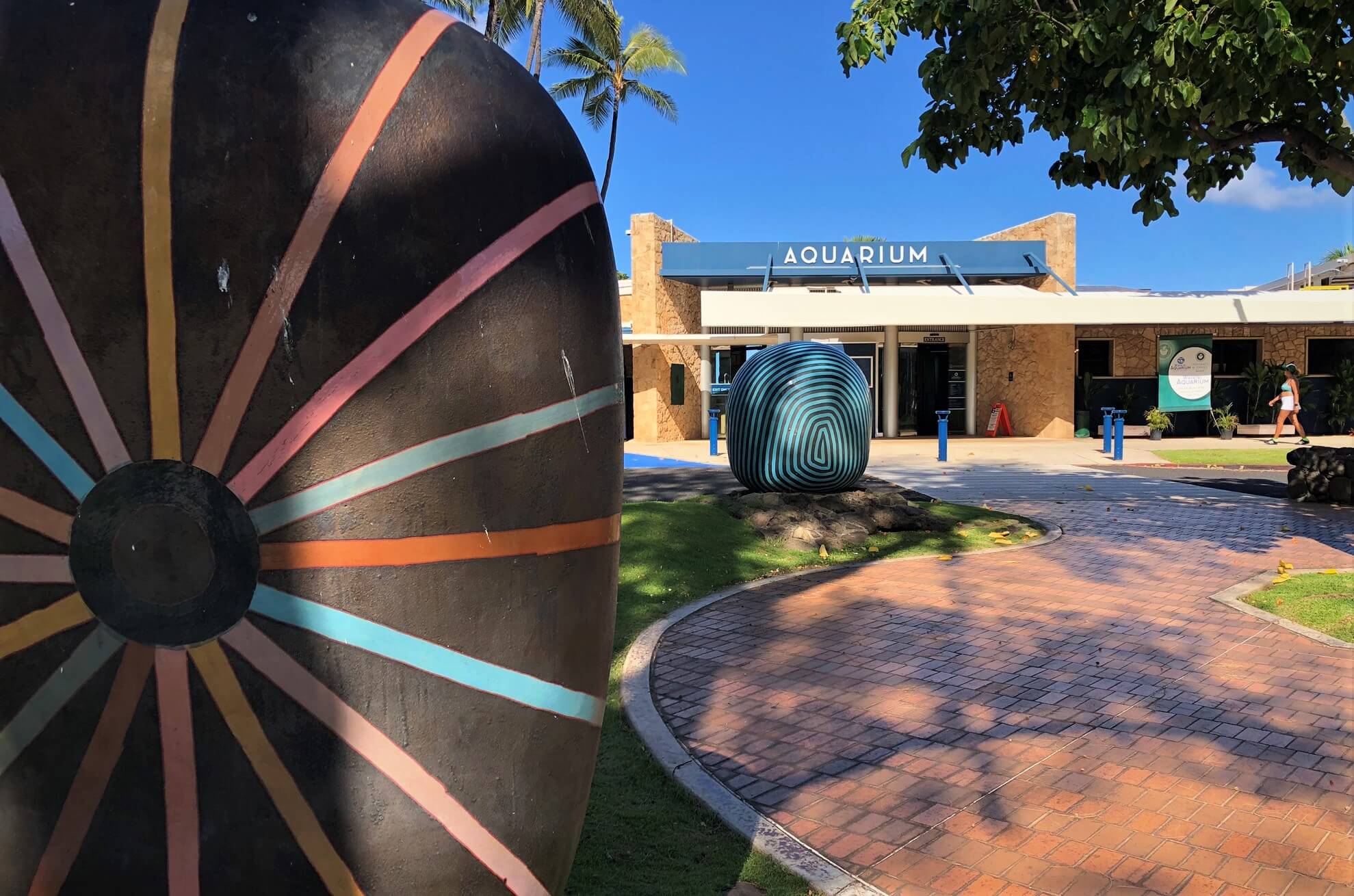 If for some reason, you did not get your fill of tropical fish while scuba diving, or if you feel the need to see more, but would rather do so without the scuba gear, visit the colorful Waikiki Aquarium…

---
Return to Best of Oahu Home Page
Aloha & Enjoy!

Subscribe to receive Best of Oahu updates on events, updates, and new articles.  It's the closest way to paradise while you are away...
We will never sell or spam your information, and we'll respect your email privacy.