Snorkeling Sharks Cove on the North Shore
Sharks Cove is a popular Oahu attraction in the North Shore for its amazing snorkeling experience.  Not far from Haleiwa Town, and around the corner from Waimea Bay, is this unique, reef-protected Oahu beach cove that got its name from its shape which keenly resembles that of a shark.
---
The Cove
---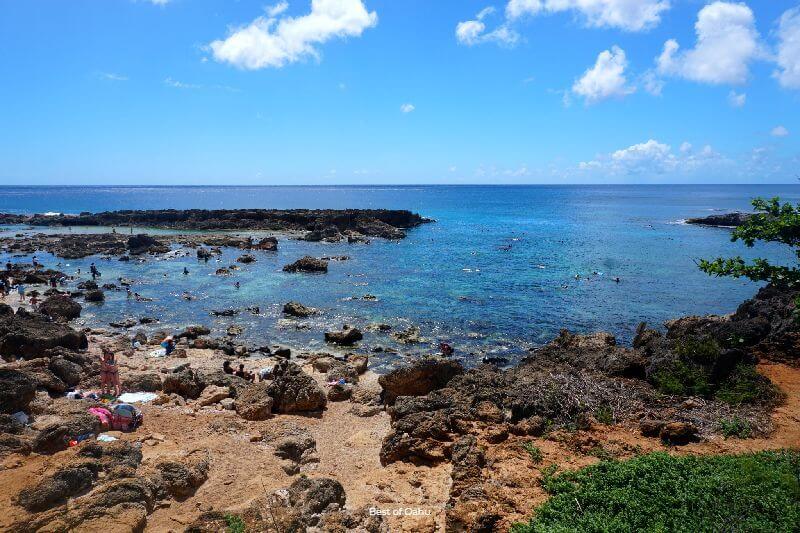 Sharks Cove North Shore
Not to worry, you are highly unlikely to see a shark at this Oahu beach.  You are more likely to see green sea turtles swimming about.
There is a large array of fish that call Sharks Cove home.  The 80-acre marine life conservation park is largely made up of reef and volcanic rock that spans about a football field across, giving it with many great nooks and crannies to explore.
There are plenty of crevices, caves, tunnels, and places to hide that make this beach cove quite the playground for tropical fish to dart in and out of, as if playing hide and seek, to snorkelers' delight.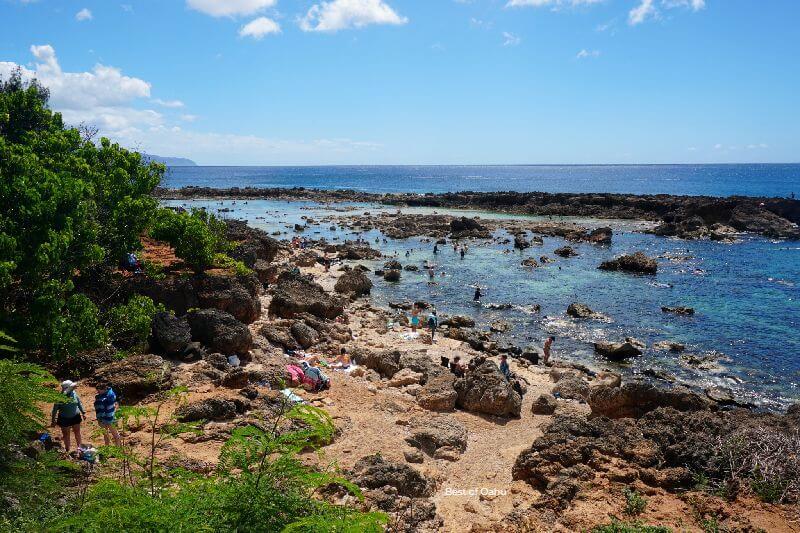 There are two sections to Sharks Cove.  The east side is shallower with many tide pools, and the west side is the deeper section and better for snorkeling in Oahu.

Unlike Hanauma Bay that tends to get busy most days with up to 3000 visitors, Sharks Cove is a great alternative with far less crowds, clearer waters, an abundance of fish to see, and is also a free Oahu attraction.
---
Types of Fish
---
The porous reef creates protection and home to a large array of fish.  Definitely too many to name, but there are Triggerfish, Butterflyfish, Parrotfish, and Damselfish in abundance.
It's definitely a colorful mix, and they tend to swim in large schools.  You'll find others hiding in the reef…and maybe even a moray eel or two.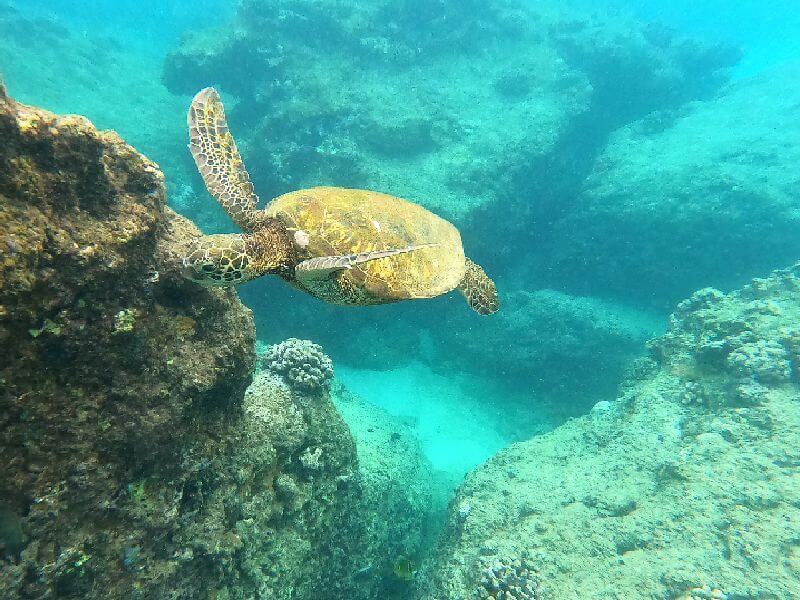 Sharks Cove Sea Turtle
Only look with your eyes and do not attempt to reach towards the moray eels, or you may get bitten.

Also, do not approach, feed, or harass Green Sea Turtles swimming about, or Monk Seals that approach the cove.  It is a federal crime to do so, and these sea animals have been known to defend themselves when approached.

---
Layout of Sharks Cove
---
While there isn't much beach surrounding this North Shore  beach cove, it is part of Pupukea Beach Park, which is beautiful, and a good choice to set up camp for the day.  Three Tables Beach is located on the other side of this park, and has a nice sandy beach to set up on and also provides some of the best snorkeling in Oahu.

Show up during low tide and you'll find plenty of tide pools to explore, and at high tide, you'll have a large area to snorkel at your heart's content.
It's typically only a few feet deep when you are close to shore, but it progressively gets deeper as you swim out towards the ocean.
It's said to be around 20 feet deep at the mouth of the cove that opens up to the ocean, and up to 40 feet deep just outside the cove. 

---
Water Safety
---
It is not recommended to go outside the cove, especially if you are not a good swimmer or experienced snorkeler.
There is NO life guard on duty at this Oahu beach, and there are a lot of obstacles in the water that you will need to navigate around.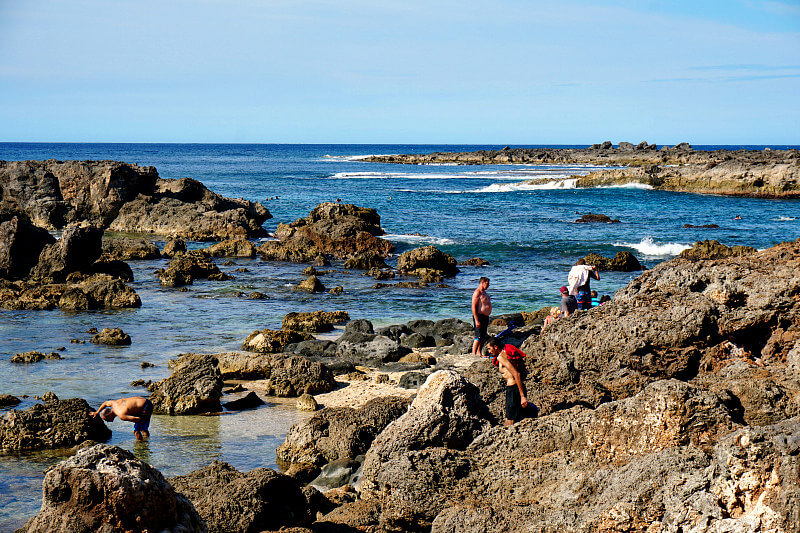 For those who are determined to go beyond the Sharks Cove outer reef wall, there are larger fish lurking about in the deeper waters.
There are also larger caves and tunnels located on the west side of the reef going towards Three Tables Beach, which is another fantastic diving and snorkeling area.
As tempting as it may be, I would not recommend swimming into these caves and tunnels where you could get stuck and or risk running out of air.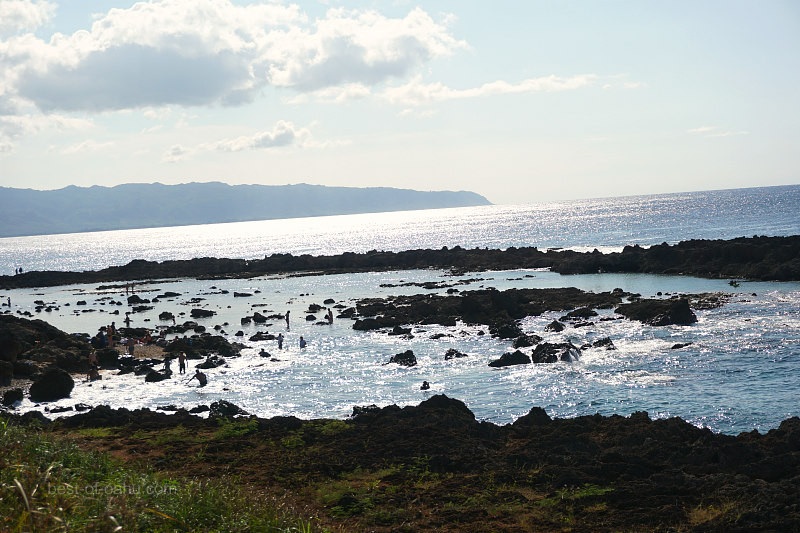 Also do not enter the water in this area when waves are present.  Larger waves tend to smash over  the outer reef walls and crash inside the cove.
Rip currents can form as you get closer to the opening to the ocean and can become very dangerous if you get sucked out to sea.  The surf tends to get large during the winter months and flat during the summer months.
But once in a while a swell can emerge in the summer as well, so pay attention when you arrive.  You can also check the surf report before heading up to the North Shore!

---
Tips
---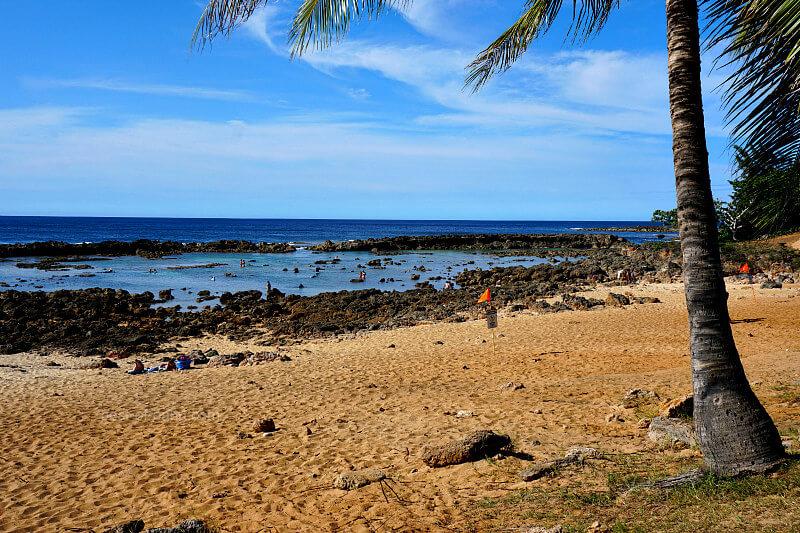 Summer months – unlike winter months when waves are larger on the North Shore, the summer months tend to be flat and provide ideal snorkeling conditions.
Parking – there is lots of parking along the stretch of the cove, but they do fill up quickly.  Be patient as visitors are always coming and going from this Oahu beach.  Make sure to take everything with you and don't leave valuables in the car.  Thieves frequently target high tourist areas on the island, and steal what they can see lying around in vehicles.
Reef Shoes and Sun Screen – bring reef shoes to protect your feet if you plan on exploring the tide pools, and fins if you plan on snorkeling.  Also wear reef-safe sunscreen to not only protect the reef, but your back and body as well that might be exposed for long periods of time while exploring.  Better yet, wear a water shirt that will give you better protection.
Little Shade – There are shady trees towards the top of the road and the park above the cove, but most of the cove and beach are exposed to the sun.  Consider bringing a beach umbrella.
Buddy System – you should always enter the water with a buddy, and watch out for each other at all times.  You'll want someone nearby if you get into trouble and can seek help immediately.
Ocean Safety - Learn more Ocean Safety and Snorkeling Tips from Hawaii Ocean Safety.
---
Facilities
---
Bathrooms

Outdoor showers

Parking

Grass Area

Food Trucks in the Area

No Lifeguard on Duty
---
In the Area
---
Old Town Haleiwa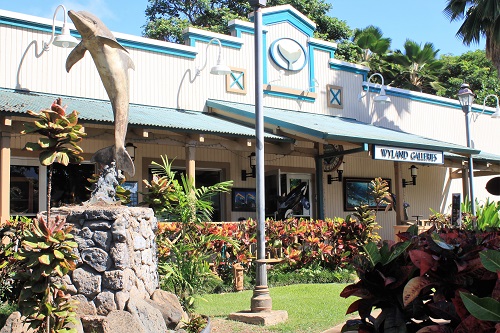 Haleiwa has a neat little rustic North Shore old town with country island vibe.  Make sure to give yourself extra time to stop in Haleiwa as there's lots to see and do.

You will find a handful of Hawaiian art galleries, ono restaurants, shrimp trucks, iconic surf shops, clothing and boutique shops, and a few popular Hawaiian shave ice shops.
---
Waimea Bay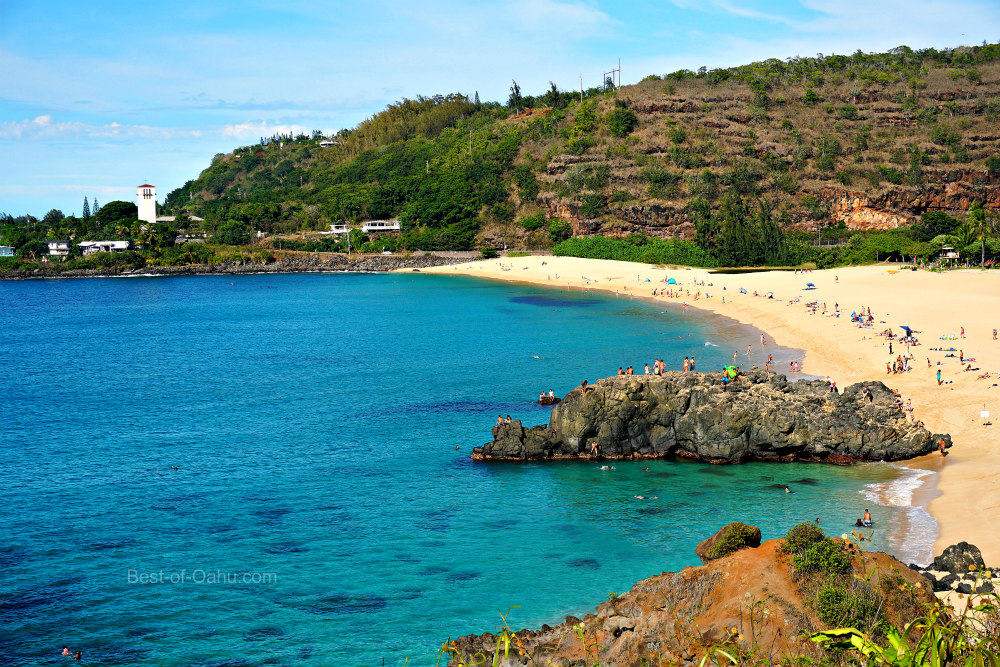 Just a couple minutes away from the cove is Waimea Bay Beach Park.  Best known as one of the classic big wave beaches on the North Shore, this Oahu beach also is one of the most beautiful ones. 

Winter time produces gigantic waves here, and goes flat in the summer.  Kids and kids-at-heart love jumping off the gigantic Waimea rock into the water during the summer months!

---
Toa Luau to end the evening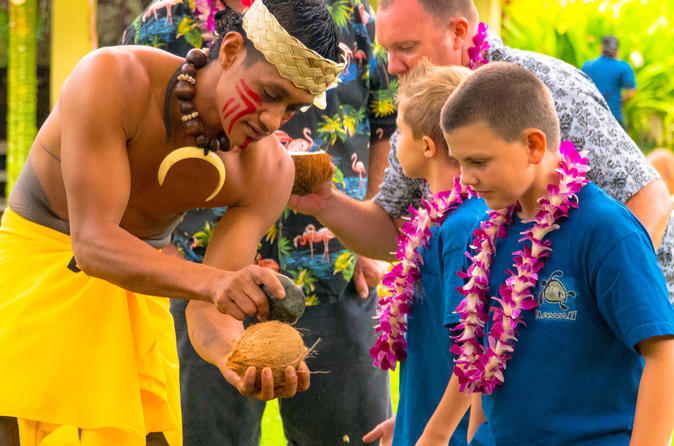 Tie on a visit to the waterfall with an evening luau dinner with cultural demonstrations and Hawaiian entertainment.  The Toa Luau includes your entrance to Waimea Valley & Waterfall.
Just make sure you give yourself enough time to get back in time for the festivities.  Note that this luau only takes place on Mon - Wed.  Learn more...
---
Oahu Map
---
---
Getting There
---
By Car
From Waikiki , take the H-1 Freeway headed West…
Take the H-1 Hwy West to the H-2 Hwy North.
Follow the H-2 Hwy to the Kamehameha Hwy (hwy 99).
Take Hwy 99 and continue into Haleiwa Town, or bypass Haleiwa Town and continue on Hwy 99 and merge onto Hwy 83, which will lead you along the coastline.
After you pass Waimea Bay, keep going until you see the Foodland Market on your left hand side, and the cove will be across the street.
By Oahu Bus
Take the 52 bus from Kuhio Ave to Haleiwa Town, and transfer to Oahu Bus number 88A or 60.  These Oahu Bus will take you  to the North Shore Beaches.
Ask the bus driver once again to notify you once you have arrived at Sharks Cove.
Note:  Bus # 88A also travels from the Ala Moana Center to the North Shore and backdown the Windward (East) side of the island.

---
Aloha & Enjoy!

Subscribe to receive Best of Oahu updates on events, updates, and new articles.  It's the closest way to paradise while you are away...
We will never sell or spam your information, and we'll respect your email privacy.