Oahu North Shore Restaurants
Shrimp trucks, roadside Huli Huli Chicken barbecue, and Matsumotos Shave Ice make up Oahu North Shore Restaurants, but there is a lot more to discover during your visit.  Whether you decide to keep it simple with some good Hawaiian plate lunch or food trucks options along the coast, or make a reservation at one of the popular establishments like Haleiwa Joe's for something a special dinner, there are lots of good dining choices up in the Northshore countryside.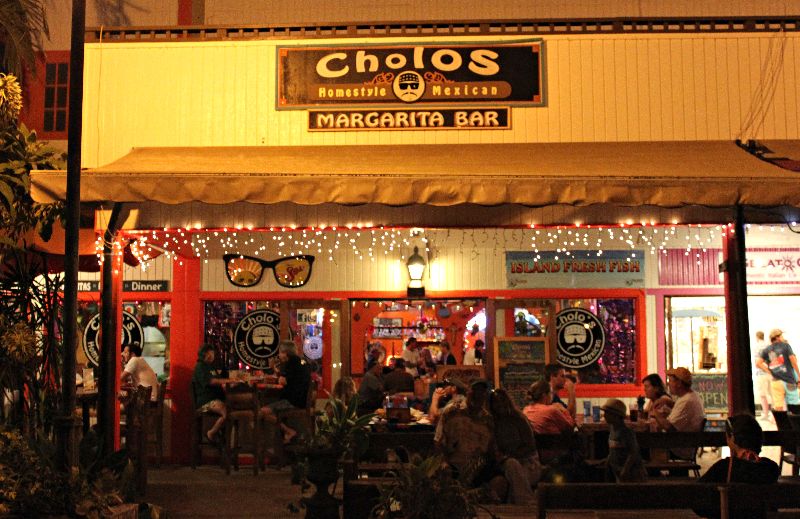 The North Shore of Oahu is full of adventure and discovery.  Ask most visitors coming from town, and they'll tell you their heading to Waimea Bay, Haleiwa for shopping and shave ice, in search of the famous Banzai Pipeline, and hike to Waimea Falls if they have time.
The shrimp trucks have also become a big part of the north shore experience.  They are hard to pass up with their colorful trucks luring you in, along with the sweet smell of garlic butter saturating the area…you are bound to stop.  We will talk more on them below...
But there are many other good choices for food as the culinary in north shore restaurants has come a long way.
Roy's has created a new restaurant in the Turtle Bay Resort, the Haleiwa Beach House is a great spot to watch a sunset with a mai tai, and the food is delicious, and memorable north shore experiences like ordering the life size nachos with a mango margarita at Cholo's Homestyle Mexican in town.

---
Haleiwa North Shore Restaurants
---
Haleiwa Beach Houses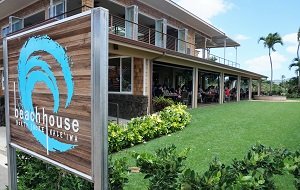 Hands down, the new Haleiwa Beach House has become a popular hit right from the start, and has joined Oahu's best North Shore restaurants with their fresh fish entrees and tasty innovations!

It shouldn't come as a surprise as Owner Andy Anderson, has created successful restaurants in the past, including Michel's at the Colony Surf in Waikiki.

Enjoy the open air setting for lunch and dinner, and Mai Tais in the upstairs bar & lounge area.
62-540 Kamehameha Hwy, Haleiwa
Check out more at Haleiwa Beach House
---
Haleiwa Joe's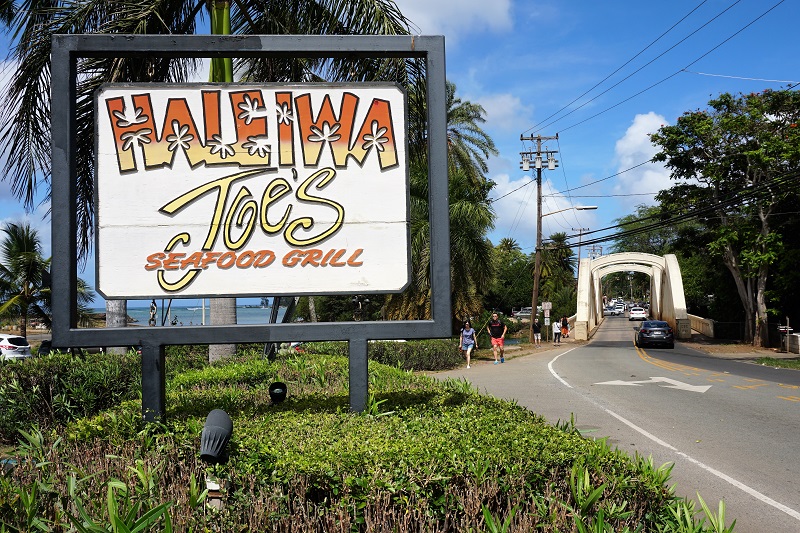 Bone-in Prime Rib, Crunchy Coconut Shrimp, Chipotle Grilled Pork Chop, and Premium Grade Ahi Tuna are a sample of the onolicious selections that you get from this long run establishment.

Catch a sunset with your dinner, and you'll see why Haleiwa Joe's has been doing well since opening in 1998.  Note that why are open for lunch as well, with great affordable options like fish tacos & ½ rack of baby back ribs!
Location:  66-011 Kamehameha Hwy, Haleiwa HI - Phone (808) 637-8005

Check out more at HaleiwaJoes.com
---
Uncle Bo's in Haleiwa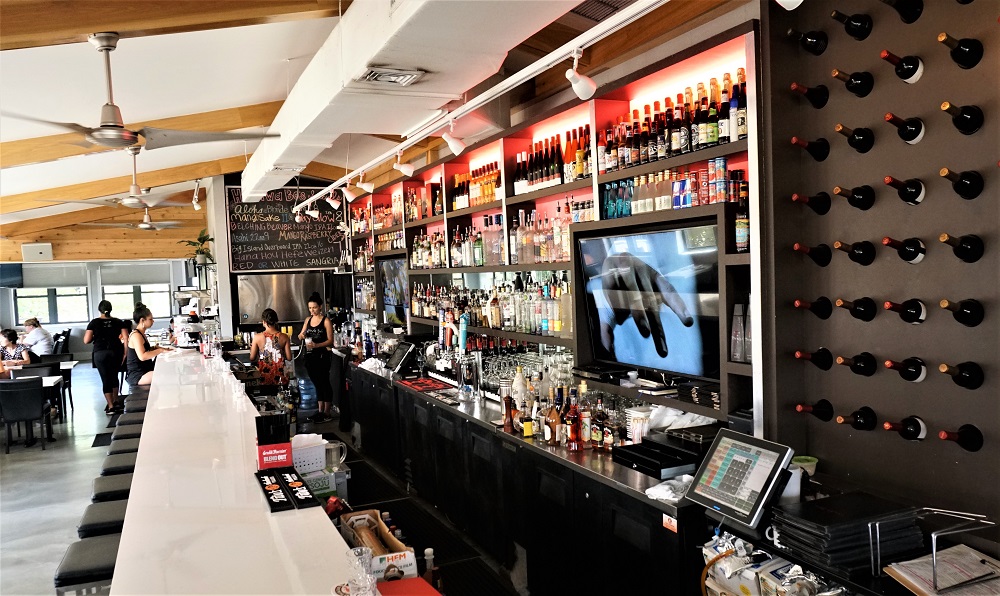 Get a taste of town in the country…no pun intended!  The North Shore continues to attract big culinary names and popular Honolulu established eateries, including Uncle Bo's that recently launched a second location in Haleiwa.

From ono surf & turf combos to an amazing fresh fish menu, it's a treat to dine at Uncle Bo's in the country!  Try not to go crazy when ordering appetizers!
66-111 Kamehameha Hwy #101, Haleiwa
Check out more at UncleBosrestaurant.com
---
Cholo's Homestyle Mexican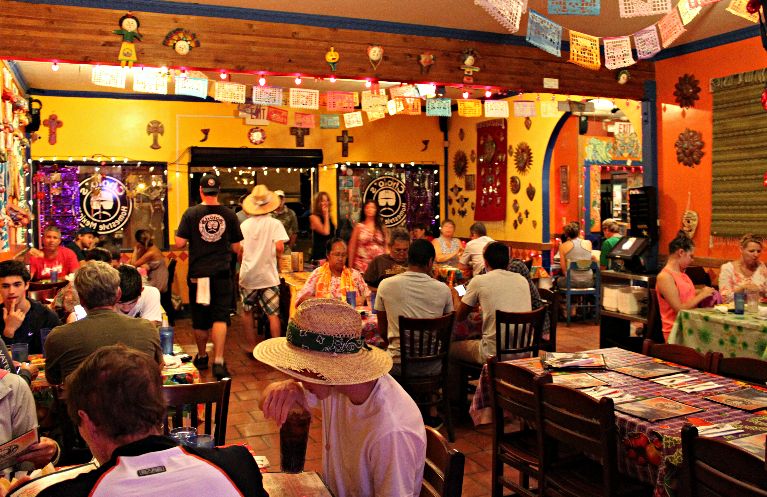 If there is one place where Mexican food works well in Hawaii it's the North Shore, and Cholo's Homestyle Mexican in Haleiwa is the place to be.

Their colorful eclectic environment looks like a party you'll want to join.  The bar is lined with wide margarita glasses ready to be served.

Inquire about their special pineapple & mango margaritas that are a treat!  Cholo's variety of tacos, burritos and enchilada plates are wholesome and filling.  If you have a large party, consider the nacho special that is loaded and a crowd pleaser.

66-250 Kamehameha Hwy, Haleiwa  Phone (808) 637-3059
Checkout more at Cholo's Homestyle Mexican
---
Ray's Kiawe Broiled Chicken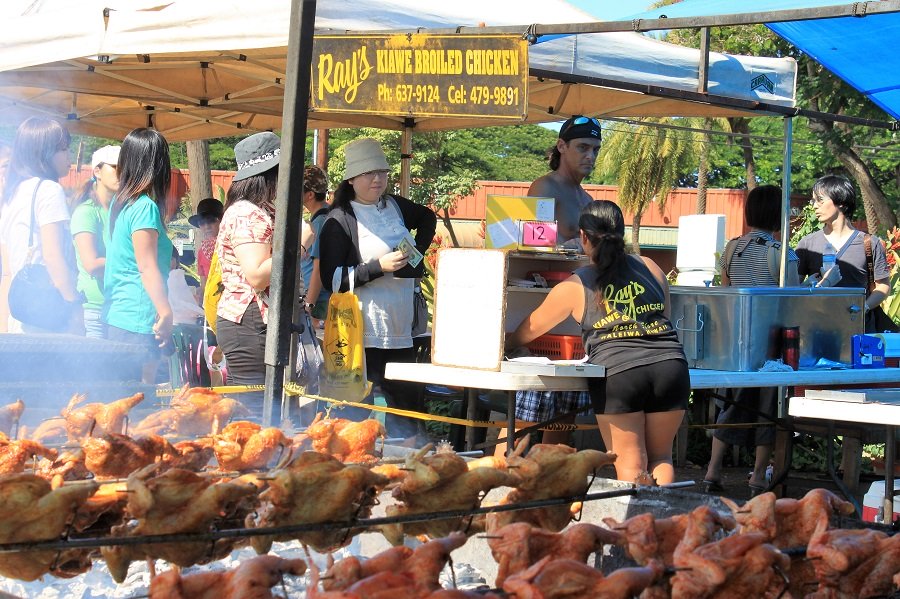 This is one of the best stops you can make right as you roll into Old Town Haleiwa.  Ray's Kiawe Broiled Chicken is a special treat if they got the grill fired up!  Folks describe it as fall-off-the-bone, juicy, mouth watering chicken.

It's not your typical barbecued chicken, but smoked with Hawaiian kiawe wood, which intensifies the flavor!  Topped off with a side of their popular pineapple coleslaw, you're all set for lunch!  Unlike most North Shore restaurants, note that they are only open on weekends.

Location: 66-120 Kamehameha Hwy, Haleiwa HI

Check out more reviews for Ray's Kiawe Broiled Chicken
---
Turtle Bay Area Restaurants
---
Beach House by Roy Yamaguchi
Turtle Bay is a grand resort on a unique peninsula tip of the rural north shore, where the crowds thin out and the beauty extends on ocean bays on each side.
Renowned chef Roy Yamaguchi took the opportunity to launch another signature North Shore restaurant at Turtle Bay that also happens to be center beach front.

Personally I could settle for some of their stellar appetizers and sushi rolls with a round of signature mai tais.  Twice Cooked Baby Back Pork Ribs, Poke with smoked soy, and a Surf n Turf Banzai Roll with crab & filet mignon to temp you!
But it would be a shame not to indulge in one of Roy's entrees.  You can never go wrong ordering a ribeye or beef short ribs here, but his fresh fish entrees are a treat.
Pan Roasted Hawaiian Swordfish with a Ginger Tomato Jam and Chili Basil Oil or Misoyaki Deepwater Black Cod for example.  And even if you are stuffed in the end, Roy is the master at creating the Molten Lava Cake…a must try!
57-091 KAMEHAMEHA HWY, KAHUKU  (808) 293-7697
---
Ted's Bakery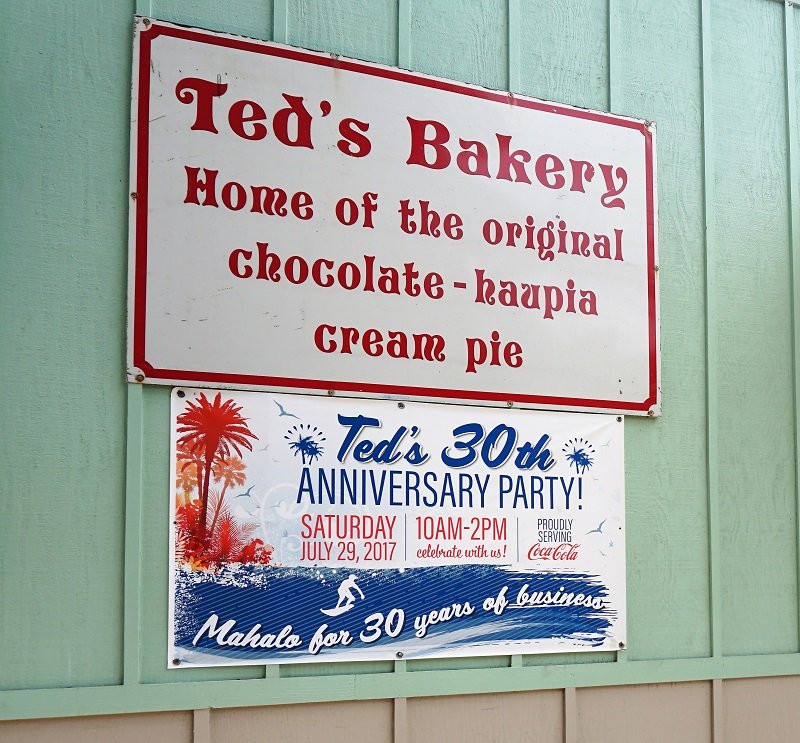 Along with Hawaiian shave ice and shrimp trucks being a must on the North Shore, so are Ted's Pies.  Flavors such as chocolate haupia (creamy coconut) and macadamia nut draw the crowds.  

But their tasty BBQ plate lunches are the real reason why the locals continue to return and keep those lines long! Grab some lunch for the beach and a memorable pie to take back to town!

Location:  59-024 Kamehameha Hwy, Haleiwa HI - Phone (808) 638-8207
Check out more at Tedsbakery.com
---
Kahuku Countryside
---
North Shore Shrimp Trucks
It's easy to find the popular North Shore Shrimp Trucks, as there are probably about a dozen of them spread throughout the North Shore of Oahu.  There are a handful of them that set up in Haleiwa and also in Kahuku, which is on the other side of the North Shore.
Folks will argue who serves up the best butter garlic shrimp, but I think it safe to say they are all good, and serve up a satisfying plate of tasty shrimp.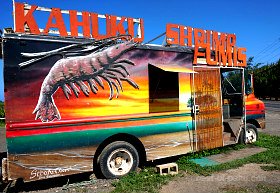 So make a point to stop when you see one of the colorful shrimp trucks, so you can fulfill your craving by snacking on a bucket of freshly caught shrimp.  The garlic shrimp is a crowd favorite.

---
Kahuku Food Trucks
---
Not to be confused with the shrimp trucks, but there is now a community area in Kahuku, where you'll find over a dozen or more local food trucks featuring an array of choices from signature burgers to Brazilian to Thai Food…oh, and garlic shrimp too!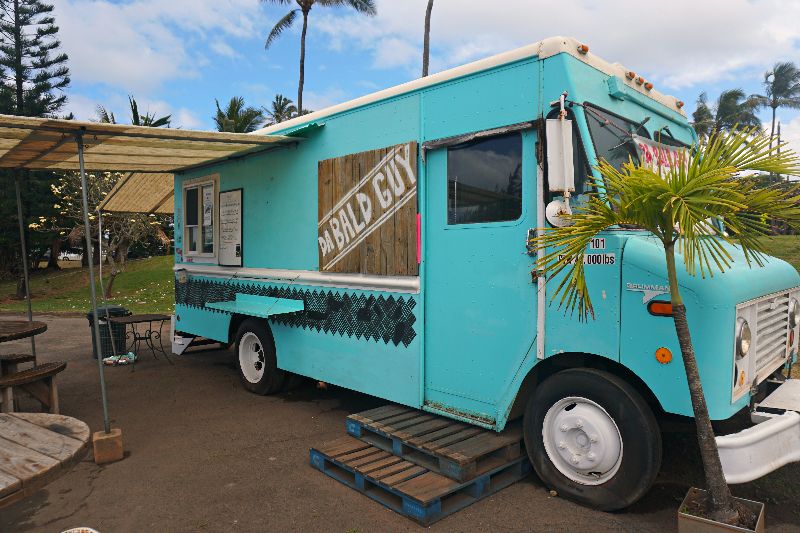 I love visiting these food trucks as they stand up to the quality of the North Shore restaurants.  There is some good innovation and creativity taking place in the food truck community.

I like the Da Bald Guys, who are known to make one the best burgers on the island.  Mike's Huli Huli Chicken is also a homerun choice if they are around barbecuing their chicken to perfection.

Aloha & Enjoy!

Subscribe to receive Best of Oahu updates on events, updates, and new articles.  It's the closest way to paradise while you are away...
We will never sell or spam your information, and we'll respect your email privacy.