Oahu Breweries - crafted to island perfection
Oahu breweries are making their presence known with appetizing food, lively environments and some memorable beers worthy of the pour. Hawaii has been experiencing a renaissance recently of breweries popping up all over the chain of Hawaiian islands, and Oahu has its share of winners that are brewing some tasty crafty beers. Explore well established breweries making a name for themselves including Kona Brewing Company and the Maui Brewing Company, along with smaller up and coming establishments like the Hana Koa Brewing Co. and Lanikai Brewing Co.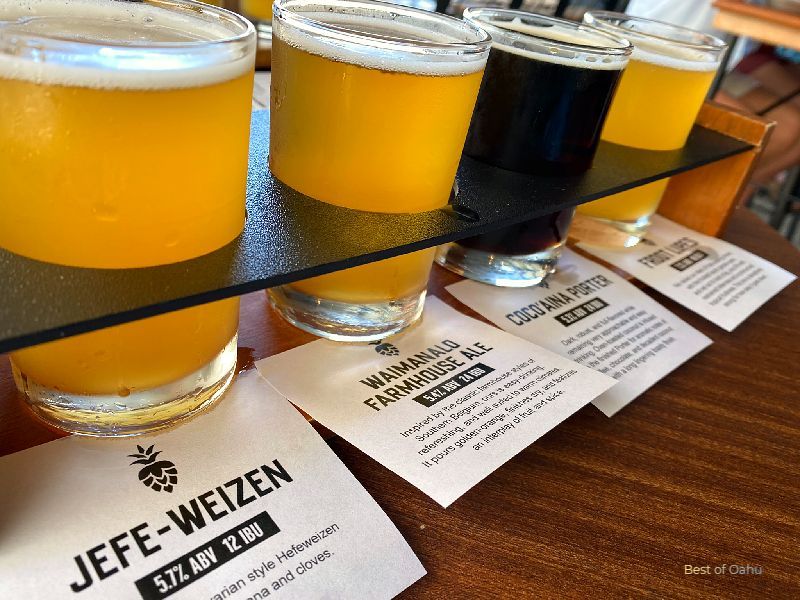 While California, Chicago and Oregon can all lay claim to being the states that produces the best beer in the US, in recent years Hawaii has developed a reputation for being the hottest new player on the American brewing scene.
This is particularly prevalent in Honolulu, where there has been a noticeable development of local craft breweries opening up over the past decade. And what a better island to make such a presence than on the "Gathering Place" island known as Oahu.
Incorporating a host of exotic, tropical ingredients like papaya, dragonfruit, passion fruit, and pineapple, a number of Oahu breweries are blazing a trail for the reputation of Hawaiian beer around the world.
While there are no bad establishments on the island, here are 7 best Oahu Breweries worth exploring.
---
7 Best Oahu Breweries to Visit
---
Waikiki Brewing Co.
---
The Waikiki Brewing Co. is a beer force to be reckoned with. Priding themselves on offering good times, great food and a fantastic range of award-winning craft beers, these guys have been wowing judges ever since they first launched in 2015.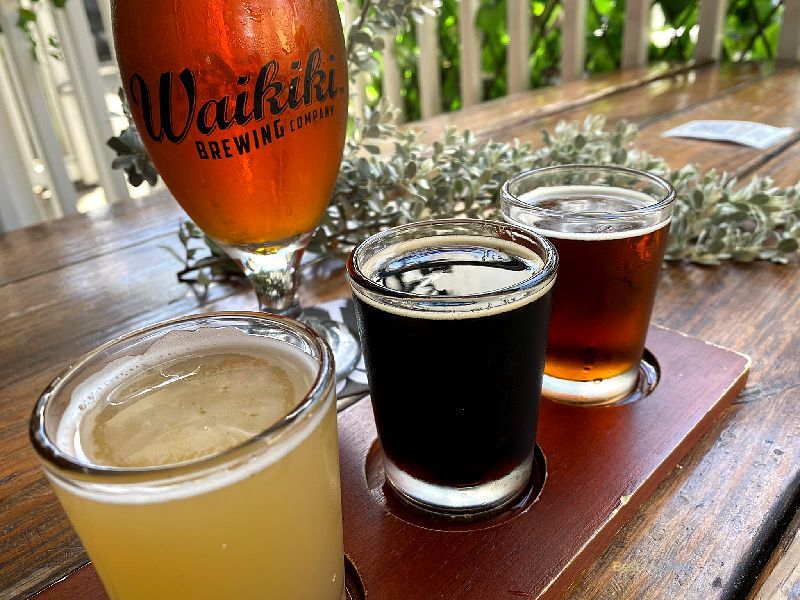 The Beer

They offer a wide range of beers including big coffee flavored Black Strap Molasses Porter ABV 6.1%, Jalapeno Mouth Red Ale ABV 5.5%, a dry-hoppy 808 Pale Ale ABV 6.3%, a tropical Skinny Jeans IPA ABV 6%, Hana Hou "one more time" Hefe brewed with orange peel and strawberry puree ABV 5.8%, and a 3-hops malty EEE PAH IPA ABV 7.2%.
Also check out their beer cocktails, where they have come up with inventive creations using their beer, including a chocolate rum Brew-Hoo Brown Ale, and a Jalepeno Bloody Mary Amber Ale Michlada.
Between them, they have been awarded gold, silver and bronze medal accolades at such prestigious events as the Denver International Beer Competition, Hawaii Craft Beer Awards, Great American Beer Festival and US Open Beer Championships. They were also bestowed the title of Best New Brewer in Hawaii 2015 by RateBeer.com.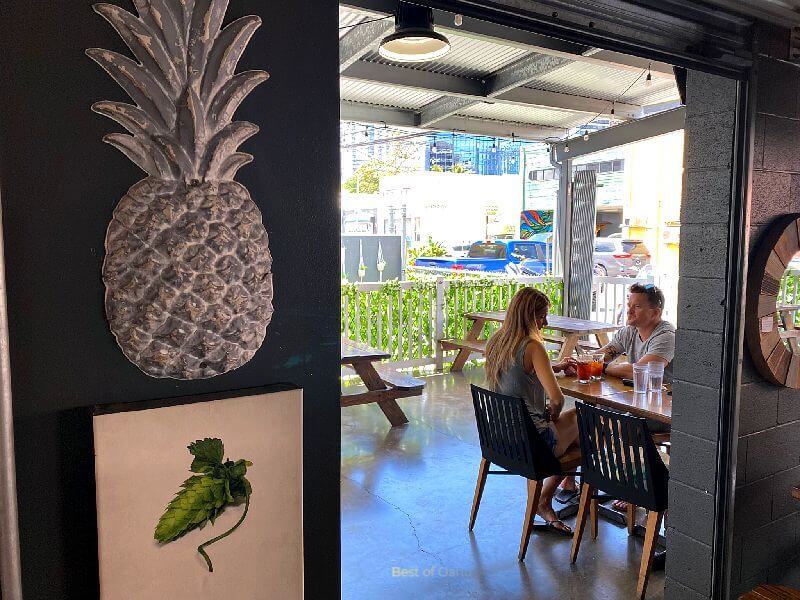 Located in Waikiki, their seven-barrel brewhouse can produce over 1100 barrels every year. They also have a new location in Kaka'ako, and Lahaina & Wailea if you're visiting Maui.  Presented within a family-friendly space that has a vibrant, buzzy atmosphere, all venues have a full bar and restaurant.

The Food
The Waikiki Brewing Co has a good pub fare menu featuring a range of burgers and pizzas. Their highlights are their smoked wings, ahi dip, superfood salad, Kalua pork and Portuguese sausage from the smoker, Pineapple Fried Rice with Coconut Shrimp, and a Prime French Dip Sandwich.
Locations - Waikiki Brew Pub 1945 Kalakaua Avenue, Waikiki - Phone (808) 946-6590
Hours - Mon - Thurs 10:30 AM to 11 PM, Fri & Sat 9 AM to 12 AM, Sun 8 AM to 11 PM
Kaka'ako Brew Pub 831 Queen Street Honolulu - Phone (808) 591-0387
Hours - Mon - Thurs 2 PM to 10 PM, Fri 11 AM to 11 PM, Sat 9:30 AM to 11 PM, Sun 8 AM to 10 PM
Daily Happy Hour 3 PM to 5 PM and 9 PM to Close  Learn more at Waikiki Brewing Co
---
Kona Brewing Co.
---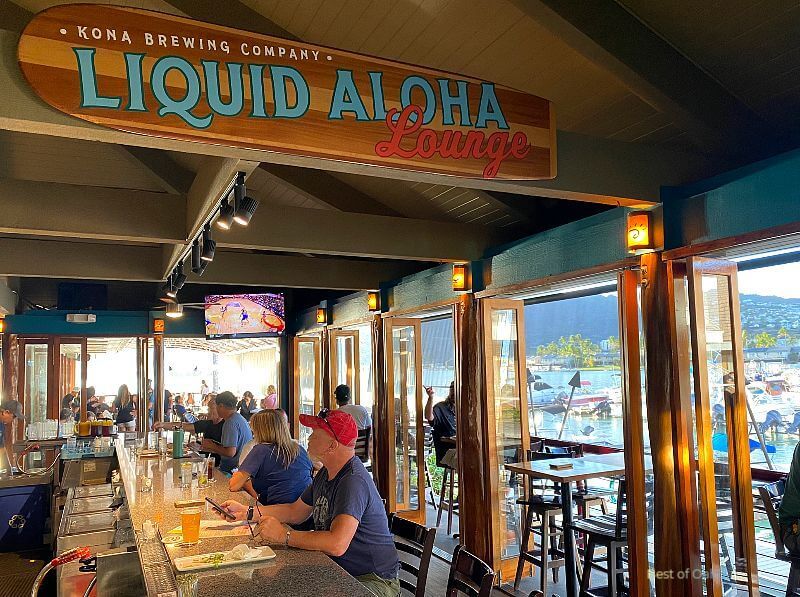 The Kona Brewing Company is quite the success story, as it became one of the first widely distributed beers outside of Hawaii. Launched in 1994, it now distributes its beer across 36 American states, as well as 10 different countries around the world including Australia, Brazil, Japan and Canada.
Boasting an admirable commitment to producing beers that are locally brewed in the most eco-friendly way possible, their beer is renowned for being refreshing, easy to drink and inspired by the magnificence of the islands.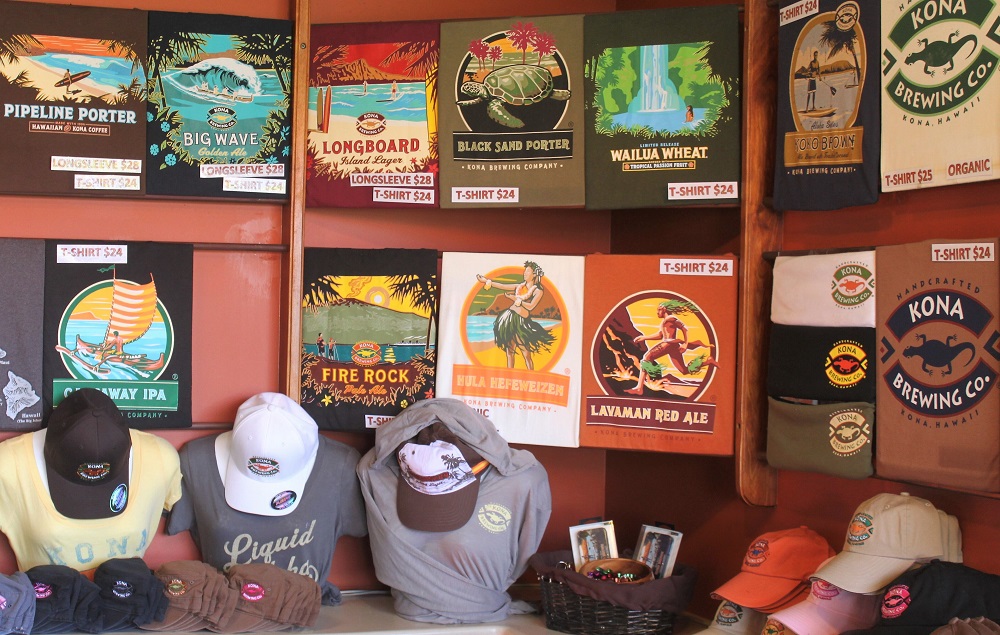 The Beer

Some of their most popular brands include Big Wave Golden Ale 4.4% ABV, Longboard Island Lager 4.6% ABV, and Hanalei Island IPA 4.5% ABV.
The original Kona Brewery is situated in Kailua-Kona. However, they also have a restaurant location in Oahu, in Hawaii Kai right on Koko Marina's docks. They have a fun open air environment to dine with family and friends.
You'll find some burgers, tasty shrimp tacos, hearty salads, and hand tossed pizzas on their menu.
Their beer poster-art logos are attractive, and they also have a nice range of merchandising featuring the designs including shirts hats, glasses and outdoor umbrellas.
Location:  7192 Kalanianole Highway, Hawaii Kai - Phone  (808) 396-5662
Open Daily 11am to 9 PM, except Sun – 2 PM to 9 PM - Happy Hour Mon - Fri 3 PM to 6 PM
Learn more at the Kona Brewing Co
---
Maui Brewing Co.
---
Oahu breweries that are making major waves in the American beer industry is the Maui Brewing Co.
Originating in Maui as the name suggest, they are now the largest craft brewery in Hawaii, with their Kihei Tasting Room offering fabulous brewery tours & beer tastings.  Today they have 2 Oahu breweries that you can visit.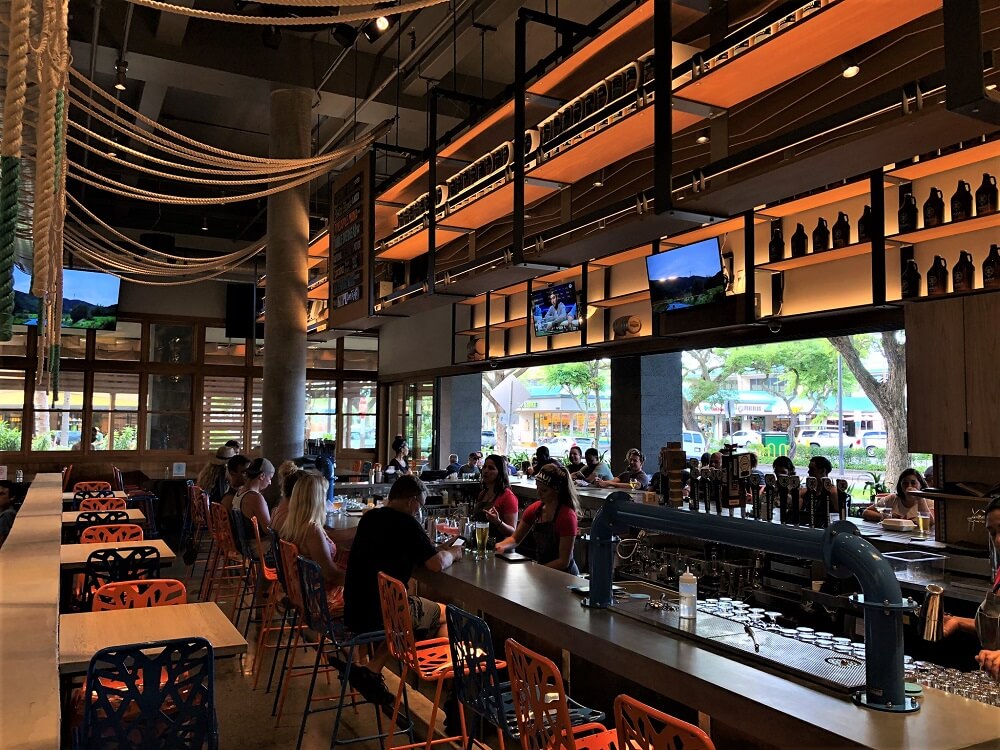 The Beers

On Oahu, they have four featured brewery restaurants that showcase their terrific range of beers, which include labels like Bikini Blonde Lager 4.8% ABV, Coconut Hiwa Porter 6.0% ABV, Pineapple Mana Wheat 5.5% ABV, and Big Swell IPA 6.8% ABV.
All of these have been created with skill, passion and immense island pride and IBU range from between 21 for a wheat to 70 on a double IPA.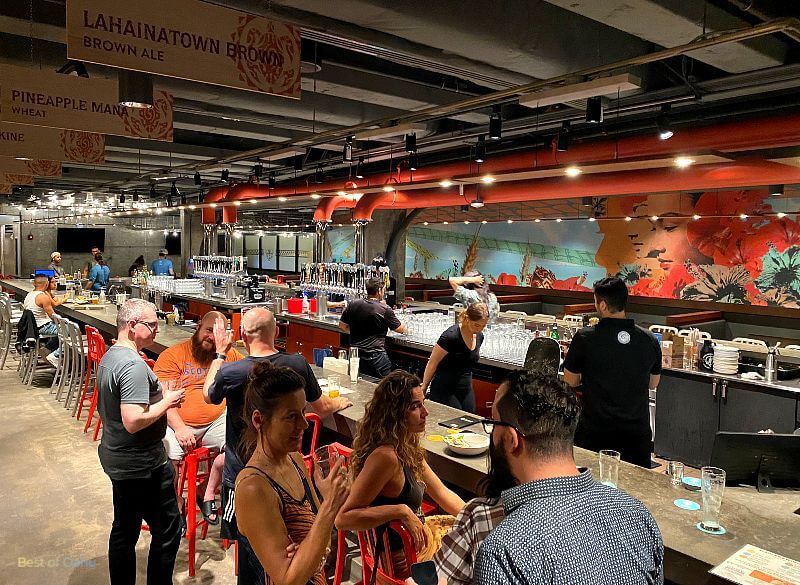 One of their most popular roof top venues can be found at the Waikiki Beachcomber by Outrigger. This family-friendly restaurant boasts a fantastic handcrafted food menu which you can enjoy in a relaxed, open-air setting, with cool tropical vibes.
The Food
The Maui Brewing Co menu is worth checking out. Their jalapeno bacon burger is right up there in terms of taste with anything you can get on Oahu, while their Baja-style fried fish tacos will have you licking your lips with delight.
As well as their beers, they also produce delicious sodas like ginger beer and root beer that are GMO-free and have no artificial color, flavours or high fructose corn syrup in them.
Locations:  Waikiki - 2300 Kalākaua Ave, Waikiki (808) 843-2739
Kailua - 573 Kailua Rd Suite 105, Kailua - Phone (808) 518-2739
Open Daily 11:30 AM to 10 PM, except Closing 11 PM Fri & Sat
Learn more at the Maui Brewing Co.
---
Hana Koa Brewing Co.
---
The Kaka'ako district now features a handful of Oahu breweries, including the Hana Koa Brewing Company, which is an impressive full production brewery that produces all of their craft beers, which you'll find on tap.
Priding themselves on pushing the boundaries of traditional brewing, their beers are noted for their quirky names and interesting ingredients. They also have a social conscience behind them too, with a proportion of profits for each one being donated to specific causes.
The Beers - For instance, their Electric Twilit Maze is a triple hazy IPA which is made with peach puree. It has a 10.6% ABV, and a percentage of sales from it go to findyouranchorbox, a non-profit grassroots movement that strives to prevent suicide and generate awareness and education about it.  Likewise, 10% of sales from their 6.5% ABV Hazy IPA Chee Hoo Chongers beer goes to METAvivor.
Hana Koa has a long list of crafted beers with unique flavors, like their Dream Machine Raspberry IPA that is described as a raspberry vanilla milkshake. Also check out their Electric Twilit Maze Triple Hazy IPA with Peach Puree 10.6 AVB.  They also feature some interesting sours worth tasting, and a popular P.O.G Hard Kampuchea 6% AVB
The Menu - Come hungry as they feature a great tasty menu beyond pub food.  Appetizers to share like Nakamura's Marlin Toast and Spicy Pork Belly Sliders.  Great entrées too including a Brisket Cubano, Spicy Tofu Lettuce Wraps, Vietnamese Salad with Lemongrass Chicken, Korean Style BBQ Boneless Short Ribs, and a line of tempting burgers to choose from.
Their venue is renowned for being a fun hip midsize space with an inviting modern decor and great vibe. It is a very popular place and is usually busy with patrons.  So don't be surprised if you have to wait for a table.
Location - 962 Kawaiaha'o St, Honolulu, (808) 591-2337
Hours -  Tue – Thurs 12 PM to 10 PM, Fri & Sat 11 AM to 11 PM, Sun 10 AM to 9 PM, and Closed on Mondays  Live Music on Sundays 5 PM to 8 PM
Learn more at the Hana Koa Brewing Co.
---
Aloha Beer Co.
---
The Aloha Beer Company is an independent brewery that produces a fantastic range of locally brewed craft beer.
Located on Queen Street, in the heart of Oahu's historic brewery district, they claim to be Honolulu's most dog-friendly brewery, which is reason enough to go there if you have a four-legged friend.  A chilled place to hangout, the brewery presents a fabulous range of original beers that are freshly brewed on-site at the kaka'ako facility.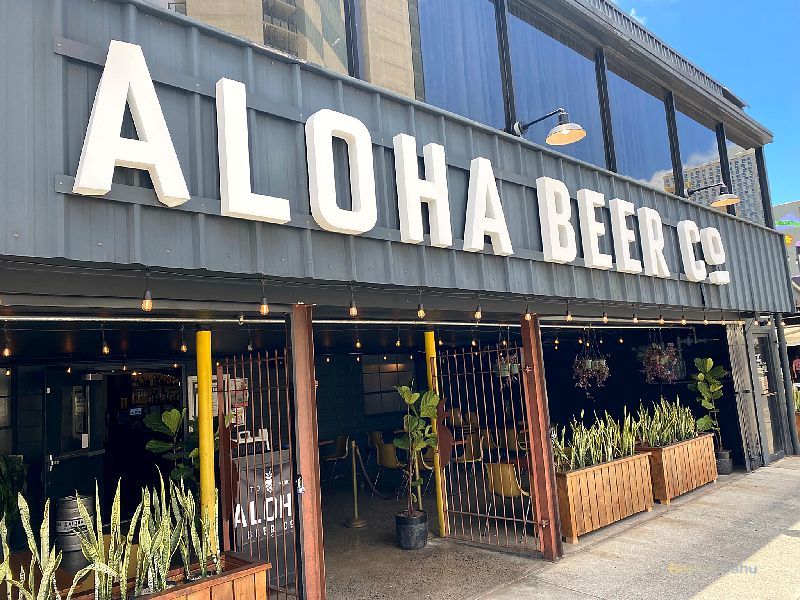 The Beer
One of their best-loved creations is the Aloha Blonde, which is a light, straw colored 4.8% ABV beer that is very refreshing. Froot Lupes is a juicy IPA with a bit of a kick, thanks to its 7.3% ABV, or their ALOHA HEFEWEIZEN with hints of banana ABV 5.5%, and maybe order a COCO'AINA PORTER with toasted coconut for dessert.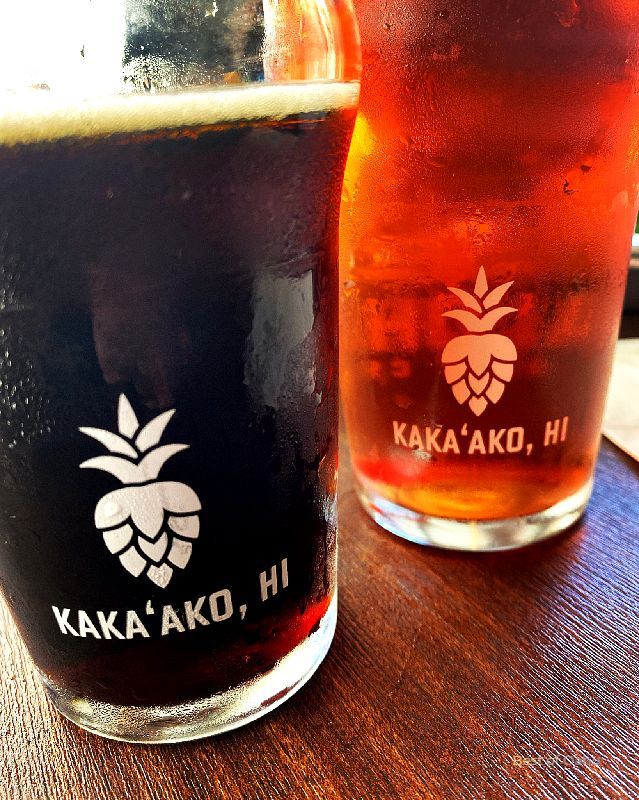 The Food

As well as their beers, they also dish up some killer cocktails and classic pub fare like waffle fries, tapas and an excellent range of pizzas which you can enjoy in their Waikiki beer garden.
Their pizza are fun to share and they have beyond a handful to choose from including a BBQ Roasted Chicken Pizza and a Pineapple Canadian Bacon Hawaiian Pizza that is of course particularly good. While they even offer sides of chicken for your dog.
Locations:
2155 Kalakaua Ave, Waikiki - Phone (808) 744-2011 - Open Tue – Sun 11 AM to 9 PM except closing 10 PM on Fri & Sat
700 Queen St, Honolulu - Phone (808) 544-1605 - Open Sun 10 AM to 10 PM, closing 11 PM on Fri & Sat
220 S King St, Honolulu - Phone (808) 200-5353 - Open Mon – Fri 10 AM to 7 PM
Happy Hour Thursday thru Sunday 2:30 PM to 5:30 PM   Learn more at Aloha Beer Co.
---
Honolulu Beerworks
---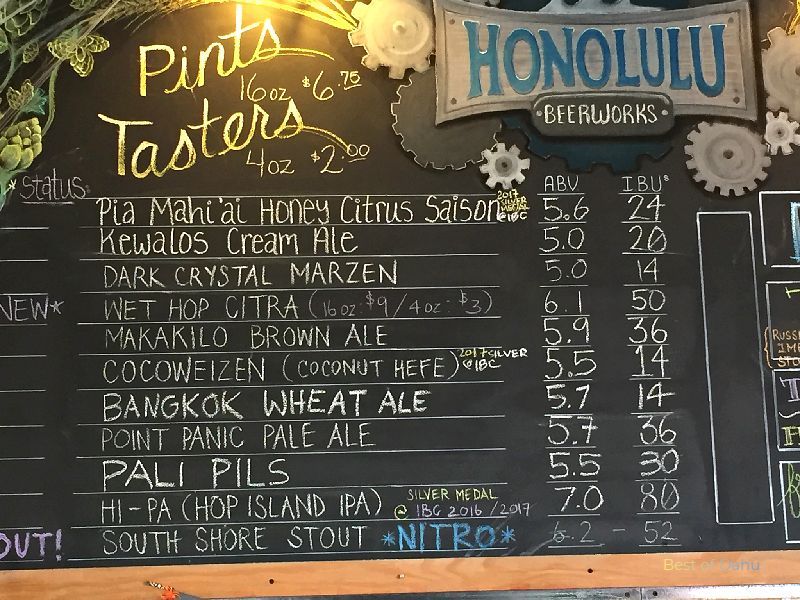 The Honolulu Beerworks is one of the coolest microbreweries in the heart of Kaka'ako, which happens to be one of the hippest neighborhoods in Honolulu.
Run by owner Geoffrey Seideman, they offer about 10 core beers on tap, and a large selection of limited edition beers worth checking out.
The Beers

They have a series of ales including an herbal hoppy Kewalo Cream Ale 5% ABV, a slightly malty-lime El Guapo Golden Ale 5.8% ABV, a tangerine-pineapple hue Hop Island IPA ABV 7.5. They feature red ales and pale ales as well.
I always like trying their limited additions. You might stumble upon a Chocolate Stout with hints of Cinnamon, Nutmeg, Habanero, or a full bodied "No Shoyu Needed" Rice Lager, or a smokey Hot Scotch Ale.

The Food
This brewery is also known for a good family-friendly vibe with a delicious menu of island style and classic pub food. Make sure to check out their Beermade Mac n Cheese made a few different ways. A Smoke'm Beef Dip Sandwich. Grilled Paninis, an Asian Persusian Salad, baguette slices with ahi dip, and a Bavarian soft pretzels that are accompanied by an exquisite beer cheese fondue.
Location - 328 Cooke St, Honolulu – Phone (808) 589-2337
Open Mon – Sat 12 PM to 10 PM and closing 12 PM on Fri & Sat
Happy Hour 3 PM to 5 PM    Learn more at Honolulu Beerworks
---
Party Bike Bar Tour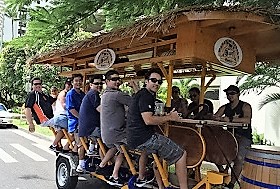 Pedal your way to the bars!  Sign up a dozen party goers in your group pedal away on a 15 seater party bike.  Your pub bike crawl takes place in the new Kaka'ako area, just outside Waikiki, visiting 3 popular local bars, including popular spots like Hibiscus Club and Honolulu Beerworks.  

The joint bike ride itself is worth the experience itself!  Sign up and get ready for a memorable experience!  Reserve your spot!

---
Lanikai Brewing Co.
---
Located in Kailua Town, this little brewery has been growing by leaps and bounds. The Lanikai Brewing Company has been turning heads with there crafted beers and sours, and quite notable in the list of best Oahu breweries.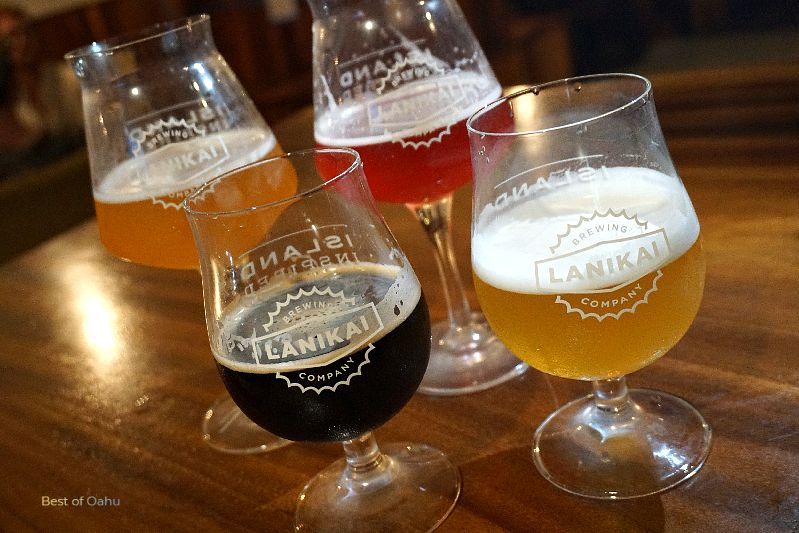 Known for their creativity and innovation, this accomplished craft beer producer makes all of its labels in Hawaii, using local, exotic and rare ingredients other manufacturers wouldn't think of including in their brewing process.  This includes the likes of yuzu, mamaki, pikake, white tea, mushrooms, longan, tangor, guava, turmeric and milo.

It is a strategy that has not gone unnoticed by some of the industry's most astute judges. Their 6.5% ABV Pillbox Porter, which is made from both Tahitian and Hawaiian vanilla, has won the gold medal at the 2021 Hawaii Craft Beer Awards in the 'Best Porter' category.
Their flagship Cali' Creamin' is also much loved. Taking the form of a pale color brew with a medium body, white head and low bitterness that hits all the right notes when served ice cold.
Their Brew Hefe-ner (Hefeweizen) 5.5% ABV with toasted Macadamia Nut, and their popular Moke's Imperial IPA 8.1% ABV are also worth a 4 oz sample or more.

While their Tap and Barrel tasting room is situated in Kailua, the Lanikai Brewing Company has a notable presence in Oahu, as well as Maui, Kauai and Big Island. Their beers are also distributed to Australia, Japan and the Pacific Northwest too.
Note, the Lanikai Brewing Company does not have a full kitchen inside, but they have a commercial size pizza oven outside, and serving up their delicious creations to a hungry crowd inside.
Located 167 Hamakua Dr, Kailua
Opened Daily 12 PM to 10 PM, and opens at 11 AM on Sat & Sun
Learn more at Lanikai Brewing Co
---
Aloha & Enjoy!

Subscribe to receive Best of Oahu updates on events, updates, and new articles.  It's the closest way to paradise while you are away...
We will never sell or spam your information, and we'll respect your email privacy.