Best Honolulu Restaurants
The best Honolulu restaurants, outside of Waikiki, will leave you in awe, with satisfied smiles, and cravings for more!  Here's a selection for all budgets and tastes from heavy hitters like Alan Wong's and Roy's Restaurant to local hole-in-the-wall places like Ethel's, and foodie favorites like Shokudo.

---
5 Best Honolulu Restaurants  $$$
---
Top chefs, elegant settings, culinary creations at its best, and lots of WOW factor!  Make a reservation, get dressed up, and set out on the town for Oahu's best Honolulu restaurants!

---
1. Hoku's Kahala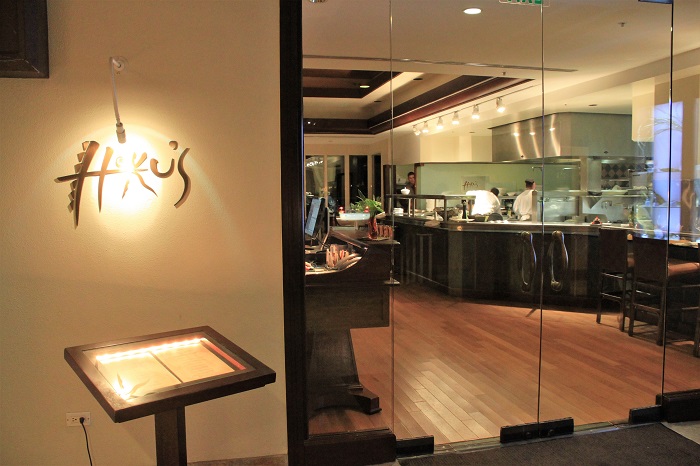 Located in the elegant Kahala Hotel, which is a treat in itself to visit!
The experience starts as you enter the open air atrium of the hotel.
Hoku's is a romantic spot to dine on fine island cuisine.

Pan Seared Halibut w/ an Avocado Crust, Salt Crusted Rack of Lamb, and Maine Lobster Tempura should get you excited for the type of menu you will experience here.  

$$ Lunch & Dinner, Wed - Sun 5:30pm to 10pm

Location:  Kahala Hotel & Resort, 5000 Kahala Ave, Honolulu, HI
Phone (808) 739-8760

Check out more at www.kahalaresort.com
---
2. Roy's Restaurant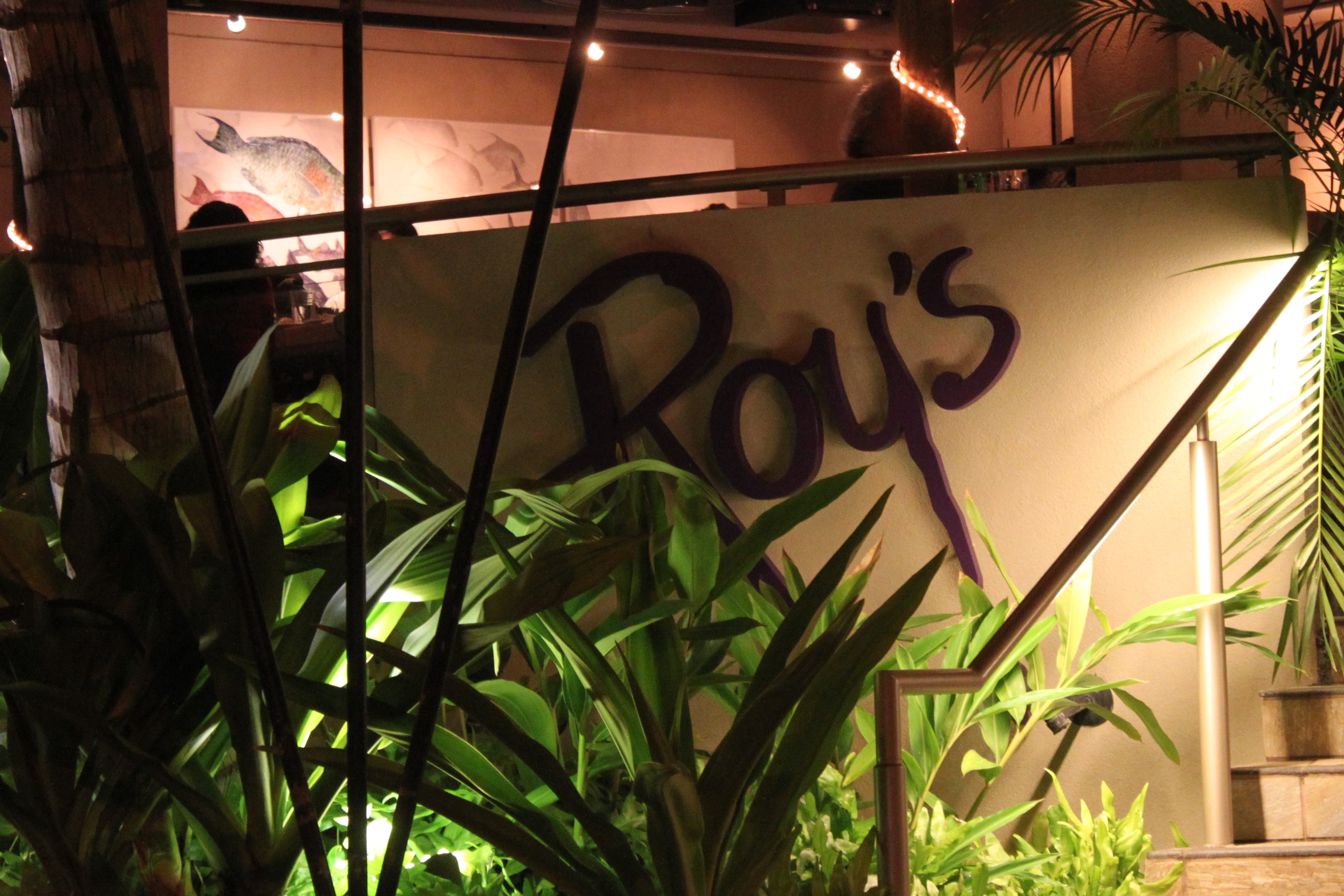 Hawaiian fusion creations at it's best!  Roy Yamaguchi started his vision in 1988 with his first Oahu restaurant that still exists today in Hawaii Kai.
Today there are 4 of these Roy's Honolulu restaurants around the island, including one located in Waikiki and the North Shore.

Dream of tender braised beef short ribs, Yamaguchi sushi, fresh Hawaiian catch of the day, and a signature hot chocolate souffle for desert!
$$$ Dinner only, Daily 5 to 9pm

Location:  6600 Kalanianaole Hwy, Hawaii Kai, HI - Phone (808) 396-7697
Check out more at Roy'sRestaurant.com
---
Cook like popular local chefs like Sam Choy and Roy Yamaguchi with these cook books
---
3. Chef Chai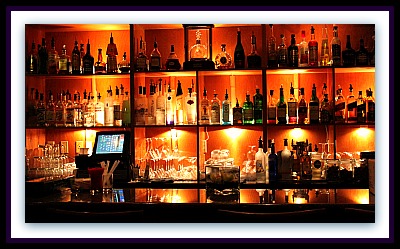 Superseding his former successful restaurant, Chai Island Bistro in the Aloha Tower Marketplace, Chef Chai has done it again, creating another special Asian fusion menu in an innovative hip restaurant.

"Healthy" is the focus this go around...butter is not used for cooking here!

The menu presents tempting choices such as Apple Kimchi Summer Rolls, Alaskan King Crab Cakes, Deconstructed Scallop Pot Pie with Lobster Reduction, Grilled Fresh Mahi Mahi with Thai Red Curry Sauce, and a Fresh Baked Pineapple Macadamia Nut Tart Ala Mode with Vanilla Ice-cream for dessert -Yum!

$$$ Dinner only, Daily 4 to 11pm

Location:  1009 Kapiolani Blvd. Honolulu - Phone (808) 585-0011
Check out more at www.ChefChai.com
---
4. Merriman's Honolulu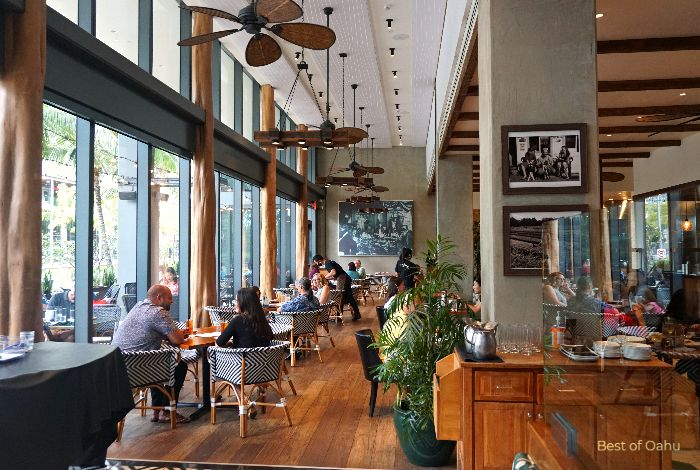 Peter Merriman moved to Hawaii in the early '80s as a cook for Mauna Lani Bay Hotel on the Big Island.  He quickly realized an opportunity to work with the farmers to grow fresh produce & herbs, and create the first farm-to-table fine dine island experiences for guests looking for more.

Merriman's joins the lineup of the best Honolulu restaurants in the Kaka'ako area.  You really can't go wrong here whether you choose to indulge in their melt-in-the-mouth Waygu Umami Burger with garlic saute mushrooms, gruyere cheese and truffle oil, or lean towards their fresh catch with a macadamia nut crust.
Their freshly grown salads are not to be missed, along with some fun appetizers like a Hapa Poke, Oysters in a Half Shell, "Oahu Shrimp Truck" with lots of garlic and ginger.
Peter Merriman even partners with local cattle ranches to get the best cut of meat to grill braise.  It doesn't exactly sound Hawaiian ordering their Cabernet Braised Short Rib with Mushroom Risotto, but the patrons are smiling a big mahalo in the end!
$$$ Open Daily 11 AM to 9 PM  Happy Hour 3 PM to 4 PM – Island Style Cocktails and Appetizers
1108 Auahi Street, Honolulu – Phone 808-215-0022
---
5. Kapa Hale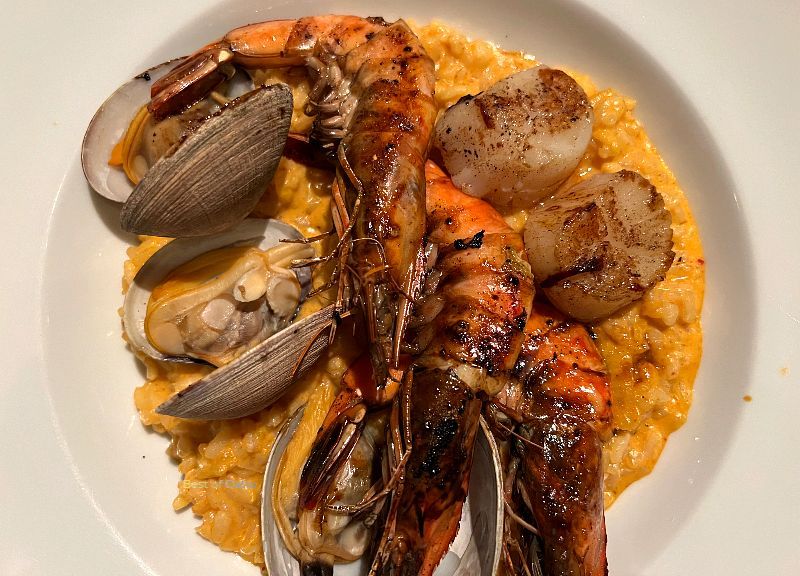 Born and raised in Hawaii, Chef Keaka has worked in some of the most prestigious Honolulu Restaurants like Alan Wong's & Pig & the Lady, and has now launched his own successful restaurant called Kapa Hale. So successful it was voted the best 2021 Restaurant on Oahu.
Kapa Hale (Working House) is a fusion of flavors from different cultures and fresh ingredients. The menu is always changing, but you're almost guaranteed to find something you'll like.
Discover tempting entrees like Hawaiian Macadamia Nut Beef Tartar, Shiitake Mushroom Risotto, and Black Garlic Grilled Octopus.

Complementing sides like Roasted Caulafower w/ Grapfruit & an Anchovy Chili Garlic sauce, Grilled Corn Bread with Lilikoi & Honey. They are open for lunch and feature some comfort items including Fried Chicken, a Hawaiian Cubano, and a delicious Kauai Shrimp Scampi.

If you're around for the weekend, beat the crowds for their Smoked Pork Benedict, a well put together Potato Patty Vegan Loco Moco, Chicken & Waffles, and a mouth watering Kalua Pork Croque Wahine.
Mon & Tue 5 PM to 9 PM, Wed - Fri 10:30 AM to 9 PM (9:30 PM on Fri), Sat & Sun 9 AM to 9 PM
Location:  4614 Kilauea Ave Suite 102, Kahala - Phone (808) 888-2060
Check out more at Kapa Hale
---
Honolulu Food Tour - Eat Like a Local!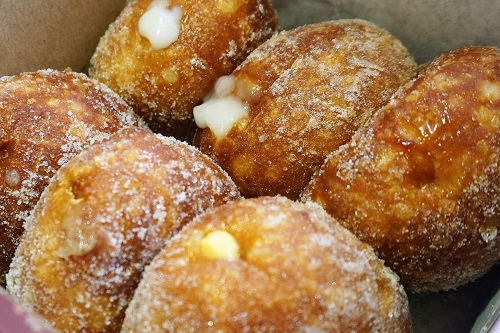 Spend 4 to 5 hours touring hole-in-the-wall eateries located just beyond  Waikiki.

Visit some of Hawaii's gems, and learn a little culinary history, while exploring the different cultures that make up our island. Taste local favorites like Spam Musubi, Ube, Poke, Malasadas, and island plate lunch hits!

These are small-group tours, to help keep the experience personalized, so make sure to sign up early if interested.  Book an Aloha Food Plate Tour Now!

---
6 Best Honolulu Restaurants  $$
---
This is the next tier up in price and probably my favorite section of the best Honolulu restaurants!  You get the experience of dining like a rock star without breaking the wallet!

---
1. Moku Kitchen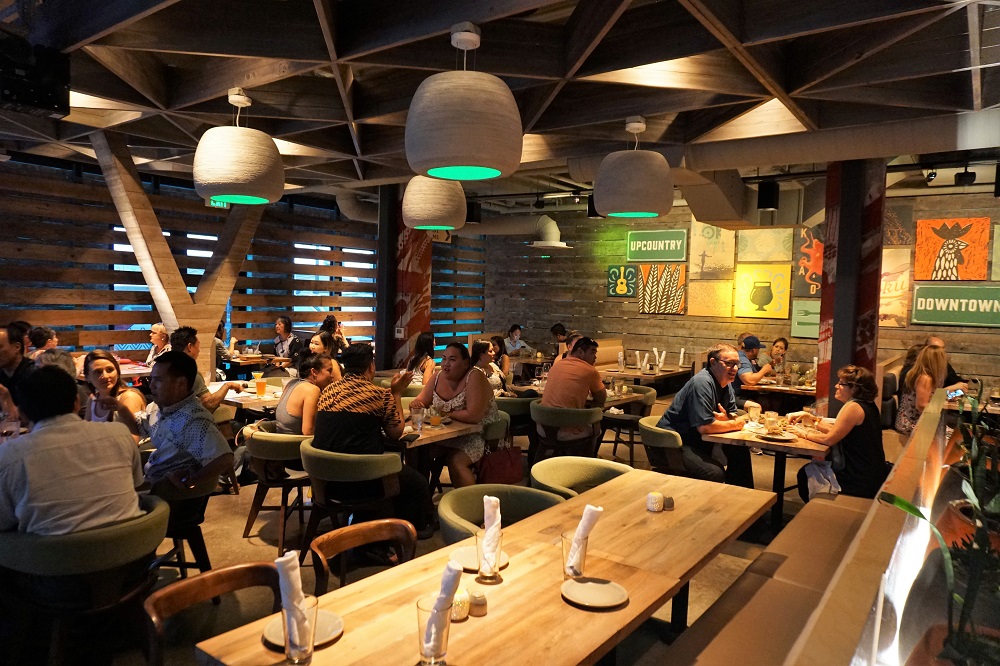 Kaka'ako is known for being the new hip, artsy, and fun area to hangout on Oahu…and Moku Kitchen resembles all these characteristics and more.  World renowned chef Peter Merriman who also created Monkeypod Kitchen in Ko'olina, has now created this popular eatery located in the recently developed open air center called SALT.
Don't miss out on ordering the signature Monkeypod Mai Tai's with Lahaina Rum and a Honey-Lilikoi Foam on top!  Moku's Oven-Roasted Wings are better than any deep fried versions, and their Hand Tossed Pizzas, and Szechuan Stir-Fry Green Beans with Mac Nuts are a treat.  For bigger appetites, order and go to town on their Rotisserie Roasted Prime Rib or Ginger Glazed Roasted Duck.
It tends to get busy with a long wait if you don't have a reservation, but you can be rewarded with some great bargains if you show up for happy hour!
open daily for lunch and dinner - 11 AM to 11 PM

660 Ala Moana Blvd, Honolulu, HI 96813 (808) 591-6658
Check out more at MokuKitchen.com
---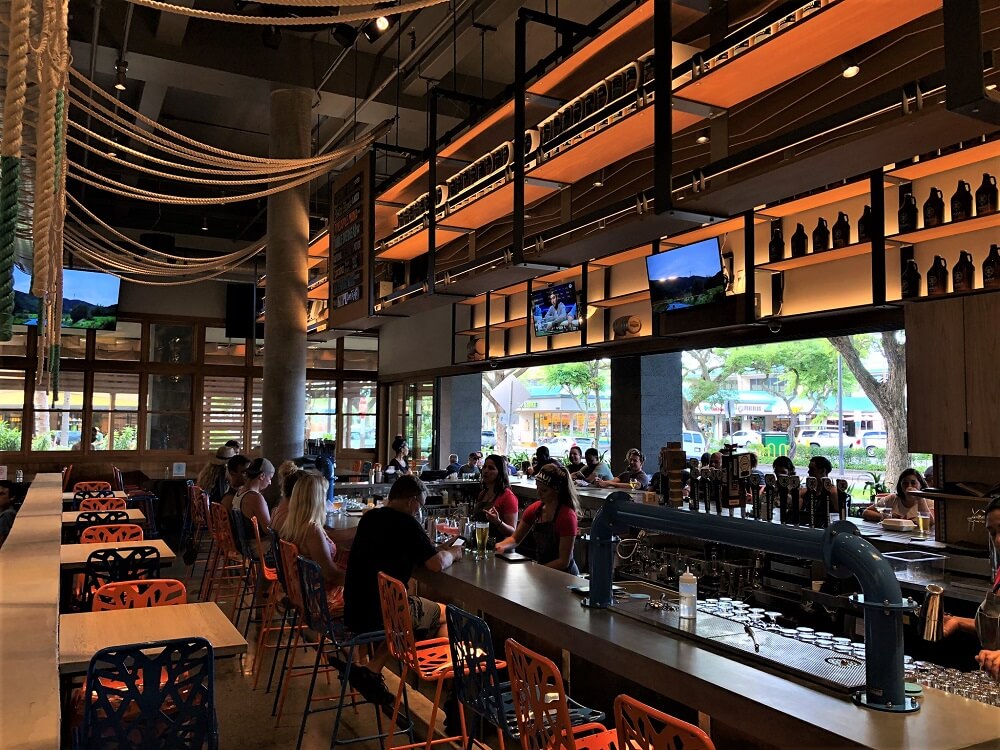 Make sure to check out other great eateries around the island, including some great Oahu restaurants to be discovered in Kailua, Hawaii Kai, Kakaako, and the North Shore...
---
2. The Surfing Pig
Smokey Cheesy Mac w/ Porchetta, Portuguese Sausage Loco Moco, Pan Seared Ahi w/ Sriracha Fried Rice, Truffle Butter Rib Eye, and lots more tempting choices at this popular Waialae eatery. 
The Surfing Pig is the newest hip creation from the Kono plate lunch chain restaurants.  
They have taken some of the best Honolulu Restaurants island comfort foods, and added their own fusion twists to make everything signature on the menu and memorable.
The atmosphere has lots of fun elements that will draw you in, and adding to the magic is the lively bar and handcrafted cocktails…a good reason to show up for their 4 to 6 PM happy hour!
The Smoked "Rosemary Mezcal Margarita" and Smoking Pig Old Fashioned w/ Crispy Bacon won't disappoint!
Located at 3605 Waialae Ave, Waialae – Phone (808) 744-1992
Open Daily 4 PM to 9:39 PM, Closes 10:30 PM on Fri & Sat
Learn more – The Surfing Pig Hawaii
---
3. Mud Hen Water
Fitting right in with the best Honolulu Restaurants is all about the experience…sampling many new flavors and creations.  It's a great eatery to bring friends as many of the dishes can be shared.

There is a good mix of vegetarian dishes that are highlights on the menu including a Beet Poke that will have you questioning whether or not its ahi tuna.  Their Szechuan Lotus Root and Pohole fern shoot & okra dishes are also sought after.
The Tempura Fish Sandwich with olive-ume tarter sauce is absolutely delicious and Mud Hen Water's most popular dish.
Also consider their Lemongrass Sausage & Clams w/ coconut milk for a table pleaser.  Hawaiian food lovers with like their twist on Pork Lau Lau and Chicken Long Rice Croquette w/ Curry.
Make a reservation or it can be tough to get in!
Hours – Mon – Sat 5 PM to 8:30 PM, Sun 9:30AM–2PM, 5–8:30PM
3452 Waialae Ave, Honolulu - Phone  (808) 737-6000
Learn more at Mud Hen Water
---
4. Shokudo Japanese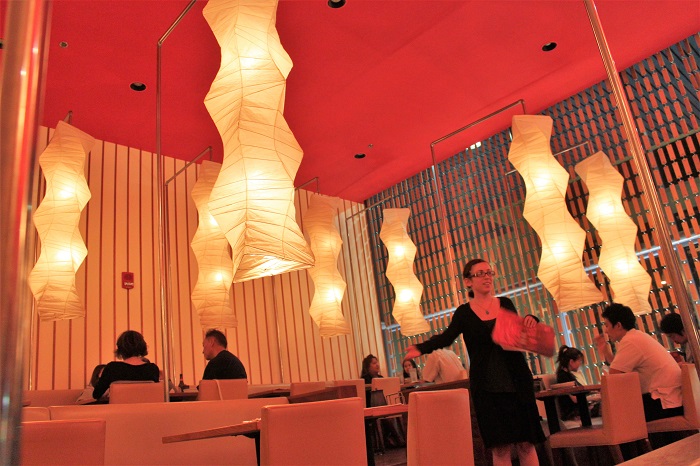 This Japanese fusion restaurant deserves all the island fame with all the incredible creations that come out of the kitchen.  The menu descriptions do no justice for what is actually presented at the table. 

Don't miss Shokudo's signature Agedashi Tofu- melt-in-the-mouth and cooked to perfection, Lobster Dynamite, a rich creamy dish that that just can't last long enough, Spicy Miso Ramen – topped off with a good spoonful of fried garlic ( this dish rocks!),  and many more best-of-the-best small plate dishes to share!

$ Happy Hour, $$ Lunch & Dinner, Daily 11:30am to 1am...2am Fri & Sat

Location:  1585 Kapiolani Blvd, Honolulu, HI Phone (808) 941-3701
Check out more at ShokudoJapanese.com
---
5. Doraku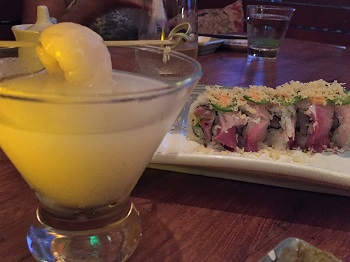 When it comes to the art of sushi creations, Doraku steps up to the plate! This is the spot to post some pictures of your amazing looking dishes on Facebook, and make all your friends jealous!

There is much tradition that takes place in the sushi preparation at Doraku, with a Latin inspiration.  You'll find such fusions in some of their specialty rolls and small dishes!

This best Honolulu Restaurant is also known for having the largest displays of sake which goes hand in hand with the food!
Doraku is modeled after a Japanese gastropub, and meant to be a gather place for friends sharing food.
There are 2 locations:

Kaka'ako Location (near Ala Moana Center) - $$ - Open Daily for Lunch 11am to 4pm, Dinner 4pm to 12am +  Location:  1009 Ala Moana Blvd, Honolulu - phone (808) 591-0101

Waikiki Location - Daily lunch 12pm to 5pm, Dinner 5pm to 10pm +
Location:  2233 Kalakaua Ave, Suite 304, Honolulu - phone (808) 922-3323

Discover more at www.dorakusushi.com

---
6. Gyu-Kaku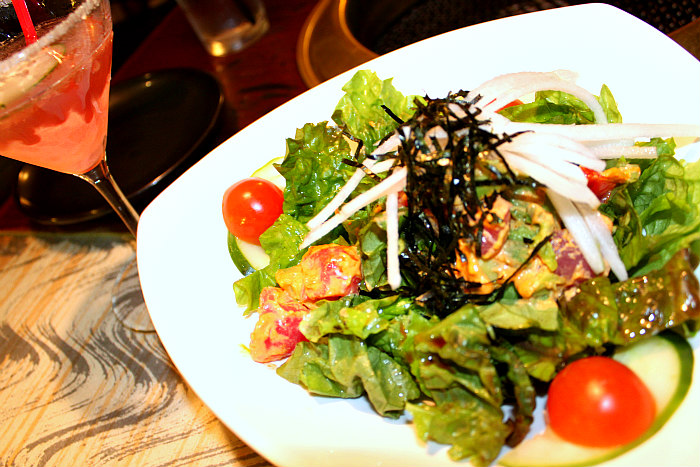 Japanese BBQ grilled to order at your table by you!  This can be a fun spot for a group celebration, or just a small gathering of friends ready to share tasty, grilled selections.

Gyu-Kaku staff will bring thinly sliced meats and special marinades such as miso, garlic, and teriyaki, that are ready to grill at your table.
Don't worry if you're not a cook…just remember to flip over the meats every 30 seconds to a couple of minutes!  Top off your barbecued meats with dipping sauces, such as Sweet & Spicy, Ponzu, and Lemon.
Arrive before 6pm or after 10pm for their discounted menu, which goes from fair pricing to cheap.  $$ Lunch & Dinner, Mon - Sun 11:30am to 11:30pm
Locations:
307 Lewers St., Waikiki HI - Phone (808) 926 2989
1221 Kapiolani Blvd, Honolulu HI - Phone (808) 589-2989

Check out more at Gyu-Kaku.com
---
Make you own chocolate bar experience!  Sign up for fun an hour workshop in Chinatown or Kailua, learning about the chocolate making process, and create your own unique bar using spices and/or fun ingredients.  Reserve your spot now...

---
5 Best Honolulu Restaurants  $
---
1. Helena's Hawaiian Food
Helena is a well-loved local Hawaiian restaurant by both locals and visitors from all around. The interior of their restaurant is a bit plain, but the richness is found in the food.
This is the spot if you only have one opportunity to get your Hawaiian meal with all the sides and fixings. Imu cooked Kalua Pig, Pork Chicken or Squid Laulau, Beef Stew, Chicken Long Rice, Lomi Salmon, and Haupia are your classics to choose from.
They also feature delicious Beef Stew, Pipilaula Short Ribs, Poke, Opihi, Fried Ahi and Fried Butterfish Collar. You can order ala carte or they also have some combinations to choose from…most likely it will be a combination of both.

It's family style and affordable, so bring the whole fam and try everything! Plan accordingly as they are not only popular but also only open 4 days of the week and not weekends.
Open Tue - Fri 10 AM to 7:30 PM

1240 N School St, Honolulu / Phone: 808-845-8044
Learn more - Helena's Hawaiian Food
---
2. 1938 Indochine
Step into a hip Kaka'ako Southeast Asian scene and sample many street food favorites with your friends.
Whether you choose to dine in their swanky French Colonial indoor setting with an impressive tall standing bar, or grab one of their front outdoor tables where all the action is, you're in for a fun experience.

Highlights of the menu are influences of Vietnamese and Asian fusion popular dishes.  Lemongrass Pork Ribs, Le Citronelle Fried Chicken, Clay Pot Steamed Clams with a spicy ginger dipping sauce, and Thai Ribeye Brochette Skewers to whet your appetite!  It's easy to over order here with lots of great options!

1938 Indochine has an extensive Bourbon and Scotch selections behind the bar, along with some well-crafted cocktails worth taking a look at.
602 Ala Moana Blvd. Honolulu – Phone 808-545-7777
Open Daily 4 PM to 10 PM and Sunday Brunch 11 AM to 3 PM – Happy Hour M-F 4 PM to 6 PM
---
3. Highway Inn
Wondering where to get your Hawaiian food fix amongst the best Honolulu restaurants?  
Highway Inn has been in business since 1947, but has taken on a refreshed look as it opened up in the new Kakaako SALT center along with Moku, Bevy, and other new hip eateries.
You can order a Super Combo Plate and layer on all your Hawaiian favorites like Kalua Pig, Chichen Long Rice, Lomi Salmon, Lu'au, and of course a bowl full of Poi!  Steer to their Hawaii fusion side and try their Hawaiian Style Nachos with kalua pork, Edamame Poke with a smoked aioli or delicious Flame Broiled Pulehu Ribs.
Stop by for breakfast and be treated to Poi Pancakes with Macadamia Nuts and a Creamy Haupia (coconut) Sauce.  Consider trying their Smoked Loco Moco as well with bell peppers & onions.
Mon–Thurs 8:30 am – 8:30 pm, Fri–Sat 8:30 am – 9:00 pm, Sun 9:00 am – 2:30 pm

680 Ala Moana Blvd., #105 Honolulu, Hawai'i 96813 / Phone: 808-954-4955
Learn more - MyHighwayInn.com
4. Piggy Smalls

If you've been to the Pig & the Lady, then you'll be a fan of their sister restaurant Piggy Smalls that opened up in the Kaka'ako Ward Centre area.
It's a simplified menu full of comfort foods that are delicious and worth checking out!
They mainly feature banh mi type fusion sandwiches, creative noodle dishes, and their signature Chicken Pho Soup.  

...and not to worry, they feature their too-die-for LFC Wings and garlic noodles.   I'm a fan of their Burmese Salad, The Pho-Strami Dip made with smoked brisket, and their Fried Kauai Shrimp Po' Boy sandwiches!
Hours – Mon – Fri 11 AM to 9:30 PM (take out 3 PM to 5PM), Sat 10 AM to 9:30 PM & Sun 10 AM to 3 PM
Location:  1200 Ala Moana Blvd / (808) 777-3588
Check out more:  PiggySmalls.com
---
5. Ethel's Restaurant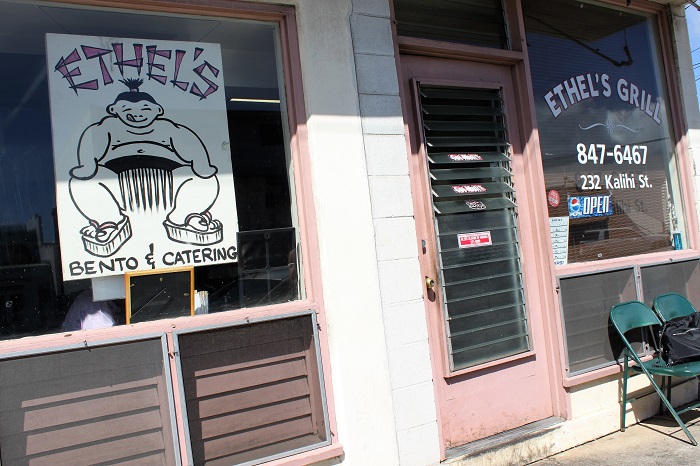 This is one of the best hole-in-the-wall Honolulu restaurants on the island! 
Located deep in the industrial district in Kalihi near the Bishop Museum, is a small little eatery that draws the crowds.

The home cooked dishes served up at Ethel's even draws out the top Oahu chefs, late after their shifts.

Everything on the menu – which is handwritten on sheets of paper encased in plastic, cascading down from a hanging surfboard from the ceiling -- is usually a hit.  Get a taste of their Ox Tail Soup, Japanese Hamburger Steak, and a delicious and generous side order of Tataki Ahi Tuna sashimi!
$ Breakfast & Lunch, Mon - Sat 5:30am to 2pm

Location:  232 Kalihi St, Honolulu, HI - Phone (808) 847-6467
Check out more Ethel's Grill reviews. 
---
6. Honolulu Ramen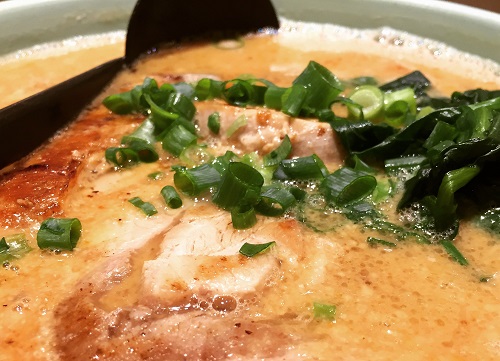 Honolulu Ramen is one of the most satisfying cheap eats on the island.  Most spots are easy to get into, even without reservations you have a good chance to get in with small wait times.  There are lots of different styles and twists to this Hawaii comfort food.  And we have a list of some of the best bowls to try.
Gama Tei, Wagaya, Junpuu, Tenkaippin, and Momosan are you leading ramen spots on the island.  They take pride in brewing their signature broths for hours, and over night for that matter.
Whether you are a tankasu, shoyu, miso, or shiro based fan, or looking for a tasty fusion creation like Chicken Katsu Curry Ramen, you're bound to find a bowl of happiness and walk away feeling satisfied and with a smile.
---
Waikiki Restaurants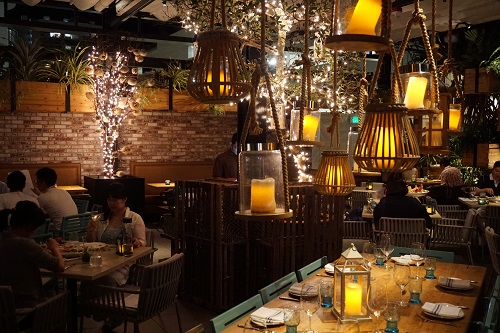 Also check out some of the best new and classic Waikiki Restaurants.
There are some classic beach side dining experiences, hidden hole in the wall eateries, and some new institutions that are pleasing visitors from all around!
Return from Best Honolulu Restaurants to Oahu Restaurants

Aloha & Enjoy!

Subscribe to receive Best of Oahu updates on events, updates, and new articles.  It's the closest way to paradise while you are away...
We will never sell or spam your information, and we'll respect your email privacy.