Best 9 Honolulu Ramen Spots
There is something to be said when seeking the best bowl of Honolulu ramen. Like an excellent Hawaiian plate lunch, not all are created equal. And while everyone has different tastes and preferences on how their soup is prepared, there is a reasonable consensus on who makes the best bowl of ramen on Oahu. We'll recognize the top 8 contenders, including Momosan, Wagaya, Goma Tei Ramen, and Lucky Belly, and explore what makes them so special.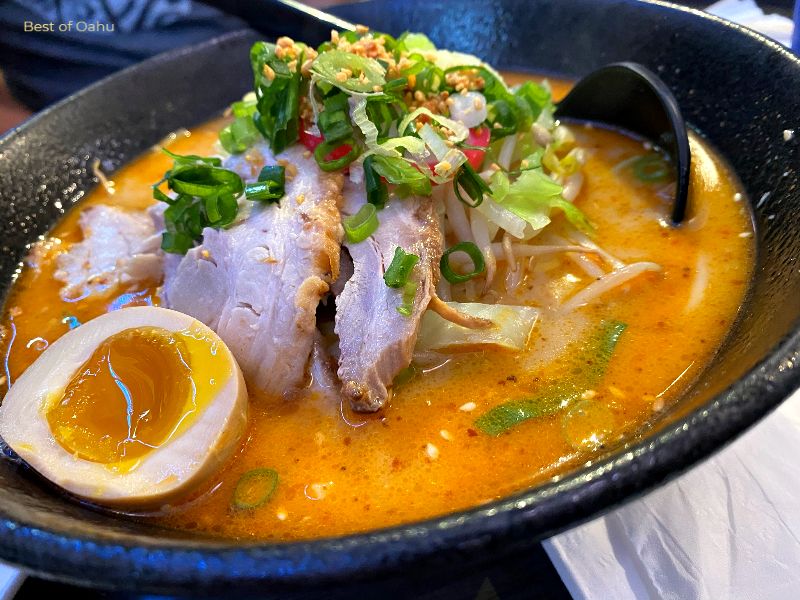 Ramen is a staple on the island, and commonly found at restaurants around the island.  It's a comfort food that fills the belly and satisfies the soul.  And while many keep it simple with just a few ingredients, there are subtle to noticeable differences that separate the best from the rest.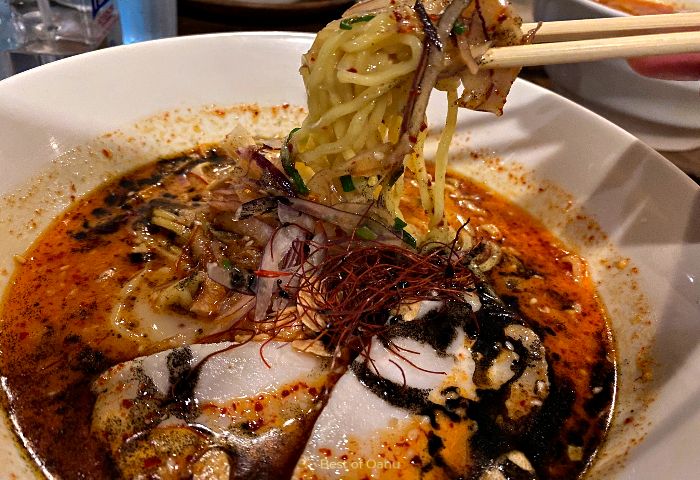 Freshly cut noodles, diced green onions, bok choy, a halved soft boiled egg, and a slice of char sui, with a savory broth that fuses all the ingredients together and brings life to the bowl.  And this is just the start to a delicious bowl of Honolulu ramen.
Sweet corn, beef short rib, a variety of mushrooms, crispy sprouts, fried pork tonkatsu, and dried bonito flakes are additional flavors that some chefs like to use to help alter their creations into another state of onolicious!

Do you prefer a tonkotsu (pork), shio (salt), miso or shoyu (soy) based broth?  It can be a tough choice, but I think you need to listen to what your body is in need of, and what it will take to satisfy your taste. Or how about a non-traditional curry style broth?  It's not commonly served, but can be a yummy choice when seen on the menu. 

---
Top Honolulu Ramen Restaurants
---
Goma Tei
Wagaya
Junpuu
Lucky Belly
Tenkaippin
Momosan
Onoya Ramen
Kamitoku Ramen
Rai Rai Ramen
Note: This list is in no particular order. Try them all! We did, and they are all onolicious!
---
1. Goma Tei Ramen
Gomatei is a small chain of 5 Honolulu ramen restaurants. The first one opened in 2006 in the Ward Center, and it continues to make the top 5 best Honolulu ramen restaurants on Oahu every year.

Their broth is creamy, sweat and delicious…and has to be one of our favorites!  It only gets better from with their 20 hour multi cooking process pork belly char siu adds a smokey hue to the bowl.
The meat itself is tender, flavorful as they also marinate it shoyu and sake after cooking for about 15 hours, and adding a crispy top from a pan fried finish.  You can even order it as an appetizer!

And if you're putting that much time into your clean clear broth and char siu, then why not perfect the noodles as well.  Goma Tei takes the extra step and makes fresh noodles daily.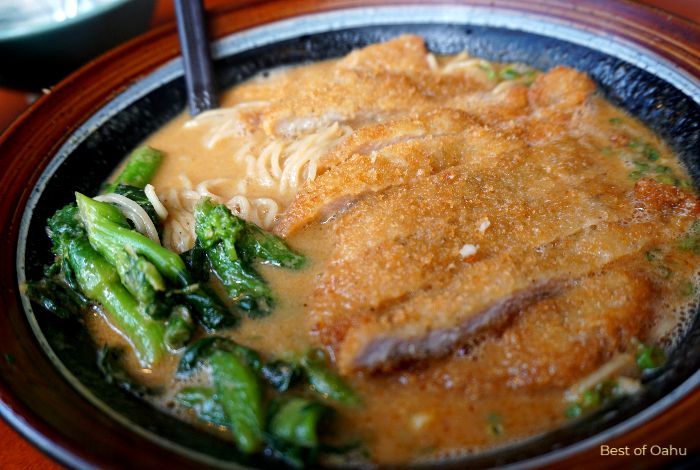 Goma Tei has a nice selection of ramens to choose from…close to 30 different ones!  They primarily focus on Tan Tan and Shoyu based soups, but also feature a couple Shunho (Japanese style soup broth) and Mapo Tofu based bowls.  If the udon wider noodles are more your preference, well they have a few choices for you as well.

The Spicy Tan Tan Ramen is a favorite.  Served with a generous slice of char sui, dried shrimp & scallops, cured ham, a "special" spicy sauce and some fresh red chili peppers to kick it up a notch.
The Wonton Tan Tan Ramen is also a popular dish that is also garnished with baby bamboo shoots, minced marinated pork, and shredded wood ears (black fungi mushrooms).
The toughest decision is when I dare to steer away from their specially made charsiu (roast pork) and order their Tonkatsu Tan Tan, which is guaranteed satisfaction when the deep fried pork cutlet meets the broth and noodles.  It's not on the menu, but sometimes I'll even request a side of soft poached egg and a scoop of curry on top, for an explosion of flavor.
Shoyu-based ramen lovers should look no further than their Truffle Shoyu Ramen.  The flavor of the broth becomes intense as it is fused with a combination of Italian black truffle powder and oil.  The bowl is complete with some shimeji mushrooms, a soft boiled egg, thinly sliced chicken breast, and fresh assortment of vegetables.
Or also turn to their Shredded Pork & Szechuan Pickle Shoyu Ramen.  It's a mouthful just like it sounds with a nice serving of shredded pork and complimenting Szechuan spiced pickles.
Open Daily 11 AM to 8:30 PM - Phone (808) 947-9188
Multiple Locations - International Market Place 3rd Fl, Ala Moana Center, and Ward Center
---
2. Wagaya Honolulu Ramen Shop
King Street is a haven for good local food here in Hawaii, and Wagaya helps keep up that reputation with ramen that consistently rates in the top 5 on Oahu.  Wagaya translates to "Our Home", and you can site the local community sharing this feeling as their own.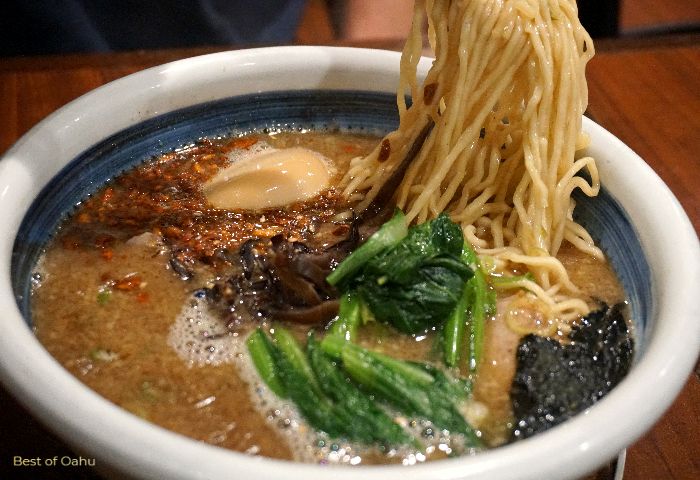 Before we get to the ramen let's talk about the appetizers, because they are not to be missed!  I'm always dreaming about their Corn Fritters when I think of Wagaya.

These deep fried fritter balls are like an unsweetened dessert with sea salt on the side to sprinkle to taste on each one. The freshly made gouzas were ever so light and a treat as well!
There are a dozen different ramens to try and I always look forward to going back and trying more!

Wagaya's tonkotsu broth is a creation from organic chicken and kurobuta pork bones. They let the soup simmer up to two full days to bring the intensity of the fused flavors together.

They are known for their garlic seasoned soups.  You have a couple choices starting with their Garlic Wagay Ramen that adds a nice garlic hue to the broth.  Coupled with a whole soft-boiled tea egg, I'm in heaven.
Then there is the Garlic Tsukemen that comes with cold dipping noodles.  This special broth is slightly tangy and smokey.  This is a fun dish as the noodles come on the side and you get to dip noodles for each bit.
Their Tan Tan Men comes with a nice savory broth that is not too spicy, and a nice serving of miso ground pork…enough for every bite!  If you would like to step it up a notch, order the Sparerib Tan Tan Men.
If you are looking for something more unusual but soothing, try their Hakata Style Wagaya Ramen that is influenced with beni shoga ginger.
Vegetarian Fans will be happy to know there are a couple bowls dedicated on the menu that comes with a well put together vegetable broth that infuses miso and sesame.
This small boutique Honolulu ramen restaurant is always in demand with a wait.  Make sure to call early and make a reservation.
Open Daily 11:30 AM to 1:30 and 5 PM to 8 PM - Happy Hour 5 PM to 6:30 PM
2080 S King St, Honolulu - Phone (808) 949-0670
---
3. Junpuu Ramen Bistro
When renowned chef Eiji Kato broke off from Shokudo and Shirokiya, he started Junpuu Ramen Bistro in 2016, and became an instant hit. Named after his mom and translating to "smooth sailing", Junpuu is a small but a simple clean Oahu restaurant located in the downtown district off King St, with both indoor and outdoor seating.
The ramen is one of the best bowls I've had, and surprised there is not a long line here like Marukame in Waikiki!  I'm sure his loyal customers who followed him here appreciate being about to find a seat.

Their menu is pretty simple with a handful of miso and tonkatsu broth based ramens to choose from.  Oh, and they have a shoyu based ramen if you prefer.  But don't be fooled, each variation stands on its own.  I'm all about their 16-hour prepared tonkatsu pork bone broth that comes together with a soothing harmony.  

Junpuu's Tan Tan Men Ramen has a delicious creamy sesame broth that is slightly semi-sweet.  It comes with spinach the complements the broth and adds a nice texture to the soup.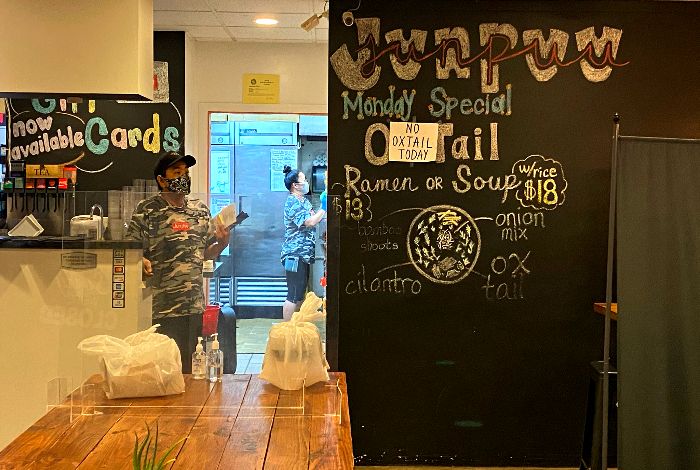 Garlic lovers will not want to miss out on their Garlic Tokyo Tonkotsu Ramen that is loaded with some roasted garlic slivers.  Coupled with some thinly sliced chars su and shredded red chili pepper to help give it nice kick, this is also a favorite amongst many patrons.

If you are looking for something more unusual that you won't find at other Honolulu ramen shops, try their Tomato Ramen, where they infuse sundried tomatoes and a special met sauce with their Tonkatsu broth.
Open Daily 11 AM to 9 PM - Phone (808) 260-1901
1010 S King St #108, Honolulu
---
4. Lucky Belly
Located in Chinatown Honolulu, Lucky Belly is one of the most hip and swanky Honolulu ramen shops on Oahu.  A mix of brick building interior with a contrast of light stained wooden walls, glossy black tables and beautiful condescend lighting to create an inviting ambiance.
Take advantage of the wait-in-line, and order one of their fancy drink at the bar and enjoy the lively surroundings.

This just may be the best bowl of ramen on the island…let's just say it's another personal favorite!  

The menu is short with about a dozen fancy tasty appetizers, a couple salads, and a handful of different ramens to choose from.  It's their creamy smokey hue broth that's all the rage.  I feel in love at first sip!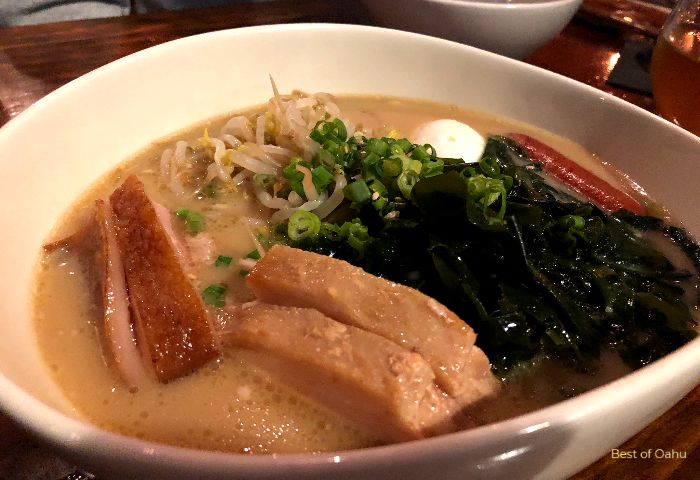 The appetizers, salads and plates are beyond noteworthy, that you might need to come back for a meal beyond ramen.  Crispy Duck Tacos, Oxtail Dumplings with a soy glaze and hot mustard creme, Lamb Lumpia, Scallop Cone Sushi, Karaage Oriental Chicken Salad, and Miso Braised Pork Shank just too wet your appetite! 

Lucky Belly features a choice of Tonkosu and Miso based broths.  Your decision from there gets tough…as they are all good choices.
The Lucky Bowl is a classic with an assortment of ramen garnish seasonings like green onions, wakame (flavorful seaweed), bean sprouts, ginger, sesame seeds and a perfect soft boiled egg.  
The Belly Bowl comes with pork belly, bacon and sausage…I guess you could call it a "meat lovers ramen".  The Shrimp Kim Chee Bowl is just like it sounds, and I'm surprised more ramen houses don't feature it!
The Fungi Bowl is a nice fusion of different types of mushrooms and porcini dust to take you over the top.  This is also a great vegetarian choice and the broth is vegetable based as well.
The Beast Bowl is a favorite with slow cooked brisket, short ribs, and their popular oxtail won tons.
Open Mon - Sat  5PM - 10PM 
50 North Hotel Street, Honolulu - Phone (808) 531- 1888
---
5. Tenkaippin
Just outside Waikiki on Kapahulu Ave is a well-known Japanese ramen house from Kyoto called Tenkaippin.  If you're lucky to get one of their 20 seats around the bar or one of the few available tables at this Honolulu ramen spot. 

Owner and chef Tsutomu Kimura, created a creamy chicken and vegetable based broth that is cooked over 10 hours.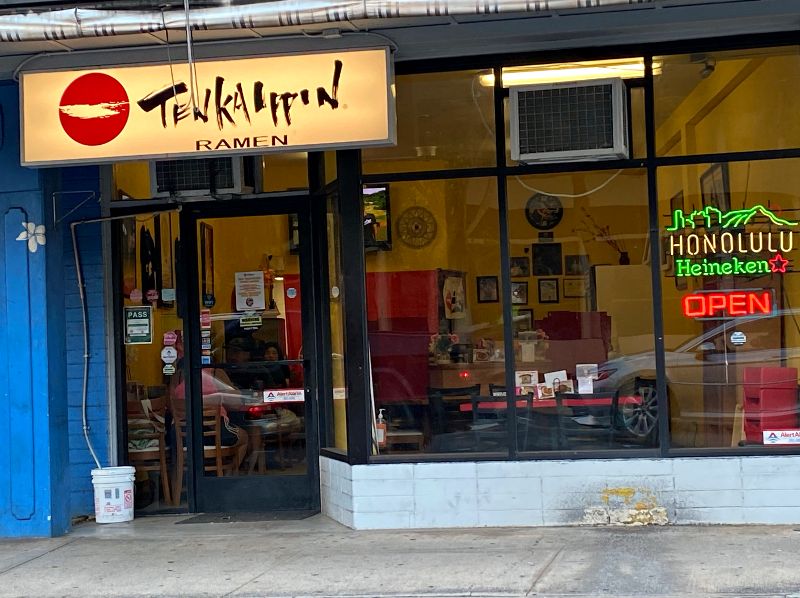 You'll find many common ramens on the menu along with some unusual creations and specials.  I'm always on the hunt for their specials that don't last long…but sometimes get lucky.
Like being able to get my hands on a bowl that features garlic steak along with fried garlic slices.  With a small kitchen, only 10 to 20 of these featured bowls are made per day!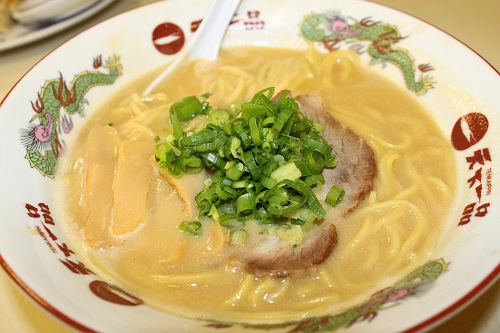 Spicy fans get to choose level of their tolerance, like in their Umakara (tasty) spicy ramen.  Make sure to order a beer or lots of water if you're getting level 3!

If you have a developed pallet for organs, innards or tripe, you'll most likely find it featured in something like a spicy miso double horumon bowl… the menu changes regularly, so you'll have to see when you arrive.
On the flip side there are some simple bowls that are put together with cabbage, garlic, ginger, chives, and butter corn.
Open – Mon – Thur 11 AM to 1:30 and 5:30 to 8:30
Fri & Sat 11 AM to 2 PM and 5:30 to 9:30 PM, Closed on Sundays
617 Kapahulu Ave, Honolulu – Phone (808) 732-1211
---
6. Momosan Waikiki
Morimonto's shows his love for ramen with the launch of his latest endeavor of a small chain of ramen restaurants called Momosan.  

Their Oahu restaurant location is in an ideal Waikiki spot across from Kuhio Beach.  They provide hip indoor seating an expansive outdoor lively side yard with lots of tables and colorful orange umbrellas.
Momasan Ramen matches their lively environment with creative tasty ramen dishes.

Their Spicy Tantan is a nice fusion of pork broth with creamy red curry and sesame oil.  Thinly slice tender pork chashu (pork belly) accompanied with some red-miso ground pork to add extra flavor.  You'll love their perfected marinated eggs and chili treads to turn up the heat a notch.
Tankatsu a true pork flavored ramen that grows on you as you dive into it.  Its more of a mellow ramen that comes from boiling pork bones over 20 hours and combined with chicken bone broth that takes 14 hours to make as well.
Add some spicy mustard leaf, wood ear mushrooms, house garlic oil and some toasted nori, along with braised chashu and a soy marinated egg to make this broth what it is.  And take note to the thin freshly made noodles that takes this bowl to class in its own.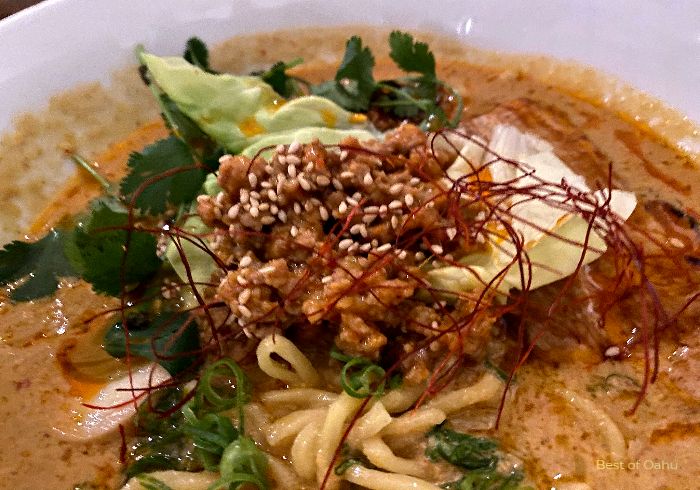 Spicy Dan Dan might be my favorite dish at Momasan.  Enough so that I had a hard time putting my chopsticks down when I was full!  This is not your typical ramen with a savory broth. In fact there is no broth at all.  Your al dente noodles are presented in a bowl lined with fiery red chili oil. There is an intense flavor the subtle sweetness that comes from the thinly sliced garlic...almost a candied effect that helps tam the spiciness that tends to linger. Could be too hot for some…

Another unusual Honolulu ramen dish is their Tsukeman Ramen dish that separates the noodles and broth in two separate bowls, making it a neat noodle dipping experience.  It includes chashu, a soy marinated egg, spicy mustard leaf, bamboo shoots, and a lime and toasted nori to give it a unique twist in flavor.
Do not pass on the appetizers and sushi – I usually want to save extra room when it comes to ramen, but loved their melt-in-your-mouth sushi and ever-so-fresh pork gyoza, soft shelled crab bao, and tempura popcorn shrimp.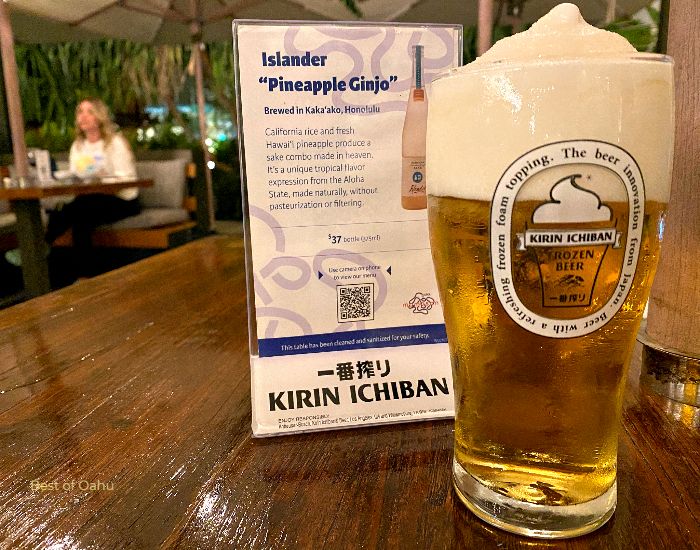 Finally beer lovers have to try a frozen Kirin Ichiban Beer.  Okay, it's actually a Kirin beer with a frozen beer slushy header. I found it paired well with some of their spicy ramen dishes. 

I'm tempted to show back up for breakfast and get a taste of the Wagu Beef Loco Moco.
Open Daily 9 AM to 9 PM – Happy Hour 5 PM to 7 PM
2490 Kalakaua Ave, Honolulu – Phone (808) 922-0011
---
7. Onoya Ramen
Onoya Ramen, located on popular Kapahulu Ave with many other great eateries, is a must-visit for ramen lovers.  Dine in a lively modern atmosphere that is perfect to enjoy a quick bowl or a fun night out with friends.
The menu is extensive and features an array of ramen creations, including a few good vegan choices.
You can't go wrong ordering one of their 3 signature ramens. I'm a big fan of the Onoya Tonkosu Black, served with tasty garlic slivered chips, and a fine pepper seasoning added to a creamy tonkotsu broth.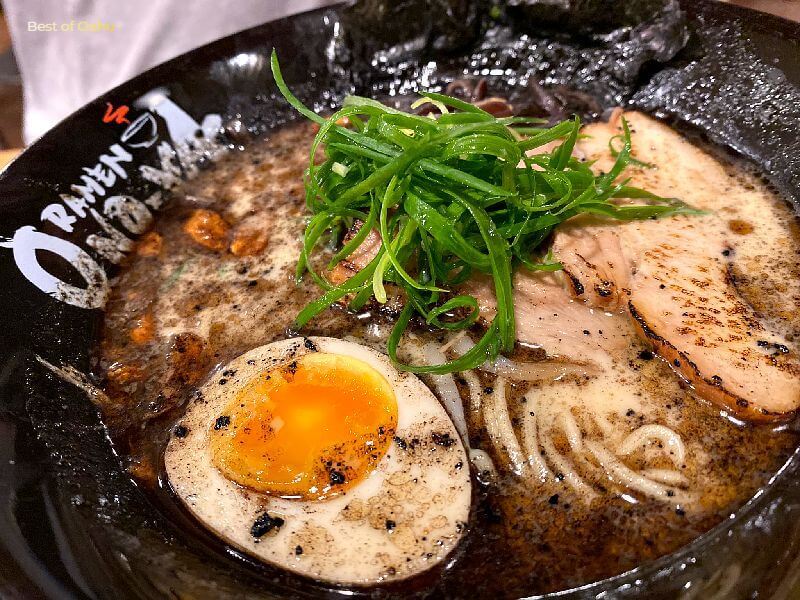 Tonkotsu Tan Tan Men is another signature dish served with a well-rounded creamy broth, perfect seven minute egg, slivers of chasui and green onions, and ground pork that adds a fine touch.

The Spicy Miso Ramen features a slightly spicy creamy broth that is perfectly balanced with the savory flavors of pork and garlic. The noodles are cooked to perfection and with just the right texture, then sprinkled with green onions and a handful of bean sprouts gives the dish a nice crunch.

A popular creation when offered is the Onoya Signature Ramen. A rich and savory broth made from a blend of pork and chicken bones that have been simmered for hours. The broth is then paired with some perfect chewy noodles, slices of tender pork belly, and a perfectly cooked egg. The end result is a comforting bowl of ramen that is sure to warm you up from the inside out.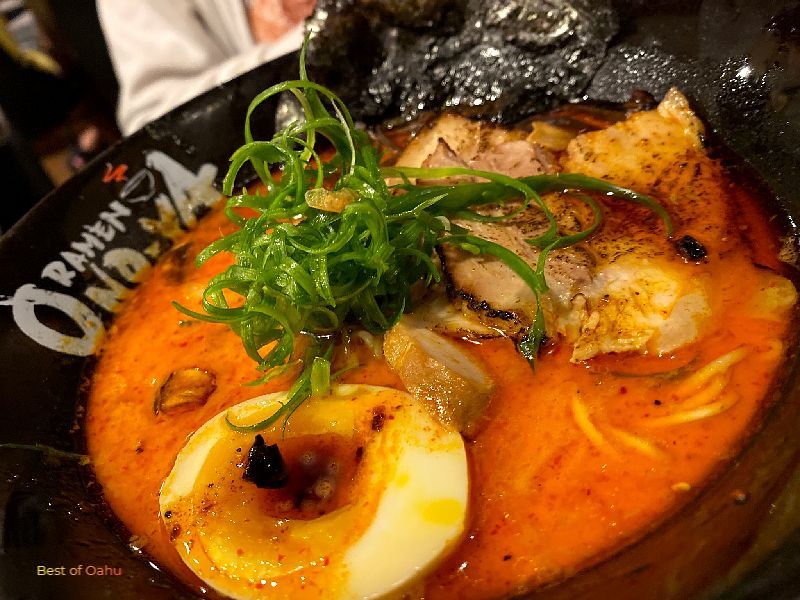 Save some room for appetizers! That's right.. Onoya goes beyond ramen and serves some delicious bites as well.

The Spicy Tuna Crispy Rice is super yummy!  It features crispy rice patties topped with spicy tuna and avocado.  The Shishito Pepper is another popular choice with a little bit of spice. These small peppers are fried until crispy and then tossed with a light seasoning of salt and soy.  Chicken Karaage is not only a tasty fried chicken appetizer, but perfect for pairing as a side dish with your ramen.
Open Daily 11 AM to 10 PM
611 Kapahulu Ave, HI – Phone (808) 425-4415
Learn more at Onoya Ramen
---
8. Kamitoku Ramen
Most Honolulu ramen houses on Oahu spend long hours if not days slow cooking their broths from pork and or chicken bones.
Kamitoku is one of the few, if not only, ramen house that uses a rich beef bone broth for their soups, known as Gyu-Kotsu.  Much more common in Tottori Japan and from their Manchurian style cuisine.  

Kamitoku features a good handful of different styles of their beef broth ramen, including TanTan, Shoyu, Miso, and Spicy.  They are all deliciously fused with their semi-sweat beef bone broth, and a nice cut of their peppered & roasted beef char-siu.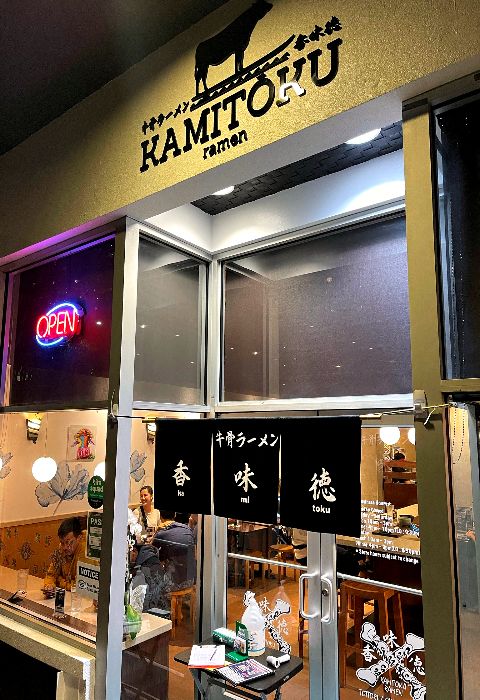 Consider trying their Beefy Lite Ramen that is their original recipe that was created 80 years ago.

Their most popular ramen on the menu is call Beefy Wild.  It's loaded with garlic and guaranteed to satisfy even the lightly garlic lovers.
Kamitoku features some tempting appetizers like Coconut Shrimp, Fried Rice, and Beefy Lettuce Wraps.  Make sure to bring friends so you can share and not fill up before your ramen arrives.
Also make sure to check out their special featured ramens.  I had a beef brisket ramen that was out of this world!
Hours – Mon – Sat 10 AM to 3 PM and 4 PM to 9:30 PM, Sunday same except closes at 8:30 PM
1200 Ala Moana Blvd. Suite 657, Honolulu, Hawaii - Phone 808-784-0292
Also located in the Shirakia Market Place and UH Manoa
---
9. Rai Rai Ramen
You would never know unless someone recommend it or you looked at Yelp reviews, but Rai Rai Ramen in Kailua stands up to some of the best bowls of Honolulu ramen on the island.

This hole in the wall and off the strip Kailua restaurant is not much to look at, but will have you raving after one visit.  It might seem a little overwhelming looking at the menu with 26 different ramen choices to choose from, but many of the dishes vary by broth or a variable that gives it a twist, like Kim Chee Ramen, Butter Corn Ramen, or Wonton Ramen.

It's important to note they get it right here… the broth is creamy delicious, the eggs are cooked to perfection, the vegetables are not over cooked, and the char su melts like butter in your mouth!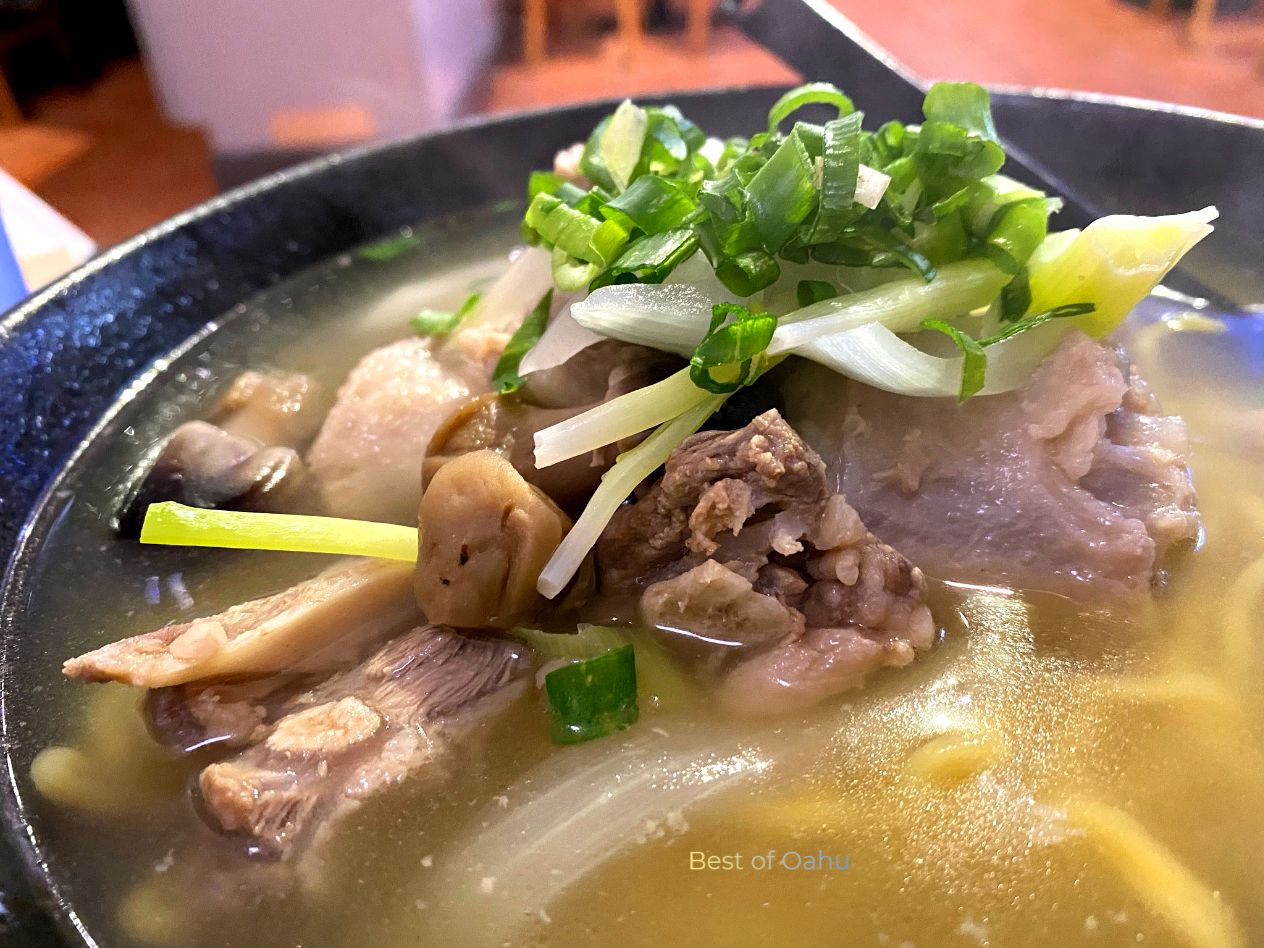 Beyond some of the classic bowls like Tan Tan Ramen and Miso Ramen which are both very delicious, you'll find customers raving about their Ox Tail Ramen, Oyster Katsu Ramen, and Hot and Spicy Seafood Ramen. 

Personally I'm a fan of Rai Rai's Chicken Katsu Curry Ramen that always comes through and hits the spot.  Still too much to choose from?
Play it safe and order their House Ramen with their popular fish cakes, or their Tan Tan Ramen with sweat delicious minced pork, egg bean sprouts, black mushrooms, and 7-minute soft boiled tea-eggs.

Open Daily 11 AM to 8:30 PM
124 Oneawa St # 1, Kailua, HI – Phone (808) 230-8208
---
Honolulu Ramen Back to Oahu Restaurants
Honolulu Ramen Back to Home Page
Aloha & Enjoy!

Subscribe to receive Best of Oahu updates on events, updates, and new articles.  It's the closest way to paradise while you are away...
We will never sell or spam your information, and we'll respect your email privacy.