Yokohama Bay on the West Side
You'll discover beautiful Yokohama Bay when you head towards the most west northern tip of Oahu, known to as Ka'ena Pt.  Also referred to as Keawaula Beach, this Oahu beach resides in one of the most secluded areas of the island.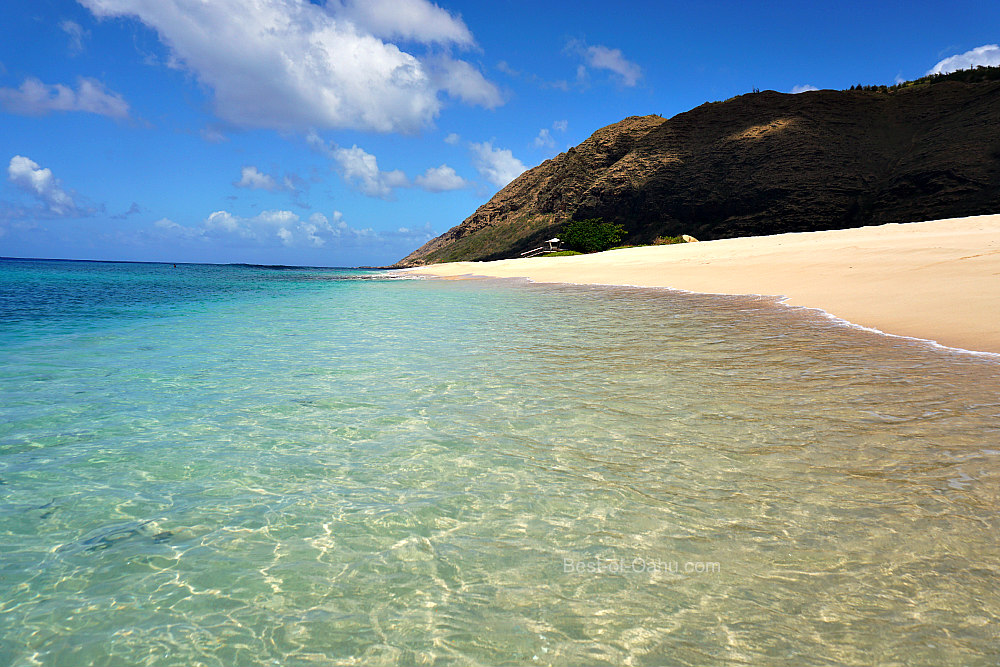 ---
Yokohama Bay & the Westside
Most tourists never see this side of Oahu.  When people claim to have driven around the island, the Westside is typically cut off since the road dead ends at Yokohama Bay, and the most sensible and popular route is to head up and around to the North Shore instead.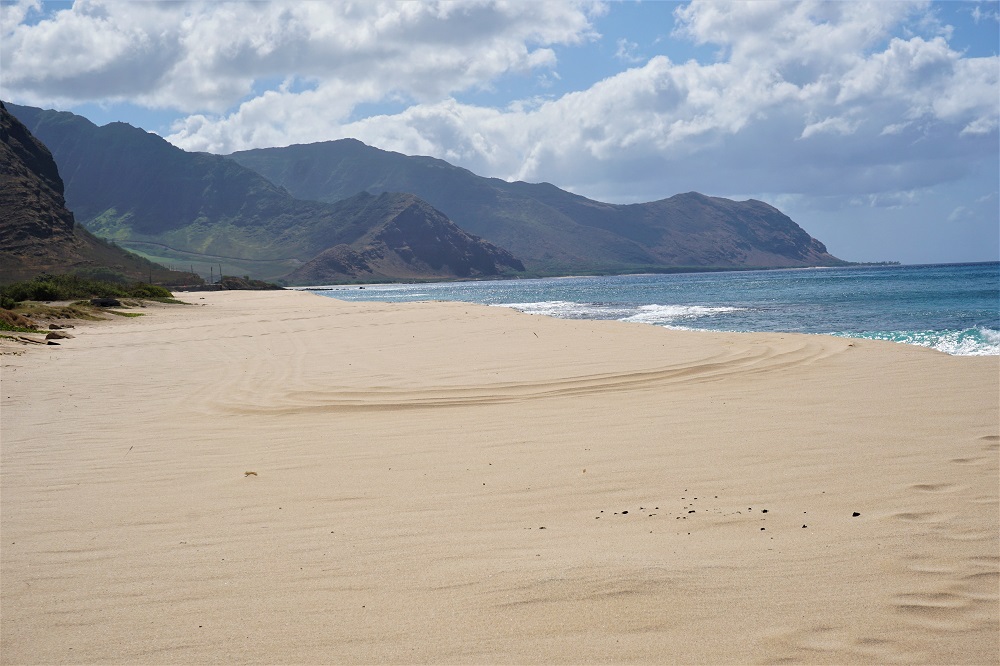 But there is something to be said for discovering the quiet Westside of the island, which tends to be more local and simple.

Yokohama Bay is pristine, beautiful, and untouched by development for miles around.  It is framed by the Waianae Mountain Range in the background.  You'll usually find this Oahu beach empty, with an extensive sandy beach to explore all to yourself.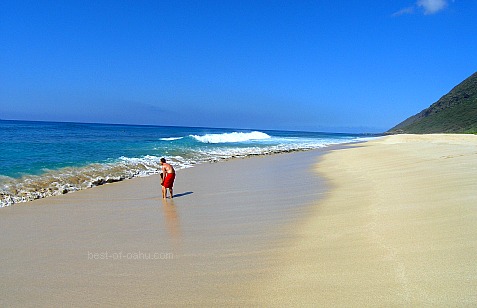 If you're looking to explore Oahu's raw beauty…this is it!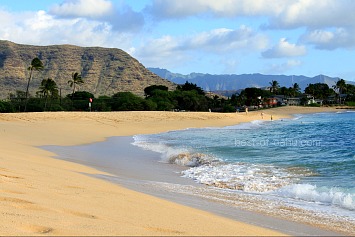 It's a long drive to get to Yokohama Bay, which could take up to, an hour and a half from Waikiki.  You'll pass though Waianae, a large Hawaiian-based (locals only) community, and through Makaha, which is known for it's phenomenal winter surfing & white sandy beach.

FUN FACT:  Makaha Beach was also originally slated to be the designated spot for hotel development before Waikiki Beach was ultimately chosen.  How different would that have been!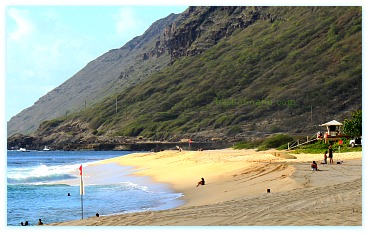 Unfortunately it's not ideal for swimming, unless flat sometimes in the summer.  The waves tend to get big, especially in the winter.  Local, experienced body boarders and surfers love the surf break in this bay.

There's also a steep drop off, and the shore-breaking waves can be a bit dangerous if you're not used to it.

---
---
History of the Bay


History of Keawa'ula Beach translates to "red bay".  The Hawaiian community gave it this name because of the large squid population that spawned in the area, and literary would turn the bay red during this process.  The early Japanese fisherman that later frequented the area popularized it as we know it today "Yokohama Bay".

---
Getting There
---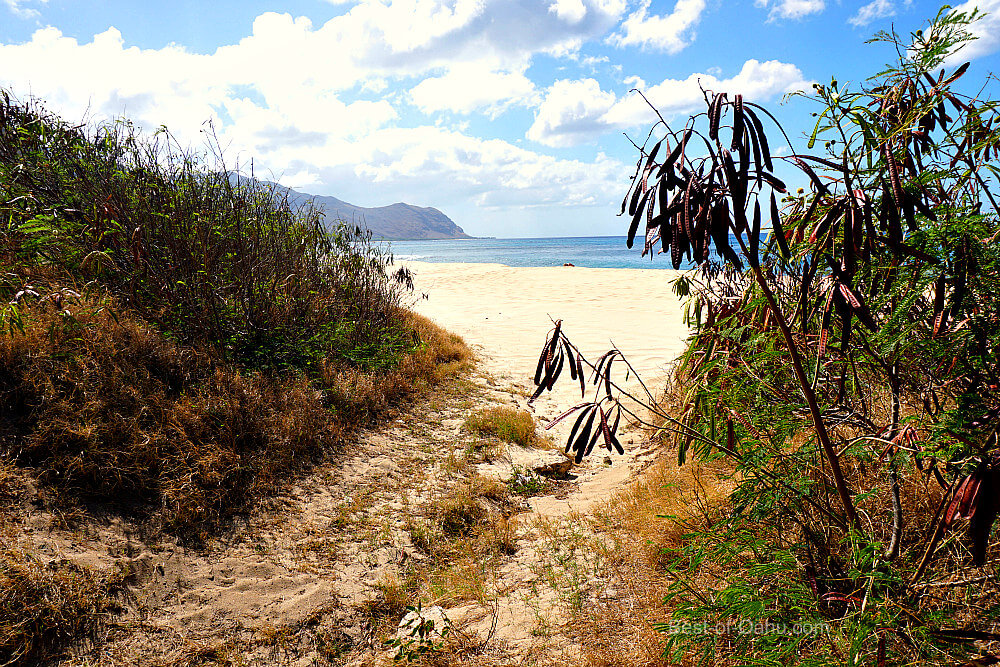 The only way to get to Yokohama Beach is by car, which will take you about 1½ hrs from Waikiki.  The Oahu bus turns around at Makaha, and you have another 15 minutes to travel by vehicle from there.  Consider renting a car for the day...

From Waikiki, take the H-1 highway heading north
Stay on H-1 until it ends and turns into the Farrington Hwy (Hwy 93)
Follow the coast until the road ends at Keawa'ula Beach
---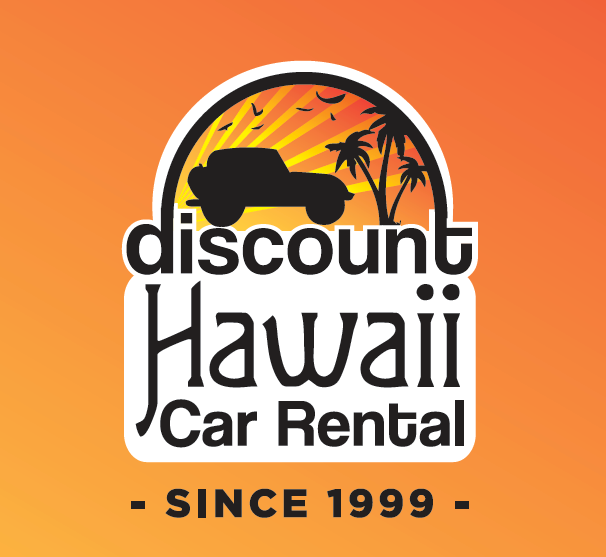 Need a good rental car option for the day?  Whether you would like to visit a beach, a popular Oahu attraction, or explore the island for just a day, consider these great, discounted rent-a-car rates with Discount Hawaii Car Rental.  They also have great packages for your entire trip...
---
Oahu Map
---
Beach Facilities
---
Bathrooms

Showers

Lifeguard station

Parking
Visiting Tips
---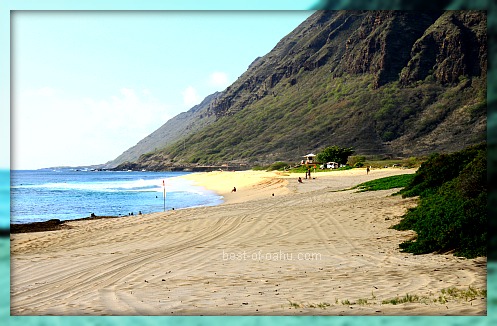 No shade – there is no shade to be found at Yokohama Beach.  Pack an umbrella, water, hats, and lots of sunscreen.  It tends to get very hot on the West Side of the island.  I would even recommend starting early or late afternoon at this Oahu beach.

Food – the closest store or restaurant is located in Waianae.  Make sure to bring a picnic lunch or snacks.  For a treat, stop and pick up a BBQ plate lunch for the beach at L&L Drive-Inn at 85-080 Waianae Valley Rd.
Catch a sunset – the sun melts into the ocean on the Westside, so you can imagine how beautiful it will be if it's not too cloudy.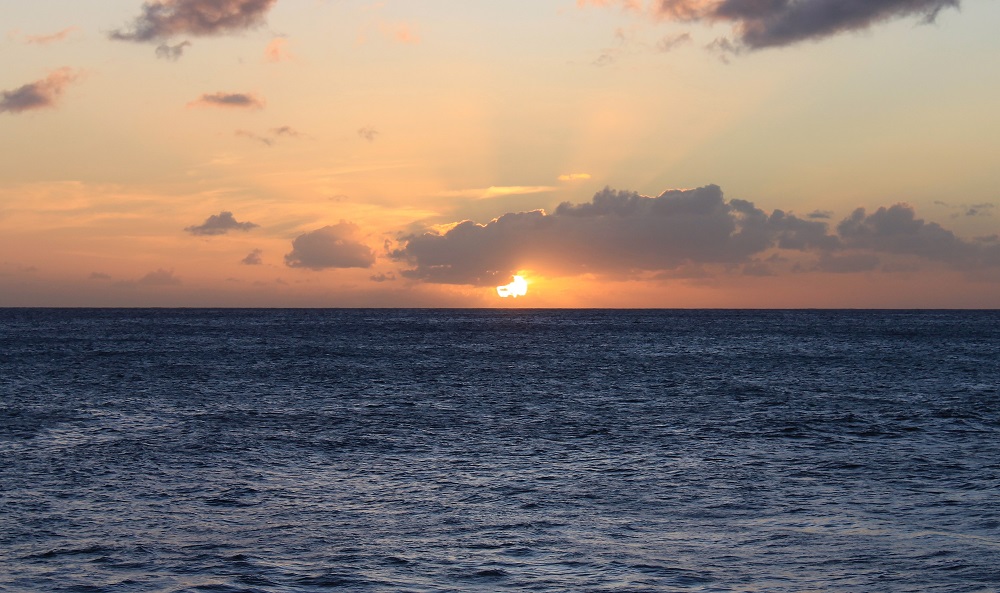 ---
Warnings for the area
It's pretty safe out here, but you should never leave your personal belongings unattended on the beach or left behind in the car.

High surf advisory – the Westside is an extension of the North Shore, and so are the notorious big waves.  Even the smaller shore break waves are rough and sometimes create a strong undertow.  Check in with the lifeguard for advise before entering the water.

---
In the Area
---
North Shore Tandem Skydive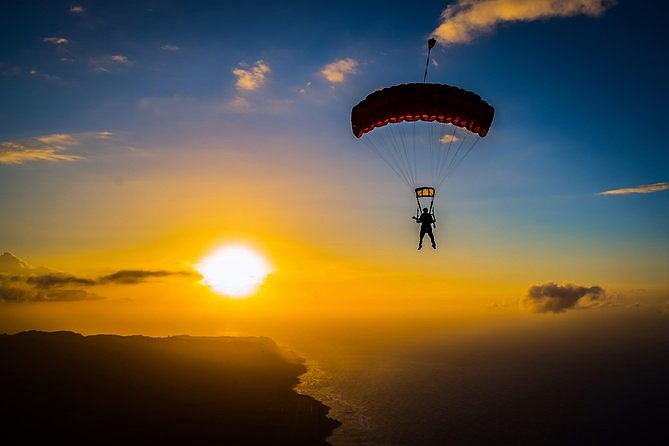 Another way to take in stunning views of Kaena Point, Haleiwa, Waimea Bay, and the North Shore coastline is from 10,000 feet in the air.
You won't be doing it alone, but with a professional guide who will guide and ride tandem with you in the air.  A unique experience and memory for life!  Learn more and reserve your spot
---
Hiking Ka'ena Pt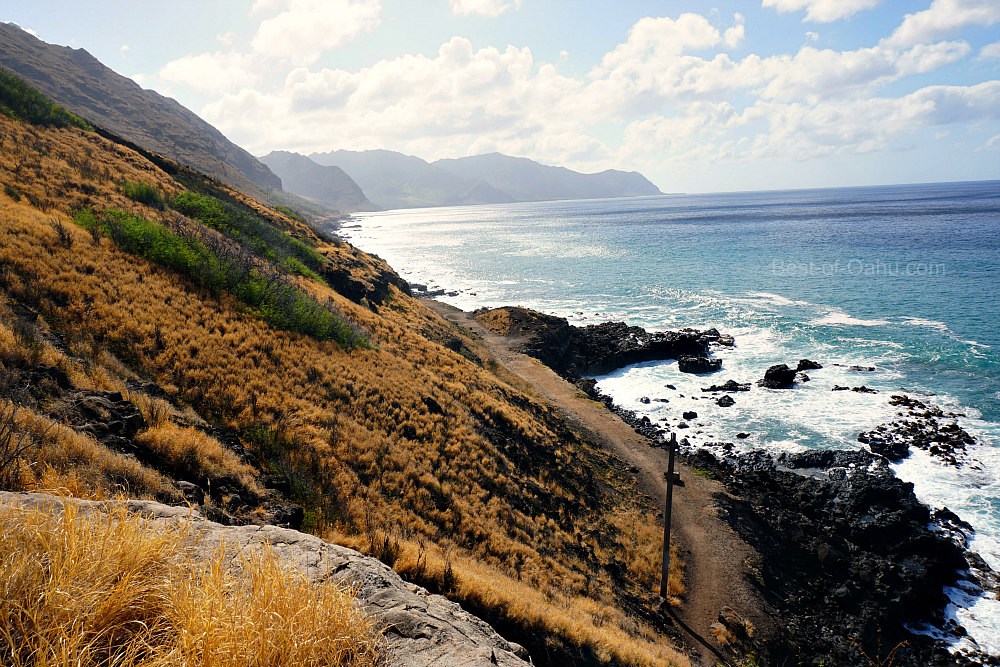 Ka'ena Pt  – the road may end at Yokohama Beach, but the Oahu hiking trails start from here.  Take a two-mile journey hiking out to the westerly tip of the island, and explore beautiful Ka'ena Pt Park, trekking the sand dunes, and along the jagged reef coastline.

---
Return to Best of Oahu Home Page
Aloha & Enjoy!

Subscribe to receive Best of Oahu updates on events, updates, and new articles.  It's the closest way to paradise while you are away...
We will never sell or spam your information, and we'll respect your email privacy.