Best Unique Oahu Wedding Locations
Take time to explore the best Oahu wedding locations for you and your partner!  Whether you're a traditionalist or looking for a unique island setting or just something simple, there are many Hawaiian wedding venue options available in these types of categories and more...

---
Oahu Wedding Locations & Options
---
Without a wedding venue…you have no Hawaiian wedding!  Ok, you can go down to Honolulu's downtown city hall and get hitched, but you don't need us to tell you about that.  Like great Oahu restaurants to choose from, there are hundreds of venues that are available around the island.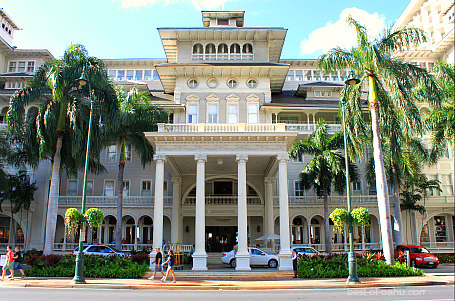 Explore classic hotels, beautiful beach settings, stunning landmark churches, Hawaiian wedding gardens, museum settings, and storybook wedding halls…learn more!
Getting married in Hawaii is beautiful.  But like many other choices you'll be making, there are mediocre to amazing places to choose from.  We'll identify a few choices worth considering, but first you have to decide the type of setting you might want.  These settings could include at a beautiful hotel, on the beach, at a museum, or a distinctive church?
When choosing a hotel in Oahu, consider a classic such as the Royal Hawaiian or the Moana Surfrider Hotel.  Both built in the early 1900's and constructed beautifully with no details left out!  They are as storybook as you can get for Hawaii.
---
Hawaii beach weddings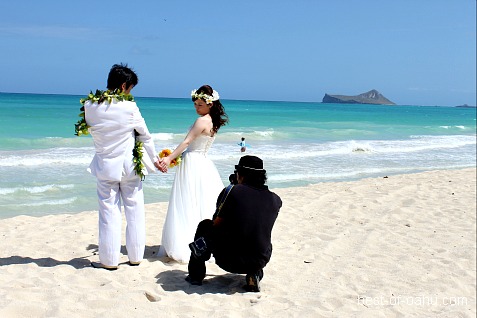 Getting married on the beach sounds romantic and can be a beautiful way to tie the knot, if you're up for it.  Not all beaches are friendly to get married on.  It takes some planning, state permits and possible day-event insurance for a ceremony to take place on sandy grounds.
Beautiful beach scenes include Kailua Beach, magical Waimanalo Bay, and Punaluu.  All three of these beaches happen to be on the windward side of the island, where it's typically a little bit cooler, quieter, and the water is pristine aqua blue.
---
Traditional vs Untraditional  Wedding Settings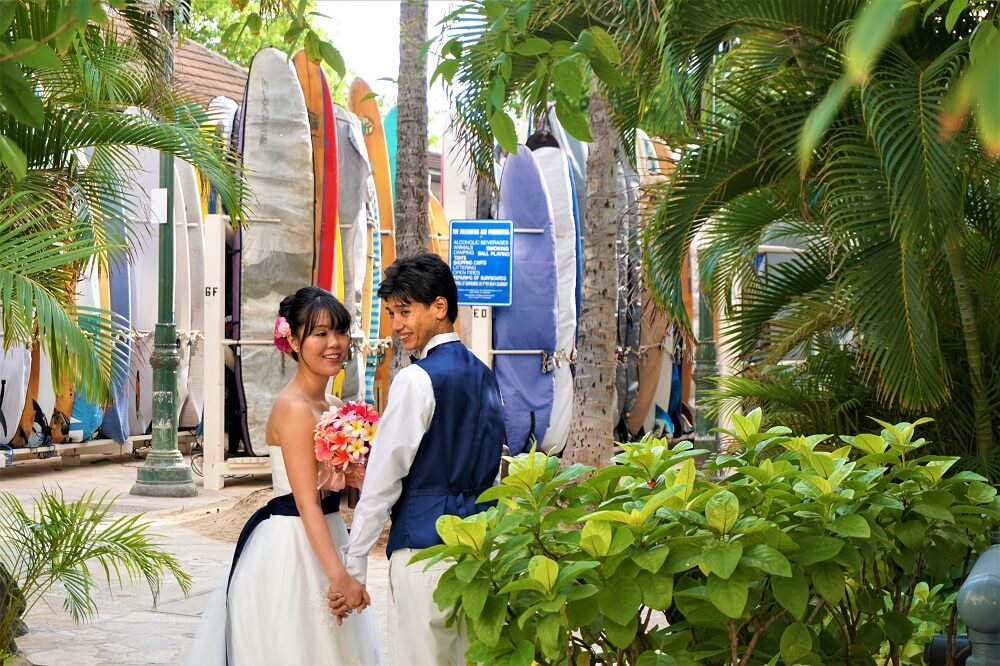 There is something said for planning a traditional Hawaiian wedding in a church, and Oahu has lots of choices from different religion denominations to unconventional congregations that host at local business, schools, community centers, and even movie theaters!

---
Oahu church Settings
I recommend taking a look at St. Andrew's Cathedral, Kawaiaha'o Church, St. Agustine,  St Patrick's and Sacred Heart Church.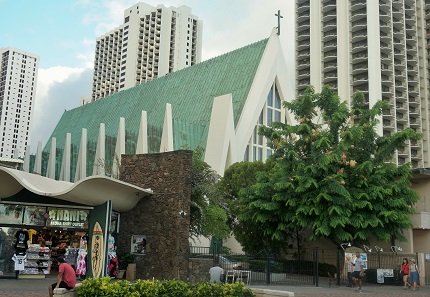 St. Andrew's Cathedral that is located downtown Honolulu with its grand gothic structure, and beautiful setting! 
Kawaiaha'o Church is one of the oldest standing structures on Oahu, originally built in 1842 and dedicated by Kamehameha lll and known as the Westminster Abbey of the Pacific. 
St. Augustine Church is located in the middle of Waikiki.  Surrounded by hotels, palm trees and beach goers, you will find peace and tranquility.  St. Augustine is a beautiful Waikiki church that has a local following along with visiting tourist dropping in for Sunday service. 
St. Patrick's and Sacred Heart Church are also great choices with beautiful courtyards, fountains, stunning architecture, and located just outside of Waikiki.
---
Museums, Halls, and Iconic Settings
How cool would it be to get married at the Bishop Museum, the charismatic Honolulu Museum of Art, or historic Iolani Palace?  These places along with other incredible Oahu wedding locations are available.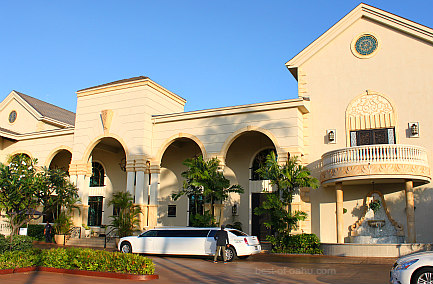 Consider getting married along the waterfront at the Waikiki Aquarium.  They have a beautiful outdoor lawn area that looks out over the ocean.  Waimea Falls Park, also known as Waimea Valley, is another good wedding destination with facilities and beautiful botanical gardens.

---
Registering for your Wedding from Home
---
Unique Oahu Wedding settings
53 By the Sea – This unique hall/center/small palace sits on the Kewalo Basin Point overlooking Diamond Head and the skyline of Waikiki.  The modern Italian villa was designed for hosting events and dinning.  53 By the Sea is stunningly beautiful in a picture perfect setting to get married and have a wonderful reception.
Haiku Gardens – located in the Kaneohe hillside is another special restaurant with gardens.  Once the home of the Chart House, is now Haleiwa Joes.  The restaurant sits up top and overlooks a grassy garden and large pond area below.  There's also a beautiful wedding chapel that sits below awaiting a couple to join in matrimony.
The Willows – Not too far from Waikiki is a special and historical place that is surrounded by beautiful and zenful gardens, a spacious pond, and even an outdoor wedding chapel.  The Willows was renovated and specifically designed for special events including weddings.

Aloha & Enjoy!

Subscribe to receive Best of Oahu updates on events, updates, and new articles.  It's the closest way to paradise while you are away...
We will never sell or spam your information, and we'll respect your email privacy.