Home  / Oahu Events / Oahu Events in January

Oahu Events in January
---
January Events
---
New Year's Eve Fireworks & Events
All Year's Eve parties, firework displays, and events can be found on the December Events page...
New Year Luau - Jan 1st - 31st, 2020
Start off the New Year with a Hawaiian Luau!  Paradise Cove is not just another event, it's a full production with lots of activities and entertainment that some others tend to lack.  Kick off the afternoon with some Mai Tai's and join in the celebration and festivities!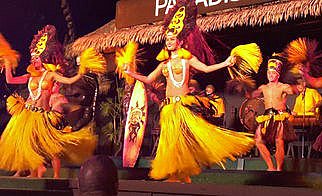 A Luau is a celebration for enjoying each other's company, play traditional Hawaiian games, watching a Kalua Pork Imu ceremony take place, participate in a hukilau of pulling in a large fishnet from the ocean, listening to live local music, and being entertained throughout the night with many Polynesian and Hula performances.
Location- Paradise Cove, Ewa Beach
Time – Pick up starts at 3:15 PM in Waikiki, Gates open at 5 PM
Cost – $85 to $170
---
Victoria Ward Garden Lights – Jan 1st - 31st, 2020
Extending beyond the holiday season, this is one lighting ceremony you do not want to miss!  This is holiday display by Symmetry Labs, is a creation of luminous flowers that are choreographed to music with changing colors and movement in the display.

Festivities include art displays, a holiday market, live music, and food & drinks to purchase.  There will also be carnival type rides available via ticket purchase.
Location – Victoria Ward Park, 980 Auahi St.
Time – 6 PM – 10 PM
Cost – FREE
Learn More – Ward Village Events
---
Whale Watching Season Tour - Jan 1st - 31st, 2020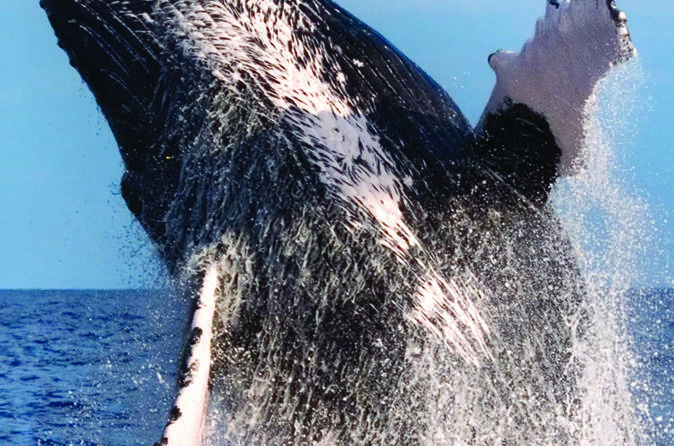 If you're visiting during whale migrating months (late Dec – early May) you might be fortunate to see humpback whales surfacing along the south and western coastline.  Ride a catamaran or monohull boat with a small group tour from Waikiki (through the Kewalo Basin Harbor) or from Ko Olina (through the Waianae Harbor), to get a closer look at these magnificent sea mammals.
If you're lucky, you're get to watch the whales breaching the water and splash around, along with other surprises from local marine life, including dolphins and sea turtles.  Book your Whale Watching Tour now...

---
First Friday Art Walk - Jan 3rd, 2020
First Friday is an evening art walk that takes place in Chinatown Honolulu.  This is a popular fun event that takes place every 1st Friday of each month.  This First Friday will be have a New Years theme to it.  Surrounding merchants of art galleries, shops, restaurants and bars are known for opening up their doors, pouring wine and providing food to those stopping by.
Most neighborhood shops will have maps of participating merchants.  The event ends at 9 PM, but the fun continues into the night with thousands of people flocking into the streets.
Also participating in the free art viewing and festivities is the Hawaii State Art Museum (free from 6 PM to 9 PM)

Location - Surrounding Chinatown area
Time - 5 PM to 9 PM
Cost - Free
---
Honolulu Symphony Orchestra: Ode to Joy – Jan 4th & 5th, 2020
An annual symphony tradition, welcoming the new year with "Ode to Joy".  You don't have to be a classical music lover to enjoy this production!  The Honolulu Symphony Orchestra will pair up with the Oahu Choral Society for this special Beethoven's Symphony masterpiece.
---
Da Hui Backdoor Shootout - Jan 4th - 16th, 2020
In memory of Duke Kahanamoku, watch Hawaii's pro surfers battle it out as they try and capture the wave of the day and pull of some mind blowing tube rides!  There will also be bodysurfing, bodyboarding, longboarding, Stand-Up Paddleboarding, along with the shortboard action.  Holding period takes place from Jan 4th - 16th.
Location - Ehukai Beach Park - Pipeline
Time - TBD
Cost - FREE
Learn more - dahui.com
---
Na Mele O Ko'olina – Jan 4th, 11th, 16th & 23rd, 2019
Head to Ko'olina beach lagoon #3 for a day of Hawaiian music and local art display & sale!  Along the arching sidewalk you find close to 40 artist displaying their artwork for viewing and sale…perfect for special gifts!  There will also be Hawaiian slack-key guitarist and ukulele musicians playing during the duration of this event.
---
Sony Open in Hawaii – Jan 6th – 12th, 2020
The Sony Open PGA Tour kick off attracts some of the biggest names in professional golfing to compete in classic golf event.  Enjoy a day in the sunshine on the beautiful Kahala grounds of the Waialae Country Club, watching the pros duking it out and making golf look so simple.

Location – Waialae Country Club
Time – First Heat 8 AM

Cost – $60 (best if purchased online), military , vets, and children under 12 w/ adult are FREE
Learn more - SonyOpenInHawaii.com
---
Magic Island Biathlon - Jan 11th, 2020
Here's a fun entry level biathlon taking place in an ideal setting. Run 5 miles through out Ala Moana Beach Park and finishing the race with a 1 mile swim along the beach.
Location - Ala Moana Beach Park
Time - 6:15 am check-in, race at 7:30 am
Cost - $30 to $150
Learn more - Waikiki Swim Club
---
26th Annual New Year's Ohana Festival – January 12th, 2020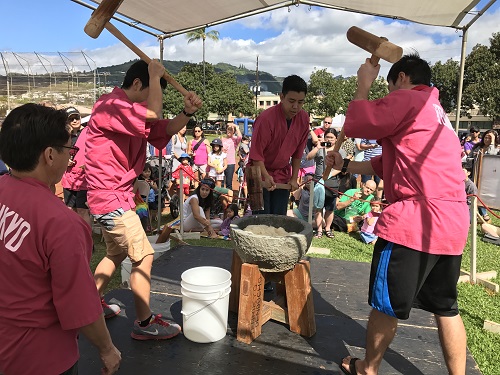 This community festival takes place at the Japanese Cultural Center of Hawaii and kicks of 2018 with some cultural fun!  Food boths and activites will take place in the Cultural Center and Moilili Field.  There will be lots of live entertainment and cultural demonstrations throughout the day.  Bring the whole family including the keikis as there will be some fun games to partake in.  Parking available at the UH of Manoa parking structure on Dole St, with complimentary shuttle service.
Location – Japanese Cultural Center of Hawaii
Time – 10 AM to 4 PM
Cost – FREE
Learn more - www.jcch.com
---
Foam Glow 5K Race - Jan 24th, 2020
Get blasted by foam blasters while running through foam stations throughout the 5K race.  End the race with friends dancing the night away in the foam glow party!  This event is great for the whole family and benifits Children's Miracle Network.  Runners get an event T-shirt.
Location - Kalaeloa/Kapolei
Time - 6:30 PM Race Start
Cost - $20

Learn more - foamglow.com
---
Bubble Run – Jan 25th 2020
There are many different running themes to start the new year, and this run is as clean as it gets!  That's right, this 3 mile race runs you through a few different "Foam Bogs", that are basically stations filled with colorful bubbles to get you wet and color you up!  Make sure to wear white to pick up and show off more color as you go!   This race is for all ages. 
Location – Saratoga Ave/Hornet St in Kalaeloa (Barbers Pt)
Time – 2 heats:  8 am & 9 am
Cost - $20 to $50 (depending on early registration by Dec 20th)
Learn more - Bubblerun.com
---
20th Annual Pacific Island Arts Festival - Jan 11th & 12th, 2020
75 to 100 artists will be displaying all types of island art creations in Kapiolani Park (across from the Honolulu Zoo).  Make a point to stop by this free entertaining event.  There will art demonstrations, lots of food booths, great Hawaiian music entertainment, and a lion dance to top it off!

---
Eat the Street – Jan 25th, 2019
Eat the Street is an organization that gets some of the best food trucks on the island to come together in a designated area, and create a party of its own.  It takes place on the last Friday of the month.  Thousands of hungry folks seeking their next favorite dish attend each month!  Explore the different venues and taste some ono creations.  Live entertainment!!!

Location – 1011 Ala Moana Blvd
Time – 5 PM to 10 PM
Cost - FREE
More info:  Eat the Street
---
Hawaii Beer Fest 2019 Winter Edition - Jan 26th, 2019
With over a 100 different breweries to try, surrounded by lots of food, adult beer games, and some retail booths to explore, and live entertainment...its guaranteed to be fun! Discover familiar and new brews from American and local breweries.
Location - Hawaii Convention Center
Time - 6 PM
Cost - $45 to $75
Learn more - Meet Hawaii
---
Art After Dark at the Honolulu Museum - Jan 25th, 2019
Midwinter Night Dreams...a renaissance affair!

Art After Dark takes place at the Honolulu Museum on the last Friday of each month except Nov & Dec.  This is a really fun event that allows you to explore the art and grounds after hours to the groove of a spinning DJ, popup bars and yummy appetizers being served by StreetGrindz and Pig in the Lady.  Enjoy drinks made by Free Spirit Mobile Bartenders
---
Honolulu Symphony Orchestra: Star Wars – Jan 31st - Feb 1st, 2020
Join the Honolulu Symphony Orchestra for a special Star Wars New Hope production.  Enjoy a memorable John Williams' performance to the classic George Lucas production. Note there will 2 performances on Feb 1st, 2 PM & 8 PM.



Aloha & Enjoy!!
Also check out Ongoing Oahu Shows & Entertainment.