Home  / Oahu Events / Oahu Events in November

Oahu Events in November
---
November Events
Thanksgiving Luau - Nov 1st - 30th, 2018
Take advantage of this months Thanksgiving festivities with a luau.  Paradise Cove is not just another luau, it's a full production with lots of activities and entertainment that some others tend to lack.  Kick off the afternoon with some Mai Tai's and join in the celebration and festivities!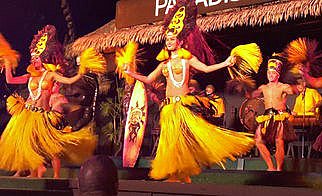 A Luau is a celebration for enjoying each other's company, play traditional Hawaiian games, watching a Kalua Pork Imu ceremony take place, participate in a hukilau of pulling in a large fishnet from the ocean, listening to live local music, and being entertained throughout the night with many Polynesian and Hula performances.
Location- Paradise Cove, Ewa Beach
Time – Pick up starts at 3:15 PM in Waikiki, Gates open at 5 PM
Cost – $85 to $170
---
VANS PRESENTS HIC PRO SUNSET BEACH - Oct 29th - Nov 9th, 2018
The start of North Shore winter big wave contests starts here. The competition will take place on the 3 largest surf days in a two week period, measuring strength, ability and talent of some of the best and local surfer of the world. Not only is it a fun contest to watch, but a qualifier for the Triple Crown contest. Make sure to arrive early when the contest is on to catch the action.
---
First Friday Art Walk - Nov 2nd, 2018
First Friday is an evening art walk that takes place in Chinatown Honolulu.  This is a popular fun event that takes place every 1st Friday of each month.  Surrounding merchants of art galleries, shops, restaurants and bars are known for opening up their doors, pouring wine and providing food to those stopping by. Most neighborhood shops will have maps of participating merchants.  The event ends at 9 PM, but the fun continues into the night with thousands of people flocking into the streets.
---
5th Annual Surf Art & Surf Festival – Nov 2nd & 3rd, 2018
Join the surfing community for an evening of fun, showcasing surf artworks and fundraising for the kids!  This annual north shore festival is promoted by Surfing the Nations as a give back to the Wahiawa community.  The evening will be filled with local artists, live music, and food truck vendors.  Support the arts and the kids…and have a fun night doing it!
---
Leeward Discovery Fair – Nov 3rd, 2018
A family day full of activities and fun!  There will be lots of educational and interactive exhibits to explore, and games to play.  Play an ukulele, learn the accient Gyotaku art of printing a fish, solve Egyptian messages, become a virtual fire fighter, create snow in paradise, explore a book fair and plant sale, and much more!  Also bring your appetite for the food booths!
---
7th Annual Makahiki Festival & Ke'Aloha Hula Competition - Nov 10th, 2018
Waimea Valley will be hosting their 5th annual Makahiki Festival, that will feature lots of great live music and an day of hula competition.  There will be some great traditional Hawaiian games and workshops to participate in, local vendors displaying their goods for sale, and ono delicious good!
---
Val Nolasco Half Marathon - Nov 12th, 2018
If you're looking of a warm up for the Honolulu Marathon or Thanksgiving Day Val Noasco , then why not sign up for the 5K or half marathon?  It's a beautiful scenic race that start from Kapiolani Park and leads up around Diamond Head.
Location - Kapiolani Park
Time - 5:30 AM Start Time
Cost - $45 to $75
Learn More - 808RaceHawaii
---
72nd Annual Wahiawa Lions Veterean's Day Parade - Nov 12th, 2018
Line up and watch over 80 marching military units and participating bands, including the Royal Hawaiian Band", parade down the street from the Ka'ala Elementary School, on California Ave, to the Wahiawa District Park.  Ceremonies and festivities begin once the parade arrives at the park, celebrating the thyme to this years event "Respecting Our Veterans".
Location - Wahiawa District Park
Time - Starts at 10 AM
Cost - FREE
Learn more - Wahiawa Community
---
Love of Libations at the Moana Surfrider – TBD
Celebrate all things luscious and lively...this Love of Libations event is all about Burbon, Whisky, and Rye.  Dress up and enjoy an evening under the iconic banyon tree, indulging in yummy taste bites, special crafted drinks, and lively entertainment.
Location – Moana Surfrider
Time – 5:30 PM to 7 PM
Cost - $35 (21 yrs & older)
Learn more –
---
Hawaiian Pro – Nov 12th - 24th, 2018
128 of the best surfer around the world head to Hawaii's North Shore during this winter period to compete for the prestigious Triple Crown of Surfing.  The Hawaiian Pro is the start to this big wave contest.  There's no bigger rush than catching the action in one of these surfing legs of the Triple Crown!
Location – Alii Beach Park (Haeiwa North Shore)
Time – TBD
Cost - Free
---
Outrigger Sunday Showcase – Nov 13th 2018
Na Mele No Na Pua will bring to life Hawaii's past, present and future through Hawaiian performing arts and entertainment.  Featuring a local musical performance by Nathan Aweau. This will be a fun free event to watch if you're in the area.  It will take place outdoor on the Waikiki Beach Walk grassy area. 
---
Vino & Vinyasa at the Moana Surfrider - Nov 15th, 2018
Can you think of a better way to relax then mixing up some yoga with a little wine after?  That's right, work on your flexibility and continue relaxing your state with some organic wines. There will be also be some special local vendor exhibits to check out.
Location - Moana Surfrider, Diamond Head Lawn
Time - 6:00 PM to 8:00 PM
Cost - Yoga is $5, wine is $5
Learn more - Facebook Monana-Surfrider
---
3rd Annual Hula Girl Festival – Nov 15th - 18th, 2018
The new Hula Girl Festival is dedication to the hula dancers of Japan, who have a big appreciation and love for Hawaii's culture, music and dance.  There will be endless hula dance performances happening over the course of 4 day in various locations.  Catch a hula show or 2 or 3, while shopping, grabbing lunch or having a fun at a water park!
Location & Times:
Sept 21st – Moana Treetop Restaurant, 11 AM to 2 PM
Sept 22nd - 23rd  – Waikiki Beach Walk, 10 AM – 4 PM
Sept 24th – Wet-n-Wild Water Park, 10:30 AM to 4 PM
Cost – FREE
Learn more - HulaGirlFestivalHawaii.com
---
1st Annual 5K Turkey Trot - Nov 16th, 2018
Ready for an early Turkey Trot Run? Registration is $20 and includes a t-shirt until November 15. Day of registration will be $35 and does not include a t-shirt. Below are links with information to the run. It is open to kids, friends, family, and anyone with base access.
---
Na Mele O Ko'olina – Nov 17th, 2018
Head to Ko'olina beach lagoon #3 for a day of Hawaiian music and local art display & sale!  Along the arching sidewalk you find close to 40 artist displaying their artwork for viewing and sale…perfect for special gifts!  There will also be Hawaiian slack-key guitarist and ukulele musicians playing during the duration of this event.
---
The Hawaiian 'Ukulele Experience - Nov 17th & 18th
Pack up your beach chair, lawn mat, and some sun screen and enjoy 2 days of ukulele entertainment!. Learn to build and play this Hawaiian loved instrument.
Location - Bishop Museum
Time - 9 AM to 3 PM
Cost - Administration to the museum
Learn more - Bishop Museum
---
4th Annual KAIWI Coast Run & Walk – Nov 18th, 2018
Enjoy a run/walk with friends for a sunrise along Sandy Beach!  The course travels along the rouged coastline, past the blow hole and Hanauma Bay, and ends at the canoe club at Maunalua Bay.  This Ka Iwi Coast 4 mile run is a fundraising benefit for the Hui Nalu Canoe Club.  Participates will receive a race event t-shirt, and a handmade glass fishing float.  Refreshments and award ceremony at the end.  Sound like fun?  Sign up now and join the fun!
Location – Hui Nalu Canoe Club in Maunalua Bay
Time – 6:45 AM to 8:30 AM
Cost – $30 to $50 per class and pre-register vs race day
Learn more – www.kaiwicoastrun.org
---
Wiki Wiki One Day Vintage Collectibles & Hawaiiana Show - Nov 18th 2018
If you're looking for a collectible Hawaiiana gift or something special to add to your collection, than this is the one day event for you!  You will find close to 100 venders displaying their antiques and collectibles…everything from jewelry to artwork to vintage shirts to ukuleles, and much much more!  Even if you have no intentions of shopping for anything, this event is simply worth exploring.
Location – Neil Blaisdell Center – Hawaii Suies
Time – 8 AM to 4 PM
Cost - $4.50 Gen admin, $15 Early admin

Learn More - www.ukulele.com
---
Thanksgiving Rock-A-Hula Show - Nov 22nd, 2018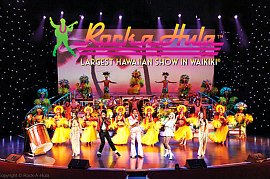 A memorable Las Vegas type production here in Waikiki, Hawaii!  This special Thanksgiving Rock-A-Hula show in a tribute with a Hawaiian twist to music legends such as Elvis Presley, Michael Jackson, and the beautiful voice of Celine Dion.

Listen to these familiar sounds and more, synced to Hawaiian music with Polynesian entertainment, including a popular fire dance.

The show begins 8 PM each evening at the Royal Hawaiian Center Theater.  General tickets start at $55 (lower price children tickets available), with larger options that includes transportation, VIP treatment, and dinner. 
Location – Royal Hawaiian Shopping Center, 4th Floor
Time – Pre-show options start at 6 PM, Show starts at 8 PM
Cost – VIP ticket options available
---
Waikiki Holiday Parade – Nov 23rd, 2018
Tis the season!  Start off the holiday season with Waikiki holiday parade that commemorates the Pearl Harbor survivors.  Not only is this a festival parade, but an event to educate the importance of this piece of history and also Polynesian culture.  Parade takes place through out Kalakaua Ave and the festivities will be set up Kapiolani Park.


Time – 7 am to 7 pm
Location – Starts at Fort DeRussy and travels down Kalakaua Ave to Kapiolani Park
Cost – Free
Learn more:  www.waikikiholidayparade.com
---
Holiday Craft Fair – Nov 24th, 2018
Start off your holiday season shopping for one of a kind gifts at the Holiday Craft Fair.  Hosted in a classic setting in the Hawaiian Mission Houses, this will be a fun event to bring friends and family and explore the vendors and festivities.
Location – Hawaiian Mission Houses
Time – 8:30 to 3 PM
Cost – FREE
Learn more – MissionHouse.org
---
Vans Triple Crown of Surfing – Nov 25th – Dec 6th 2018
This is the king of all surfing contests!  The Triple Crown of Surfing kicks off in November and takes place of a couple months waiting for the big swells to roll into Oahu's North Shore.  Watch hundreds of top surfer who travel from around the world to compete in 3 contests and beat each other out to be crowned the best surfer in the world.  This is the second leg of the Triple Crown of Surfing that takes places at big waves Sunset Beach.
Location – Haleiwa Beach
Time – TBD
Cost - Free
---
Outrigger Sunday Showcase – Nov 26th, 2018
Na Mele No Na Pua will bring to life Hawaii's past, present and future through Hawaiian performing arts and entertainment.  Featuring a local musical performance by Jerry Santos & Kamuela Kimokea. This will be a fun free event to watch if you're in the area.  It will take place outdoor on the Waikiki Beach Walk grassy area. 
---
Eat the Street – Nov, 30th 2018
Eat the Street is an organization that gets some of the best food trucks on the island to come together in a designated area, and create a party of its own.  It takes place on the last Friday of the month.  Thousands of hungry folks seeking their next favorite dish attend each month!  Explore the different venues and taste some ono creations.  Live entertainment!!!

Location – 1011 Ala Moana Blvd
Time – 5 PM to 10 PM
Cost - FREE
More info:  Eat the Street



Aloha & Enjoy!!
Also check out Ongoing Oahu Shows & Entertainment.