Home  /  Oahu Events in October

Oahu Events in October
---
October Events
Paradise Cove Luau - Oct 1-31, 2019
Paradise Cove is not just another luau, it's a full production with lots of activities and entertainment that some others tend to lack.  Kick off the afternoon with some Mai Tai's and join in the celebration and festivities!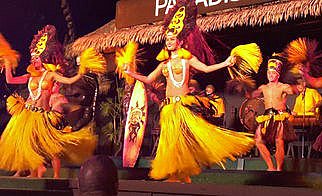 A Luau is a celebration for enjoying each other's company, play traditional Hawaiian games, watching a Kalua Pork Imu ceremony take place, participate in a hukilau of pulling in a large fishnet from the ocean, listening to live local music, and being entertained throughout the night with many Polynesian and Hula performances.
Location- Paradise Cove, Ewa Beach
Time – Pick up starts at 3:15 PM in Waikiki, Gates open at 5 PM
Cost – $85 to $170
---
Oahu Halloween Fun Guide – Oct 1st – 31st, 2019
Check out a schedule of ongoing Halloween events throughout the month of October.  There will be lots of pumpkin patch festivals, haunted houses, workshops, carnivals, spooky storytelling, running events, and special trick or treat events!  Don't miss out on a month full of Halloween fun!
---
Ko'olina Artfest – Oct 4th, 9th, 16th & 25th, 2019
Head to Ko'olina beach lagoon #3 for a day of Hawaiian music and local art display & sale!  Along the arching sidewalk you find close to 40 artist displaying their artwork for viewing and sale…perfect for special gifts!  There will also be Hawaiian slack-key guitarist and ukulele musicians playing during the duration of this event.
---
First Friday Art Walk - Oct 4th, 2019
First Friday is an evening art walk that takes place in Chinatown Honolulu.  This is a popular fun event that takes place every 1st Friday of each month.  Surrounding merchants of art galleries, shops, restaurants and bars are known for opening up their doors, pouring wine and providing food to those stopping by.
Most neighborhood shops will have maps of participating merchants.  The event ends at 9 PM, but the fun continues into the night with thousands of people flocking into the streets.
Also participating in the free art viewing and festivities is the Hawaii State Art Museum (free from 6 PM to 9 PM)

---
World Peace & Unity 10K Run – Oct TBD
Welcome people from around the world with the Aloha Spirit partaking in a morning World Peace & Unity 10k run or walk.  There will be face painters dressing up runners with international flag designs, and runners are encouraged to run with their country flags.  The race course starts off at Magic Island in Ala Moana Beach Park, and heads to Kapiolani Park and back.  Sign up early for discounted registration!
Location – Ala Moana Beach Park
Time – 6 AM to 10:30 AM
Cost – $30 to $50
Learn more – www.spocua.com
---
Italian Festival - Oct 6th, 2018
Who doesn't want to attend a Italian Festival?!  The food alone is a main attraction!  There will be no shortage of delicious samples to try, demonstrations and workshops to attend, neat art displays and other fun booths worth exploring.  If that's not enough, there will be a beer & wine garden, and ongoing live music and performances.
Location - Kaka'ako District 445 Cooke St
Time - 4 PM to 10 PM
Cost - Free
Location - Festa Italiana
---
Wiki Wiki One Day Vintage Collectibles & Hawaiiana Show - Oct 6th, 2019
If you're looking for a collectible Hawaiiana gift or something special to add to your collection, than this is the one day event for you!  You will find close to 100 venders displaying their antiques and collectibles…everything from jewelry to artwork to vintage shirts to ukuleles, and much much more!  Even if you have no intentions of shopping for anything, this event is simply worth exploring.
Location – Neil Blaisdell Center – Hawaii Suies
Time – 8 AM to 4 PM
Cost - $4.50 Gen admin, $15 Early admin

Learn More - www.ukulele.com
---
45th Annual Honolulu Intertribal Powwow – Oct 5th & 6th, 2019
Turnout for the biggest Powwow in Hawaii with a day filled with Native American festivities, including traditional drumming, native singing, dancing, and festive costumes.  25 vendors are scheduled to show off lots of Native American and local island arts and crafts, including a children's art booth.
---
Hawaii Food & Wine Festival – Oct 5th - 27th, 2019
This years Hawaii Food & Wine Festival will feature 12 different venues on Oahu through out the first week of November.  There are some fun venues including a Bloody Mary Food Fight, Raw & Wild, and A Taste of the Seasons.  Walk and or dance yourself around the evening ,enjoying a beautiful setting with entertainment and sampling lots of fun creations.
---
VegFest Oahu – Oct TBD
Explore the world of vegans.  This is an event celebrating plant based sustainable living in Hawaii and abroad.  Sample vegan food creations from local restaurants, and learn from chefs who are experienced with cooking healthy green foods.  There will be music, entertainment and contest giveaways.
---
DiscoverArt - Oct TBD
This is a pop-up art and entertainment event that takes place every 2nd Saturday of each month. The streets and merchants come alive with music, theater, comedy, demos, classes, fun food tastings, art and craft displays, different mediums of art, and other unique teachings in the realm of arts. The type of art and locations change around chinatown each month. Program maps can be found at each location.
Location - Marks Garage in Downtown Chinatown
Time - 10 AM to 3 PM
Cost - FREE
Learn more - ArtsatMarks.com
---
28th Annual Hispanic Heritage Festival & Health Fair - Oct 5th, 2019
Spend a day exploring the Hispanic community and their culture.  This free family event will be full Latin flavor in live entertainment, workshops, arts and crafts, dancing, food booths, tequila & beer tent, and lots of games and activates for the kids.
---
Beach Clean Up with the Waikiki Aquarium - Oct 13th, 2018
Start off the day with a good deed, and participate in a collective effort cleaning up trash and removing debris from the Waimanalo Beach area.   The fun start in the morning and end before lunch…can't make it any easier!  There should also be some goodies available to those who participate by sponsors.  Make sure to sign up below…

Guided tour of the Arctic Sunrise - Oct 13th & 14th, 2018
Join Greenpeace on board the Arctic Sunrise in Honolulu and learn about life at sea as an activist, take a guided tour of the Arctic Sunrise, and learn about how we can all work together to tackle plastic pollution.
---
Vino & Vinyasa at the Moana Surfrider - Oct TBD
Can you think of a better way to relax then mixing up some yoga with a little wine after?  That's right, work on your flexibility and continue relaxing your state with some organic wines. There will be also be some special local vendor exhibits to check out.
Location - Moana Surfrider, Diamond Head Lawn
Time - 6:00 PM to 7:00 PM
Cost - Yoga is free, wine is $5
Learn more - Monana-Surfrider.com
---
Moon Walk at Waimea Valley - Oct 11th, 2019
Kick off the evening with a grand buffet dinner in Waimea Valley, followed with a self guided moonlit walk in the botanical gardens. This is a great way to start the weekend with a memorable night!
Location - Waimea Valley
Time - Buffet starts at 5 PM, walk starts at 8 PM
Cost - $10 walk only, $39/Adult, $19.50/Kid (4-12)
Learn more - WaimeaValley.net
---
Na Mele O Ko'olina – Oct 19th, 2019
Head to Ko'olina beach lagoon #3 for a day of Hawaiian music and local art display & sale!  Hawaii's very best Slack Key and Ukulele musicians, as well as 30 Hawaiian artists who display their artwork for sale
---
13th Annual DUKE'S WAIKIKI UKES CONTEST – Oct TBD
Duke's will be hosting their annual ukulele contest with 2 competing division with 2 age categories, including instrumental and vocals.  What will they be competing for?  How about a brand new state of the art Kamaka Ukulele.  A "Best Showmanship" award will be also be given along with lots of prizes and Duke's merchandise.  Whether you are competing or watching, this will be a great event to relax at the bar with a Mai Tai and check out the local talent!
Location – Dukes Waikiki
Time – 10 AM to 1 PM
Cost – FREE
Learn more – DukesWaikiki.com
---
Honolulu Pride Parade & Festival – Oct 19th, 2019
Line Waikiki streets and watch a 1000 participants march in the colorful Honolulu Pride Parade.  The festival begins as the parade ends in Kapiolani Park.  Several DJ's will keep the party going, along with lots of fun booths to explore, educate, and get a bite to eat!
---
Art After Dark - Oct TBD
CarnEvil is your October thyme!  Dress up in your carnival uniforms and show off at at Art After Dark, that takes place at the Honolulu Museum on the last Friday of each month except Nov & Dec.  This is a really fun event that allows you to explore the art and grounds after hours to the groove of a spinning DJ, popup bars and yummy appetizers being served.  Make sure to come out in costume as the King & Queen will be crowned at the end of the night!

---
Na Mele Aloha – Oct 27th, 2018
Spend an evening watching a colorful celebration with of hula performances and live music and aloha at the Hawaiian Mission Museum.  This will be the last performance of the Na Mele Aloha outdoor concert series.  Note that the Mission Café will be open durning the performance
Location – Hawaiian Mission Museum
Time – 5:30 PM to 8 PM
Cost - $30 to $35
Learn more – www.missionhouses.org
---
8th Hawaii Food and Wine Festival – Oct 23rd - 27th, 2019
Hawaii Food & Wine Festival features ongoing events on multiple islands with different themes hosted at different locations including the Marriott Resort, Victoria Ward Park, the Hyatt, the Hawaii Convention Center, Ko'olina Resort, and the Halekulani Hotel. Pricing and offerings vary for each event...check out more below.
---
6th Annual Hawaiian Slack Key Guitar Festival – Oct TBD
Turn out for a grand day of non-stop slack key guitar play from noon to 5 PM at Holauna Park.  Bring a lawn chair, blanket, and sunscreen, and kick back with family and friends listening to the sweet sounds of 15 artists playing sole and together on the slack key guitar.  Festivities include ono food booths, freebies, and a lucky winner of a Taylor Guitar!
---
VANS PRESENTS HIC PRO SUNSET BEACH - Oct 29th - Nov 9th, 2018
The start of North Shore winter big wave contests starts here. The competition will take place on the 3 largest surf days in a two week period, measuring strength, ability and talent of some of the best and local surfer of the world. Not only is it a fun contest to watch, but a qualifier for the Triple Crown contest. Make sure to arrive early when the contest is on to catch the action.
---



Aloha & Enjoy!!