Oahu Events in June
Check out all the best Oahu Events in September including the Pan Pacific Festival, King Kamehameha Celebration, and Summer Concert Series.
Paradise Cove is not just another luau, it's a full production with lots of activities and entertainment that some others tend to lack.  Kick off the afternoon with some Mai Tai's and join in the celebration and festivities!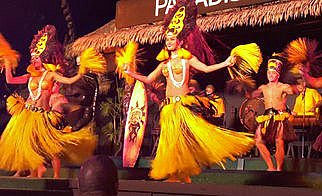 A Luau is a celebration for enjoying each other's company, play traditional Hawaiian games, watching a Kalua Pork Imu ceremony take place, participate in a hukilau of pulling in a large fishnet from the ocean, listening to live local music, and being entertained throughout the night with many Polynesian and Hula performances.
Location- Paradise Cove, Ewa Beach
Time – Pick up starts at 3:15 PM in Waikiki, Gates open at 5 PM
Cost – $85 to $170
---
First Friday Art Walk - June 1st, 2018
First Friday is an evening art walk that takes place in Chinatown Honolulu.  This is a popular fun event that takes place every 1st Friday of each month.  Surrounding merchants of art galleries, shops, restaurants and bars are known for opening up their doors, pouring wine and providing food to those stopping by. Most neighborhood shops will have maps of participating merchants.  The event ends at 9 PM, but the fun continues into the night with thousands of people flocking into the streets.
---
Screen on the Green at Waimea Valley - June 7th, 14th, 21st & 28th, 2018
Waimea Valley is going to help make your summer more fun with a series of outdoor movie nights for the family.  Enjoy free open-air movie nights featuring new and classic films. Screen on the Green kicks off their first movie night on June 1st, after the Hale'iwa Farmers Markets. Take a seat on the main lawn with the feature hit Manoa.
---
18th Annual Habiltat Luau at Kualoa Ranch - June 2nd, 2018
Turnout for the largest luau on the island benefiting Hawaii's Habitat, an alternative to a 12 step program.  Join a big benefit for the preservation of the beautiful Hawaii we've come to love.  Enjoy a day of fun & activities, entertainment, a huge silent auction, and a grand grand daytime luau.  Along with other activities, including lots of great stuff for the keikis (face painting, bouncy houses, caricature drawings), there will be a silent auction featuring over 500 items to bid on.  You will find everything from vacation getaways to jewelry to Hawaiian musical instruments.  Music entertainment venue includes Henery Kapano & John Cruz.  Finally, you can't beat an 8 coarse luau, including all the classics…, Kalua Pig, Lomi Salmon, Chicken Long Rice, Beef Stew, Rice, Poi, Squid Luau, and Haupia...and all for a great cause!
Location – Kualoa Ranch
Time – 10 AM to 4 PM
Cost - $40 Adult, $20 Child, $100 Family
Learn more – Habilitat.com
---
7th Annual North Shore Ocean Fest – June 2nd, 2018
Celebrate our beautiful Pacific Ocean up in the North Shore!  From successful years before, Turtle Bay Resort will continue to host this event that brings together ocean educators, ocean activates, film promotion, Hawaiian made crafts, and lots of food vendors and live music on the grounds.  As a bonus, there will be hula performances and great prizes being handed out.  This is a free attendance fundraiser, honoring "World Oceans Day", with fun filled event for the whole family! 
---
11th Annual Biggest Little Airshow in Hawaii - June 2nd, 2018
In commemoration of the Battle of Midway, join thousands of spectators turning out to watch remote control 1/5th scale warbird planes perform tricks in the air.  There will be lots of supporting and side activities, including a kids' activity zone, hangar tours with historic single engine planes on display, a "candy bombing" air performance. As will all successful events, there will be food, drinks, exhibits, and entertainment...  Note: there will be a free shuttle provided from Pearl Harbor Visitors Center.
---
146th Annual King Kamehameha Lei Draping - June 8th, 2018
A special 30 ft lei draping event takes place each year from when the bronze statue was dedicated by King Kalakaua, honoring the great King Kamehameha.  With this tradition, will be a royal court performance, Hawaiian music, ceremony, and entertainment!  It will be spectacle not to be missed!  Joining the music entertainment will be the Royal Hawaiian Band, and Raiatea Helm.
Location - Ali iolani Hale, Downtown Honolulu
Time - Starts at 3 PM
Cost - FREE
Learn more - ags.hawaii.gov
---
39th Annual Pan-Pacific Festival – June 8th – 10th, 2018
Get ready for a 3 day international celebration of Pan-Pacific culture in Waikiki.  During this block party parade, you will see great performances including hula, live demonstrations, lots of food booths, and live entertainment.  Watch thousands participate in a big parade with lively costumes and floats, as they march down Kalakaua Ave...followed with a long day full of activities!

---
Hawaiian Steel Guitar Festival – June 9th, 2018
Need a better excuse to head to the mall?  How about a grand Hawaiian steel guitar concert!  Featuring masters such as Bobby Ingano, Greg Sardinha, and Jeff Au!  Come out and join the fun! 
---
2nd Annual World Oceans Day Celebration – June 10th, 2018
Join in on ocean education and sustainability activities.  This will be an afternoon of fun activates & celebration around the beautiful Ko'olina Lagoon #4.  Listen to live entertainment and explore the food booths with your appetite.  There will also be an outdoor movie showing of Disney's recent box office hit Moana.
Location – Ko'olina Lagoon #4

Time – 4 PM to 9 PM
Cost – FREE
Learn more – koolina.com/events
---
Na Mele O Ko'olina – June 16th, 2018
Head to Ko'olina beach lagoon #3 for a day of Hawaiian music and local art display & sale!  Along the arching sidewalk you find close to 40 artist displaying their artwork for viewing and sale…perfect for special gifts!  There will also be Hawaiian slack-key guitarist and ukulele musicians playing during the duration of this event.
Location – Ko'olina Beach Lagoon #3
Time – 9 AM to 5 PM
Cost – FREE
Learn more – hotcrafts.net
---
Father's Day BBQ Buffet and 'Aha Mele Series Concert  June 17th, 2018
Time to take dad out for a relaxing day in the Waimea Valley gardens, where he and the whole family can enjoy a nice Father's Dad BBQ and concert performances from Hawaii's musicians, Paula Fuga, Pandanus Club, and Jerry Santos.  The BBQ buffet will feature baby back ribs, BBQ Chicken, grilled steak & fish, burgers & hot dogs, and lots of sides including kiawe smoked potatoes!  Price of admission will give you access to explore the beautiful grounds and popular waterfall.
Location - Waimea Valley
Time - 11:30 AM to 3 PM
Cost - $45.95 Adult, $21.95 Child (4 to 15 yrs old)
Learn more - WaimeaValley.net
---
Father's Day Beerfest – June 17th, 2018
Treat Dad to a day of tasting up to 20 different micro beers, sampling food pairings, while being entertained with some live entertainment under the iconic banyan tree!  Doesn't get much better than this!
Location – Moana Surfrider, Banyan Courtyard
Time – 4 PM to 7 PM
Cost - $50 to $60

---
Eat the Street – June 29th 2018
Eat the Street is an organization that gets some of the best food trucks on the island, that to come together in a designated area, and create a party of its own.  Thousands of hungry folks seeking their next favorite dish attend every last Friday of the month!  Explore the different venues and taste some ono creations from 40 food trucks.  Live entertainment!!!

Location – 1011 Ala Moana Blvd
Time – 5 PM to 10 PM
Cost - FREE
More info:  Eat the Street
---
6th Annual Waimea Valley Summer Concert Series - June 30th, 2018
Join the Mele Kulāiwi Songs of our Native Land.  Waimea Valley's annual summer concert is back with a great local line-up, including:  Josh Tatofi, Kapena, Na Hoa, Napua Greg, & Halau Na Lei Kaumaka O Uka. Concerts will be held on the Waimea Valley Main Pavilion Lawn on the last Saturday of the summer months: June 30th, July 28th, and August 25th from 3pm-6:30pm.
Location - WaimeaValley.net
Time - 3 PM to 7 PM
Cost - $15 Adult, $12 Seniors and Keikis
Learn more - WaimeaValley.net



Aloha & Enjoy!!