Home  /  Oahu Hiking Trails
Oahu Hiking Trails
Oahu hiking trails provide access to some of the best views and adventures on the island.  I love the hikes on Oahu, because they remove you from the hustle and bustle of Waikiki, and into the natural wild beauty of the island.  You'll have an opportunity to explore the indigenous plants and animals on these Oahu hikes.  And finally, I'm always up for hiking Oahu because many of the mapped trails satisfy my sense of adventure and craving to explore the island's natural beauty.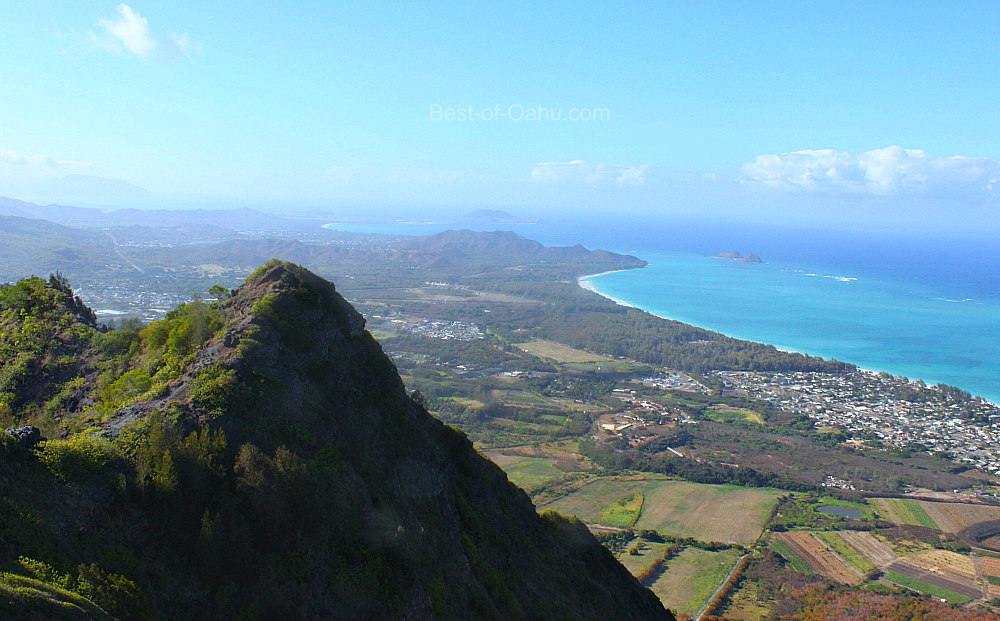 View of Koko Head Crater and marina
Join me as I walk you through some of the best hikes on Oahu.  There are some great strolls and hikes in and outside of Waikiki.  In fact there are close to 50 popular Oahu hiking trails located through out the island.   But with limited time, let's explore a few Oahu hikes you're going to definitely want to trek!
---
I've found that the best hikes on Oahu tend to be 3 miles or less, and takes 1 to 3 hours to complete.  While some of the Oahu hiking trails lead you climbing up mountain tops and ridges, other Oahu hikes aren't hikes at all, but rather considered more like beautiful strolls, and worthy of a mention.
---
Climbing Hawaiian Mountain Ridges
---
Diamond Head Hike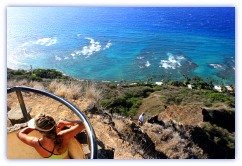 Hiking Diamond Head is not only one of the best hikes on Oahu, but also happens to be my personal favorite!  The views you'll take in from the top viewing platform are not only beautiful, but are also recorded as the longest land views you'll see in the world.
I was pleasantly surprised to find that it only took a half hour to Hike Diamond Head to the top. You'll find everyone from children to senior vets climbing up to the crater ridge top.
---
Makapuu Lighthouse Hike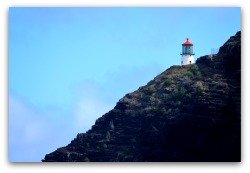 The Makapuu Lighthouse hike is a fairly easy one-mile hike to the 500 ft peak, with a small degree of difficulty towards the Makapu'u Point.
The prize that the end of this hike are stunning views of the Makapu'u Lighthouse & beach  (one of my favorite body boarding beaches in all of Oahu!), the Windward coast, local Rabbit island & Kaohi'ka'ipu island, and also an impressive outline of neighboring islands, Molokai and Lanai.

---
Lanikai Pillbox Hike - Kaiwa Ridge Trail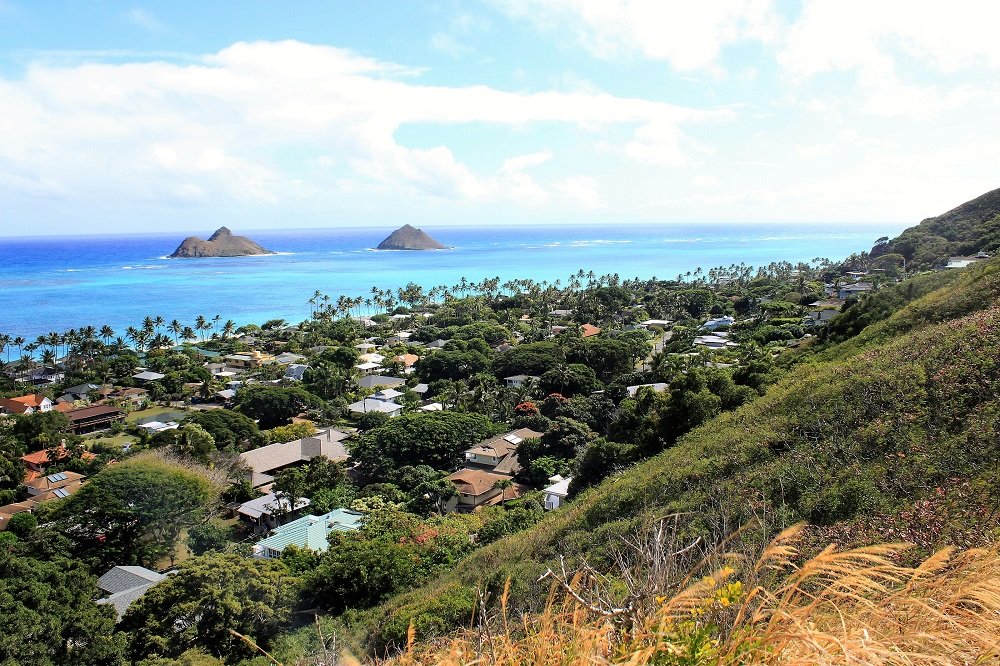 The Lanikai Pillbox Hike is a fun little hike that starts at the end of a residential street, and escalates quickly a quarter mile up to the first pillbox.

There are no better views of the pristine Lanikai Beach than on this hiking trail, aside from  standing on the sand itself of course (depending on your preference).


If you are intrigued with your hike to the first bunker, then continue up the Kaiwa Ridge Trail onto the second pillbox, which will extend your hike and views to just under a half hour each way.


Simply stunning views throughout the entire hike!  This is one of my wife's favorite hikes.
---
Koko Crater Trail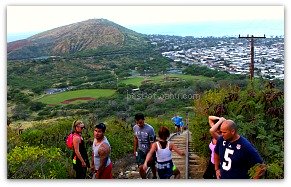 Looking to conquer the big hill?  Climb the Koko Crater Trail and the hill just might conquer you!  The Koko Head Steps can be a lot of fun, but present a big challenge at the same time as you'll be climbing 1050 long steps up to the top!
The "steps" are actually old military railroad ties for a train that once ran supplies to the top ridge.  Make it to the top of this Oahu hiking trail, and you will be rewarded with incredible panoramic views of the surrounding area, including Hanauma Bay, the Koko Marina, and Sandy Beach.
---
Ehukai Pillbox Hike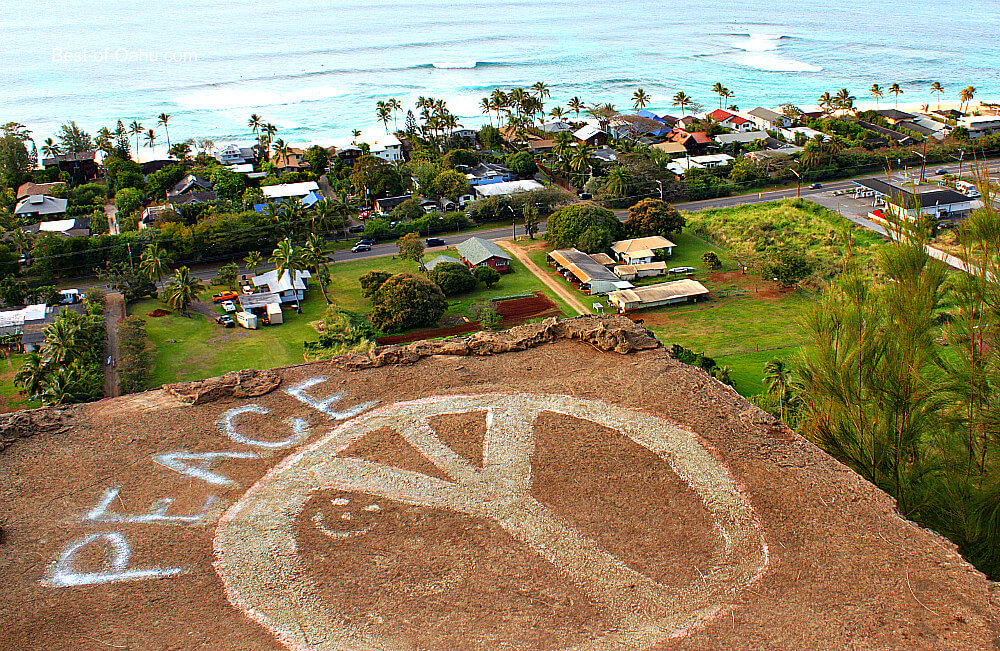 While the Lanikai Pillbox's is one of the most popular hikes on the island, there is an Ehukai Pillbox Hike on the North Shore that still remains mostly quiet.  It is sometimes referred to as the Sunset Pillbox Hike, as it resides behind the Sunset Elementary School.
The climb will take you about 30 minutes or so to reach the first of two military pillboxes.  The second pillbox that's just 5 additional minutes away has the best views of the North Shore!
---
Haiku Stairs - Stairway to Heaven
4000 steps will get you pretty close to heaven on this journey up the Ko'olau mountain ridge.  There is nothing easy about this hike, as you will be counting each step you take!  The US Coast Guard originally put a wooden stairway path into place back in the 1940's, to allow construction and access to a radio tower.
Stairway to Heaven, also known as the Haiku Stairs, is unfortunately closed at this time.  It originally closed in 1987 for restoration of the stairway, but remains so today due to property land access issues.  I cannot recommend this hike at this time because it is officially closed, but it seems that people are still making the journey up the newly renovated path although "No Trespassing" signs are visibly posted.
---
Hiking Oahu Waterfalls
I'm not sure if there is anything more satisfying than trekking some of the best Oahu hiking trails that come with a prize waiting for you at the end -- a stunning Oahu waterfall!  The 3 Oahu hikes I would like to recommend are fairly easy trekking and family friendly. Waimea Falls Park is the easiest of the three, with facilities on site. The Manoa Waterfall & Mauanwili Falls offers a little more sense of adventure, as you'll be hiking up jungle trails.
---
Waimea Falls Park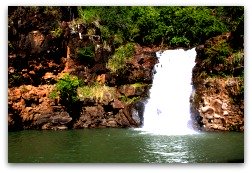 This is one of the great Oahu hikes/strolls for the whole family! You mainly walk along a flat road that is surrounded with clean botanical gardens, that will keep you entertained until you reach a bold 50 ft Oahu waterfall.
There is a small entrance fee to enter the Waimea Falls Park, but well worth the bang for the buck. It will take you about 30 minutes to reach the waterfall.
---
Get your Oahu GO Card that gives discounts to multiple attractions and tours around the island, including Waimea Valley Park & Falls...
---
Manoa Falls Trail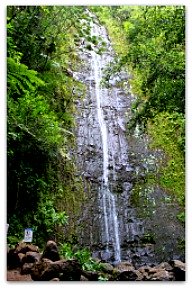 This Oahu hiking trail is located above Waikiki in the Manoa Valley mountainside.  The Manoa Falls Trail is a somewhat easy but still an adventurous hike through a lush bamboo and guava tree forest.

The prize at the end of this hour hike is a towering 150 ft Oahu waterfall.
Set your expectations high for this Oahu hike!
---
The Oahu GO Card gives you your admission and discounts to multiple attractions & tours including Manoa Falls Park.
---
Maunawili Falls Trail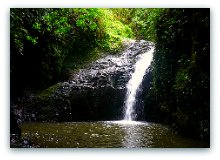 Maunawili Falls is a fairly easy Oahu hiking trail, with breathtaking views of the valley, and a fun 20 ft Oahu waterfall to jump into at the end.  Take caution while jumping in and swim at your own risk!
It will take you about an hour to hike this mile and a half trail.  It can get a little wet at times since the Maunawili Falls trail backs up into the Koolau Mountains, so be prepared to trek through some muddy areas.
---
---
Trekking Raw Beauty in Oahu
---
Kaniakapupu Ruins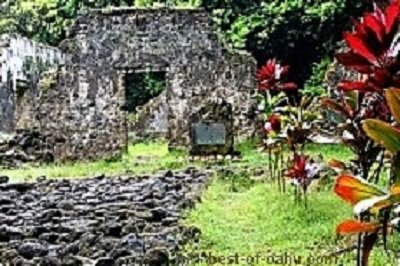 Located in Nu'uanu Valley off the Pali Hwy are the remains of King Kamehameha III's summer home, originally built in 1847. 
Today you can take a short stroll through a bamboo forest and visit the Kaniakapupu Ruins, one of the oldest standing structures on Oahu!

---
Kanealole Trail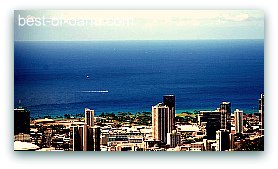 The Kanealole trail (Ka ne' al ole) is considered the heart that leads to many other hillside trails.  This is a moderate 1.5 mile hike that climbs up 500 ft through switchback trails in a dense tropical rainforest.  The trail opens up occasionally with windowing Honolulu city views.
I recommend starting off with this hike, even if you plan on branching off to some of the other trails.

---
Kaena Point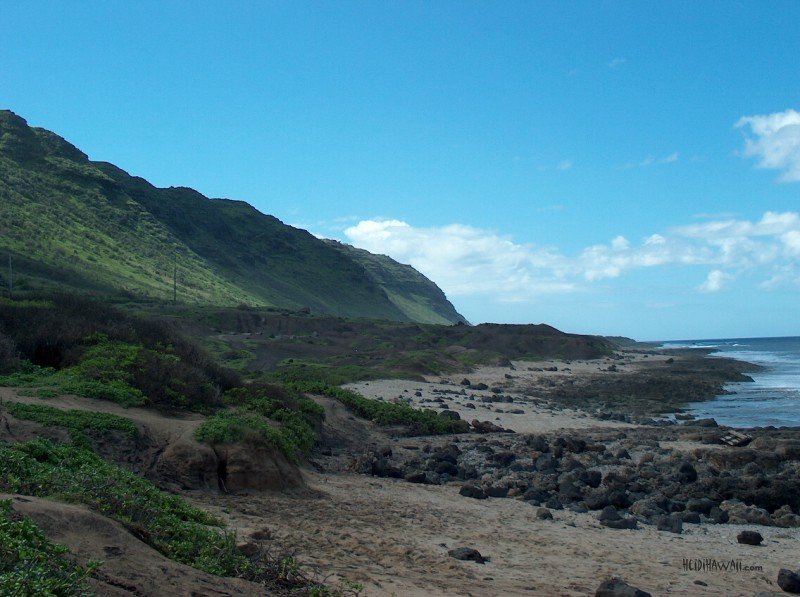 "Untouched Oahu" best describes Kaena Point!  Except for an old railroad track and a couple of old abandoned cars lying around, this is one of the Oahu hiking trails that are pretty much isolated from all signs of civilization.
You get an opportunity to explore Oahu in its raw state.  Enjoy the natural beauty, plant, and animal life as you trek over the sand dunes.
To avoid the extreme heat that takes place on this side of the island, this is a moderate hike that should be started in the early morning.  

---
Beautiful Oahu Strolls
---
Ala Moana Beach Park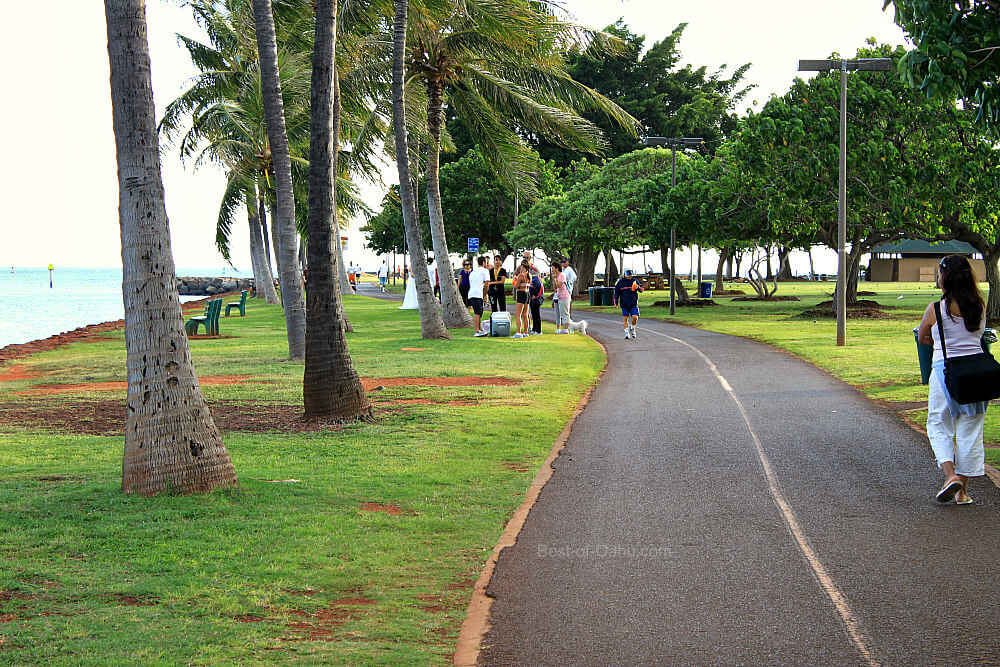 Join the locals for an island favorite stroll along the beachside park. Sunrise and sunset are the best times to capture Ala Moana Beach Park in its true beauty.  This stroll starts off on the Magic Island strip, which gives you some fantastic perspective views of Waikiki and the Kewalo Basin. 
Your stroll continues a half-mile down a stretch of sand, where the surrounding activity continues to grow as the day goes on.

---
Waikiki to Diamond Head Scenic Stroll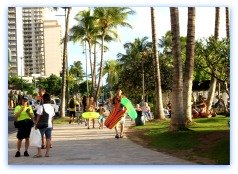 Okay, a stroll on Waikiki, whether on the lively sidewalk promenade or on Waikiki Beach doesn't quite count as one of the Oahu hiking trails but a lot of visiting tourists discover this fun walk by a pure sense of adventure and excitement to discover their surroundings right outside their hotels.
The reason I like this Waikiki stroll is because the landscape continues to change and amaze you the farther you go.
I recommend starting off at the Duke Kahanamoku statue and head south along the beachside towards Diamond Head.
You can either turn around a mile down the road, when you reach San Souci Beach, or continue on as the road starts to slowly climb up Diamond Head. 
There are some breathtaking views to enjoy if you reach the 3 Diamond Head scenic point turnouts, located 1.5 miles from San Souci Beach.

---
Pearl Harbor Historic Trail
A big renovation is in the works for what could size up to be one of the best walking/biking trails on Oahu. The City of Honolulu is proposing both short and long term fixes in 2016 of the old 18 ½ mile Pearl Harbor Historic Trail, which stretches around the harbor itself and continues all the way to Nanakuli.
Along with cleaning up this Oahu trail, the plan calls for creating seating, shade, fountains, and night lighting. The vision also includes a longer goal of building retail shops & restaurants, and park play areas along the Peral Harbor trail section that starts at the Halawa Landing Visitors Center and ends at Lehua Elementary School.
---
Have an adventure exploring some of the best Oahu hiking trails!
Aloha & Enjoy!!