Best Oahu Transportation!
Oahu transportation including flying in and out of the Honolulu International Airport is easy as it should be. Renting a cheap Oahu car rental to explore the island, or traveling about on an Oahu bus or Waikiki Trolley will get you from place to place, and couldn't be simpler or more fun!

~PLANES, TROLLEYS, and AUTOMOBILES~

Hawaii gets an A+ when it comes to fantastic transportation! Getting to the island and traveling around Oahu couldn't be easier with the multiple options available!
Honolulu International Airport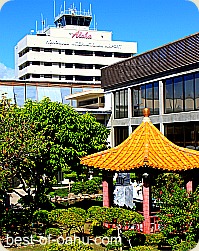 It's hard to get excited about an airport hub, but the
Honolulu Hawaii Airport
seems more pleasurable than most. You're not going to find 4 star restaurants, massage centers, or internet cafes, but don't discount the simplicity, efficiency, and beautiful surrounding tropical flora as measurable criteria.
The Honolulu International Airport (HIA) is located just 10 miles north of Waikiki . It's the largest airport hub in the state and is host to 27 different airlines . With more than 20 million visitors coming through each year, the HIA is one of the world's largest air transport centers.
There really is no better choice for island transportation than Oahu car rentals! Don't get me wrong, Hawaii has one of the best public transportation systems around, but reserving an Oahu car rental gives you the freedom and ability to visit Honolulu attractions and off the beaten path spots whenever you want. This is my personal favorite of all the different modes of Oahu transportation!
The island is fairly easy to get around, so why not grab yourself a cheap Oahu car rental and get ready to explore the real Hawaii!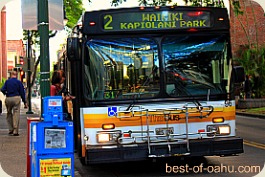 The
Oahu bus system is like no other and ranks among the best! Simply put, the Oahu bus is simple, inexpensive, and a friendly public Oahu transportation to use if you don't feel like doing your own driving around the island!





A majority of the bus lines you'll most likely be using to visit outside attractions, run directly through Waikiki.

Most other routes are a quick bus transfer to and from the Ala Moana Mall or downtown Honolulu.

Learn more about the Oahu bus routes you're going to take, bus fares, and tips for riding around the island.



Waikiki Trolley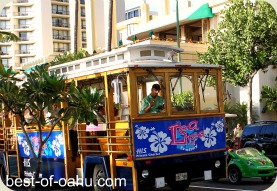 Add some

scenic fun to your ride by taking a Waikiki Trolley

. Launched in 1986, this company rolled out the first San Francisco Cable car replicas on wheels.




The trolley's original routes traveled to some main Honolulu attractions, including the Waikiki Aquarium, the Honolulu Zoo, Waikiki Beaches and the Ala Moana Mall.


Today there are over 50 Waikiki Trolleys traveling to many destinations around the island. There are 4 different routes to explore: Scenic Tour, Historic Tour, Shopping Tour, and the Island Tour. Tickets start around $9 for a child's day pass, and go up to $49 for an Adult 7 day pass.



Bicycles, Moped and Motorcycle Rental Oahu

If 2 wheels are your ride of choice, Hawaii has made it convenient to get yourself a motorcycle rental for a day or a week ! Cruisers, Mountain Bikes, Choppers, Yamaha, Harley Davidson, BMW, Honda, sport bikes, and mopeds -- Hawaii motorcycle rentals are all around Waikiki. There are some great scenic rides that are close to Waikiki, including the southern coastline and traveling up Tantalus in the Manoa Hills.
Taxi Honolulu



Taxi anyone? If you're looking for a more personable Oahu transportation, there are a few

taxis, limos, and charter buses

in Honolulu that would like to earn your business.




Check out more for numbers, rates and details that you need will need to know if you choose to see the island this way.




Ride with Aloha and Have Fun!