Oahu Nightlife!
After the sun melts into the Pacific, the stars come out, and the Oahu nightlife comes to life! It's really all about the Honolulu nightlife for the most part. Whether you are seeking the Honolulu nightclubs & Honolulu bars, or maybe something a little more special, it's hard not to find good entertainment somewhere in this island's nightlife!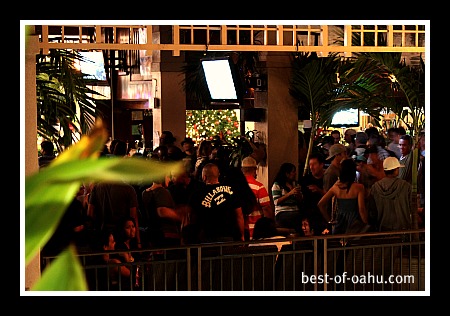 Oahu Nightlife - Honolulu
Best 5 Honolulu Bars

Mai Tai Bar

– Rockin' open-air bar on top of the Ala Moana Mall – very lively and popular with the locals!

Gordon Biersch Brewery

– open-air bar and restaurant at the Aloha Tower Market, that comes with live music and award winning micro beer.

Dukes Canoe Club

– the only bar that comes with sand…check your sandals at the bar!

Bar 35

– Fun vibe Downtown bar with enough beers being represented to keep you busy all night

Eleven44

(formally Bambu Two Cafe & Martini Bar) – Hip lounge in Chinatown that serves $3.50 martini's all day long!

Aloha Tower Marketplace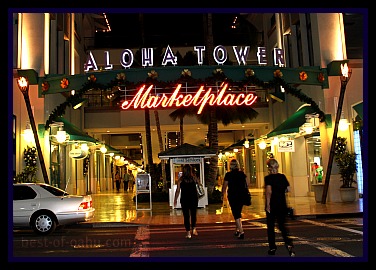 The Aloha Tower Marketplace is
alive and packed on most nights
. There are a a handful of Honolulu bars, restaurants, and different venues for entertainment.
There are about
a dozen restaurants within the 60 surrounding shops
. And while the retailers close up for the night, a few popular Honolulu bars/restaurants start to come alive to entertain tourists and locals and add to the bustling Oahu nightlife!
Aloha Tower Market place Live Entertainment:
Gordon Biersch Brewery

- another great spot that anchors the Aloha Tower Marketplace at the end of the pier with harbor views. I love their inviting open-air environment, and variety of entertainment from Hawaiian to Reggae to Jazz – all which are fitting for the setting!
The Villa

- 2nd level spacious night club open Fri & Sat nights from 10pm to 2am. $10 cover will get you in to dance the night away.
Hooters

- Known for their spicy chicken wings and eye candy service...'nuff said! Hooters usually has a few "challenges" and events scheduled through out the week.
The Waterfront and The Aloha Lounge

- Special events and entertainment spaces.




Most Popular Honolulu Nightclubs


M Honolulu

– Formally the long standing Oceans 808 club, and now "M" has taking the helm in what still remains to be a very popular spot.


The Republic

– Nightly concert venue on Kapiolani Blvd. A nice way to change up the DJ club scene once in awhile!

Lewers Lounge

– Classy Waikiki spot to enjoy a cocktail, located in the beautiful Halekulani Hotel.

Zanzibar

– Jamming Waikiki nightclub that's open all night.

Addiction

– Waikiki's new hip spot to see and be seen at the Modern Hotel! There is an amazing collection of 40,000 luminous lights that creates a magical visually stimulating atmosphere.




Oahu Nightlife - Chinatown Honolulu




Chinatown is hip, it's raw, and is a lively part of the Honolulu nightlife!

Blending into the red light district are some of Hawaii's top art galleries, new upcoming culinary delights, the Hawaiian flower lei community, and a good handful of old & new Honolulu Bars.

Visiting this downtown area during the daytime is one thing, but I recommend jumping in the lively action at night. Better yet, show up for a fun relaxing happy hour and take it right into dinner and the night!

Most of the action can be found from Bethel to Mauakea St, between King and Beretania St, or about 10 square blocks.



Noteworthy Bars and Nightclubs in Oahu's Chinatown area:


Manifest

– hip artsy coffee shop by day, jumping bar by night

Hanks & Dragon Upstairs

– old school flavor with a sense of mystery. Good spot to catch some live entertainment.

Eleven44

(formally Bambu two Cafe & Martini Bar) – $3.50 martini's & my favorite spot for cocktails…need I say more!

Bar 35

– voted best bar, 150 beers, gourmet pizza, and a DJ spinning lively tunes.

TIP: 1st Friday of each month is a big night in Chinatown Honolulu. Most of the Galleries stay open late, and host with music, free drinks and pupus (appetizers). It's a really fun time, and worth checking out if you're around!




More Oahu Nightlife fun!


Live Jazz at the Kahala Hotel and Resort – I might not be able to afford staying at this elegant resort, but we love dropping by for a few hours in the evening, ordering some drinks and enjoy listening to the live jazz music that takes place in their beautiful open-air atrium.

Sunset Boat Cruises

– breathtaking views of Waikiki and Diamond Head, a sunset on the water, dinner, Polynesian dancers, and boogieing into the night with the DJ – that should be enough fun for one night!

Hawaiian Luau

– it seems like a touristy thing to do, but a fun experience at that! I don't think I've heard any complaints or regrets about going to any one of the three outfits that put on the whole production here on Oahu. It's a night of continuous entertainment, with torch lighting, hula dancer performances, Hawaiian rituals, flowing tropical drinks and of-coarse a huge luau spread including the Poi!




Oahu Nightlife - Waikiki

Waikiki is always the last city to go to sleep on the island, with its own share of Oahu nightlife. Hawaiian bars, clubs and lively entertainment keep the Waikiki nightlife rolling on.

Some of the Better Anchors to the Wild Waikiki Nightlife

Duke's Canoe Club

- This popular beachfront restaurant and club located in the Outrigger Waikik was recently renovated. There's always a lively crowd at Duke's where the tropical drinks are liberally consumed to keep the fun and action going.

Zanzibar

- Jamming Waikiki nightclub that's open all night. If you're up for club hopping all night, you can hit this nightspot afterhours.

Five-O Bar

- the newest of many Waikiki nightclubs, perched at the top of the Royal Hawaiian Center.