Best Oahu Golf Courses!
You'll find most of Oahu golf courses are kept in great tiptop shape, and rank as some of the best Hawaii golf courses to choose from. You may be inclined to a challenge at a Northshore golf course or want to stay close to your hotel and do some golfing in Waikiki … you will have great fun at the golf courses in Oahu.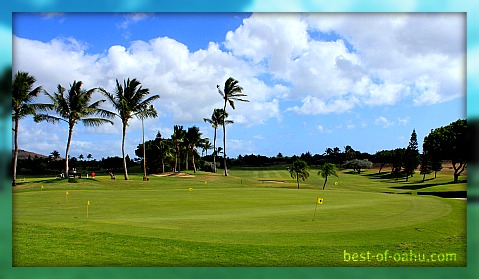 Because whether you are an avid golfer playing with a low handicap, shooting bogie golf like myself, or a fair-weather weekend hacker, or just starting out, Oahu is a fitting playground that offers a wide selection of great golf courses for everyone.

The best part is that you don't have to go broke golfing these golf courses in Oahu. The best bang for your buck can be found at the municipal public golf courses. These include: Ala Wai Golf Course, Kahuku Golf Course, West Loch Golf Course, and the Pali Golf course.

Best Oahu Golf Courses for Beginners

Golfing in Paradise does not have to for the serious and pro golfers. Check out the following golf courses in Oahu that offer par 3 layouts, ocean links & accommodating courses for those who wish to just enjoy themselves out on the fairways:

Ala Wai Golf Course ~ Kahuku Golf Course ~ Pali Golf Course ~ Hawaii Kai Golf Course (Executive Course) - See course descriptions below


Best Oahu Golf Courses for the Intermediate Golfers

If you're like me, trying to keep you're game under 100, and enjoy the perks of what some of the best golf courses in Oahu have to offer, then turn your attention to:

Ala Wai Golf Course ~ Turtle Bay Golf & Resort (George Fazio Course) ~ Olomana Golf Links ~ West Loch Golf Course, Hawaii Kai Golf Course (Champion Ship Course) - See course descriptions below


Most Challenging & Prestigious Oahu Golf Courses

You've come to Hawaii for one reason, and that is to golf the very best, and most challenging Oahu Golf Courses. Stop your search and invest your time into the following 3 golfing resorts:

Turtle Bay Golf & Resort (Arnold Palmar Course), Ko Olina Golf Club ~ Makaha Resort Golf Course - See course descriptions below



Waikiki Golf – Oahu Golf Courses
Ala Wai Golf Course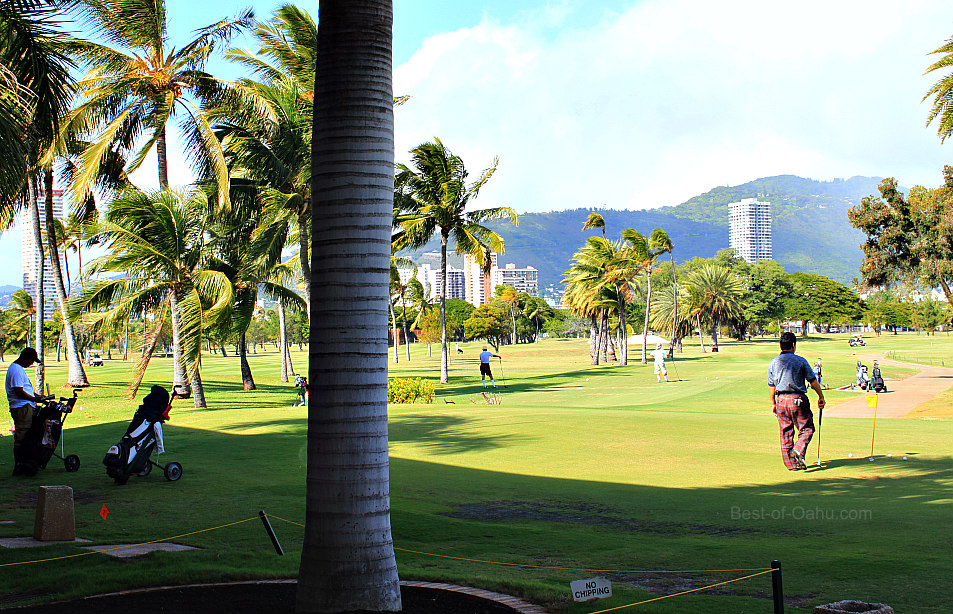 Although Oahu golf courses are spread out throughout the island, you won't have to go far if you wish to stay close to the hotels and play this Waikiki golf course, located 5 minutes away, just across the Ala Wai Canal.

The Ala Wai Golf Course has made it into the Guinness Book of World Records for the most single rounds of Hawaiian golfing played in a single day -500 rounds to be exact! Yes, this Oahu Golf Course is one of the busiest to book a tee time, but it can be done! I've walked on this municipal Oahu golf course without a tee time, and usually drove off the first tee within an hour wait time.

Ala Wai Golf Course is primarily flat with straight forward shots, this course is beautiful and lots of fun to play. These Hawaiian golf courses cater to just about everyone, including the beginners and the amateur golfers looking to play.

You'll find yourself surrounded by stunning views of the Waikiki city skyline, Diamond Head, and the dark Koolau Mountains. Click here to learn more about the course and tee times…

Location: 404 Kapahulu Ave, Honolulu, HI - Phone (808) 296-2000
Check out more details at the Ala Wai Golf Course city website
Northshore Golf Course – The Countryside
Turtle Bay Golf & Resort – Northshore Golf Courses

Located towards the tip of northshore Oahu, the Turtle Bay Golf & Resort covers close to 900 acres of premier oceanfront property. It's a perfect setting for the layout of 2 championship Oahu golf courses. Depending on your game and style, Turtle Bay Golf offers an Arnold Palmer Course and a George Fazio Course.


Arnold Palmer Course – Turtle Bay Golf
The Arnold Palmer Course, also known as the Links of Kuilima, is the recent home to the 2009 LPGA SBS Open. Set up with 5 sets of starting tees, this course offers a golfing game for all different levels. If you are feeling the challenge, you can play from the black tees, giving you more than 7200 yards to concur.
George Fazio Course – Turtle Bay Golf
Spacious fairways, moon crater bunkers, and nice greens make up the George Fazio Course. This northshore golf course resort very well could be the best bang for your buck, especially if you are staying at the Turtle Bay Resort Oahu itself. The best part about this course is that you will most likely get the privilege of having it all to yourself.

Location: 57-091 Kamehameha Hwy, Kahuku, HI - Phone (808) 293-8574
Check out more details at www.turtlebayresort.com


Kahuku Golf Course – Northshore Golf Course Links

The Kahuku Golf Course is the only state owned municipal course, and only one of three Oahu golf courses that are laid on beachfront property.

Don't worry about making a tee time, because you can't. In fact they don't even have a club house. If you want to grab a sandwich, chips and drink midway through, you might want to pick something up before you arrive in the parking lot. It's a no frills Oahu golf course, but well worth the privilege of playing along the water.

This northshore golf course is not meant to be taken too seriously, but more or lessfor enjoying the moment playing in a unique piece of paradise. The surrounding ocean waters are a bluer blue than the greens are green. But as you take an additional stroke for your putting, you can look out into the Pacific Ocean, and let the stress just melt away with the waves crashing in the background.

Location: 56-501 Kamehameha Hwy, Kahuku, HI - Phone (808) 293-5842
Check out more details at the Kahuku Golf Course city website
West Leeward Side – Oahu Golf Courses

Ko Olina Golf Course

Everything about the Marriott Ko Olina facilities are nothing short of being immaculate and the best in its class. The Ko Olina Golf Club is no exception! It's rated in the top 100 golf courses in Gold Digest Magazine.

Located on the Westside tip of Oahu, near Barbers Point, is 6,868 yards of prime green real estate! It's loaded with rolling hill fairways, nicely elevated tee box greens, and water features through out the course. Take an extra moment, maybe even a picture, on signature hole number 12. You'll find yourself standing on an elevated rock bed with a cascading waterfall. Arrive at the 18th and you'll feel like you've just entered a water park – a beautiful way to finish a round at the Ko Olina Golf Course.

Location: 92-1220 Aliinui Dr, Kapolei, HI - Phone (808) 676-5300
Check out more details at www.KoOlinaGolf.com
Makaha Resort Golf Club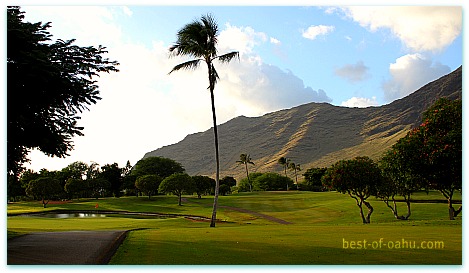 The Makaha Resort Golf Club is the farthest northwest resort and golf course, and well worth the drive to play this gem of a course.

It's also one of the very few Oahu resorts that you can check into your hotel and enjoy playing golf onsite.

This William Bell designed course sits back in Makaha Valley, perched on top on a hillside with stunning views of the Pacific Ocean below, and towering volcanic mountainside behind. The Makaha Golf Resort itself provides some incredible viewing grounds, whether you are golfing or not.

You will find many credible sources that rate this course number one among the best of Oahu golf courses. It's just shy of 7100 yards, making this a par 72 course. Not only is it rated as one of the best Oahu golf courses, but also contends as one of the toughest to play. With a USGA ranking of 73 in difficulty, this course has definitely been designed to challenge your game.

Location: 84-626 Makaha Valley Rd, Waianae, HI - Phone (808) 695-9578
Check out more details at www.PacificLinks.com
West Loch Golf Course

The West Loch Golf Course is only about 30 miles outside of Waikiki Oahu, and worth the small trek to swing the clubs in paradise!
This very well could be one of the best bangs for the buck amongst the municipal golf courses in Oahu for the weekend hackers. Don't get me wrong…this course is challenging, but a little bit short.

Opened fairly recently in 1990, this Rodney Wright & Robin Nelson designed Oahu golf course features 6480 yards from the blue tees. The West Loch Golf Course is laid with Bermuda grass fairways and greens so make sure you make adjustments accordingly. Keep in mind what they say about playing on Bermuda grass -- the ball always rolls towards the ocean!

The challenge here are the water hazards…and many of them! You might want to double check your golf bag and make sure you have enough golf balls to finish your round. And just when you think you've got your hands full, the tradewinds may decide to create havoc with your game.

Location: 91-1126 Okupe St, Ewa Beach, HI - Phone (808) 675-6076
Check out more details at the West Loch Golf Course city website


Eastern Windward Side – Oahu Golf Courses
Olomana Golf Links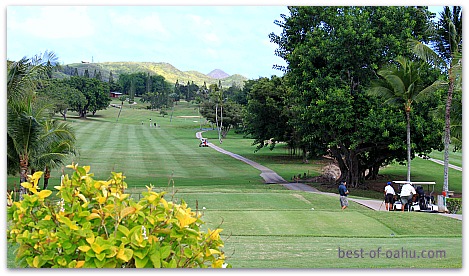 The Olomana Golf Links holds its own as it ranks high in the Best of Oahu Golf Courses. Just ask President Obama, and I'm sure he would agree. Barack Obama grew up playing the Olomana Golf Course, and still returns on occasion for a round or two when he's taking a break for the White House.

This par 72, 18 hole golf links was designed with a high level of difficulty. Hopefully you won't be watching your ball sink to the bottom of too many water hazards, or plopping into the sand traps, like a fried egg.

Part of the natural Hawaiian beauty that gives this course it's prestige, is the captivating backdrop views of the Ko'olau mountain range. You literally can feel the raw power of these Hawaiian towering mountains present in the fairways. Just make sure you transform some of that power back into your swing!

Location: 41-1801 Kalaninaole Hwy, Wimanalo, HI - Phone (808) 259-7926
Check out more details at www.PacificLinks.com
Pali Golf Course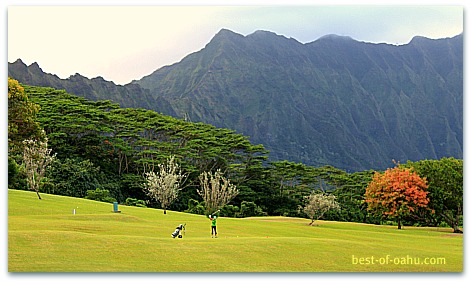 The Pali Golf Course is one of the oldest Oahu golf courses, built back in 1953. Step onto these grounds, and you'll feel like you time traveled much farther back than the 1950's, and into the prehistoric dinosaur age. Surrounded by oversized tropical plants, jungle like surroundings, and dark Ko'olau mountains towering above the course, they should rename the Pali Golf Course to Jurassic Park Golf Adventure Park. The only thing missing is the shadow of a teradactyl flying above, or the sound of a tyrannosaurus rex breaking through the brush – trust me…it will cross your mind!

The Pali Golf Course is located in an alter ego type setting. Above you is the Pali lookout, where a famous battle took place. This is where King Kamehameha led his warriors up the mountain, and literally pushed his enemies off the cliff and sent them plunging deep in to the valley below. That's right…just about where you're putting!
Then turn your head and look the opposite direction below, and paradise takes a whole new meaning. The beautiful Windward Kaneohe coastline is probably the most breath taking on Oahu Hawaii.

This 6,525 yard, Willard G. Wilkinson designed Oahu golf course is one of my casual favorites to play. It's a little more relaxed, allowing you to enjoy the setting and your game more.

The only drawback to playing the Pali Golf Course are the Ko'olau mountain winds and occasional tropical downpours that sometimes play a factor on your scorecard.

Also take note that there are no sand traps to be found, but steer clear of the stream that runs through the course.

Location: 45-050 Kamehameha Hwy, aneohe, HI - Phone (808) 266-7610
Check out more details at the Pali Golf Course city website
South Side – Oahu Golf Courses

Hawaii Kai Golf Course

Drive to the southern eastern tip of Oahu and you'll find yourself at the Hawaii Kai Golf Course…or should I say courses? That's right, there's one championship course plus an 18-hole executive course – your choice!

Championship Course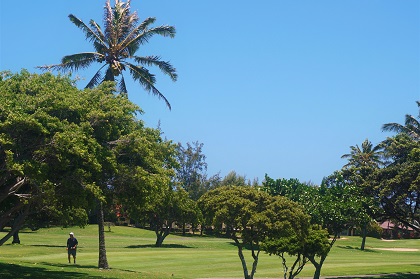 The championship course was designed by William Bell and erected in 1973. There is 6500 yards of green real estate to play here. This course is moderately challenging and offers gorgeous views of the blue Pacific Ocean.
The fairways are fairly flat and wide, which you will help aid your handicap.
But be warned that the trade winds tend to pick up in the afternoon and shave off significant yardage off your swings, so be prepared to resize your club for each shot.
Myself...? I like the stunning views you get of the Makapuu Point mountainside from each hole – so don't forget to spend a moment to take it all in!
Executive Course
Another great word for executive is easy going or beginner! This executive course is a fun par-3 (total Par 54) Oahu golf course. Although it may be short (2222 yards long), it does come with some level of difficulty – especially putting and chipping the numerous sloped greens. This Oahu golf course winds up the beautiful Makapuu Point Cliffside. You'll find some amazing views of Koko Head. Turn around and enjoy vast views of the Pacific! If you are lucky, you just might see a migrating whale or two making their journey.
Location: 8902 Kalanianaole Highway Honolulu, HI - Phone (808) 395-2358
Check out more details at www.hawaiiKaiGolf.com
As you can see, there are many Oahu golf courses to choose from, no matter what your handicap is! Go make your reservations and have a great time.....

Aloha & Happy Golfing!!