Home  / Oahu Events / Oahu Events in May

Oahu Events in May
---
May Events
Paradise Cove is not just another luau, it's a full production with lots of activities and entertainment that some others tend to lack.  Kick off the afternoon with some Mai Tai's and join in the celebration and festivities!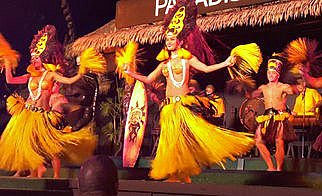 A Luau is a celebration for enjoying each other's company, play traditional Hawaiian games, watching a Kalua Pork Imu ceremony take place, participate in a hukilau of pulling in a large fishnet from the ocean, listening to live local music, and being entertained throughout the night with many Polynesian and Hula performances.
Location- Paradise Cove, Ewa Beach
Time – Pick up starts at 3:15 PM in Waikiki, Gates open at 5 PM
Cost – $85 to $170
---
First Friday Art Walk - May 4th, 2018
First Friday is an evening art walk that takes place in Chinatown Honolulu.  This is a popular fun event that takes place every 1st Friday of each month.  Surrounding merchants of art galleries, shops, restaurants and bars are known for opening up their doors, pouring wine and providing food to those stopping by. Most neighborhood shops will have maps of participating merchants.  The event ends at 9 PM, but the fun continues into the night with thousands of people flocking into the streets.
---
26th Annual Filipino Fiesta & Parade – May 5th, 2018
Join the Filipino Community as they put a grand parade show, featuring Miss Filipina Hawaii, marching bands, decorated floats, and other participants, as they march from Fort de Russy in Waikiki to the bandstand located in Kapiolani Park.  Explore Filipino culture represented in food booths, music, games, dances, artwork and crafts.  There will also be educational, business/social, and health services to explore.  The non-stop entertainment begins shortly after the parade in Kapiolani Park from 10 AM to 5 PM.  This is a great family day to enjoy for everyone to enjoy!
Location – Parade starts on Fort de Russy and ends at Kapiolani Park
Time – 9 AM to 5 PM
Cost – FREE
Learn more – www.filcom.org
---
May Day Concert at Waimea Valley- May 5th, 2018
Don't miss a great line up May Day performance in the Waimea Valley gardens.  Star musical performance will be given by Sunny Leutu of Halau Ke Kai O Kahiki.  A May Day Lei Day contest will take place with cash prizes.

Location – Waimea Valley
Cost – FREE

Time – 9 AM to Noon

Learn more - WaimeaValley.net
---
13th Annual Hawaii Book & Music Festival – May 5th & 6th, 2018
As a grand finale to April's Celebration Music Mele, Bank of Hawaii is sponsoring a full day of ongoing music and book swap.  You'll be entertained with multiple stages featuring performances by local musicians, including a A special afternoon concert featuring Hawaii's Jake Shimabukuro!  There will also be storytelling, dance performances, plays, panels discussing Hawaiian culture, and entertainment for the kekeis.  Arrive hungry as lots of food vendors will be cooking up a feast! 

---
43rd Annual Wahiawa Pineapple Run – May 12th, 2018
There something that's just pure fun about racing through a pineapple field!  This is a 10k run that runs through the flats and into the hills.  Be prepared as the terrain can change from dirt paths to mud, depending on conditions.  Runner get a tee shirt, pick a pineapple and win a trophy if you place 1st, 2nd or 3rd...and medals for the top 1000 runners!
Location – Kaala Elementary School
Time – 7 AM to 7 PM
Cost – $45
Learn more – flpregister.com
---
Na Mele O Ko'olina – May 12th, 2018
Head to Ko'olina beach lagoon #3 for a day of Hawaiian music and local art display & sale!  Along the arching sidewalk you find close to 40 artist displaying their artwork for viewing and sale…perfect for special gifts!  There will also be Hawaiian slack-key guitarist and ukulele musicians playing during the duration of this event.
Location – Ko'olina Beach Lagoon #3
Time – 9 AM to 5 PM
Cost – FREE
Learn more – hotcrafts.net
---
Sea Life Park Makapuu Twilight Concert Series – May 12th, 2018
End the afternoon exploring Sea Life Park attractions, dinning alfresco and watching a special concert by Hawaiian music artist, Kupaoa, Raiatea Helm, Makaha Sons and Anuhea.  Call for special dinner reservations (starts at 4:00) and more details…
Location – Sea Life Park
Time – 5:00 PM to 10 PM
Cost – $39.50 pre-concert to $47 VIP, discount to annual pass holders
Learn More - 808-259-2500 or www.SeaLifePark.com
---
15th Annual International Honolulu Triathlon Festival of Sports
May 13th, 2018
Do you have what it take to be a triathlon competitor?  Or maybe show up to watch and cheer on these amazing athletes of all ages and groups.  Either way this will be a long but fun day of races taking place in and out of Ala Moana Beach Park!
---
Mother's Day Aboard the Star of Honolulu – May 13th, 2018
Treat mom to a Mother's Day brunch on a cruise around the Waikiki coastline!  Hard to top this one…with live Hawaiian entertainment and lots of activities, including lei making and hula lessons.  The Taste of Hawaii brunch buffet will feature a specially prepared roast beef, teriyaki chicken, lomilomi salmon, miso glazed fish of the day, as well as dessert and champagne.  The 2 ½ hour cruise will depart from the Aloha Tower Marketplace, on Pier 8. 

Location – Aloha Tower
Time – 12 PM to 2:30 PM
Cost - $71/Adult, $43/Child
Learn more - StarofHonolulu.com
---
Mother's Day Brunch  - May 13th, 2018
A great way to thank and celebrate mom is taking her to the Moana Surfrider for an open air lavish buffet in the beachhouse veranda.  There will be nice variety of island recipes that will be conjured up by several chefs onsite.  Reserve seating before it sells out...
Location – The Veranda at the Beachhouse, Moana Surfrider Hotel
Time – 9:30 AM to 1 PM
Cost – $85 Adult, $40 Child
Learn More - Moana-Surfrider.com

---
Mother's Day Brunch Buffet at Waimea Valley – May 13th, 2018
How about treating mom to a special Mother's Day brunch in the Waimea Valley botanical Gardens!  Enjoy a nice prime rib brunch with the trimmings and extra sides, including Lemon Herb Chicken, Asian Style baked fish of the day, Ginger Pork Spareribs, Sautéed Garlic Vegetables, Ahi Poke, dessert, and much more!  There will be 2 seating's to choose from:  10 AM or 12:30 PM with live music, special performance by Na Wahine O Ka Hula Mai Ka Pu'uwai.  Feel free to stroll mom through the gardens and up to the grand Waimea waterfall.
Location – Waimea Valley
Time – 10 AM and 12:00 PM sittings
Cost - $49.95/Adult, $25.95/Child
Learn more – WaimeaValley.net
---
41st Annual NA HOKU HANOHANO AWARDS - May 19th, 2018
Spending an evening with some of the best Hawaiian musicians for a night of honoring achievements of excellence. Televised awards will be given for many recognized music categories, including best group, male & female vocal singers of the year, and best song.
Location - Hawaii Convention Center
Time - 3:30 PM into the evening
Cost - $165 General - $225 Premium
Learn more - www.nahokuhanohano.org
---
6th Annual Honolulu Ekiden and Music Festival - May 20th, 2018
A one of a kind relay marathon run with a music festival concert at the Waikiki Shell.  The Ekiden race is Japan inspired tradition marathon building stronger relationships between Hawaii and Japan.  The race will start and end in Kapiolani Park with 6 hand off stations in between.  Registration includes admission to the nighttime Waikiki Shell concert for the first 2000 ticket holders.  Featuring performances from Scandal and Magic.
Location – Kapiolani Park
Time – 5:30 AM to 11 AM, concert starts at 5 PM
Cost – $60 to $80
Learn more - Honolulu Ekiden
Eat the Street – May 25th 2018
Eat the Street is an organization that gets some of the best food trucks on the island, that to come together in a designated area, and create a party of its own.  Thousands of hungry folks seeking their next favorite dish attend each month!  Explore the different venues and taste some ono creations from 40 food trucks.  Live entertainment!!!

Location – 1011 Ala Moana Blvd
Time – 5 PM to 10 PM
Cost - FREE
More info:  Eat the Street
---
12th Annual Hibiscus Half Marathon – May 27th, 2018
'One of 3 races for the 2018 Tropical Triple Crown!  Here's a great way to kick off your Memorial Day weekend, with either a 5k or 15k race through Kapiolani Park, around Diamond Head and down Waikiki and back.  Medals for the 3 men and women in 16 different divisions.  And race/event shirts for everyone registered before April 15th…not guaranteed after.
Location – Kapiolani Park
Time – 5:30 AM to 9:30 AM
Cost - $45 to $70
Learn more – TropicalTripleCrown
---
Lantern Floating Hawaii – May 28th, 2018
The Floating Lantern Ceremony is one of Hawaii's most beautiful and moving events of the year! It's an evening dedicated to honoring lost loved ones and promoting hope for the future!  More than 40,000 folks turn out for an all day celebration that carries into the evening with the lighting of the 6000 floating lanterns, that sail off into the Pacific from Ala Moana Beach.  There will be a stage with ongoing live music and performances during the day, and Floating ceremony that will start around 6pm with a Taiko performance, followed by the a traditional ceremony for the floating lanterns. Arriving extra early and taking public transportation is highly recommended. 
---
Waikiki Arts Festival - March 31st - April 1st, 2018
Over 60 artist will be displaying all types of neat art creations in Kapiolani Park (across from the Honolulu Zoo).  Make a point to stop by this free entertaining event.  There will also be lots of food booths along with great Hawaiian music entertainment.



Aloha & Enjoy!!
Also check out Ongoing Oahu Shows & Entertainment.