Home  /  Event Updates on Oahu
Event Updates on Oahu
There are lots of event updates taking place on Oahu as COVID numbers remain higher on the island.  As events and Oahu attractions are being updated regarding changes, cancellations, or postponements, we will do our best to update you for 2021.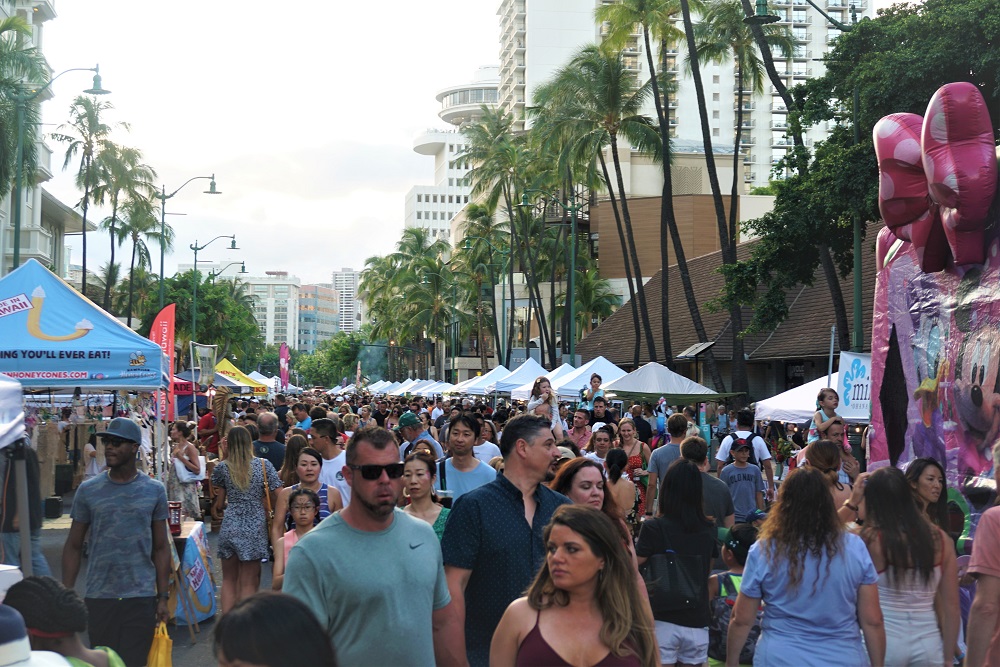 ---
Opening Back up on Oahu
NEW ANNOUNCEMENTS - Starting Nov 12th, proof of vaccination or a 72 hour negative COVID test results will no longer be required for restaurants, bars, gyms, entertainment facilities, and Oahu attractions.  Indoor restaurant dinning will still be required to wear face masks while not eating or drinking and social distance rules still apply.
Starting on Nov 12th, Oahu & Maui will be allowed to further open up to the public. This means that restaurants, shops, churches, and gyms can now increase their capacity from 50% to full, and allow congregation of groups to increase to a maximum of 10.  Beaches, hiking trails and other outdoor activities allow groups of 25 to gather together.
Larger events, concerts, weddings (up to 150 people) and organized outdoor races (up to 500 people) may resume.
The governor has also revised the face mask rule, and no longer restricting wearing a face mask covering while outdoors.  Indoors still applies at this time...
Oahu has started allowing fully vaccinated visitors back to the island without a negative COVID test.  A 72-hour negative COVID result test before flight is also still an option.  And finally you can opt for a 10-day quarantine with no vaccine or test.

Guest will be asked to quarantine if test results take longer than arrival time, and stay quarantined until a negative result is available.
Most museums and outdoor attractions are opening back up along with beaches, parks and hiking trails.  Many shops and restaurants are also re-opening or scheduled to soon.

Beaches & Parks - Oahu beaches and parks have re-opened.  Up to family groups of 25 are allowed to gather outdoors and 10 indoors.  Note that Hanauma Bay has opened back up, but only allowing 750 daily visitors verses previous 3000/day.  You can now make a reservation on their website up to 2 days in advance.  Locals are not required to make a reservation...

Hiking Trails - Oahu hiking trails have re-opened.  Note Maunawili Falls has closed until 2023 for a trail makeover.
Shops - Most shops have re-opened including the Ala Moana Center.  Other centers and shops continue to open up as well.
Oahu Restaurants - family groups of no more than 10 can seat and dine together.  facemasks are required indoors to be worn until food or drinks arrive.
Night Clubs & Bars - 50% capacity and must close by midnight.  100% capacity starts on Nov 12th...
Attractions - Most attractions have re-opened by early 2021 including Kualoa Ranch, Wet n Wild Water Park, Honolulu Zoo, Iolani Palace, Bishop Museum, Waikiki Aquarium, Pearl Harbor, Polynesian Cultural Center, and Luaus around the island.
Events - Farmer markets around the island are resuming.  And Blue Note has reopened for small concert performances.  Check out Oahu events for more...
Learn more - Honolulu Government Site
Plans on visiting Oahu
---
If you are planning on visiting Oahu or anywhere for that matter, stay alert and updated on current news and developments.  
The governor of Hawaii has announced a new program that started in July, allowing fully vaccinated visitors to bypass COVID testing and quarantining.  Visitors must still verify documentation through the Hawaii Safe Travel Website.  For those still unvaccinated, there is a 72 hour pre-COVID test with negative results program in place or a 10 day quarantine for all new arrives in Oahu.
Enjoy your stay but take necessary precaution and safety when traveling about.
---
Cancellations and Reopening of Events
---
We have seen some cancellations and postponements of concerts and larger events on Oahu, including the following:
Diamond Head Trail has reopened starting Dec 17th
KCC Farmers Market next to Diamond Head will be reopening on Nov 14th
Great Aloha Run will take place (virtually) Feb 8th - 15th
Sony Open will take place in January, but no spectators allowed
Honolulu Marathon canceled
Ala Moana 4th of July Fireworks and scheduled events has been canceled
The 26th Annual Honolulu Festival scheduled for March 7th – canceled
Mariah Carey concert rescheduled for Nov 28th, 2020
Hapalua Half Marathon planned for April 5th is rescheduled for September, TBD
Waikiki Aquarium 116th birthday canceled and other group events

Downtown St Patrick's Block Party & SALT celebration canceled
3rd Annual Noodle Fest postponed until later date
Prince Kuhio Parade postponed/canceled
Waikiki Spam Jam will be postponed...date to be announced
UH sporting events and activities
Honolulu Museum canceled March events, but museum remains open
Kailua Night Market canceled until further notice
Aloha Stadium Swap Meet has canceled through May 2020
Toa Luau has closed through the end of the month of May
Makai Bar (replacing the Mai Tai Bar) delay grand opening
Floating Lantern Festival in May has canceled for 2020
Lei Day in May canceled
Iolani Fair has been canceled for April
Atlantis Submarine rides cancelled until further notice
Blue Note canceled all shows through May - reopened


See more on Oahu Events Page
---
Update on Oahu Attractions
Many Oahu attractions have reopened to the public.  Most Beaches, hikes, golf courses, restaurants, and shops and malls have re-opened under Hawaii mandates and guidance.  Note the Diamond Head Summit Deck has just re-opened starting Dec 17th.
Museum, Amusement Park, and Oahu Attraction Closure announcements:
Sea Life Park has announced re-opening on March 4th
Polynesian Cultural Center announced reopening Jan 18th
Hanauma Bay re-opened to the public starting on Dec 2nd
Dole Plantation reopening starting Nov 12th
The state has reopened the Pali Lookout for viewing.
Hawaii State Museum has reopened
Children's Discovery Museum has re-opened
Pearl Harbor has re-opened with ferry service to the Arizona Viewing Platform.  Other Pearl Harbor attractions have also re-opened, including the USS Bowfin Submarine.
Waikiki Aquarium has re-opened, but requires reservations.
The Bishop Museum reopened on June 26th
The Iolani Palace has re-opened.  Social distancing required in building.
Honolulu Museum of Art has re-opened

Diamond Head Summit Viewing Deck reopened Dec 17th
Oahu Beaches have re-opened with lifeguards on duty.  Family groups no larger than 5 are allow to gather on beaches or parks.
Wet n Wild Hawaii re-opened
Halona Blow Hole parking lot access has re-opened



Note - The Ala Moana Center has changed their hours temporary Mon - Sat 11 am to 7 PM, and Sunday Noon to 6 PM.  Many shops will be reopening as of May 15th, 2020, and some restaurants will be open for takeout only.

---
Aloha & Enjoy!

Subscribe to receive Best of Oahu updates on events, updates, and new articles.  It's the closest way to paradise while you are away...
We will never sell or spam your information, and we'll respect your email privacy.