3 Days in Oahu - Day 2
Get ready for day 2 in Oahu.  Hope you're rested because we have a full day in the North Shore!
---
7:30 AM  Breakfast at Yogur Story
Move over eggs & bacon, and get ready for a dynamite menu with explosive flavors!  Prime Rib Moco, Ube (purple) Pancakes, Crab Benedict, and Fried Chicken & Waffles for starters…and yes they have bacon & eggs as well if you want to stick to the basics.

---
9:30 AM  Get Lost in the Dole Pineapple Maze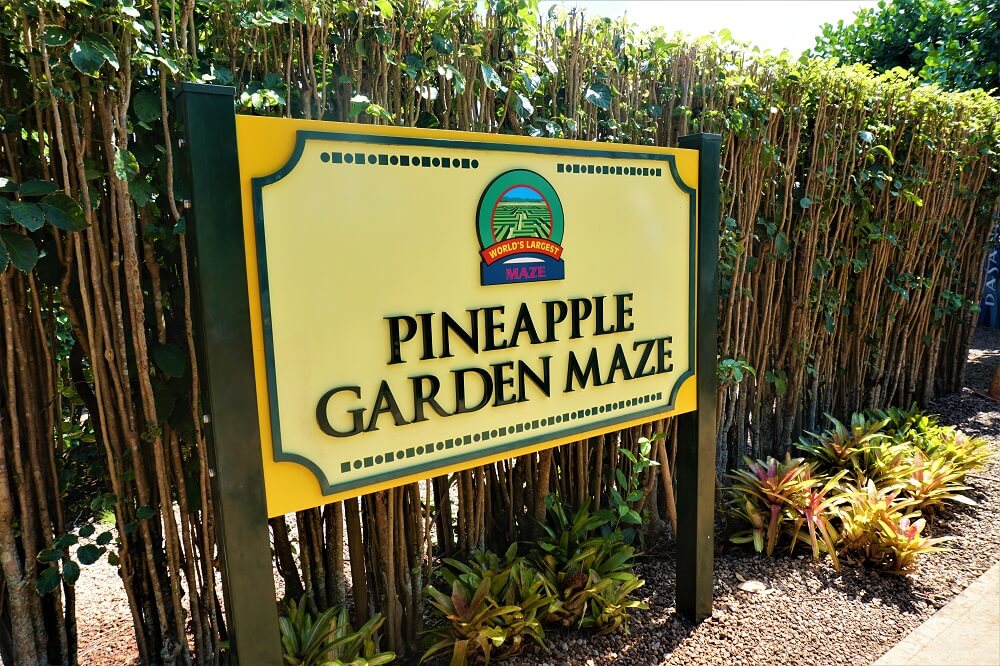 The Dole Plantation along with their founder James Dole are responsible for growing pineapple here in Hawaii and producing the best fruit you'll ever taste.

Today the Dole Plantation is known for their train rides, delicious Dole Whips, and an expansive maze that you'll have fun getting lost in!  Note that it takes about an average of 40 minutes before you complete the maze.

Consider the 20 minute train ride if that's too much.  Whatever you do, make sure you do it with a Dole Whip in hand!

---
11 AM   Beach Time in the Bay
You could pretty much pick any beach to visit on the North Shore and could almost guarantee it will be a great time.  But if I can only choose one, it would be Waimea Bay.
It's such a beautiful bay that offers big wave watching in the wintertime and lots of summer fun activities as well.  There's even a massive rock that jets out of the water that kids sometimes climb on and take daring leaps back into the ocean.
There's a good chance you might skip the rest of the itinerary and enjoy the rest of the day here!
---
12:30  PM Find a Shrimp Truck for Lunch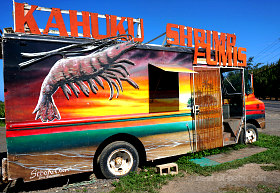 Shrimp trucks and shrimp farms are popular in the north shore, especially towards the town of Kahuku.  And while a few places serve it up different ways, garlic butter shrimp is the traditional way and most popular.

Giovanni's and Fumi are 2 of the most popular shrimp trucks, but they're all good in my option. Get a good fill and a few pics before heading back towards Waimea Valley.

---
2 PM  Stroll to a Grand Waterfall
Waimea is not only known for the bay, but for its impressive waterfall located in the back of Waimea Valley.
For a small fee you can enter the park and walk along the botanical gardens on a mostly paved road for about 2 miles until you reach the Waimea Waterfall.
There are lifeguards on duty and life jackets available if you wish to swim in the waterfall pool.
---
4:30 PM Shave Ice Time in Haleiwa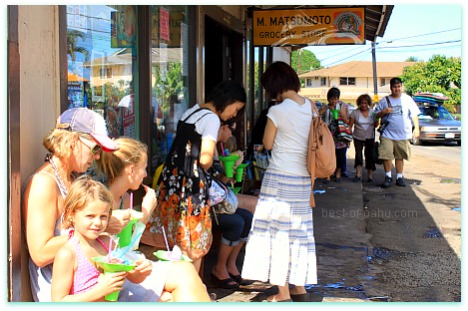 Shave Ice is one of the characteristics that defines the North Shore, and you'll find a few places that sell it in Old Town Haleiwa, including famous Motsumoto's Shave Ice.

Adding a scoop of vanilla ice cream to the bottom of your snow cone is their trademark special touch.  This North Shore town is filled with boutique shops, local art galleries, and institutional surf shops.

Have fun walking around and make sure to walk across the landmark Haleiwa Bridge.
---
6 PM  Dinner with a Sunset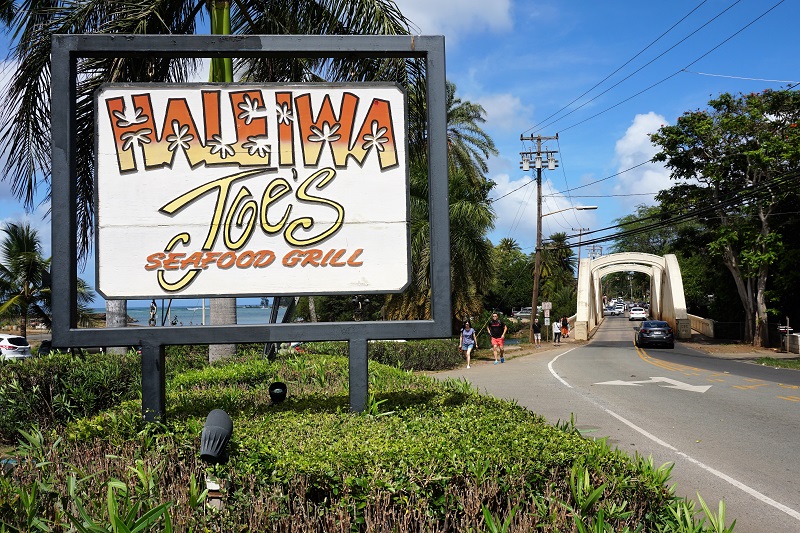 Why not end your trip to the North Shore with a memorable meal and a seat that comes with a sunset view.

Haleiwa Joe's and The Beach House are two great choices before heading back to town.  They both come with open air views of the ocean.

2 days down and one more day filled with fun and new adventures on Oahu coming up...!
---
---
Continue reading 3 Days in Oahu - Day 3 or return to Day 1
Aloha & Enjoy!

Subscribe to receive Best of Oahu updates on events, updates, and new articles.  It's the closest way to paradise while you are away...
We will never sell or spam your information, and we'll respect your email privacy.