Explore Oahu's Spectacular Kaneohe Sandbar
There is an amazing natural phenomenon that takes place on the Windward side of Oahu.  A Kaneohe Sandbar surfaces at low tide about a mile offshore.  Visiting the sandbar is a fun thing to do in Oahu, neat to explore, and has an incredible and remote spot to snorkel in Oahu.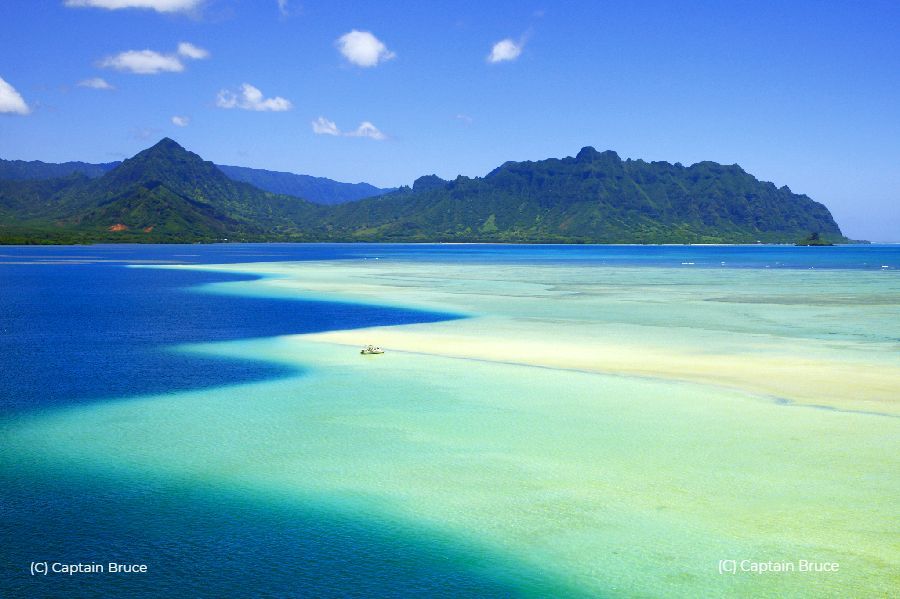 Windward Side Sandbar In Kaneohe
We never imagined that somewhere on Oahu, we would be stepping out of a boat and onto a sandy oasis in the middle of the ocean, surrounded by crystal clear waters and majestic Koolau mountains. Welcome to the Sandbar, a unique and popular attraction in Oahu that offers a beach-like experience surrounded by water during low tide. Get ready to be amazed as we explore this incredible destination!

---
Short Summary
---
Explore the world-famous Kaneohe Sandbar in Hawaii with thrilling activities like snorkeling, kayaking, and barbecue tours!
Encounter tropical fish, turtles, eels, and seahorses during high tide for a memorable experience!
Visit nearby attractions & practice environmental awareness to preserve its delicate ecosystem - book Captain Bruce's guided tour today!
---
Discovering the Kaneohe Sandbar
---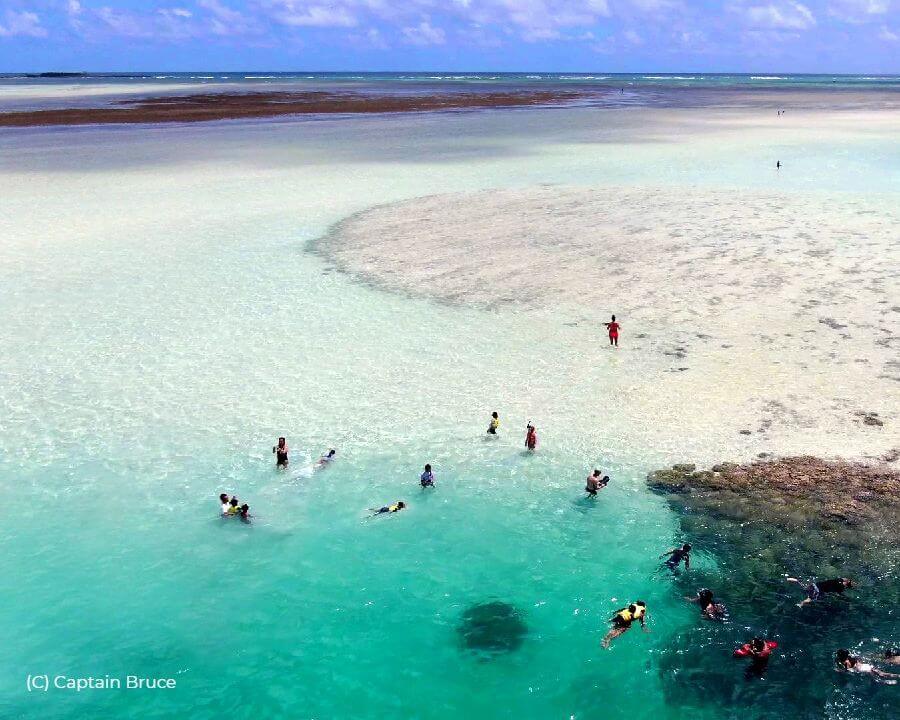 Kaneohe Sandbar Reef
Located on the east Windward side of Oahu, in the town of Kaneohe, the Kaneohe Sandbar, also known as Ahu O Laka, is a must-visit spot in the Hawaiian Islands.  This ridge of sand in Kaneohe Bay becomes exposed during low tide, creating a popular destination for tourists and locals alike.  The sandbar is one mile (1.6 km) from the shoreline, making it a perfect getaway for a half-day adventure.
With majestic mountains on one side and the endless ocean on the other, the sandbar offers a unique and picturesque location.  The shallow waters around the sandbar create a perfect setting for various water activities.  From the sandbar, you can marvel at the magnificent Ko'olau mountain range, the steep slopes of which look stunning.  You can also easily spot Chinaman's Hat, the small island of Mokoli'i, an incredibly popular island for kayaking and stand-up paddle boarding.
Besides the breathtaking natural beauty, the sandbar offers views of several offshore islets, including Kapapa, Kekepa, and Coconut Island, which are home to amazing bird sanctuaries.  Another nearby island, Moku O Le'e, is famous for its inclusion in the opening scene of the classic TV show, Gilligan's Island, and houses a University of Hawaii marine research center, which can be toured during non-covid times.

---
The Formation and Significance of Kaneohe Sandbar
---
The Kaneohe Sandbar was formed by volcanic activity during prehistoric times and millions of years worth of erosion and landslides, creating an exciting boater's paradise and movie location set.
This unique sandbar holds cultural significance for the local Hawaiian community as well. Its Hawaiian name, Ahu O Laka, is named after the voyaging chief Laka and is mentioned in centuries-old chants as a sacred location.
The sandbar is protected from the waves of the open ocean by a reef, which allows for calm waters and an enjoyable experience for visitors. If you're ready to explore this incredible destination, it's time to learn how to get there!

---
Navigating to the Kaneohe Bay Sandbar
---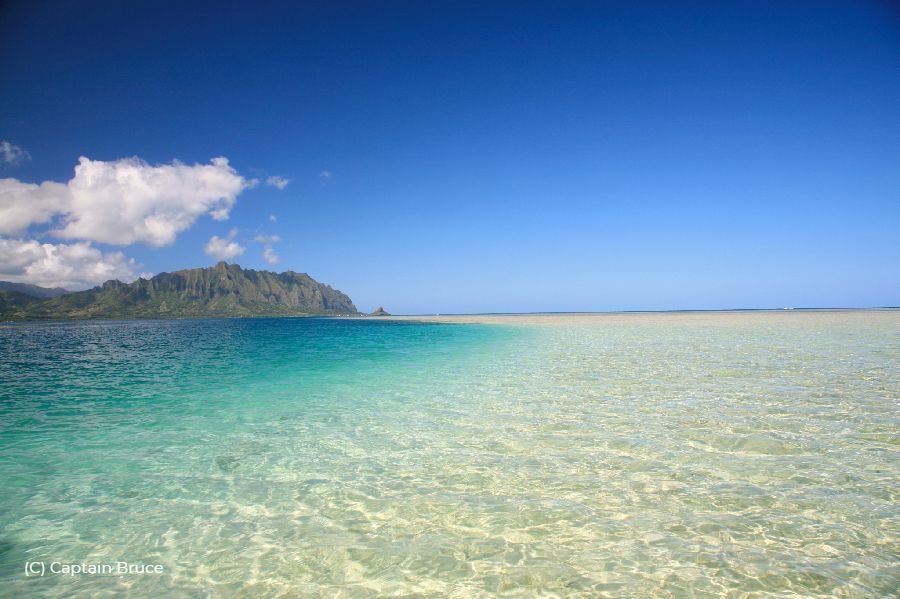 Kaneohe Sandbar at Low Tide
To reach the Kaneohe Bay Sandbar, visitors have various transportation options, including motorboats, sailboats, kayaks, jet skis, or paddleboards, with private charters and guided tours available.  Renting a boat from the nearby military base is a popular option if you have a boat captain's license.  Otherwise, you can choose a private charter to explore the Kaneohe Sandbar at your own pace.
Popular tour companies like Captain Bobs and Captain Bruce Private Yacht Charters offer Kaneohe Sandbar snorkeling tours and other exciting activities.  These tours provide direct transportation to the sandbar, swimming and snorkeling opportunities, barbecue tours, and private family excursions.  Don't forget to bring beach chairs to relax on the sandbar during high tide!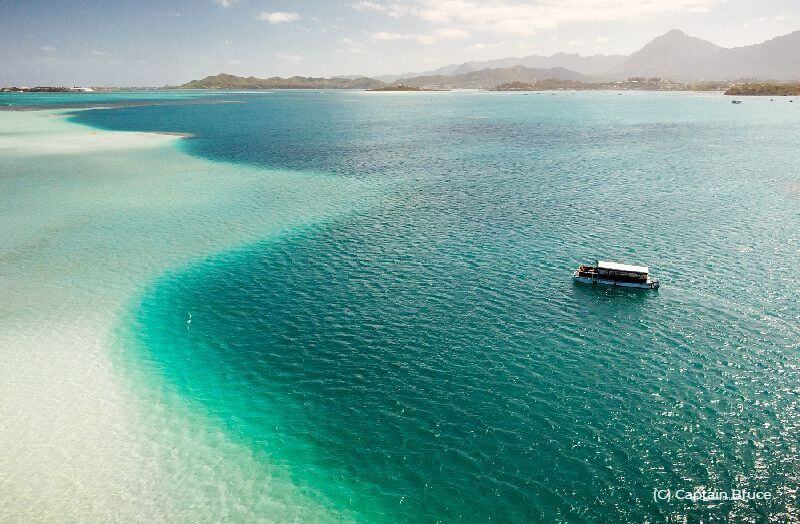 Captain Bruce Kaneohe Sandbar Boat Tour
If you prefer kayaking, Kailua Beach Adventures is an excellent company for kayaking to the sandbar, and it takes about 45 minutes to reach the sandbar by kayak.  Take the time to plan your kayaking adventure. Choose a day with calm waters for a more enjoyable experience.

To launch your boat or kayak, He'eia State Pier in Kaneohe is the recommended location for both boat tours and kayak launching.  Kayak rentals are available from Kama'aina Kids or other Kaneohe Bay Ocean Sports providers to reach the sandbar.

---
Ideal Timing and Tide Conditions
---
The best time to visit the sandbar is during low tide for a beach-like experience, while high tide offers ideal  snorkeling in Oahu opportunities. It is highly recommended to check the tide chart before you go to ensure that the sandbar is visible. Make sure to bring your snorkeling gear to fully enjoy the experience.

The ideal time to visit the sandbar for snorkeling is somewhere between low and high tide. This ensures that visibility underwater is optimal. By choosing the right tide conditions and timing, you can make the most of your visit to this incredible destination.

---
Experiencing Kaneohe Sandbar Activities
---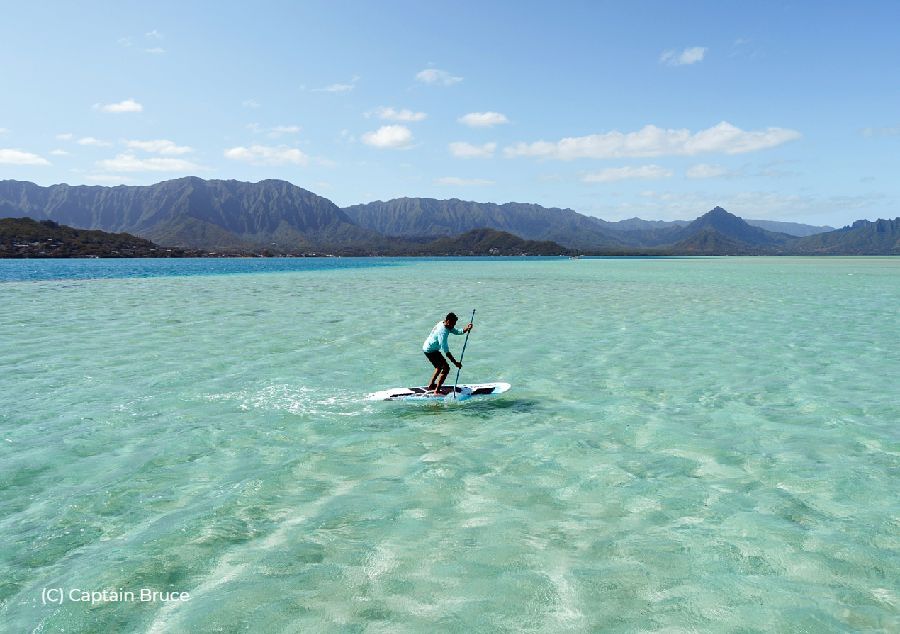 Kaneohe Sandbar Paddleboarding
The Kaneohe Sand Bar offers a variety of exciting activities for visitors to enjoy. Sports, BBQ, paddleboarding, snorkeling, and simply relaxing and enjoying the stunning views are just a few of the thrilling experiences waiting for you at the Kaneohe sand bar.

To make the most of your Kaneohe Sandbar adventure, prioritize snorkeling, as it is one of the most popular activities at the sandbar. With its shallow waters and unique setting, the sandbar provides an unforgettable snorkeling experience, allowing you to get up close and personal with the vibrant marine life that calls the sandbar home.

---
Marine Life Encounters at the Sandbar
---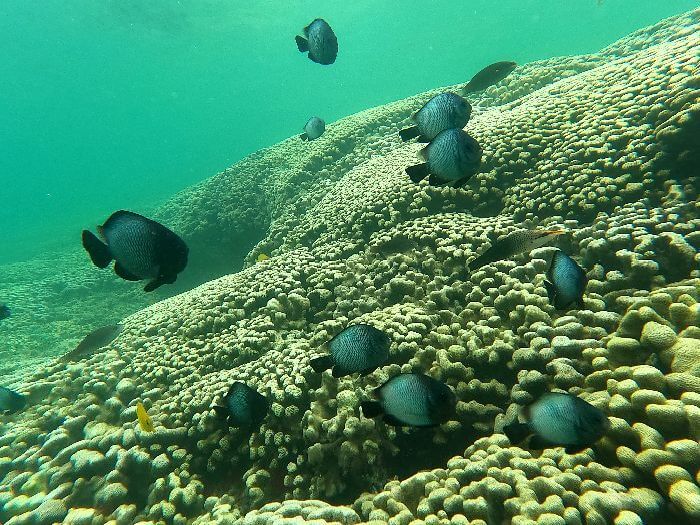 At the Kaneohe Sandbar, you'll have the chance to encounter a diverse array of marine life, including tropical fish, turtles, eels, and even seahorses, especially during high tide when snorkeling is possible. You might even spot Hawaiian Green Sea Turtles during your visit.

During your snorkeling adventure, it's essential to have the right snorkeling equipment, be aware of your surroundings, and be respectful of the environment. Be sure to follow all safety guidelines and be mindful of the marine life as you explore the underwater world of the sandbar.

---
Exploring Nearby Attractions and Experiences
---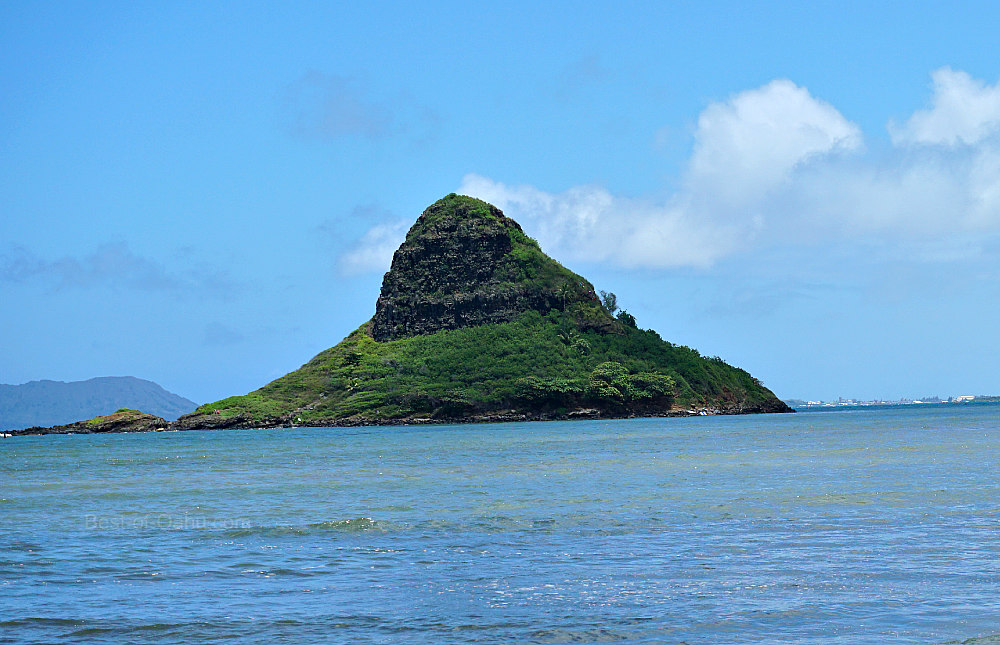 Chinamans Hat Near Kualoa Beach Park
After your visit to the Kaneohe Sandbar, you can explore a variety of other nearby attractions. The Byodo-In Temple, Hoomaluhia Botanical Gardens, Kaneohe Bay, 21 Degrees Estate Cacao Farm, and He'eia State Park are just a few of the amazing attractions you can visit in the area.

If you're looking for more beach time, there are several beautiful beaches nearby, such as Kailua Beach, Kualoa Beach Park, and Lanikai Beach. With so many incredible options, you can easily turn your Kaneohe Sandbar adventure into a full day of exploring Oahu's breathtaking scenery.

---
Safety Considerations and Environmental Awareness
---
It's important to be aware of safety considerations when visiting the Kaneohe Sandbar, such as shark activity and weather conditions.  Although Kaneohe Bay is a breeding ground for hammerhead sharks, no attacks have been recorded.  The pupping season for hammerhead sharks is from May to July, so be extra cautious during this time.

As you enjoy the sandbar, practice environmental awareness to protect its delicate ecosystem.  Refrain from touching or disturbing marine life, such as coral reefs and sea turtles, and use reef-safe sunscreen to minimize your impact on the environment. By being mindful and respectful of the sandbar's natural beauty, you can help preserve it for future generations to enjoy.

---
Tips & Tricks for a Memorable Kaneohe Sandbar Adventure
---
To make your Kaneohe Sandbar adventure truly memorable, prioritize snorkeling, as it allows you to witness the vibrant marine life up close and personal. Choose the right tide conditions for your visit, as low tide offers the best visibility and access to the sandbar, while high tide is perfect for a Kaneohe sandbar snorkeling tour.
Consider visiting the sandbar during the summer months for warm water and clear skies, making it the ideal time to enjoy your adventure to the fullest. With these tips in mind, you are sure to have an amazing experience at the Kaneohe Sandbar.

Kaneohe Sandbar Guided Tour with Captain Bruce
Captain Bruce Catamaran Boat
If you're looking for a Kaneohe Sandbar tour, consider Captain Bruce's tour, which offers a comfortable and enjoyable day trip with various water activities and equipment provided.
My family and I had the pleasure of taking this tour which included round trip transportation, a pleasant boat ride, and the use of paddleboards and other equipment.  The guides provided snacks such as various chips, fresh fruits, cookies, and spam musubis!  They also entertained the passengers with funny jokes, all while educating us on safety tips and the type of Oahu marine life when we disembark from the boat and onto the sandbar.

By choosing a guided tour with Captain Bruce, you can relax and enjoy your Kaneohe Sandbar adventure without the hassle of planning and organizing the details. With an experienced guide at the helm, you can focus on savoring the breathtaking beauty and thrilling activities the sandbar has to offer.

---
Kaneohe Sandbar Summary
---
The Kaneohe Sandbar is a "must visit" destination in Hawaii, offering a unique beach-like experience surrounded by water during low tide. With stunning views, exciting activities, and diverse marine life encounters, the sandbar provides an unforgettable adventure for visitors.
By choosing the right timing and tide conditions, prioritizing snorkeling, and exploring nearby attractions, you can make the most of your Kaneohe Sandbar experience. So pack your bags, grab your snorkeling gear, and get ready to embark on a once-in-a-lifetime Hawaiian adventure!
---
Frequently Asked Questions
---
Can anyone go to Kaneohe Sandbar?
Yes, absolutely! Kaneohe sandbar is one of the most stunning spots in Hawaii with its gorgeous Koolau Mountain views.  Plus, it's family-friendly and has shallow waters - making it an incredible place to check out when visiting Oahu!

---
Is Kaneohe sandbar worth visiting?
Kaneohe Sandbar is a stunning destination surrounded by clear waters and amazing views. It's perfect for swimming, kayaking, snorkeling, fishing, and more - making it the ultimate spot for locals and tourists looking to escape the hustle and bustle of Honolulu.
Visiting Kaneohe Sandbar is definitely worth it!
---
How long does it take to get to Kaneohe sandbar?
It's a 10-minute boat ride from the Heeia Kea Pier, which is about 40 minutes by car from Waikiki
It'll take you around 45 minutes to 1 hour to kayak out to the Kaneohe Sandbar!
Paddle in from Kaneohe's sunken island for a faster journey.

---
Are there sharks by Kaneohe Sandbar?
Yes, Kaneohe Sandbar is a breeding ground for harmless hammerhead sharks, so it's important to be aware when swimming in the area.

Swimming in the area requires extra caution, as sharks may be present. It is important to be aware of your surroundings and to take the necessary safety precautions.

---
What is the best time to visit the Kaneohe Sandbar?
Experience the beach vibes at Kaneohe Sandbar during low tide, or take the plunge and explore surrounding depths while snorkeling during high tide!

---
Aloha & Enjoy!

Subscribe to receive Best of Oahu updates on events, updates, and new articles.  It's the closest way to paradise while you are away...
We will never sell or spam your information, and we'll respect your email privacy.