1 Day in Oahu
If you had only one day to spend on Oahu, what would you do…and how would you like to spend it?  While some folks would opt to simply relax all day on beautiful Waikiki Beach, which is not a bad choice, others look to maximize their time to explore the many things to do on Oahu.  Assuming you have a full day to enjoy, there is room to visit some popular Oahu attractions, do one of the shorter but beautiful hikes, taste some island treats, and dip your toes in the soft, warm sands of a beautiful beach!

To see the island and get around quickly from one spot to another, I'd advise you rent a car for the day.  There is a lot to see and do with not much time, so while this will be a fun adventure, you will need to mind the time and keep moving through these activities during your one day on Oahu.

---
One Day in Oahu Itinerary
---
7 AM - Kona Coffee Purveyors & b. patisserie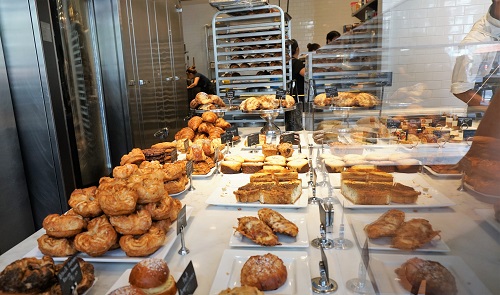 You're not going to have time for a sit down breakfast, but you will definitely need a quick bite to eat as you'll be climbing to the top of an extinct volcano shortly after!
Kona Coffee Purveyors is one of the best cups of Joe on the island, and is centrally located in Waikiki's newly constructed International Market Place.  Sharing the space is b. Patisserie, which offers delectable baked goods far beyond your average pastry.
Treat yourself to light, flaky pastries infused beautifully with some exotic, tropical flavors!  Start your morning on the right foot and you'll be set for the day!
---
8 AM - Climb Diamond Head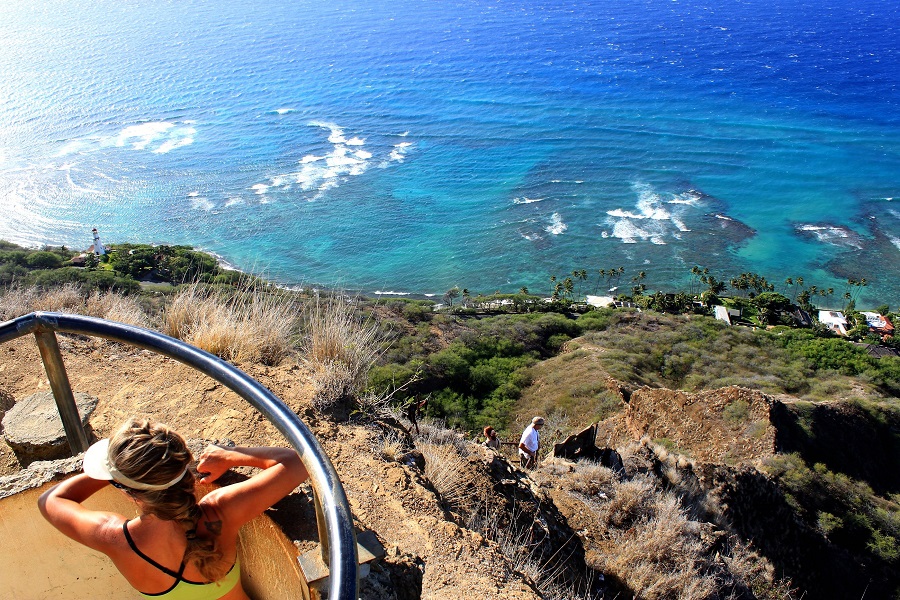 If you make the climb to the top of this ridge and do nothing else for the remainder of the day, you will have accomplished much!
Climbing to the top of Diamond Head is not only a fun adventure and great exercise, but reaching the top will reward you with some of the island's most panoramic views, including Waikiki below where you started with your morning coffee!
Getting to the top will require hiking up a 3/4-mile switch back trail, and finishing with a 100-stair climb up to a viewing platform.  Take some time to enjoy the view…you will have earned it!  Make sure to get some good photo, before trekking back down the mountain and heading back to town.
---
10:30 AM - Waikiki Aquarium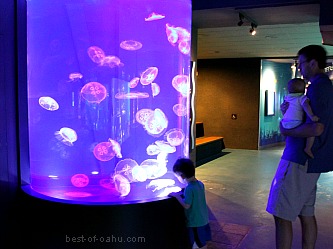 It's time to break with some entertainment from our Pacific Ocean friends.  Located close to Diamond Head and just across the street from Kapiolani Park is one of the oldest aquarium in America.
And since you won't have time to snorkel at Hanauma Bay and see all the colorful fish (unless you opt to start your morning here instead of climbing Diamond Head), you can walk around leisurely and view a wide variety of Hawaii's fish on display in a variety of tanks.
I personally can spend an afternoon at the Waikiki Aquarium, simply being mesmerized by the jelly fish dancing around in a beautifully up-lit cylinder tank.
---
11:45 AM Lunch on the Beach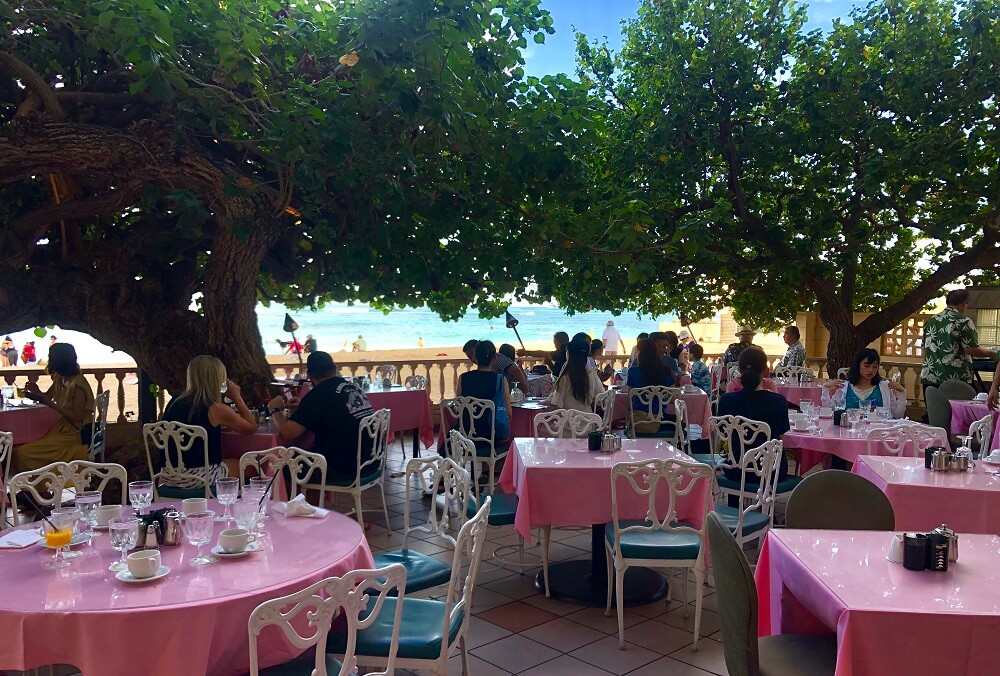 Okay, not exactly on the beach…but darn close enough!  When you wrap up with the Waikiki Aquarium, walk next door to the New Otani Hotel, where you'll find the open air Hau Tree restaurant that neighbors San Souci Beach.
Whether you're still looking for the satisfaction of some breakfast Eggs Benedict, or ready for tempting lunch items like a mahi burger or a papaya chicken salad, you'll find a good brunch menu with some variety.  And everything seems to tastes better with rock star views of the beach!
---
1:30 PM - Beach Time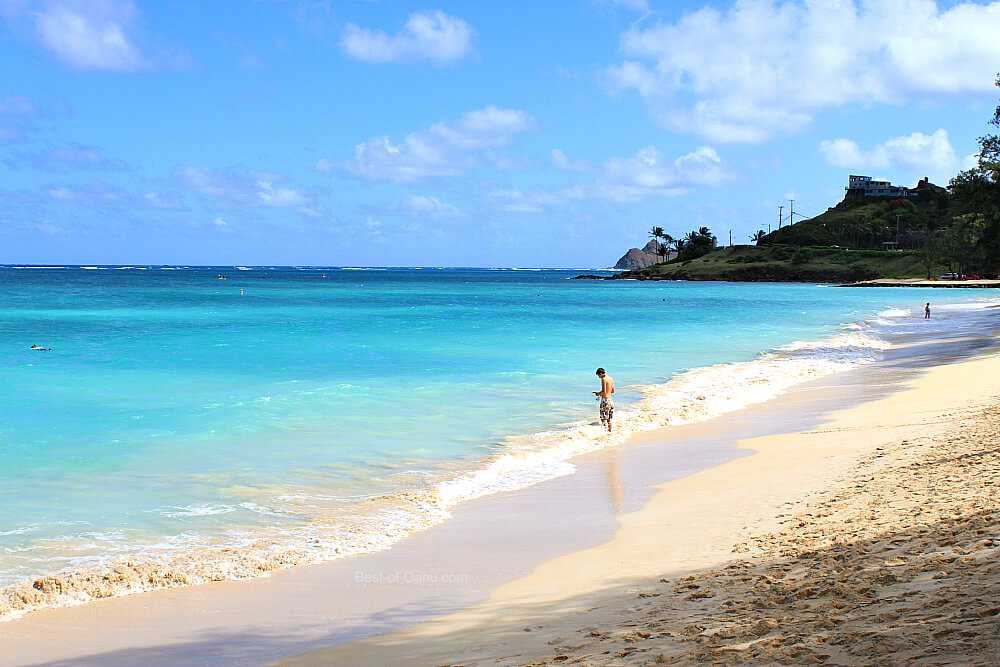 It would be a shame to spend a day on Oahu without making it to the beach.  And while you are already dining in front of one of our locals favorite beaches (San Souci Beach), why not spend it on one of the islands most beautiful beaches!
A 20 ride will put you on Kailua Beach, located on the Windward side of the island.  And while you'll probably want to park it the rest of the day here, we only have about a short sweet hour to enjoy, so run out with your beach towel and make every minute count!
---
3:00 PM - Enjoy a Hawaiian Shave Ice


And what Hawaii trip is not complete without getting your fill of Hawaiian shaved ice?  Located just minutes away from Kailua Beach is a shave ice shop called Island Snow.
Make a quick pit stop before heading back to town.  You'll find just about every flavor you can imagine, but I always love a traditional rainbow colored snow cone.
Consider requesting a scoop of vanilla ice cream in the bottom of the cone, and enjoy an extra special treat as shave ice syrups melt slowly into the ice cream.
---
4:00 PM - Pay a Visit to the Bishop Museum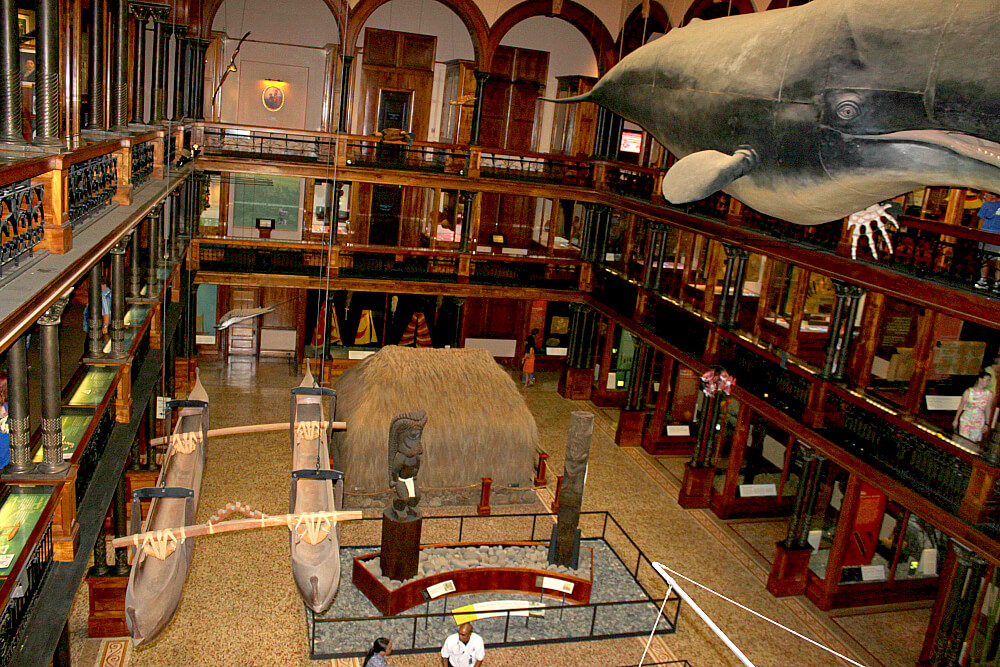 Jump back across the Pali Highway and explore a little Polynesian Culture at the Bishop Museum.
You only a short hour before the museum closes, so let's get the best bang for your buck.  Spend your time visiting the Hawaiian Hall, Pacific Hall and the Kahili Room.
You'll find a fascinating display of artifacts, pictures and relics of the Royal Hawaiian Monarchy.  The feathers in particular make the cloaks, helmets, and other display items colorful.
---
6 PM - Sunset Dinner at a Tiki Bar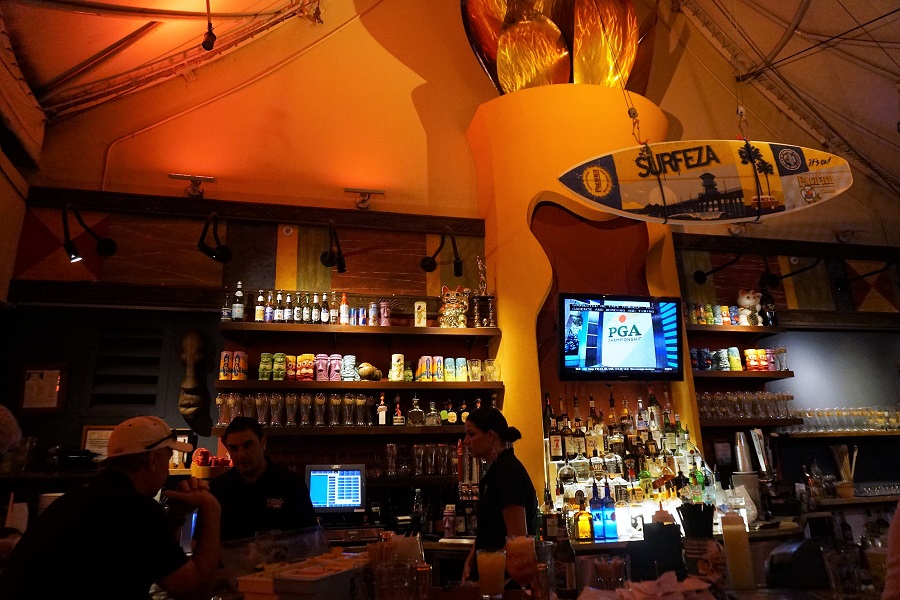 There are lots of great choice to dine around Honolulu, but remember you only have one night.
I'd like to spend it back in Waikiki across the street from the beach sipping on a Mai Tai, and watching the sun set back into the ocean from the 2nd floor of a lively tiki bar.
Tiki's Bar & Grill is a scene like no other with a colorful Hawaiian tiki display throughout the restaurant.  They have everything from bar bites to tasty dinner meals…and you can't beat the view!
---
8 PM - Aloha & Farewell


If you have any energy left and would like a moment to reflect and say your farewell to Oahu.
I recommend taking a stroll across the street at Queen's Beach where a popular seawall stretches into the ocean.  During the day visitors walk out to the end and watch the surfing and boogie boarders play in the water.
At night it provides some drop back view of all the lights shine in Waikiki…it's a memorable moment I promise you will enjoy!
---
Aloha & Enjoy!

Subscribe to receive Best of Oahu updates on events, updates, and new articles.  It's the closest way to paradise while you are away...
We will never sell or spam your information, and we'll respect your email privacy.